Innovation in Offshore Transfer of LNG
By Gianni Sicuro
The marine and offshore industries are becoming increasingly concerned with questions over the future fuel market, especially given ongoing uncertainty around future emissions regulations and the dates in which they will come into force. Marine owners and operators need to identify viable solutions now to ensure cost effective compliance with regulations and efficient operations in the future.
Liquefied natural gas (LNG) will play a key role in the future fuel mix. While it is still in the relatively early stages of development, new technologies are emerging which will support the LNG industry's transition into a flexible and economically viable alternative to traditional fossil fuels.
These new technologies have the capacity to quietly revolutionize the industry by accelerating growth, while delivering safe and efficient solutions that greatly reduce cost, infrastructure requirements and downtime. It goes without saying that safety remains of paramount importance, with manufacturers committed to improving operational efficiency while always maintaining the highest safety standards.
LNG transfer in the offshore environment presents an opportunity for energy companies to move away from congested ports, thereby streamlining the supply chain process to deliver optimum efficiency benefits and cost savings. During these operations, it is vital that the highest safety standards are upheld amid the effects of wind, waves and currents in the open seas. To achieve this, it becomes necessary to re-think traditional 'transfer zone' solutions, where ship-to-ship and ship-to-shore loading and unloading occurs. To be able to go ahead with safe offshore transfer operations, technology solutions must be able to withstand demanding conditions. Conventional marine loading arms are not able to operate in more extreme weather conditions or sea states, and as a result can lead to a shutdown of transfer operations, effecting both cost and schedule. However, tandem loading and offloading allows vessels to maintain a safe distance during operations, enabling them to mitigate the risk of collision between two vessels, thereby enhancing safety.
Trelleborg is the first company to receive EN1474-2 accreditation for its 20" Cryoline LNG hoses, designed for fatigue resistance in even the most hazardous conditions. During the development of the Cryoline hose-in-hose technology, several full scale hose prototypes were successfully tested in both static and dynamic conditions – with most tests taking place in cryogenic conditions at -196 °C/ -321 °F - demonstrating their ability to withstand fatigue resistance in even the most perilous conditions. The hoses can also operate in any and virtually all sea states – dramatically improving safety and allowing for faster transfer times which, in turn, cuts operating costs.
For ship-to-ship floating configurations, Cryoline hoses are available with large inner diameters ranging from 16 to 20 inches. This will provide operators with a greater choice of configurations, offering more flexibility, and a more operationally efficient replacement to conventional ship-to-ship systems. For example, ship-to-ship aerial transfer operations require only three 16-inch Cryoline hoses as opposed to ten 8-inch hoses; reducing handling operations by as much as 60 percent.
Able to extend to up to 600 meters away from floating receiving and distribution terminals and coastal gas carriers, Cryoline hoses ensure optimum standards in safety. Whereas traditional transfer is conducted with numerous 8" or 10" standard hoses, Cryoline technology utlizes 12-inch to 16-inch hoses – enabling them to cope with an LNG flowrate of up to 10,000 m3/h.
With no use of "Y-piece" joints required, Cryoline technology ensures less handling, fewer potential leak points, and less likelihood of pressure outage, while loading and offloading lead time is greatly reduced.
Boil-off generation during transfer presents another challenge for operators in offshore conditions, often causing a significant loss of energy during the transfer process. Therefore the Trelleborg team focused on developing game-changing technology with insulated hoses that can reduce boil-off by as much as 60 percent. This equates to a saving of 10 billion BTU's of energy saved over the course of 500 transfers, and in addition, all Cryoline technology handling solutions are supplied with built in leak monitoring systems as standard, to ensure maximum operational efficiency.
Advances in technology such as Cryoline hoses have the potential to shape the future LNG market, supporting the development of LNG from its infancy into a mature and viable clean energy source. LNG's true potential as a clean energy source is still being discovered. But with stringent regulations continually coming into force, it is increasingly considered a realistic alternative to other more traditional energy sources. This rapid growth can only come from the success of innovations which can facilitate this transition to compliant and efficient operations, and the industry must look to adopt these technologies to ensure commercial success.
The Author
Gianni Sicuro is Global Director, Trelleborg Oil & Marine.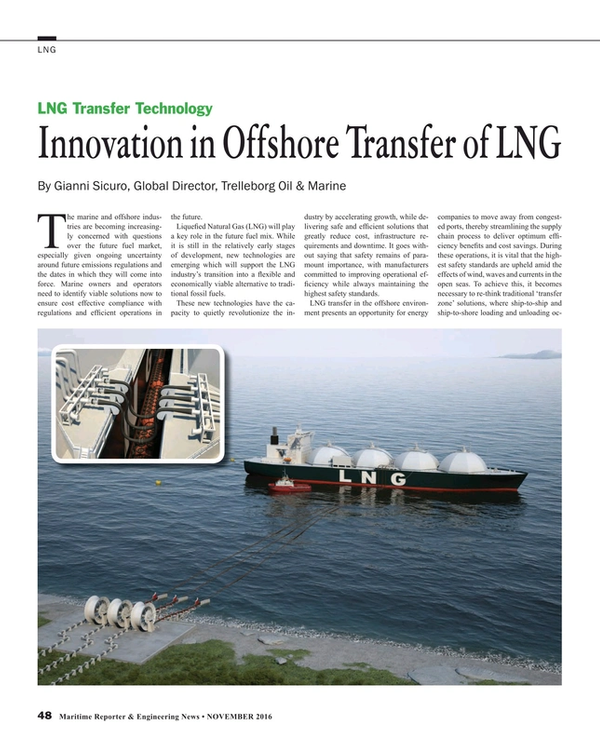 Read Innovation in Offshore Transfer of LNG in Pdf, Flash or Html5 edition of November 2016 Maritime Reporter
Other stories from November 2016 issue
Content