Crowley's Petroleum Transport Unit Takes the Long View
By Greg Trauthwein
The mantra at Crowley is "safety" and "people," but it's not simply words, rather embedded practice starting from the top. Robert Grune, SVP & GM, Crowley Petroleum Services talks to Maritime Reporter regarding this ubiquitous company's historic success and promising future in the petroleum transport sector.
Robert Grune leads one of Crowley's six business units, responsible for U.S. flag Jones Act oil transportation business. The current fleet consists of 17 Articulated Tug Barges (ATBs) ranging in size from 150,000 to 330,000 barrels capacity, as well as four U.S. flag MR oil tankers. In addition Crowley managers an additional 16 U.S. flag MR oil tankers on behalf of a third party, and there is also its LNG transportation and supply business in the Caribbean that comes under Grune's responsibility.
In looking at the Crowley fleet under Grune's guidance today, the overarching thought is "young."
While ATBs are a regular site on today's waterways, the concept – relative to the maritime industry as a whole – is still fresh, as Crowley was a leader in the adoption of ATB transportation technology in the U.S., starting with a series of four 550 series units in 2002, followed by an order for 10 larger (185,000 barrel) units a few years later, and including a series of three 750 series units – 330,000 barrel units purpose built for a customer about six years ago. Taking into account the six tankers that Crowley had built in Philadelphia (the last of which was delivered only a few months ago, and since delivery of the first two of the ships were sold to Kinder Morgan).
Crowley is a long-tenured player in the maritime market, and while Grune's Petroleum unit currently has no new vessels under construction, he explains that the Crowley philosophy always has been – and always will be – to not build vessels on spec. Rather tonnage is added to the fleet in close consultation with clients.
"We've been in the oil transportation business since the 1930s, starting in San Francisco using small towed barges on the west coast moving oil," said Grune. "Over time we've increased the fleet. Going into the ATB newbuild program (for example) we already had a substantial towed fleet of offshore barges – about 150,000 barrels, our "450 Series" barges – and they were getting a little long in the tooth, and we knew we needed a fleet replacement."
Hence the dramatic investment move into the ATB business, and as Grune proudly points out, many of the original ATBs (550s) continue to be charted to the original charterers, which is a testament to the vessels.
Market Fluctuations
Company's such as Crowley that take a long-view of the market are arguably more resilient to fluctuating markets. "Our philosophy has been, and it always will be, that we don't build vessels on speculation," Grune re-emphasizes. "We build vessels for the demand of our customers, and we partner with our customers to help determine their needs … and frankly we have been very successful at that."
The focus of the market for the past two plus years has been a suppressed oil and gas market, as effects of pricing pressures have rippled throughout the U.S. maritime market and indeed around the world. Grune admits that the previously booming shale oil market was one impetus for the construction of new tonnage, particularly the six ships, and that the market has effectively turned with the precipitous drop in oil pricing fed in part by OPEC's refusal to reduce production.
"The market has tightened up," but the essence of what we do here at Crowley is to "run a safe, reliable fleet; that is our focus every day," said Grune. "So the changes to the market affect us, but we're in a pretty good position over the long term because of those relationships. There is a base level of demand for U.S. flag Jones Act vessels that simply will not go away."
While the market is tighter today than two years ago, when Grune looks across the competitive landscape he sees older vessels in the U.S. flag market that could be retiring. "When I took my last look there wer about 22 vessels more than 20 years old that are in the market," said Grune. "While there is no requirement that those vessels have to be retired, as they get older it will be harder to get them approved by the oil majors, so they will start dropping out of the marketplace."
Looking near-term to the coming year, Grune estimates that the market will be "challenging in 2017," but that there are may variables that could conspire to drive the price of oil back up, citing the $60 per barrel as the level where "everyone is going to be just fine."
Challenges Ahead
When looking beyond 2017, the challenges Grune sees are not altogether unique to other maritime operators: adopting a Ballast Water Treatment solution as well as deciding the way forward to comply with ever-stricter emission rules.
"The Ballast Water Treatment issue is a huge issue, and it's not cheap: for one of our Tug/Barge units you're talking about a $2 million investment to buy and install the equipment," said Grune. The key for Crowley, and in fact for all maritime operators is figuring how to recoup this massive capital investment cost. "How do we recoup that? I think it really comes back to the relationships with our customers," said Grune. "They know these are requirements, and we are not simply adding $2 million in capital costs to each unit because it's fun."
When it comes to emission solutions, Grune said that Crowley is leaving no stone unturned, looking at everything from alternative engines to scrubbers to LNG fuelled propulsion, a process too that is conducted in consultation with its customer base to arrive at a solution that is beneficial for all.
While technology is an obvious point of study and investment, Grune insists that Crowley's number one challenge, its number one area of focus historically is the quality of its mariners. "We don't get paid for sitting around doing office work, we get paid from moving oil from 'point A' to 'point B.' I'm not out there moving oil, I used to be a mariner, so I have an empathy and concern for our mariners," said Grune. "We are focused on their training, their quality of life, and we want to ensure they understand our safety culture. Our number one focus are our mariners, they are the tip of the spear."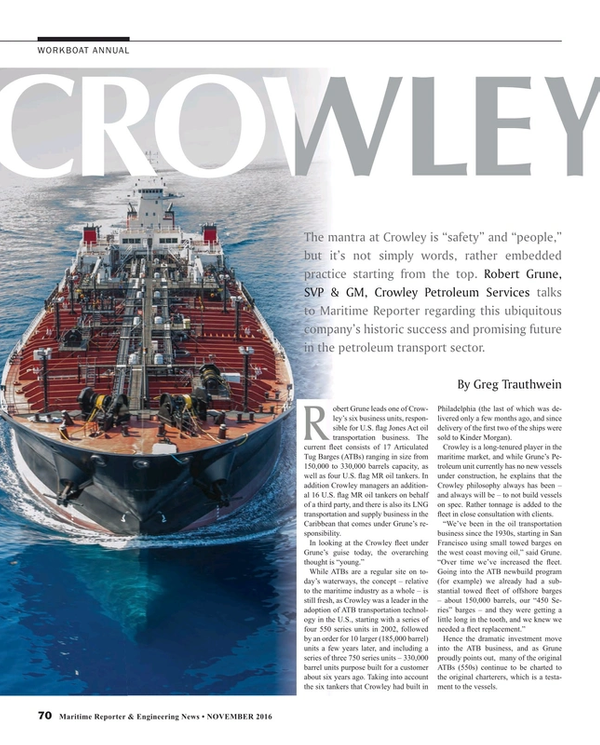 Read Crowley's Petroleum Transport Unit Takes the Long View in Pdf, Flash or Html5 edition of November 2016 Maritime Reporter
Other stories from November 2016 issue
Content