USCG PSC Equals meaningful Polar Presence
By Ned Lundquist
The Coast Guard needs a ship that can do more than just break ice; it needs a multi-mission ship to provide for the nation's security, asserting its sovereign rights, and protecting its long-term economic interests. That ship is the Polar Security Cutter.
Since Russia cashed the check in 1867 for the purchase of Alaska the U.S. has been an Arctic nation. Today, it is one of eight countries that have territorial land or seas above the Arctic Circle or in the polar region (six of those countries have Arctic Ocean coastline or an exclusive economic zone above the Arctic Circle). The U.S. has also conducted significant research activities in the Antarctic region for many years.
Global interest in the extreme latitudes has increased, especially in the Arctic, where the amount of multiyear ice has decreased dramatically, and the presence of open water has attracted attention from shippers, fishermen, tourists, scientists, and the military, as well as interest in extracting minerals, oil and gas. Seafood is a multi-billion-dollar industry. There are also communities in the region requiring support and protection if needed.
Protecting America's interests in the region requires a meaningful presence, and that requires ships, aircraft, systems and people capable to operate there. With icebreaking one of the Coast Guard's 11 statutory missions, the service operates the nation's icebreakers. But these ships are old and must be replaced. In fact, the service currently has just one operational heavy icebreaker and one medium icebreaker.
"As the region continues to open and strategic competition drives more actors to look to the Arctic for economic and geopolitical advantages, the demand for Coast Guard leadership and presence will continue to grow," states the Coast Guard's Arctic Strategic Outlook, released in April 2019.
"In order to prosecute its missions in the Arctic, the Coast Guard must fully understand and operate freely in this vast and unforgiving environment. Effective capability requires sufficient heavy icebreaking vessels, reliable high-latitude communications, and comprehensive Maritime Domain Awareness. In order to respond to crises in the Arctic, our Nation must also muster adequate personnel, aviation, and logistics resources in the region. The Coast Guard is the sole provider and operator of the U.S. polar capable fleet but currently does not have the capability or capacity to assure access in the high latitudes," the strategy said. "Closing the gap requires persistent investment in capabilities and capacity for polar operations, including the Polar Security Cutter."
In testimony before Congress in April, Coast Guard Vice Commandant Adm. Charles Ray said "Our recently published Arctic Strategic Outlook reaffirms our commitment to American leadership in the region through partnership, unity of effort, and continuous innovation, and establishes three lines of effort to achieve long-term success. First, we will enhance capability to operate effectively in a dynamic Arctic domain; second, we will strengthen the rules-based order; and third, we will innovate and adapt to promote resilience and foster prosperity."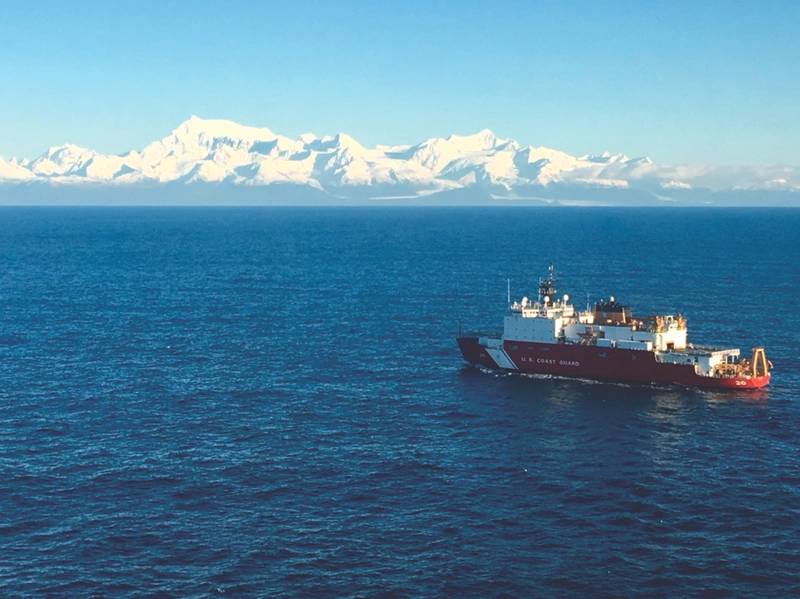 The Coast Guard Cutter Healy (WAGB-20), a polar-class icebreaker, transits Southeast Alaskan waters, Nov. 24, 2018. The Healy is one of two ice breakers in U.S. service. U.S. Coast Guard photo by Lt. Kellen Browne.Competition and Cooperation
Dramatic and dynamic changes in the Arctic have opened the region to levels and types of activity not seen before, and that is creating a demand for Coast Guard services.
"We have a new region that's open to man, and there are significant natural resources there," said Coast Guard Vice Commandant Adm. Robert Ray, speaking at the American Society of Naval Engineers Arctic Day symposium in September. "There are multiple people interested in it, so you're going to have competition."
Russia is one of those competitors, but with a legitimate stake in the Arctic. "Twenty percent of Russia's landmass is north of the Arctic Circle, and both onshore and offshore resource (minerals, oil, and gas) development is crucial to the Russian economy. Russia is also advancing the growth of the Northern Sea Route (NSR) for trans-Arctic shipping and other commercial opportunities," said Ray in his April testimony.
With nearly 50 icebreakers that include four operational, nuclear-powered heavy icebreakers, and three new heavy, nuclear-powered icebreakers currently under construction, Russia maintains the capabilities, capacities, experienced crews, and infrastructure necessary to operate into the Arctic year-round and surge as required. In fact, since 2013, Russia has built 14 new icebreakers and built or reoccupied six military bases.
"China has recently taken an active role in Arctic development, pursuing economic investments with every Arctic nation in key strategic areas, such as oil and gas development, ports, railways, and infrastructure. With the release of their Arctic Policy in January 2018, they have declared themselves a nation intrinsically tied to the Arctic, and signaled their intention to play a security and governance role in the region," said Ray.
"While we've got competition, that doesn't mean that there has to be conflict," said Ray.
"Anything that we do in the Arctic or Polar regions in general requires a collaborative effort. We are much better off as a nation when we operate in coordination with other nations that have similar interests there," Ray said.
Ray pointed to a number of initiatives, such as the Arctic Council, Arctic Coast Guard Forum and Pacific Coast Guard Forum, where the U.S. can cooperate with the other nations on matters of mutual interest. But America must have a visible presence of its own.
"The center of gravity of what we need to do as an Arctic nation is capability, and capability provides presence," said Ray. "Diplomacy, governance and regulations—all that is interesting conversation if you don't have presence in the Arctic region."

Scientists pull a sled of science equipment Sunday, Sept. 30, 2018, about 350 miles northeast of Barrow, Alaska. The U.S. Coast Guard Cutter Healy (WAGB-20) is underway in the Arctic with about 100 crew members and 30 scientists to deploy sensors and semi-autonomous submarines to study how environmental factors affect the water below the ice surface for the Office of Naval Research. The Healy, which is homeported in Seattle, is one of two ice breakers in U.S. service and is the only military ship dedicated to conducting research in the Arctic. (NyxoLyno Cangemi/U.S. Coast Guard)Urgent requirement
The Coast Guard's icebreaking fleet is in a precarious predicament. To say that the Polar Star and in-active sister Polar Sea are old is an understatement. For Rear Admiral Nathan Moore, the assistant commandant for engineering and logistics and the chief engineer of the Coast Guard, the Polar Star was his first ship after graduating from the Coast Guard Academy in 1992. "When I reported as an ensign aboard Polar Star, the person who showed me around told me that the ship was really old and the Coast Guard was going to get rid of it."
But while the Coast Guard icebreakers are old, they are still capable. The missions they perform cannot practically be carried out by other platforms. There aren't a lot of viable alternatives.
The Polar-class icebreakers are the most powerful in the world, but they are a single mission ship. "Polar Star, when its running with all three engines up on line, and the communications with the computer are working, it is an incredible icebreaker," said Capt. Michael Davanzo, chief of the Office of Cutter Forces. "But it's very limited in what it can do outside of breaking ice."
The 420-foot Healy is also an impressive icebreaker—it was the first surface vessel to reach the North Pole unaccompanied—but it is designed primarily for scientific research.
The PSC, however, will not be "just an icebreaker," Davanzo said. "It must be able to launch and recover boats and aircraft, both manned and unmanned, and perform virtually all of the Coast Guard's missions, including law enforcement, aids to navigation, search and rescue, marine safety, commercial and the vessel inspections, living resources management, marine security, ports and national defense."
But until replacements arrive, the current ships must carry on. The Polar Star needs a shipyard maintenance period each year when she returns from Antarctica, and Healy needs a mid-life overhaul, which will be spaced out over three years so she will still be able to support science missions in the Arctic summer. "Our challenge is to do that maintenance without missing a mission," Davanzo said.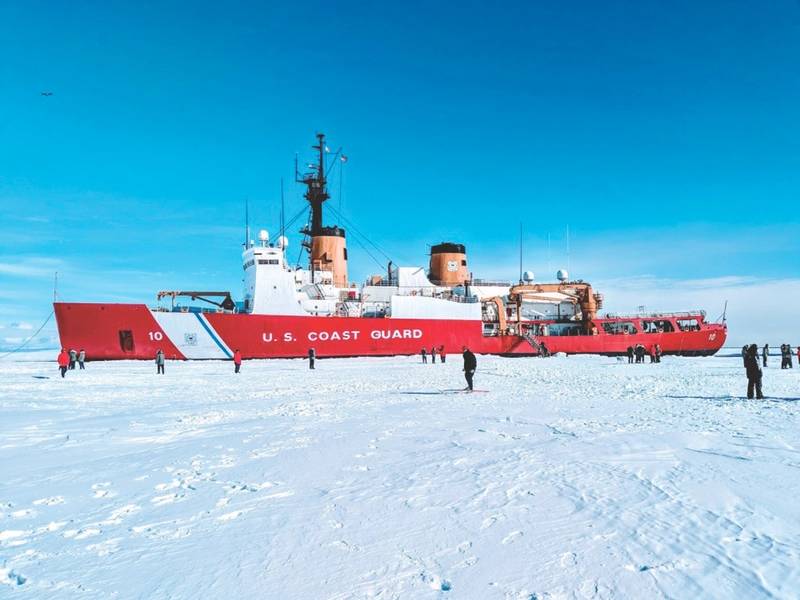 Members of the Coast Guard Cutter Polar Star participate in various activities on the ice about 13 miles from McMurdo Station, Antarctica, Jan. 26, 2018. Stationed aboard the only U.S. heavy ice breaker, the crew is able to set foot in places few people ever experience. U.S. Coast Guard photo by Fireman John Pelzel.Breaking new ice
Originally called the Polar Icebreaker (PIB) program, the name was changed to better reflect the versatility and capability of the ship. The PSC program is planned to procure three heavy polar icebreakers, followed by up to three medium polar icebreakers in the future
The Coast Guard and Navy Integrated Program Office for the PSC program awarded a $745.9 million fixed-price, incentive-firm contract for the detail design and construction (DD&C) of the first PSC to VT Halter Marine of Pascagoula, Miss., on April 23, 2019. The contract includes options to build the second and third PSCs. The shipyard's design partner is Technology Associates, Inc. (TAI) of New Orleans, La., which based the PSC design on the Polar Stern II, an icebreaker currently being built in Germany.
The PSC will be 460 feet long with a beam of 88 feet and a full load displacement of about 33,000 long tons. The diesel electric propulsion will deliver more than 45,000 horsepower that will enable the ship to break ice up to eight feet thick. In addition to TAI as design agent, VT Halter Marine has teamed with Caterpillar for the main engines, ABB/Trident Marine for the Azipod propulsion system, and Raytheon as the command and control systems integrator. The first ship delivery is scheduled to occur in 2024, the second in 2025 and the last delivering in early 2027, if the options are exercised.
The ship will have to undertake long transits to get on station and conduct operations with limited or no logistics support. The vessel will accommodate 186 crew and research personnel for missions up to 90 days. And it must be able to perform a range of missions in a very inhospitable environment. The Arctic region yields extremely cold air and water temperatures with the summer's high temperatures only reaching near 40°F and water temperatures rarely reaching above 30°F. McMurdo Station in Antarctica averages 228 days below 0°F each year. The approaches to the polar regions pass through storm-filled seas, and any ship transiting from North America to Antarctica must be equipped to deal with the equatorial heat.
The PSC will be a "Polar Class 2" vessel, based on the standards agreed upon by the International Association of Classification Societies (IACS), and "able to conduct year-round operation in moderate multi-year ice conditions."
While icebreaking is one of the Coast Guard missions, Martin Mardiros, Polar Security Cutter Ship Design Manager, said that it is only a means to an end. "Icebreaking is just getting access to operate and conduct the missions we need."
That's why the PSC will be fundamentally different. "We're not building a more capable Polar Star or Healy, we're building a new type of ship," said Mardiros.
The number one mission for the new PSC will be to carry out the annual "break out" of McMurdo Sound to resupply Operation Deep Freeze at the McMurdo Base in Antarctica. But Ray said the Coast Guard needs at least three heavy icebreakers to provide the ability to operate anywhere, anytime. "The goal is to provide access to the Arctic, even in the winter, if we need to be there, or at least to expand the shoulder season."
Polar Star took part in Operation Deep Freeze 2019, but the mission was not without engineering challenges. The ship experienced power outages during icebreaking operations, a fire that damaged the electrical systems and a propeller shaft seal leak that required diving operations to resolve. Commandant of the Coast Guard Adm. Karl Schultz said "Events like these reinforce the reality that we are only one major casualty away from leaving the Nation without any heavy icebreaking capability."
"With increased activity in the maritime reaches and growing competition for resources, we cannot wait any longer for increased access and a more persistent presence in the Polar Regions," said Schultz. "Our sustained presence there is imperative to ensuring our Nation's security, asserting our sovereign rights, and protecting our long-term economic interests."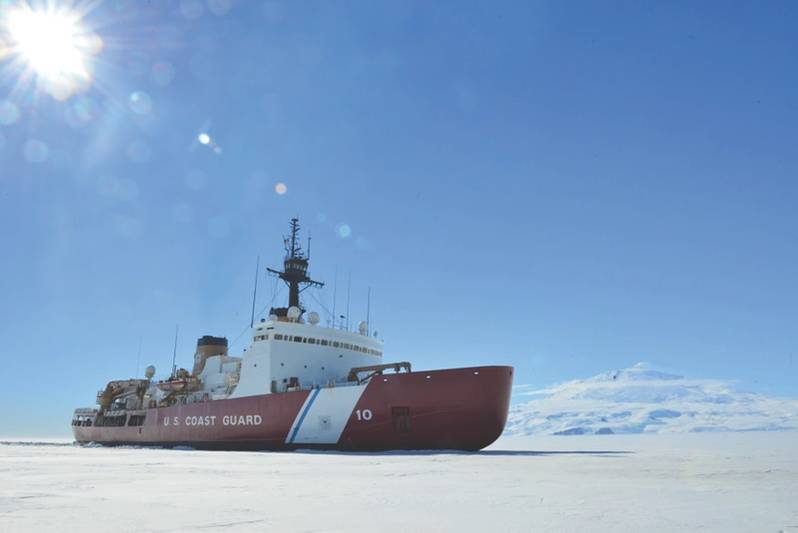 The Coast Guard Cutter Polar Star breaks ice in McMurdo Sound near Antarctica on Saturday, Jan. 13, 2018. The crew of the Seattle-based Polar Star is on deployment to Antarctica in support of Operation Deep Freeze 2018, the U.S. military's contribution to the National Science Foundation-managed U.S. Antarctic Program. U.S. Coast Guard photo by Chief Petty Officer Nick Ameen.USCGC Polar StarWAGB 10 (Commissioned 1976)
USCGC Polar Sea WAGB 11 (Commissioned 1978 - Currently out of service)
399 feet, 13,000 tons
Range 27,000 miles
CODLOG, three shafts, CRP propellers, 75,000 shaft horsepower
Able to break 21 feet of ice by backing and ramming; steam continuously through 6 feet of ice

USCGC Healy WAGB 20 (Commissioned 1999)
420 feet, 16,000 tons
Range 37,000 miles
Diesel-electric, two shafts,
Able to break 10 feet of ice by backing and ramming; steam continuously through 4.5 feet of ice

Polar Security Cutter
460 feet, 23,000 tons
Range 80 days
Diesel electric; Azipod system; 45,200 horsepower
Able to break 21 feet of ice by backing and ramming; steam continuously through 6.5 feet of ice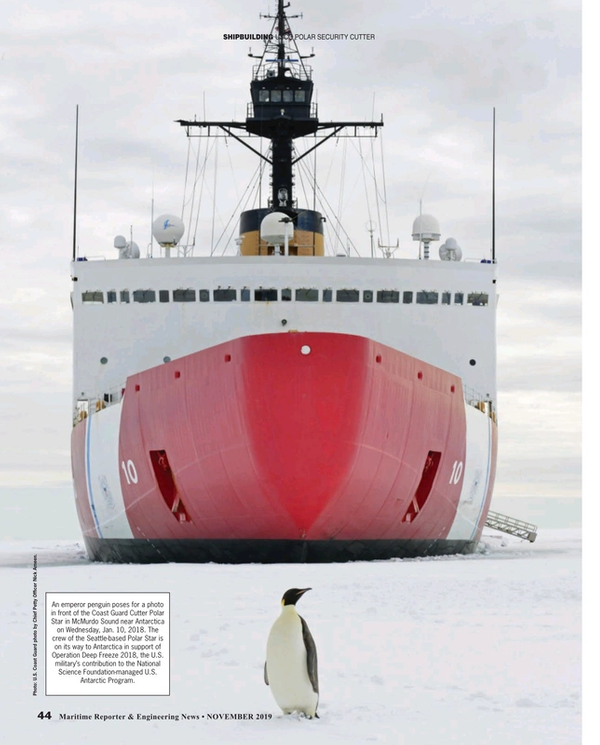 Read USCG PSC Equals meaningful Polar Presence in Pdf, Flash or Html5 edition of November 2019 Maritime Reporter
Other stories from November 2019 issue
Content