Interview: Boriana Farrar, Ship Owners Claims Bureau
Greg Trauthwein
Boriana Farrar is a familiar face in maritime circles, the Vice President and Counsel and a Senior Claims Executive and Business Development Director for the Americas at the Ship Owners Claims Bureau, Inc. managers of the American P&I Club. We met with her in her NYC office to discuss her path from her native Bulgaria to a top maritime professional position.
When Boriana Farrar moved from her native Bulgaria to the United States in 2001, she did so to be close to family, her mother and her sister who had already established a life in the U.S., some 5,000 miles from her homeland. At the time, a career in maritime was the furthest thing from her mind.
"The truth is that I fell into it; I come from a town surrounded by mountains, so never in my wildest dreams did I think I would be working in shipping. But here I am and I love it." said Boriana. "I always wanted to be an international commercial lawyer, but as an intern with a law firm (Sher Garner) in New Orleans I started working on maritime cases. I found it interesting and challenging, and I fell in love with the subject."
"I decided to specialize in maritime law and obtain another LLM in Admiralty Law at Tulane Law School, which is the best in this field in the country, if not worldwide. I find that the maritime world is very dynamic and still enjoy being part of it."
Boriana had many mentors along the way who helped shape her career especially Joe Hughes, Vince Solarino and Dorothea Ioannou at the American P&I Club and Greg O'Neill at her old law firm Hill, Betts & Nash LLP. But she credits Judge Stephen Plotkin, a 4th Circuit Louisiana judge and a Fulbright Scholar at the University of Sofia, from which Farrar is a graduate, instilling in her that "Everything in life is possible. No matter where you come from. No matter your background." And now that nearly 20 years has passed, through education and much hard work, she is firmly established as a leader in global maritime circles.

Actively Involved
Boriana is active in the maritime community outside the walls of her '9 to 5', and perhaps one organization that has stood out has been her connection with WISTA, the Women's International Trading and Shipping Association which has grown steadily in influence from its roots in 1974 and its official renaming and founding in 1984.
"I became involved in WISTA as a young lawyer in 2007. At the time there was a New York chapter, but it was not very active," said Boriana. She and a colleague Christine Ready decided to throw a reception to help reinvigorate WISTA, and over the past 15 years she has watched as the membership and influence has grown. "We have more than 600 members and I've been serving on the board for four years, so I've been involved closely in the oversight of the growth of the organization, and I was the head of the New York/New Jersey chapter for five years."
While the progress has been steady, she still sees much work to do to ensure that the female maritime workforce continues to grow in influence.
"We have done a lot, but there is a lot more to be done in terms of taking women seriously, and the participation of women in leadership roles throughout the industry," said Boriana. "I have to say that the Shipowners Claims Bureau, Inc. has been extremely supportive in this regard."
Boriana is an energetic sort, and her industry involvement doesn't stop with WISTA. She is also actively involved in the Seaman Church Institute, serving on the board of an organization that is hands-on involved in the daily welfare of seafarers, a mission that she says "closely overlaps with the objective of the Club. I have been incredibly impressed with the work that Seamen Church Institute has been doing, especially in the field of mental health." The American P&I Club, together with Seamen Church Institute, issued a joint guidance in that regard.
In addition, Boriana is involved in the Maritime Law Association in the United States, previously serving as a board member and currently serving as Vice Chair of the International Conventions Committee. "As a 'recovering lawyer,' being part of this wonderful legal community is important for me," she said. Finally, she serves on the board of MICA – Marine Insurance and Claims Association, "a really a wonderful organization as to promoting the insurance industry, which is important. Without insurance, we know, many companies can't function."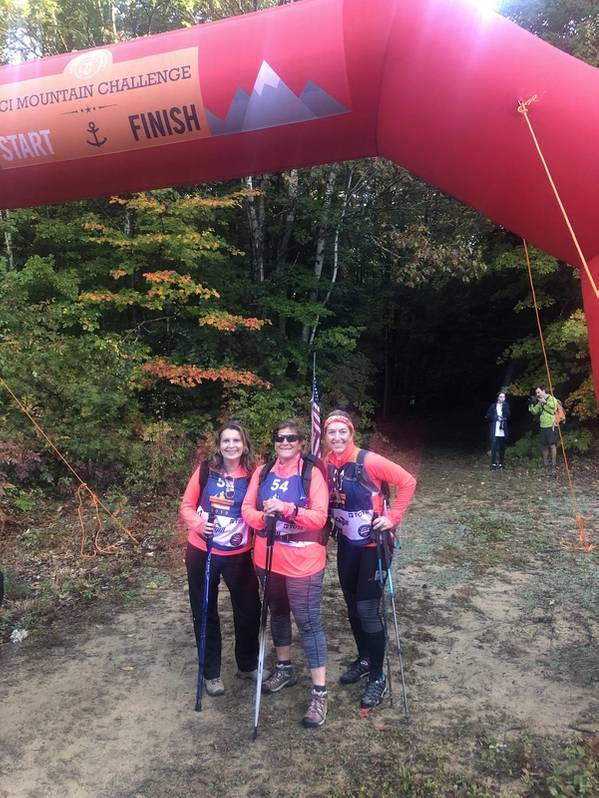 SCI Mountain Challenge teammates (L to R): Boriana Farrar, Jeanne Grasso and Blythe Daly from WISTA USA.The more things change …
While this is a transcendent period in maritime history – with strict new emission reduction regulations coming into force globally, the advent of digitalization and all of the promise (and peril) it encompasses, and the dawning of the age of autonomous operations – the business of the American P&I Club and the role of P&I clubs globally remain comfortably familiar. "When you look at the P&I world, for the last 100 years and beyond, it has not changed dramatically," said Boriana. "It is an international group of 13 clubs who have a pooling agreement amongst each other essentially in a reinsurance scheme that provides for a very affordable insurance globally; that scheme has not changed dramatically in the way it functions for many years. And this is a good thing because as it allows shipping to operate at a relatively low cost because of international group and the reinsurance arrangement."
Today about 90 percent of the worldwide fleet is insured with a P&I club in the international group of 13, a reinsurance and pooling arrangement that makes large claims – like Costa Concordia – to be covered effortlessly.
But that's not to mean her world is not impacted by the dramatic changes afoot in maritime today.
New IMO 20/20 rules coming in January 2020 have created a great deal of uncertainty among shipowners in regards to the best technical and business solutions to meet the new requirement today and in the future. The American Club, and in fact all P&I clubs, have been proactive to help fill the information void.
"Together with our loss prevention department, we have prepared compendium for our members for some potential issues that could arise," said Boriana, noting a series of seminars and training made available throughout 2019 to help members prepare for potential disputes. "It is essential that we provide information as due diligence for owners and their crews as to the new technology that is being installed, it an issue that everyone is focused on."
While much focus and attention has been on the IMO2020 fuel rules, the advent of autonomy and cyber risk has proven another hot topic within walls of all maritime insurers.
While the technology to permit autonomous operations has continued to evolve rapidly, generally the global regulatory issues and the insurance sector are considered to be the two biggest hurdles to clear.
"(Autonomy) is indeed a hot topic and we're talking about this all the time," said Boriana. "It's happening, it's unavoidable, and it's the future." While it is still a fairly limited and exclusive number of early adopters, there is a growing reference list, particularly coming out of the innovative Nordic countries, that are working toward autonomous vessel solutions for specific, local routes. "I don't see trans-ocean journeys made by autonomous ships anytime soon, but that doesn't mean that it won't happen in the future," she said. "From a risk evaluation perspective, we have a very capable underwriting department with formulas to calculate risk, and part of that calculation involves the human element." So when the onboard human element is removed from the equation, the calculation will change dramatically, but Boriana has confidence in her colleagues throughout the industry to adjust. "The insurance industry is a well-oiled machine, and it is also very adaptable. So if there is a product, we'll find insurance for it. Overall, we are excited about it (autonomy). It's the future."

Full Speed Ahead
Boriana truly embodies the spirit of participation, and it is easy to see that she gets as much as she gives from being an active participant in the maritime community. "I'll allow myself to rephrase a quote by Kennedy: 'Don't think what you can take from shipping, think what you can contribute to it.'"
While she no longer is a practicing lawyer as she works in-house, she credits her legal background with providing a solid foundation for future growth.
"I want to talk about that a little bit because there is so little regard and respect nowadays to being a good lawyer," said Boriana. "The grace of the profession seems to have gotten lost in some regard, but being a good lawyer – or having a good lawyer – can make or break a company, a relationship, a deal or a life."
Her role today also focuses on the business development side, helping to ensure that her organization grows in step with an ever-changing industry. "I love being a rain maker, and my great-grandfather was a trader at a very successful practice, so I guess that's in my blood. Having a commercial approach, developing business strategy and bringing in business is something I have grown to love."
So when she looks back remembers herself as the young girl who grew up in Socialist Bulgaria, finding her desire to be a lawyer after watching "Kramer versus Kramer" and "Twelve Angry Men", moving to America and growing and evolving to become a leading maritime industry voice with an office in lower Manhattan overlooking the Statue of Liberty and a global presence, her advice and formula for success to all young people rings particularly true: "Work hard, keep trying and never give up. Never give up."

A Good Read
"My favorite book of all time is The Old Man and the Sea," said Boriana. "I think it symbolizes a lot what we deal with in life, and sometimes in the maritime industry. It is not, per se, connected to the economics of shipping. But coming from the perspective that the human spirit cannot be defeated, but at the end of the day you cannot defeat the sea, is a philosophy that we shouldn't forget in shipping. It is also something that, as a claims person dealing with casualties, we are reminded (too often). We have to love Mother Nature; we can't defeat her."
As published in the November 2019 edition of Maritime Reporter & Engineering News, https://magazines.marinelink.com/nwm/MaritimeReporter/201911/#page/1
Read Interview: Boriana Farrar, Ship Owners Claims Bureau in Pdf, Flash or Html5 edition of November 2019 Maritime Reporter
Other stories from November 2019 issue
Content