Scrubbers: A "360-degree solution" for Owners
By Scott Poulter, CEO, Pacific Green Technologies
As part of the IMO's commitment to reducing the maritime sector's output of greenhouse gases by 50% over the next 30 years, January will herald the new global 0.5% sulfur cap.
This is a major transition for ship operators and owners, but they have several options.
Many shipowners are switching to low sulfur fuel oil (LSFO), but this will mean a significant leap in vessel operating costs. The price of LSFO on 1 January 2020 is not yet known, but analysts have estimated that the price could be between $100-300 per tonne more than HSFO. With hints of global recession sparked by trade wars, this is a price increase few can afford.
Similarly, for most shipowners and operators considering compliance with the new global sulfur cap, converting a vessel to LNG would be prohibitively expensive.
As a result, it is estimated that by 1 January 2020, 4,000 vessels will have fitted exhaust gas cleaning systems (EGCS), also known as 'scrubbers'. While this does entail an investment, it's one that will pay for itself within the first year.
As LSFO is expected to be so much more expensive than HSFO, the potential savings (i.e. savings gained from installing a scrubber and burning HSFO instead of burning LSFO) can quickly offset the scrubber installation cost. Furthermore, HSFO will continue to be cheaper than LSFO in the years to come, and those using HSFO will continue to save money.
Some refiners have suggested, that with the switch to LSFO, there will not be enough HSFO to supply those vessels still using it. They say that new refineries being built are super-modern and will not produce HSFO in the short or medium term. This may be true.
But the supply of HSFO is not likely to be an issue in the short and medium term, because there are 700 established refineries around the world, and the vast majority will not be immediately upgraded to be able to deliver the extra levels of refining required for LSFO and other distillates (such an upgrade would cost each refinery an estimated $3bn).
And there will still be plenty of demand for HSFO when the new regulations come into effect - there will be 4,000 vessels with scrubbers installed by January 2020 and many more to follow. Even if the established refineries upgrade over the short-to- medium term, shipowners with scrubbers will still be able to enjoy significant financial advantages in the interim period.
The second compelling reason to install a scrubber is the benefit to the environment.
Shipowners and operators could learn from Toyota Prius drivers. Launched over ten years ago as the world's first mainstream green vehicle, the Toyota Prius wasn't as green as it was first assumed.
While the car's emissions were lower in GHGs, once the full production process of the vehicle was taken into account its green credentials were not nearly so solid. Studies by the US Department of Energy's Argonne National Laboratory revealed that the production of hybrid vehicles consumed significantly more energy, burnt more fossil fuels, produced more GHGs including sulphur oxide, than the manufacture of a standard vehicle.
The same is true for LSFO. Shipowners and operators who choose LSFO as their means of compliance, believing it to be more environmentally friendly, and therefore an economically and politically safer alternative, are failing to understand LSFO's true carbon footprint.
According to a recent study published by Norway's SINTEF, the energy required in the global production of LSFO produces far more GHG than in the production of HSFO. And this will be an even bigger problem when the volume of demand for LSFO after 1 January 2020 is taken into account.
The SINTEF study concluded that from well-to-wake, the continued use of heavy sulphur fuel oil with an exhaust gas cleaning system (EGCS) - a scrubber – actually offered the best way to meet the IMO's GHG emissions targets – both in terms of cost-effectiveness and in terms of GHG emissions.
The author of the report, Dr Lindstad, concluded that the use of HSFO with scrubbers offered the most benefits to marine and port environments and, as a result, human health.
A scrubber is an EGCS which is fitted to the outlet of a ship's engine to clean the exhaust gases before they are discharged into the atmosphere, allowing a ship operator to continue to use HSFO but meet the compliance requirements of the IMO's regulations.
Open-loop technology has been endorsed by the IMO, but some ports around the world seem to be denying the scientific evidence that informs and supports the IMO's 2020 regulations. Some are even banning open-loop scrubber technology, despite the research. In effect, they are acting as enforcers and, as a consequence, undermining the IMO.
To counter these fears, after more than a decade of designing, planning, manufacturing and implementing scrubbers on vessels, Pacific Green Technologies recommends its ENVI-Marine system, which is fully flexible and can be supplied as open-loop, open-loop hybrid-ready or fully hybrid system capable of both open and closed mode operation, depending on the sea's alkalinity and the effluent emission regulations wherever the ship is located.
The ENVI-Marine system is a new generation of scrubbing technology, based on a simple concept. First, it quenches the flue gases, then it cleans them by specialized frothing through pure seawater using its patented TurboHead process, then, it polishes and releases them as harmless salts, or stores them for safe disposal.
ENVI's unique patented TurboHead provides a highly interactive contact between the seawater and the exhaust gas in a turbulent zone containing a high amount of surface area for gas/ liquid absorption. This high energy liquid/gas interaction ensures both the residence time and complete interaction required to achieve the high efficiency removal of sulfur from the exhaust gas and the extreme turbulent interaction transfers the particulate matter from the gas to the scrubber fluid.
Used in its open-loop function the ENVI-Marine discharges neutralized sulfur into the sea, used in its closed-loop mode, the system uses caustic soda (NaOH) or magnesium hydroxide (Mg(OH)2) as supplemental reagents, and the solution can be processed and simply stored for disposal ashore.
"Depending on the size of the ship, retro-fitting the ENVI-Marine technology can take between just two or three weeks during maintenance downtime, and offers numerous benefits including a customized flexible shape, an eco-friendly footprint and attractive capital and operational costs. The ENVI-Marine system really is at the forefront of technological advancement, offering exceptional flexibility and the very best 360-degree solution for IMO 2020 emissions compliance."

About the Author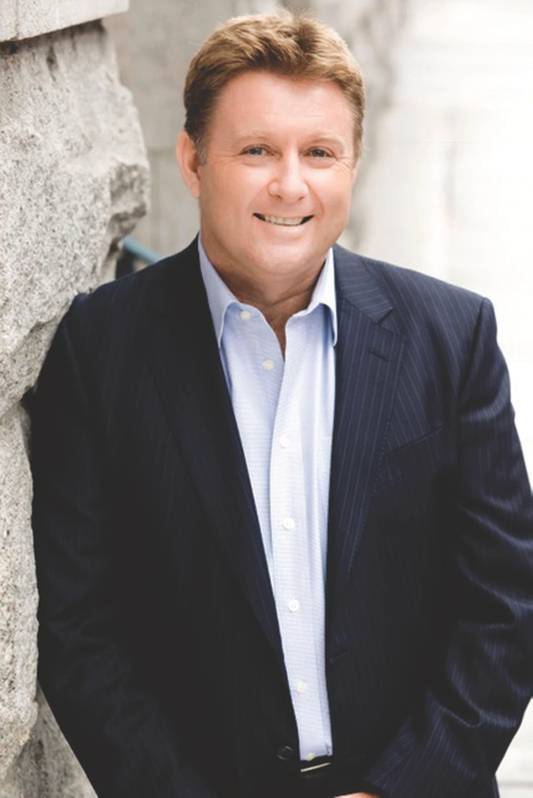 Scott Poulter is founder and CEO of Pacific Green Technologies, a company with a range of highly efficient emissions products and the capacity to produce them cost effectively worldwide.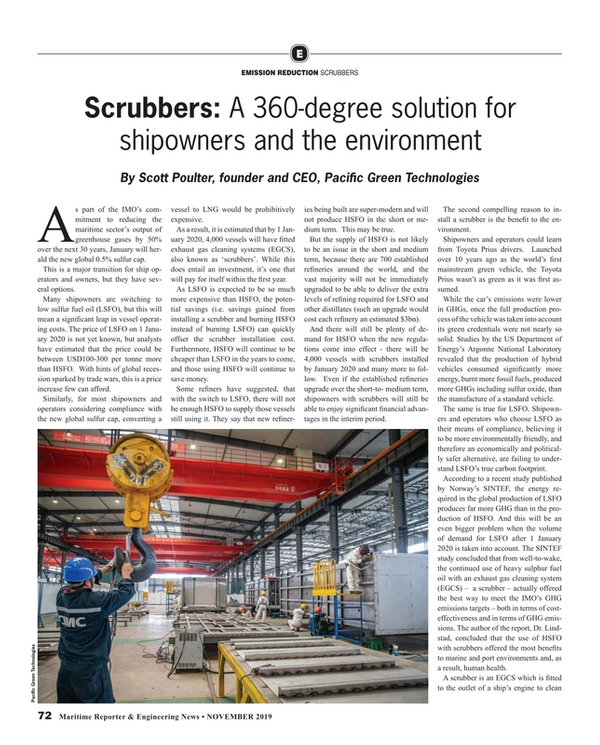 Read Scrubbers: A "360-degree solution" for Owners in Pdf, Flash or Html5 edition of November 2019 Maritime Reporter
Other stories from November 2019 issue
Content