Interview: Mike Complita, Elliott Bay Design Group
Eric Haun
Mike Complita is going on 30 years in the maritime industry. Complita started work at Elliott Bay Design Group (EBDG) as an intern while attending the University of Washington in his hometown, Seattle. "And since that time, I've served in pretty much every role, from a technical and project management standpoint, all the way up to principal of our organization," he said. Today, as Principal in Charge and VP of Strategic Expansion, Complita works alongside EBDG's other principals to help guide the firm's project managers, advance new areas of business and serve as the outward facing representative for the organization.
Complita reflects on highlights of his career and weighs in on advances in vessel design and technologies as well as the challenges and opportunities that come with these developments.
What inspired you to get into naval architecture, and what do you enjoy most about the field?
I knew from a pretty young age that I wanted to be an engineer. And even though I grew up in Seattle around boats, it never occurred to me that people design boats. When I was at the University of Washington, there was an optional course in naval architecture taught by a wonderful professor named Bruce Adee. This is what really inspired me to pursue naval architecture and understand the great opportunities in the field. Adee actually introduced me to Elliott Bay Design Group and a few other firms. I was hired as an intern at Elliott Bay and carried on from there.
There are a lot of things in my career that I have thoroughly enjoyed over the years. At a high level, the opportunity and the ever-changing industry dynamics have always been exciting to me. There's always something new to pursue, experiment with and work on, like updated or new regulations, opportunities or market segments that captivate and capture our interest. Right now, I'm really intrigued by alternative fuels and alternative energy options. That is an area of our organization that I've taking a leadership role in. Our company is working hard toward a leadership role in the industry overall, in support of our customers.
What's new from Elliott Bay? Can you share updates or details about some noteworthy projects that you're working on?
A big part of our backlog for the last few years has been working with customers to advance designs for electric and hybrid propulsion ferries. There are a number of ferry projects that will be advancing here in the coming months—some pretty substantial ones. One project is we're working with Washington State Ferries to get ready to bid in their new format and new form of bidding for their hybrid electric vessels.
In addition to the Hydrogen One towboat newbuild project with Maritime Partners, we're working with a number of different tug operators on modifications to existing vessels, to make them more environmentally friendly.
We are starting to see a lot of interest from ports around the United States for our barge-based alternative to shore power. We're in discussions with a number of those ports, regulatory agencies, and MARAD about what that might look like.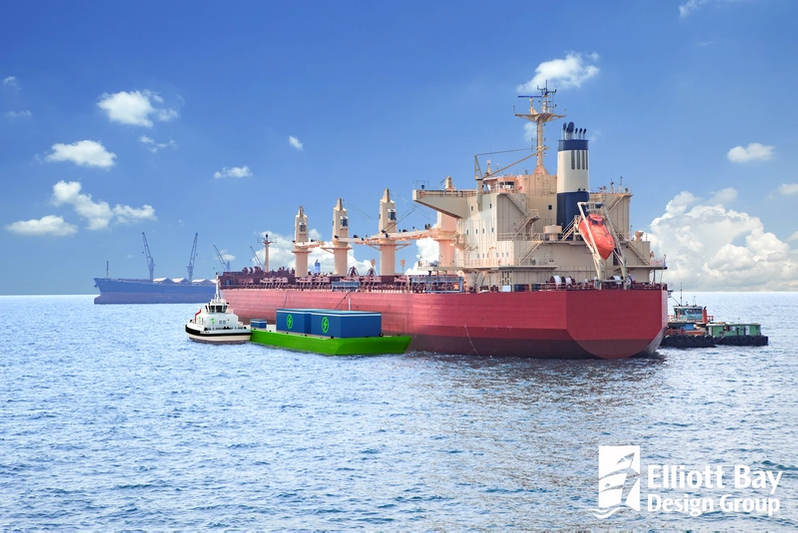 Elliott Bag Design Group has developed a barge-based alternative to shore power. (Image: Elliott Bay Design Group)
What are some possible applications or areas where this barge-based power solution would be a good fit?
The design we've developed is a bit like a Lego kit, with two options to choose from, or a combination of the two. One option is a higher capacity AC electrical system up to 12 megawatts, to power large vessels, either at berth or at anchor, without needing the port to install conventional shore power from the power grid. The barge would pull alongside the vessel requiring power and plug into it rather than utilizing shore power at the dock. And that would run off of low emission alternative fuels.
The second option uses the same platform and a different type of technology to fast charge harbor craft like tugs, crew boats, pilot boats, or dredge tenders that would benefit from not having to come all the way back to the terminal or port where they berth to plug in. They won't need a dedicated berth with that charging capacity. Using the power barge, they can stay in the field and repower between jobs. In that feature, they can pull up to this floating platform, staged out in the field of operation, and in 20 minutes can put a 20 to 30% charge into their battery system very, very quickly.
Are there other trends and advancements in naval architecture that you find particularly interesting or exciting?
Certainly. Wind is a huge new field that everyone is talking about. While that touches on alternative fuels, it also touches on hull form and other things for optimization for the environment. Interestingly in wind, we've got the East Coast, Gulf Coast, and West Coast which all have very different environments. There's a lot of conversation around what types of vessels and what types of hull forms are appropriate for each location.
We're continuing to see a lot of interest from universities and other institutions in supporting wave energy studies and other ways and means to harness the energy of the sea and convert that into usable power. There are a lot of different grant opportunities and things that we're being asked to support on that front.
We are working with a customer, Nautilus Data Technology, who has a floating data project installed in the port of Stockton in California. It's an old barge that has been updated and reused with a data center built on it. Now, we're going to be doing a series of new construction data barges that will be positioned around the world. It's very unique and outside the box.
We are also gaining a lot of experience in advanced weld procedures, and we've been able to save our clients a tremendous amount of money in helping them find a simple path to what has traditionally been a very complex welding procedure problem. We've been able to find ways to support weld projects with different strategies, that allows clients to take a weld process on some of these military crafts, for example, that costs a million dollars to do, and scale it back to something that costs them just a few thousand dollars to do.
What sort of challenges or concerns are you facing, and what's your approach to dealing with them?
It's a blessing and a challenge, but the industry is getting very busy for a wide range of reasons—all the different project types that we discussed and many more. And of course, we've heard for a long time about labor shortages within the maritime industry. Finding and having access to skilled and talented workers is going to be a growing problem, along with most industries, in the future. That's a real challenge.
I think another challenge that we see, and again, it's a blessing and a challenge at the same time, we're at the early stages of artificial intelligence. We have read a lot about how to properly integrate AI into engineering and the work we do. But then also, ensure that it doesn't override human common sense and human knowledge. It's not that we're afraid of it. We're just being careful not to go too far into relying on such new technology and letting it make decisions for us. We need to validate AI through human knowledge and experience.
There's a lot of talk in the world about diversity, equity and inclusion, and there's starting to be a lot of talk about social justice. We're seeing a lot of DEI expectations enter into contracts with our clients. At EBDG, we are committed to bringing justice, diversity, equity and inclusion to our work while delivering on our commitments in a truthful and meaningful way that meets the clients' expectations.
Social justice is an interesting one because it helps us think outside the box or think of the bigger picture, and step back and say, "Hey, for the longest time, boats have been designed around strong men that can easily turn valves and haul heavy lines." As the world advances and the maritime workforce diversifies, it is important that we design vessels and configure equipment for a broader range of abilities. Can we use automation? Can we use electronics? Can we use other things? Can we reposition things in ways that make it easier and safer to access?
And I think that that's really important because it will help attract more people to the workforce and give our clients much broader access to workers. So how do we rethink what we design and do to help our customers be able to hire and attract more people and be more effective in their jobs?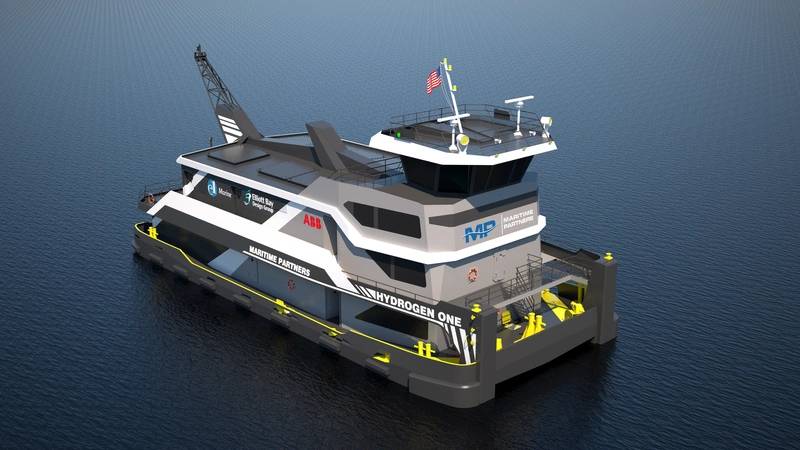 Elliott Bay Design Group designed Maritime Partners' Hydrogen One, a first-of-its-kind towboat that will run on emissions-reducing methanol-to-hydrogen generator technology—without diesel propulsion. (Image: Elliott Bay Design Group)
Can you discuss the impact of regulations and standards on naval architecture and on the industry as a whole? What trends or shifts have you been seeing lately, if any? As the industry continues to push forward, especially with all these new technologies that we've discussed, are regulations keeping up?
That's a great question. I'm glad you asked it, because it ties into the challenges and the opportunities aspect. Technology, as we know, is evolving very quickly to meet decarbonization goals. New propulsion technologies aren't just engines and alternative fuels. They're also ways of making the propulsion technology, the propellers more efficient and coatings and everything that goes along with that.
There is a challenge to keep up with the rapid pace of change but also an opportunity. The biggest challenge in that is helping regulatory, and especially the U.S. Coast Guard, keep up with that change.
The Coast Guard has limited resources, both funding and personnel. They have been exceptional in working with us on our new and alternative projects of every kind. But they have a job to do and a mission, and they can't just say, "Oh, that sounds cool, let's give it a go and try it." We have to prove to them that the new technology and systems are still safe and still appropriate. That they are reliable in a variety of sea states, environment and working conditions.
How do we help them become comfortable with and understand these new technologies, and equally as important, how do we help them get there quickly to support the timeline that commerce needs to introduce these ideas and meet IMO's goals and meet all of the other goals and aspirations of the different ports and the different world organizations?
Over the course of your career, as you look back, is there a project that sticks out to you as being most memorable or interesting?
That's a hard question for me because I've been doing this for so long. I can think back to each phase of my career and think of some really interesting and cool projects that were really awesome at the time and I reflect on fondly, and they're all very different.
I am especially proud of the work that we have done with Alaska on developing, designing, and building five oil spill recovery barges. Gunderson built four, and one was built by Bollinger in the Gulf Coast. They're some of the largest in the world, and they are the only purpose-built, dedicated ABS-certified spill recovery barges in operation, or actually ever in the history of the United States.
They're giant barges with a very dedicated purpose. And even though it's a basic barge hull, it was very interesting to work through all of the logistics and operational requirements for making the barges actually go and collect oil out of the water and avert or mitigate an environmental disaster. Which is very opposite of the work I've done in my career, which I'm also very fond of, while designing double skin oil carriers. It was neat to take all that knowledge I've gained over 10, 15 years of developing those designs, and then rethink all of that to say, "How do we go the opposite direction? How do we take oil out of the water and manage in?"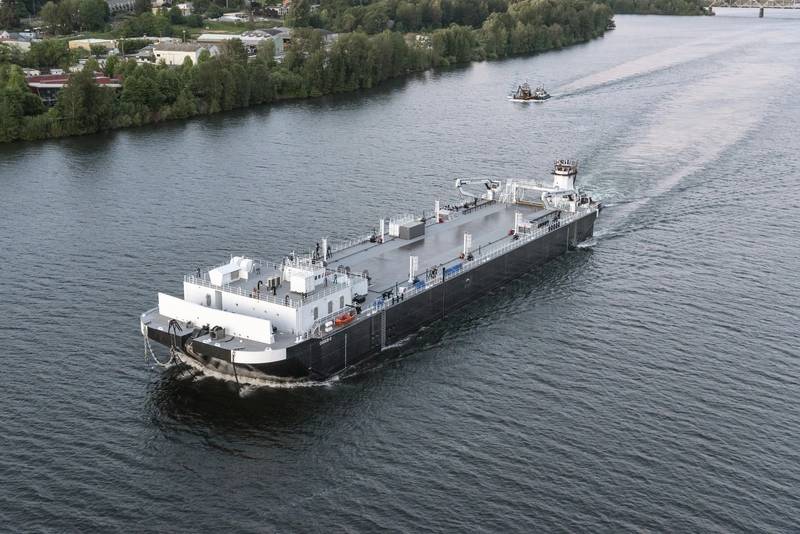 "I am especially proud of the work that we have done with Alaska on developing, designing, and building five oil spill recovery barges." (Photo: Elliott Bay Design Group)
Is there anything else that you'd like to add?
One message I really want to keep presenting to our industry is that Elliott Bay Design Group is working hard to be a leader in the realm of decarbonization and emissions reduction.
We are working to stay current on all of the latest technologies and different options—battery, alternative fuels, all of it! We are not a one trick pony in any way with regard to any particular technology or vessel type. That will be a primary focus of our organization going forward, to be an industry advocate and advisor for our industry as a whole. We want to stay independent and not dedicated to any one technology. We want to help our customers pick the right options and technologies and right vendors for their particular need.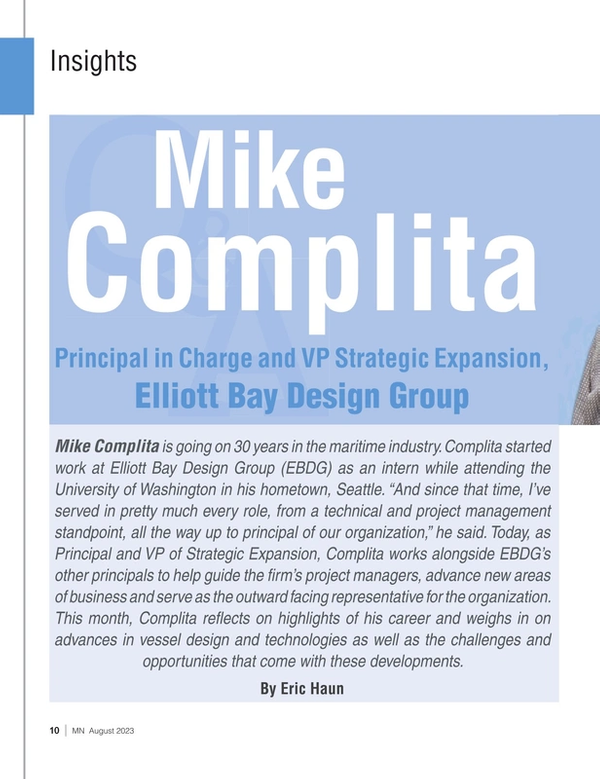 Read Interview: Mike Complita, Elliott Bay Design Group in Pdf, Flash or Html5 edition of August 2023 Marine News
Other stories from August 2023 issue
Content