US Shipyards Investing to Add Serious Lifting Power
By Eric Haun
Shipyards across the U.S. are investing in new equipment to increase lift capacity, opening up the door for more projects and improved efficiency.
Southern California-based Marine Group Boat Works, which performs a mix of yacht, commercial and government vessel repair work, in 2022 repowered its 665-ton Marine Travelift mobile boat hoist—the largest on the West Coast—with a Tier 4 John Deere engine. And earlier this year it was awarded a MARAD Small Shipyard Grant worth more than $1.1 million toward the purchase of an even larger 820-ton variable width Marine Travelift hoist amid an anticipated sharp demand increase for repower and new construction projects to help operators meet stricter harbor craft emissions rules put in place by the California Air Resources Board (CARB).
Each year, Small Shipyard Grants are awarded by the U.S. Department of Transportation's Maritime Administration (MARAD) to help small shipyards modernize, increase productivity and expand local job opportunities. A quick search through the awards given out over recent years reveals that a large portion of the funds are being put toward equipment that will help shipyards boost their lifting power—welcome news for manufacturers of cranes, hoists, lifts and vessel transporters.
One of the companies awarded a Small Shipyard Grant this year is North Kingstown, R.I. shipyard J. Goodison Company, which netted more than $700,000 to support the purchase of a 176-ton hydraulic self-propelled vessel transporter. The new transporter will allow the shipyard to more efficiently serve clients such as the U.S. Navy, National Oceanic and Atmospheric Administration (NOAA), U.S. Coast Guard and the region's commercial fishing fleet, while expanding capacity to serve an increasing number of crew transfer vessels (CTV) that will operate in the region as offshore wind activity picks up.
Stevens Towing has also recently added lifting power to help prepare for a larger work volume, recently adding an 820-metric-ton-capacity Marine Travelift 820CII mobile boat hoist to join its 150-ton hoist already on site at its shipyard on Yonges Island in South Carolina.
"We hope to meet the needs of the dry docking for ship docking tugs in the Southeast, as well as passenger boats," said Johnson Stevens, president at Stevens Towing. "Schedules are tight and customers are struggling to get into bigger yards – which makes it difficult to keep up with the demands of vessel schedules. We hope to shorten the dry dock time frame for them."
In addition, the Stevens Towing Shipyard facility will now be equipped to haul out 60-foot-wide barges, making the yard one a select few in the U.S. with that capability. "Barges are getting wider; this is in response to new technology in cranes preventing excessive list during unloading," Stevens explained. "We are very excited to become a regional destination for that kind of service."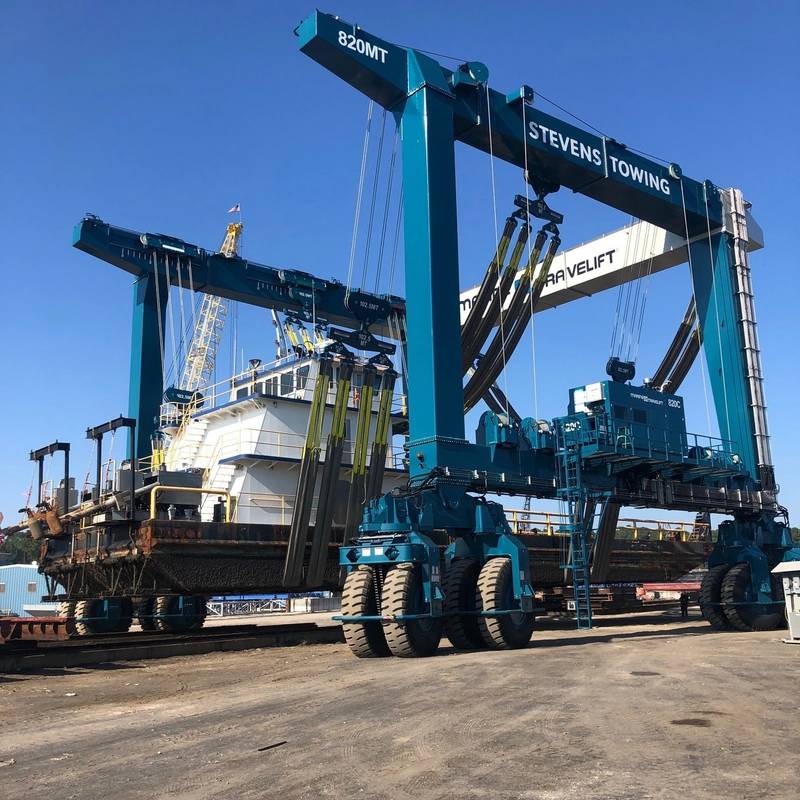 Stevens Towing recently added an 820-metric-ton-capacity Marine Travelift 820CII mobile boat hoist to join its 150-ton hoist already on site at its shipyard on Yonges Island in South Carolina. (Photo: Marine Travelift)
Bayonne Dry Dock & Repair in Bayonne, N.J. has added some serious lifting capacity of its own. The yard's new Cimolai MBH 1280 mobile boat hoist has a lifting capacity of 1,280 tons and is capable of accommodating vessels with breadths up to 50 feet, making it the largest of its kind in the U.S. Northeast and opening up new business opportunities. The hoist expands capacity to allow more vessels—particularly barges, tugs and other workboats—to be serviced in the yard simultaneously.
The yard's president, Mike Cranston, said Bayonne Dry Dock spent $25 million for the project, including the hoist itself, as well as necessary infrastructure improvements for the facility to be able to absorb the weight of the lift and handle more vessels at any given time. Bayonne's newly constructed laydown area has enough space to dry dock up to eight tugs at a time for services ranging from quick fixes and inspections to comprehensive overhauls.
Notably, the mobile boat hauler allows workboats to be repaired locally without having to travel out of town, providing immeasurable value to the port and the vessel operators within, as well as local economies and national security, according to Bethann Rooney, director of the Port Authority of New York & New Jersey. "All of the small vessel operators that are absolutely vital to the maritime industry can now be serviced right here in the Port of New York & New Jersey at Bayonne Dry Dock," Rooney said. "Everything from emergency support and law enforcement, fire vessels, ferries, pilot boats, ferries and whatnot."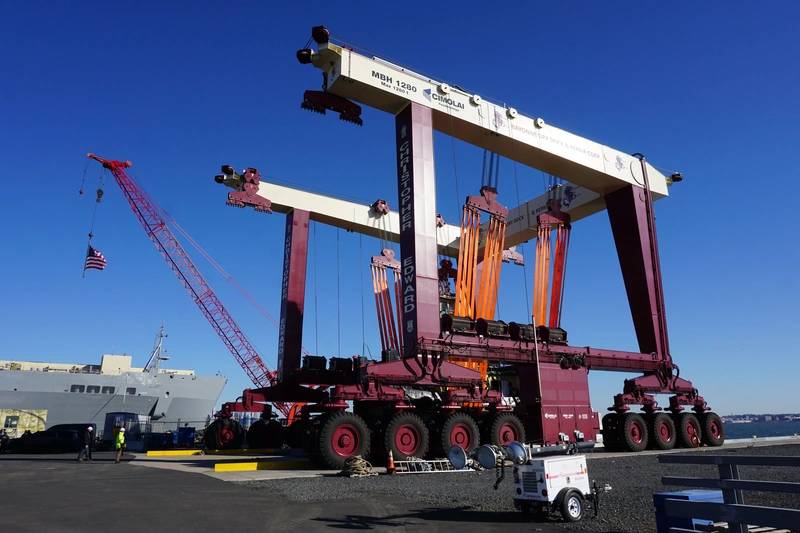 Bayonne Dry Dock & Repair's new mobile boat hoist is the largest of its kind in the U.S. Northeast, unlocking new opportunities for the Bayonne, N.J. repair yard. (Photo: Eric Haun)
Marinette, Wis. Shipyard Fincantieri Marinette Marine, has added a state-of-the-art shiplift system from Pearlson Shiplift Corporation. At approximately 500 feet long and 82 feet wide, the shiplift system is capable of handling vessels of nearly 10,000 tons, giving Fincantieri Marinette Marine the capability to launch and retrieve larger vessels in a more controlled and gentle manner—no more side launches. Ships like the Multi-Mission Surface Combatant (MMSC) and Constellation Class Frigates can be outfitted to near completion and tested inside climate-controlled facilities before being launched into the Menominee River.
In April, BAE Systems held a groundbreaking ceremony officially kicking off a $200 million modernization program to upgrade its ship repair facility in Jacksonville, Fla. Like Fincantieri, BAE will also add a Pearlson Shiplift system, forming part of a new land-level repair complex that will boost flexibility and expand the shipyard's docking capacity by 300%.
Located two miles from the Atlantic Ocean, at the intersection of the St. Johns River and the Atlantic Intracoastal Waterway, BAE Systems Jacksonville Ship Repair provides repair, maintenance, overhaul, conversion and marine fabrication services for a wide range of commercial and government vessels, from tugs to warships, serving both domestic and international fleets. The shipyard, which drydocked 15 vessels last year, expects to accommodate even more vessels calling upon the port of Jacksonville in the years ahead, according to Tim Spratto, general manager at Jacksonville Ship Repair. "We anticipate a sustainable workload from the Navy, Coast Guard and other government customers' vessels in the port," Spratto said. "Growth in workload is expected from the commercial ship repair market with the introduction of this new ship repair capacity in Jacksonville."
Central to the yard's new repair complex will be a new shiplift, used for hauling ships out of and back into the water, as well as a self-propelled modular transport system for carrying ships to and from the new land-level facility. The new shiplift complex will increase drydocking capacity from two large-hulled ships to as many as six vessels simultaneously. The facility will be able to accommodate vessels up to 600 feet long, 100 feet wide and displacing up to 10,000 tons. "The new facility will expand BAE Systems' docking capacity by 300%, all enabled by a modern Pearlson Shiplift system capable of lifting a Ticonderoga-Class Guided Missile Cruiser, Arleigh Burke-Class Guided Missile Destroyer, the new Constellation-Class Guided Missile Frigate or a Panamax commercial vessel, with laydown area ashore to refit and repair multiple vessels at one time," Spratto said.
With on-site construction activities already underway, Spratto said the yard will continue to function at full capacity with two marine railways and a 13,500-ton drydock through much of the construction period until the shiplift and land-level facility are certified and commissioned in 2025.
For Pearlson Shiplift Corporation, a key partner in the BAE Jacksonville project, business has been good. The Miami-based company in early July reported it has secured four contracts within the past nine months, boosting its order backlog to more than $200 million. One of these projects, which is for an undisclosed customer to be announced in the coming months, will be the largest of its kind ever seen in its commercial market, according to Bryan Fraind, chief operating officer at Pearlson Shiplift. Fraind added that the company expects to announce several new projects in 2023 and beyond.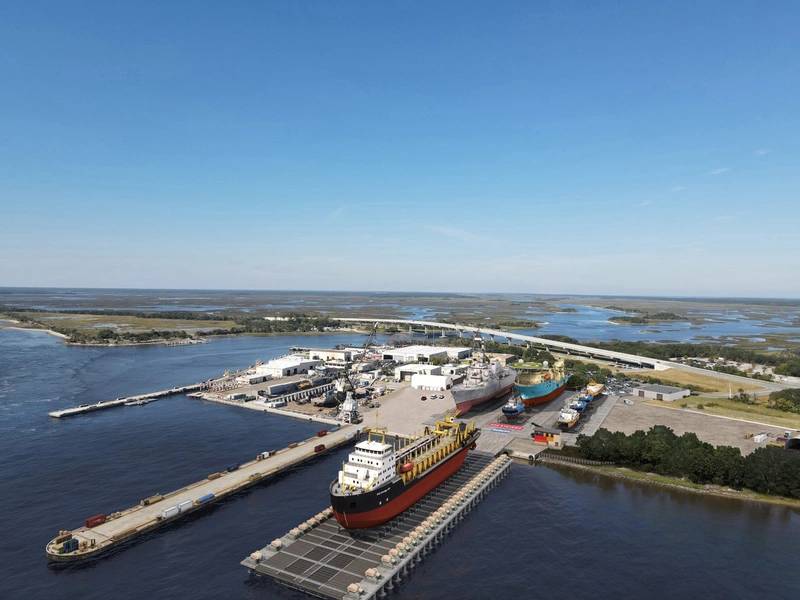 Central to a new repair complex at BAE Systems Jacksonville Ship Repair will be a new shiplift, used for hauling ships out of and back into the water, as well as a self-propelled modular transport system for carrying ships to and from the new land-level facility. (Image: BAE Systems)
---
Marine Travelift is now offering variable width options for its lineup of BFMII and C-Series mobile boat hoist machines, allowing shipyards to block vessels closer together to maximize space previously unavailable because of overall width dimensions on a standard fixed width boat hoist. The new option also unlocks the ability to move vessels through narrower doorways or other tight spaces.
"The variable width option provides the ability to handle a wider variety of hulls and without any major infrastructure changes. With the ability to vary the boat hoist width, you can not only lift wide vessels such as catamarans, but narrower mono hulls as well without exceeding recommended sling angles." said Kurt Minten, executive VP at Marine Travelift.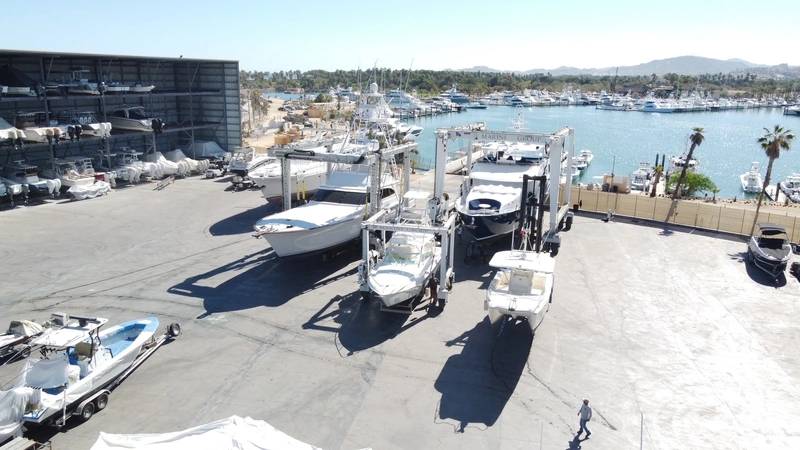 (Photo: Marine Group Boat Works)
This new option is powered by a hydraulic ram, housed within the telescoping top beam, and is assisted by Marine Travelift's patented all-wheel electronic steering option. These two components are teamed with a control loop system that includes angle sensors, a distance sensor and wheel encoder to keep the machine square and ensure safe expansion and retraction throughout the full range of variability. The extension and retraction functions can occur on either side of the machine for flexibility and maximum maneuverability. It is also designed to handle full load across the entire width spectrum and can stop anywhere within the full range of variability, with or without a vessel in the slings.
Marine Travelift said it already has orders in place for 35-, 50- and 150-metric-ton models, which are all scheduled to be delivered in 2023. The first hoist with the variable width option is a 75BFMII (75 metric ton lifting capacity) delivered to Marine Group Boat Works' San Jose del Cabo location in March. The hoist offers nine feet of width variability and can expand and retract under full load in 60 seconds.
"The variable width machine allows us to utilize otherwise lost space with a traditional boat hoist", said Pete Horner, general manager at the Los Cabos yard. "It's a twofold solution for us as we can continue to grow our business in the same physical footprint and work on more boats at the same time, ultimately limiting customer downtime and maximizing profitability."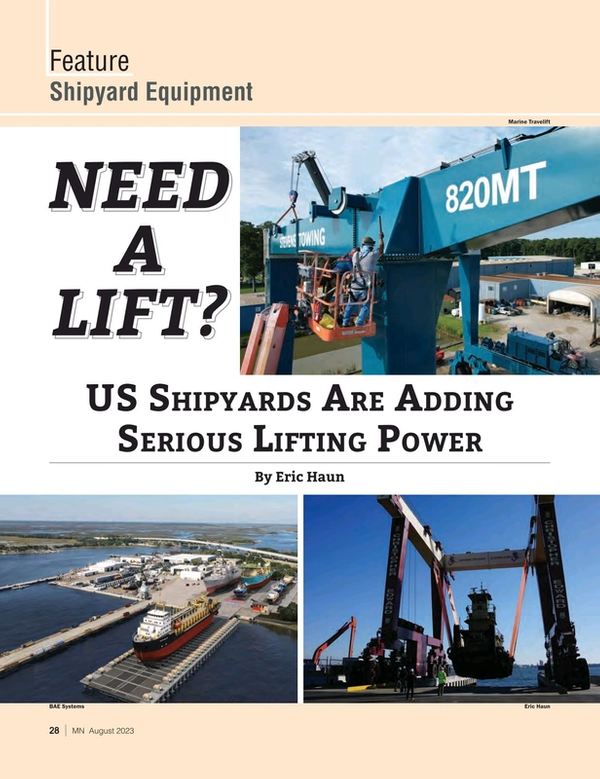 Read US Shipyards Investing to Add Serious Lifting Power in Pdf, Flash or Html5 edition of August 2023 Marine News
Other stories from August 2023 issue
Content