Labor Shortages, Climate Change & Technology: They're All Related
Robert Kunkel
Many problems in our "New World" can be solved more quickly than ever due to the speed at which information now travels. Gone are the countless long days of research, because often our questions can be answered instantaneously at a computer terminal or on a handheld mobile device. Traditional investment, research, science and industry have all attempted to reconfigure their business practices to accept that information speed. Unfortunately, government regulation and bureaucracy have not, and as a result, we continue to allow certain problems of the "New World" to be pushed down the road before long-term decisions are made.
With those delays, the labor markets across many, if not all, markets have changed. "Help wanted" signs hang in every storefront, office building and government agency. In no uncertain terms, the maritime industry has been dealing with labor problems, and none of this is news to our industry. The mariner shortage has been discussed at length for years, and it is becoming increasingly difficult to crew not only U.S. flag commercial vessels, but foreign registered ships as well. The labor shortage does not only affect crew labor; it has affected the labor required to fulfill our shipyard production, service and repair companies, agencies and shoreside office staff.
We have discussed how to solve climate change for the past 30 years. IMO has waffled on standards for emission and carbon reduction that will look at another 30 years to 2050. We can all agree that the crew labor shortages have been discussed for over 10 years, if not more. The relationship with all of these issues is time and the generational effect of problem solving. Our youth expect problems to be solved immediately, just as quickly and easily as they receive their information, selfies and text messages. In my opinion, it's time to put them to work and ask them to help the aging generation reform our traditional practices.
The influence of Gens X, Y and Z has raised many discussions of diversity, inclusion, workplace practices and the cost of higher education. The journey from high school to higher education to realize successful careers for many Black and Latino students along with those from all low-income backgrounds is often anything but successful. If we are looking for growth in the maritime industry, we need to start at the high school level or face losing the skillsets we require to succeed. There is an abundance of solid career opportunities that may require training and certifications but do not require a trip to any university.
The diversity issue is not new to shipping. We have historically looked to underdeveloped and third world nations to provide our deckhands, oilers, welders and unlicensed positions. Many rose through the hawsepipe to achieve officer status and management positions ashore without degrees or higher education. The science and technological changes we are facing with energy, emissions and climate change will demand a new level of training, certifications and maintenance demands for all of these skill sets. The International Chamber of Shipping (ICS) claims we are short 90,000 seafarers worldwide. Our current Administration claims it will create tens of thousands of new jobs tied to U.S. offshore wind alone. How do we fill those positions?
Within our domestic shipping, coastal and offshore industries, the issue now extends beyond the repeated claim of national security. We now seek industrial security.
Education in the United States is also changing, and if you take an interest as a business owner you will hear the word "pathways" in many of the discussions. New England high schools have long recognized the value of developing pathways that meet the needs and interests of their students and surrounding industries. My company Alternative Marine Technologies (Amtech) has taken an interest in assisting the Brian McMahon High School Marine Science Academy in Norwalk, Conn. to learn how marine pathways can solve the problem. Shipping and shipbuilding have history in New England. History needs to repeat itself.
The Marine Science Pathway at Brien McMahon High School is a field-based, four-year program offering students a hands-on experience in all aspects of marine science. The initial program is locally centric in Norwalk, Conn., where there is a large recreational boating community and a marine biology influence from The Maritime Aquarium and local oyster farming. Areas of science, aquaculture and mechanics can present career opportunities within the students' hometown. We need to pique an interest beyond that local opportunity.
Various technologies, college, career opportunities and experiences through internships and apprenticeships are included in the program. Amtech has worked with two interns to date, one who continued his path through the Navy nuclear program, and another as she entered Annapolis. We believe the pathway needs to expand into commercial shipping careers at sea, supporting not only the surrounding maritime academies, but also careers that do not require higher education to go directly to work. As a result, we are reaching out to industry to help us support the high school programs, grow the programs and provide sponsorship support.
We met with Eva Bartush, Marine Science Academy Coordinator and Stephanie Tom, IBCP, or International Baccalaureate Career Pathway Coordinator, to discuss their "miniboats" program. On May 31, 2022, the students built and launched a solar powered "drifter" hull to track a voyage across the Atlantic Ocean. Students in the program designed and built the boat, and then tracked it by satellite. The project allowed them to learn about ocean currents, weather, hull integrity and GPS technology. The first drifter launched off the U.S. East Coast completed an autonomous voyage and was eventually safely collected by a second group of students in Norway. The Norwegian students continued the voyage into the Norwegian Fiords and farther North.
What was our initial take on the project? This group of students not only completed a successful autonomous voyage but also met the IMO MEPC zero emissions goals during that voyage. They get it, and they are not waiting 30 years to make changes to their world.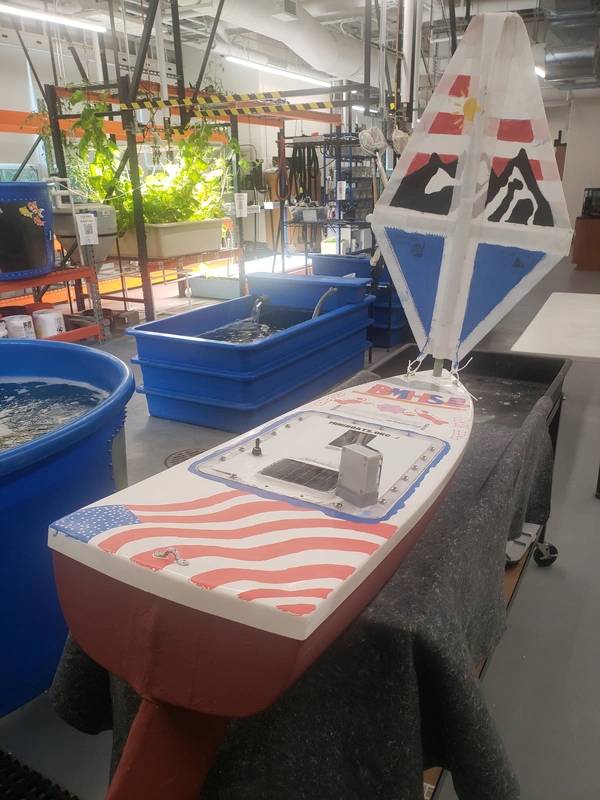 Brien McMahon High School students recently sent a "drifter" on a voyage from the U.S. to Norway. (Photo: Robert Kunkel)
We have no less than four maritime academies located in the Tri-State/New England area stretching from New York to Maine. The U.S. East Coast is also the launching point for developing the country's offshore wind industry. More importantly, the federal government just invested nearly $2 billion in the construction of five NSMV training ships in Philadelphia. The program to replace aging academy training vessels has been a discussion for as many years as we have discussed global warming. The U.S. Maritime Administration (MARAD) needs to develop a more inclusive program using these assets outside of the sea time for academy license requirements. The platforms should be made available to train returning veterans, high school marine science programs and union school applicants to help solve the labor shortage and provide clear pathways to seagoing careers. A path that includes master to able-bodied seaman, crew transfer vessel (CTV) deckhand to wind farm maintenance technician and QMED to chief engineer.
Rotate the NSMVs through our U.S. ports, position them offshore to attend and observe offshore wind farm construction and use them to conduct near coastal ocean research and aquaculture. These ships can be our first effort to create change and market our industry to next generations—generations that will use alternative fuels to help solve climate change and understand the importance of the world's oceans and the marine industries that need their involvement.
Pick up your mobile device and work toward piquing their interest quickly before these generations decide their future only includes a trip to the moon and Mars.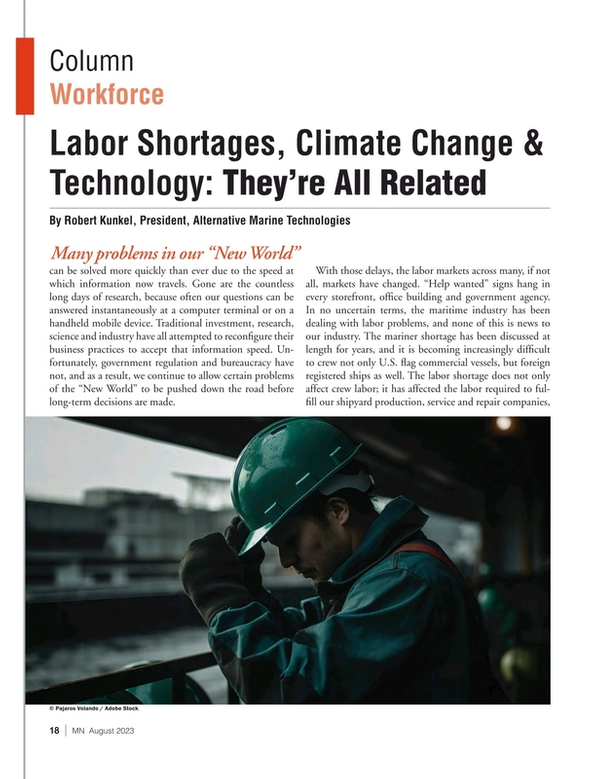 Read Labor Shortages, Climate Change & Technology: They're All Related in Pdf, Flash or Html5 edition of August 2023 Marine News
Other stories from August 2023 issue
Content