Foss Maritime Expanding Ocean Tug Fleet
By Joseph Keefe
Tug and barge operator is building three new Arctic Class deep-sea tugs at Northwest shipyard
Responding to new oil and gas industry opportunities, Foss Maritime Company is building the first three tugs in an innovative Arctic Class of tugs, a fleet expansion that broadens its capacity to take on large projects in extreme environments. Construction on the first tug starts in early 2013 at the Foss' Rainier, Oregon shipyard, which will be expanded by an additional 10,000 square feet, and will require additional staff, in part to accommodate this project. The delivery date for the first hull is December of 2014, with the second to follow in December of 2015, and the third, a year later in December of 2016. Glosten Associates is Foss' naval architecture partner on the project.
Gary Faber, Foss' President and Chief Operating Officer, said in a prepared statement, "These vessels will be built using the latest advances in technology and equipment. We want to increase efficiency, improve safety and performance and reduce environmental impact. These concerns are paramount to our customers, our stakeholders and our crews involved in offshore drilling and other project work in extreme environments."
Specifically, the new tugs will meet American Bureau of Shipping (ABS) A1 requirements, including standards for hulls, machinery, towing, anchors and cable, ABS Ice Class requirements, SOLAS requirements for on-board rescue boat and davit; and – in keeping with the FOSS emphasis on protecting the environment – the Green Passport, which requires an inventory of shipboard hazardous materials that make decommissioning of vessels far safer.
The new tugs are designed to withstand the rigors of Arctic operations and will be positioned to compete for opportunities in the oil and gas industry. Foss has five assets committed to an Arctic offshore exploration project in the Chukchi and Beaufort Seas, and the newbuild project will position the Washington-based operators to provide services and support with tugs, landing craft, crew boats and barges. The lack of infrastructure in the rapidly thawing Arctic regions increases the need for suitable, robust tonnage for that purpose. And, Faber said that additional ABS-classed tugs and support vessels are already under consideration.
The three new tugs will be designed to achieve in excess of 100 metric tons of bollard pull and will be used primarily to tow barges with oil field modules, rig topsides and project cargoes throughout the world. Machinery will include Caterpillar C280-8 main engines, which comply with the highest federal environmental standards, and Reintjes reduction gears. Markey Machinery will supply the tow winch. Other environmentally focused designs and structural and technological upgrades include the elimination of ballast tanks, holding tanks for black and gray water to permit operations in no-discharge zones (such as parts of Alaska and California), hydraulic oil systems compatible with biodegradable oil, Energy efficient LED lighting; and High-energy absorption Schuyler fendering.
According to John Tirpak, Senior Vice President, Global Services at Foss, the tugs are not being constructed with a specific client in mind. He added, "We will market them as the market emerges in Alaska."
Tirpak talked about the specific requirements for building tonnage for Arctic conditions. "The most important design consideration when building workboats for the Arctic is definitely safety and ability to perform consistently meeting our customer's expectations. We also need the boats to operate under difficult and changing conditions and for different purposes, so versatility is also paramount." The class ice notation was critical, as well, he said. "Certification for 'ice class' requires increased shell thickness and frame strength in the vicinity of the waterline, and additional modifications for the propeller/nozzle, rudders, propulsion engines, sea chest, propulsion shafting and reduction gears."
Already with one of the largest fleets of tugs and barges on the American West Coast, Foss operates two shipyards and offers worldwide marine transportation emphasizing safety, environmental responsibility, and high-quality service. In this case, the primary impetus for building the boats was simple. Tirpak explained, "Foss is building these new tugs in response to new oil and gas industry opportunities. We are well known for our ability to safely operate in extreme environments. This investment in our fleet will broaden our capacity to take on new projects in the Arctic." And, as the entire maritime industry and its energy cousins look north to new opportunities, the boats arguably arrive, just in the nick of time.

(As published in the March 2013 edition of Marine News - www.marinelink.com)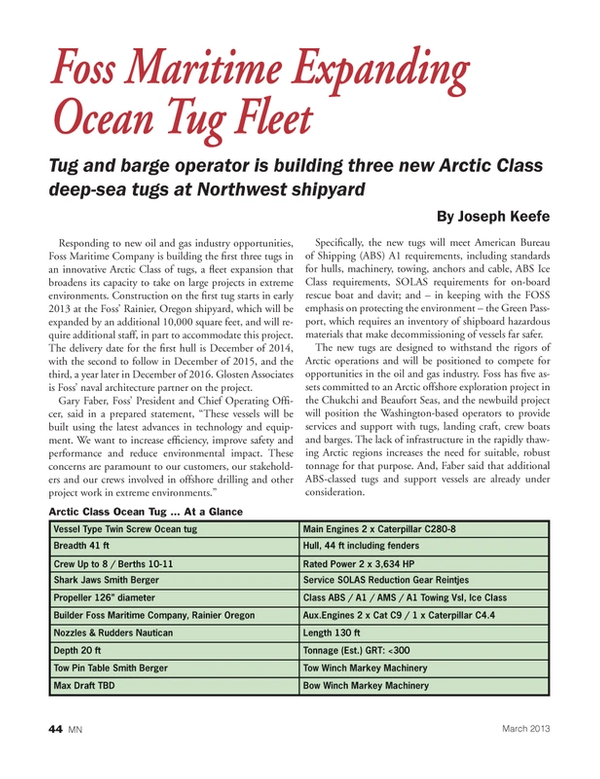 Read Foss Maritime Expanding Ocean Tug Fleet in Pdf, Flash or Html5 edition of March 2013 Marine News
Other stories from March 2013 issue
Content