U.S. Shipyards Competing – and Succeeding – Overseas
By Susan Buchanan
Foreign Demand For U.S. Military And Commercial Vessels Is Brisk; For Now.
In the heavy shadow of possible sequestration-induced federal budget cuts, some U.S. companies are busy supplying vessels to overseas customers under the Navy's Foreign Military Sales program and through private contracts to foreign government and firms. Demand for offshore oil vessels is strong. A big chunk of overseas business now is under the U.S. FMS, transferring defense equipment, services and training to other nations. Countries approved for the FMS pay for vessels themselves and/or with U.S. government help.
U.S. defense budget cuts will affect the FMS program ahead, however, boat builders said last month. Nevertheless, the reality for U.S. boat builders – especially in the mid-tier and smaller yards – is that they are successfully competing for foreign business, especially in the less than 300-foot vessel arena.
This month, we asked industry leaders what they plan to deliver this year, where, how and why. The answers may surprise you.

Brunswick Sends Boston Whalers To Multiple Foreign Destinations
In Edgewater, Fla., Brunswick Commercial and Government Products sales director Jeremy Davis said, "In 2013, we plan to deliver thirty Boston Whalers to Colombia, eight Impact Rigid Inflatable Boats to Mexico, four Boston Whalers to Singapore and seven Boston Whalers to various Central and South American countries." (Boston Whalers are outboard-powered, fiberglass boats.) "Our vessels delivered overseas typically range from 25 feet to 37 feet in length and are primarily outboard powered, though we've installed inboard diesel engines with water jets in the RHIBs for regions requiring a shallower draft vessel," he said.
Davis also told MarineNews in February, "We have a four-year, ongoing U.S. military contract for counter-narcotics vessels to multiple South American and Central American nations." And, some of these contracts are for direct purchase by foreign countries.
"Our larger Boston Whaler models, as well as our mid-sized Impact RHIBs, serve as great patrol platforms," Davis said. "And we're seeing an uptick in demand for surveillance vessels, counter-drug craft and high-speed patrol boats in international markets. Boston Whalers fit this application well since their foam-filled construction makes them unsinkable."
He said, "Our rigid inflatable boats, called Impacts, are speedy and maneuverable, and their collars reduce damage during boardings and inspections. We anticipate that our aluminum patrol boat line will do well because of customer demand for aluminum products." The company has nine months of backlog, spread between its domestic and international contracts.
As for competing with foreign shipyards, Davis said, "In general, we find that this market is price-sensitive and many customers prefer to purchase locally or in-country. Some foreign governments require their procured items to consist of local content, whether it's the whole boat or a percent of the components." That said, Brunswick seems to be getting more than its share of foreign work.

Tampa Yacht: Competing and Winning Contracts Overseas – outside of FMS
At Florida-based Tampa Yacht Manufacturing LLC, CEO Bob Stevens told MarineNews, "We'll deliver a series of six 50-foot Fast Attack Craft over the next 18 to 24 months, as well as a series of 10 36-foot RHIBs over the next 12 months. We've just completed delivery of 17 35-foot SWAT Patrol Craft to the Indian Government." Continuing he said, "late next year, we expect to deliver the first of a series of 28 44-foot Fast Coastal Interceptors or FCIs over a two-year period."
Significantly, none of the company's sales were negotiated through the FMS program. "All of our contracts are direct purchase in international competition and lowest bid awards," Stevens said. "Our customers are foreign-government military agencies, and they make acquisition announcements themselves, though they actually seldom do so for security reasons. We don't publicly announce specifics about our customers unless it's been announced by the government agency."
Stevens reported a backlog that includes 50 FACs, 36 RHIBs and 44 FCIs, stretching out as much as 36 months. "The difficulty in competing with our foreign competitors stems from government agencies or buyers not requiring a prototype or 'parent craft' as a technology demonstrator and allowing shipyards the opportunity to bid paper," Stevens explained. "Concept drawings of vessels not yet built can contain impossible specifications and can greatly underbid pricing." Tampa Yacht has a stable of demonstrator craft that prospective buyers can test under varying conditions. "That qualifies us as a competent builder, able to meet the delivery schedules and quoted pricing," he said.

Silver Ships Delivers Work And Patrol Vessels
Last month Alabama-based Silver Ships, Inc. completed construction of six Riverside Patrol Boats (RPB), awarded through the U.S. Navy's FMS for delivery to the Philippines, said Scott Clanton, special projects director. The RPB has a 40-foot length overall, center-console configuration, with a bow area capable of transporting troops and equipment and providing rapid egress through a bow door, he said.
Built with marine-grade aluminum, the RPB is beachable, with the ability to work in shallow or open water, powered by twin Yanmar inboard diesel/Hamilton water-jet propulsion. "It's designed to facilitate maintenance, inspections and repairs to provide ease of operation and extended service life," Clanton said. Ballistic protection is included in the design, and the RPB has multiple, crew-served weapon foundations."
This contract is the complete package - boats, trailers, on-board and deployable spares, OEM or original equipment manufacturer technical manuals, and boat manual and training. It provides the customer with a one-stop shop."
Silver Ships is also under contract to deliver two center-console, 11-meter Rigid Hull Inflatable Boats to Yemen, awarded through the U.S. Navy FMS. The two boats for Yemen are in production now and should be shipped mid-year. The contract includes boats, trailers, on-board and deployable spares, OEM technical manuals, boat manual and in-country training.
Clanton said, "Silver Ships continues research and development on innovative armor solutions and C4SIR capabilities, and has delivered tactical watercrafts for the U.S. Dept. of Defense and Dept. of Homeland Security."
The company is building two commercial boats for Aramco Oil Co. for delivery to Saudi Arabia. Those boats are 48-foot oil-recovery barges, powered by CMD with traditional direct drives. Both are pilot house-configured with 20 feet of open well deck area--which the oil recovery system will occupy, deploying through a bow door that's 10 feet wide.
According to Silver Ships, production schedules are otherwise filled through third quarter FY13 with U.S. government and federal and state law-enforcement contracts. "Our competitiveness with foreign shipyards is based on our quality of workmanship, along with our quality assurance standards, and our understanding and implementation of design in accordance with American Boat and Yacht Council or ABYC standards," Clanton said. "That's kept us on or above our peers, whether they're U.S. or foreign small-boat manufacturers."
He said, "Building and delivering a vessel is probably the easiest part of a foreign sale while 'cradle to grave' requirements are a challenge. Being able to provide after-sale service and support is crucial to end users. Silver Ships has limited its area of focus to those areas of the world that we know we can support." Notably, Silver Ships has provided, on a global basis, military, municipal and commercial users with work and patrol vessels for more than 27 years.

Metal Shark Supplies Patrol Boats to Many Nations
Greg Lambrecht, vice president at Metal Shark Boats, said the Jeanerette, La. company plans to deliver a variety of boats to foreign militaries and governments over the next few years, including 26-foot riverine patrol boats, 28-foot pilothouse patrol boats in outboard and diesel configuration, 33-foot center console patrol craft with outboard propulsion, 38-foot pilot-house patrol boats in outboard and diesel configuration. "We'll also deliver 40- to 60-foot intercept and patrol boats that are in different stages of negotiations with multiple countries."
"These boats are being delivered to countries in the SOCOM, AFRICOM and PACOM geographical regions," he said. A majority of these contracts are through U.S. FMS. "Our backlogs are largely dependent on the size of the contract or number of boats," Lambrecht said. "While smaller contracts are usually completed within the contract year, larger contracts span multiple out years, especially when options are exercised."
Lambrecht added, "Providing quality vessels and supporting our international customers will continue to lead us to follow-on contracts. In the international patrol-boat market, we compete with manufacturers around the world, but in the government-supported FMS competition is almost exclusively U.S. companies." Clearly, Metal Shark – heavily involved with building U.S. Coast Guard small craft – is watching the sequestration situation, but also protects its bottom line with a diversified contract list.

Willard Marine Caters To Clients Under FMS
At Willard Marine, Inc. in Anaheim, Ca., president C.J. Lozano said "We have a series of boats under the FMS Navy program, including 7-meter RIBs, 9-meter RIBs and 11-meter RIBs, for delivery to the Philippines, Lebanon and Ukraine through 2013. Our boats for the Philippines are already in country, and we're deploying personnel to do training there. Boats will be delivered to Lebanon early this summer and to Ukraine in the fourth quarter. We're also working to do more direct sales with other countries."
"We do have a work backlog," Lozano said, but gave no details. As for competition with foreign shipyards for sales outside the FMS, he said "If a country wants a very inexpensively made boat, we don't build to those low standards. Our boats are built to last. We don't bid on lower-quality specifications," and he added, "some foreign buyers need to be educated about new technologies and new specifications."
Swiftships Builds For Iraq And Others
Last month, the Iraqi Navy took delivery of two, additional 120-foot Coastal Patrol Craft built by Swiftships Shipbuilders, LLC, in Morgan City, La. as part of a 15-ship U.S. Navy FMS case, said Shehraze Shah, Swiftships CEO. "P-310 and P-311, handed over at the Umm Qasr naval facility on Feb. 12, are the tenth and eleventh of the class. Lead vessel P-301 was delivered in Sept. 2010 during Iraqi Navy Day celebrations."
Using a design chosen by the Iraqi government, the Coastal Patrol Craft will be used to enforce the nation's maritime sovereignty and protect offshore oil platforms, Shah said. Propelled by three MTU 16V2000 diesel engines with three propellers, the vessel's aluminum alloy superstructure and hull with seven watertight bulkheads can reach speeds in excess of 30 knots and can sustain a 25-man crew for up to six days.
"We serve commercial and military markets around the globe," Shah said. "Our client list ranges from Tidewater Inc. to the Dominican Navy. The Egyptian Navy has been buying patrol boats from us since 1976. Now we're delivering to Egypt under a one-of-a-kind, Build Operate and Transfer/Co-Production program for them." As for backlogs, he said, "On our existing Iraqi patrol boat task, we have a backlog of three vessels that are part of fifteen vessels ordered by the Iraqi Navy under the FMS. We've delivered eleven of those vessels so far, with another to be delivered in March."
Shah said the Iraqi Navy considers Swiftships a trusted agent and contractor. "Asian and other foreign builders don't have a leg to stand on because they'll never offer the same quality and design agility that we do," he said. "We have over 125 designs and 600 plus hulls under our belt, along with a price-conscious business model. As we manage our growing ship portfolio, our new partnership with Iraq allows us to fill new demand and expand our reach in the military-ship construction industry while we continue to differentiate Swiftships as a quality brand. Over the last year, we've expanded in Latin America, Asia and the Middle East." Founded in 1947, Swiftships announced a recent, management transition to improve profitability. The company intends to increase its portfolio and supply a greater variety of vessels.

Outlook? Uncertain For FMS Sales, but Good For OSVs
Lozano at Willard anticipates that U.S. defense budget cuts will impact the FMS program. "If the sequester goes through as expected, people will be furloughed, time of contracts will be affected and work will slow considerably," he said. "Delays will add to backlogs. That will influence sales projections and possibly the quantity of boats that will be purchased." But tensions in the Middle East and elsewhere indicate that demand for military vessels will remain strong, industry members said. What's more, the need for more specialized, sophisticated and bigger offshore oil vessels will keep that market well supported, they predicted.
If diversification is the key to beating sequestration and leaner government spending habits predicted for the future, then these U.S. yards probably already have a leg up on the competition – foreign or domestic. U.S. yards can and do compete with foreign yards in certain sectors. That much, we know for sure.

(As published in the March 2013 edition of Marine News - www.marinelink.com)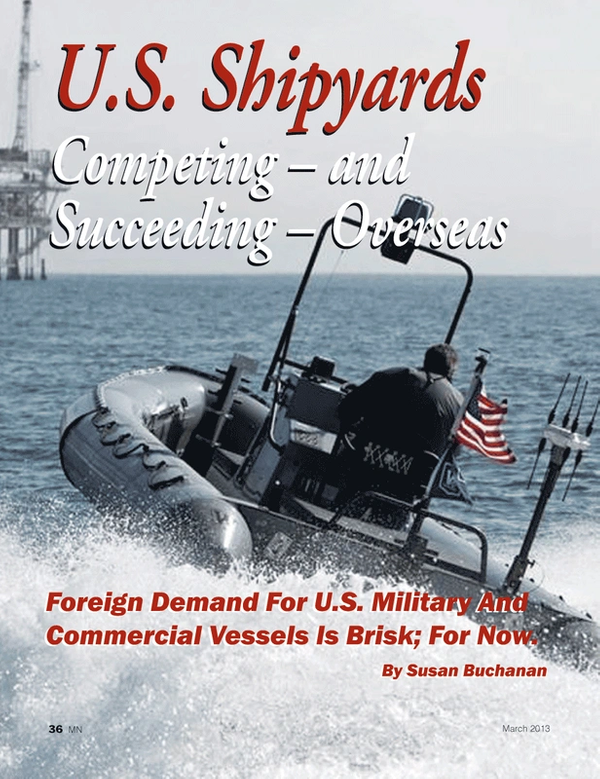 Read U.S. Shipyards Competing – and Succeeding – Overseas in Pdf, Flash or Html5 edition of March 2013 Marine News
Other stories from March 2013 issue
Content