Insights: James Hannon USACE Chief, Operations and Regulatory Division
Marine News
Jim Hannon is Chief, Operations and Regulatory Division for the U.S. Army Corps of Engineers (USACE). He also provides leadership and oversight for activities within the USACE Lakes and Rivers and North Atlantic Regional Integration Teams. Hannon is a member of the Society of American Military Engineers and the American Society of Civil Engineers and was appointed to the Senior Executive Service in July 2010. After earning a bachelor's degree in civil engineering from Mississippi State University in 1980, he began his career with the U.S. Army Corps of Engineers as a civil engineer with the Mobile District at the Lock C Resident Office. Since then, he has taken on increased duties and responsibilities in a variety of roles for USACE. As the Senior Executive for one of the USACE's most important missions, Hannon is therefore the perfect choice to bring MarineNews readers up to speed on all things related to the current status of the nation's inland rivers and the efforts to maintain and improve that infrastructure.

Bring us up to speed on the size and breadth of today's U.S. Army Corps of Engineers (USACE).
The U.S. Army Corps of Engineers comprises approximately 36,000 civilian and 800 military employees who perform critical military missions, civil works and research and development for the Nation. We are geographically dispersed throughout the United States and OCONUS with our headquarters in Washington, D.C., nine division and 44 district offices, six centers, two Army Reserve theater engineer commands and the active-duty 249th Engineer Battalion (Prime Power). Our OCONUS presence includes one Hawaii-based division office and district offices located in Hawaii, Alaska, Japan, Korea, Europe and Afghanistan. In our civil works program, we are responsible for the construction, operation and maintenance of much of the nation's water resources infrastructure. This includes the work we do to maintain navigation on the inland waterways at our coastal ports and harbors and on the Great Lakes. It also includes the work we do to protect, restore and enhance the environment, our role as the nation's largest federal provider of outdoor recreation opportunities and largest owner/operator of hydroelectric plants; projects to reduce risk to people and communities from floods and coastal storms; water storage and supply, and our support to FEMA in responding to disasters. We are still awaiting congressional passage of an energy and water appropriation to fund the civil works program for fiscal 2013, but in general our annual appropriation for the program is between $4.5 and $5 billion. The overall funding for the program also varies year by year based on supplemental appropriations that might come our way and by the amount of reimbursable work that we do for other federal agencies. USACE has approximately 2,700 various vessels, including a wide variety of survey boats, dredges, patrol boats, tugboats, towboats, boat houses and more.

Arguably, there is no more important mission in your domain than maintaining the nation's inland waterways. Do you have enough at the present time to get the job done?
The U.S. Army Corps of Engineers, like all other federal agencies, realizes that the nation is currently in an era of constrained fiscal resources and that not all of the great things that we can do for the nation can be fully funded. Given that reality, it is incumbent upon us to make sure that we are the best stewards possible of the financial resources we are entrusted with and to fully optimize what we do with those funds. Within our navigation business line, our overall funding has remained relatively steady over the past several years, but that means we can do a little less actual work every year when you factor in inflation and the rising cost of doing business.
There are certainly more needs for dredging projects on the inland waterways, at our ports and harbors and on the Great Lakes than there is funding available to meet those needs. This requires us to make very tough decisions every year on where to allocate our available resources to do this critical work, and we do so knowing that there are many other places with authorized projects that we will not be able to support.

Of all the challenges facing inland waterway users today, the depth of water on the Mississippi River is arguably the biggest. Give us a SITREP on the current conditions, and when you think you might think users will get some relief.
It's important to remember that navigation on the Mississippi is not the only thing that has been impacted by the extended drought across approximately 60% of the nation. This drought has affected communities, fresh water supplies, agriculture, livestock, water-dependent commerce and more. The U.S. Army Corps of Engineers certainly understands the importance to the nation's economy of maintaining commercial navigation on the Mississippi River, and we have dedicated a lot of resources and efforts since last summer to doing everything we can within our existing authorities to keep the river open for commerce during this drought. We are completing a project to remove rock formations in the river near Thebes, Ill., that pose a threat to navigation during low water conditions. We continue to aggressively and proactively maintain the navigation channel, including actions to accelerate dredging, construct structural measures, strategically manage water releases from upstream Mississippi River USACE reservoirs, perform routinely scheduled surveys, and closely collaborate with navigation industry users and the Coast Guard on river conditions and navigation aids. The long-term solution for the Mississippi and other inland waterways is rain, and we need a lot of that to get us out of the current drought.

The situation on the inland rivers is part manmade and in part, a product of Mother Nature. What can be done to help prevent or at least partly alleviate future situations?
The bottom line solution to the drought for the Mississippi River and many of the nation's other critical inland waterways is rain and a lot of it. In the near term, within USACE, we are actively monitoring the availability of water within the river systems on a daily basis and managing project operations in accordance with long-standing plans that have been closely coordinated with state and local governments, users and other agencies. These plans are designed to consider a wide range of operational scenarios from drought to flooding and are intended to ensure our projects continue to meet all of their congressionally authorized purposes like hydropower, water supply, recreation, navigation and the environment. In the long term, USACE will continue to participate in national, regional and local dialogues that look to the future of water-resources management in the United States. As a nation, we must work together to plan the future of fresh water resources management to ensure that it is available to meet our needs for quality of life, population shifts, health, the economy and the environment.

Aside from the current issues on the Mississippi, what other project is the top priority of the USACE on the inland rivers today?
While there are many high-priority needs on the inland waterways, our priority construction project is the Olmsted Lock and Dam project on the Ohio River near Olmsted, Ill. The project includes twin 110-foot wide by 1,200-foot long lock chambers and dam with navigable pass. The Olmsted project will replace the outdated navigation locks and dams 52 and 53, both of which are beyond their designed project life and are becoming increasingly unreliable. The project's location is one of the most crucial points in the nation's navigation system – the hub of the inland waterways navigation system – and approximately 90 million tons of waterborne commerce passes through the area on an annual basis.

What, if anything, is the USACE looking to change – operationally, administrative, infrastructure – in terms of how they do business in the near future?
The USACE faces a significant challenge in addressing the deteriorating state of the water resources infrastructure it owns, operates and manages. We have a number of difficult decisions to make about the future of these assets with respect to what to recapitalize, what to repurpose and what is no longer serving any useful purpose and therefore should be divested. These decisions are made more complicated by the potential that the nation could be in a fiscally austere environment for the foreseeable future. One challenge is the fact that we have about a $60 billion backlog of authorized construction projects, but we only get about $2 billion every year in construction appropriations. There are a lot of worthy projects that we cannot get to because the federal resources are not available to meet the needs, and tough decisions have to be made every year on where to expend our resources in a way that maximizes return to the nation.
For the past couple of years we have been crafting and implementing a transformation plan designed to improve our management of the nation's water resource infrastructure and how we make investments for the future. Our civil works transformation initiatives give us the means to adapt to all of the changes going on around us to and to better meet the nation's needs when resources are limited and expectations are high.
The transformation is based on four pillars – managing the water resources infrastructure portfolio; planning modernization; enhancing product and service delivery methods; and transforming the Civil Works budget to better address America's water resources needs.
The USACE water resources infrastructure portfolio has a plant replacement value of more than $251 billion. These assets generate jobs, facilitate imports and exports and contribute to a stronger economy, environment and quality of life for all Americans. Comprised of dams, locks, levees, hydroelectric power plants and much more, the majority of the portfolio are more than five decades old. Much of the portfolio needs significant investment to remain viable and to meet future demands, and we believe that some infrastructure should potentially be divested or repurposed because it is no longer serving its intended purpose. Our asset management program strategy has given us a much better understanding of what infrastructure is in our inventory and the condition it is in. This in turn gives us the ability to be smarter about where we invest our limited resources and where we can reduce performance risk at our projects. Some of the steps that we are taking to implement this infrastructure strategy are:

Developing reliable methods of assessing the current value and levels of service of infrastructure systems to determine where priority investments need to be applied.
Emphasizing the interdependence and inter-relationships of assets within a watershed or system to provide reliable, resilient, and adaptable infrastructure systems that deliver the required levels of service.
Evaluating assets in terms of value to the nation.
Systematically evaluating infrastructure based on current performance in meeting original authorized project purposes, and how demands within the watershed or system have evolved and changed over time.
Planning modernization is intended to reduce the complexities that have become a part of the USACE project planning process over the past couple of decades. We have a very rigorous planning process that looks at a project's engineering feasibility, environmental acceptability and economics but many of our studies take too long and are overly expensive. Our planning modernization effort is designed to get us back to the basics of planning execution, accountability and improvement of the organizational and operational model to ensure consistent quality in planning. Going forward, our feasibility studies will be expected to meet a metric we call the "3x3x3 rule" which will streamline the development of projects, emphasize performance and deliver timely quality solutions to water resources needs. In short, studies should be completed in three years, cost no more than $3 million and engage all three levels of the USACE vertical team. The studies should also fit into a three-inch binder. Any schedule or cost that is anticipated to exceed these standards will have to be elevated to USACE headquarters for review and approval. Enhancing our product and service delivery methods for water resources infrastructure means more consistency in product design, enhanced technical competence and improved ability to meet or exceed customer expectations. The focus is on ensuring we have the most efficient, cost-effective and timely delivery of projects, programs and activities; how we link technical capability to desired levels of service; how we retain expertise and core competencies; and how we reduce risk. The transformation plan promotes shared capabilities to deliver products and services at the regional level with the objective that service delivery methods are consolidated and viewed with an enterprise-wide perspective nationally. The Civil Works budget transformation plan calls for a new approach that establishes a systems-based, watershed approach to decision making and consideration of alternative financing vehicles. Our objective is to ensure the budget is aligned with national priorities. We also want to budget for projects that make sense within the context of a watershed, and that means we have to have an awareness of what else is going on within the watershed in terms of other federal, state, local or non-governmental organization investments or initiatives. Collaboration and input from our customers and stakeholders are keys to successfully implementing this holistic approach. We're also looking at other options to include streamlining procedures for non-federal parties, innovative/alternative financing, public/private partnerships and streamlining processes/procedures for non-federal partners to move forward on their own with important water resources activities, while ensuring federal interests are maintained. The extent of our success in budget transformation will greatly impact our future ability to ensure the civil works infrastructure is maintained and performs safely and that our projects deliver the economic and environmental benefits for which they were authorized, designed and constructed.

If you had one message to get out to the users who depend on your services today, what would that message be?
The United States Army Corps of Engineers is proud of the work we continue to do for the nation, both at home and abroad, and this public service is what motivates us to do what we do. We also know that there is much more work to be done, particularly in finding enduring solutions for the Nation's many water resources challenges. We are committed to finding sustainable, 21st century water resources solutions as a means of strengthening the Nation's economy, supporting job creation, reducing risks, bolstering long term global competitiveness and improving quality of life. Addressing these challenges will require all of us to come together to leverage resources, particularly during this time of fiscal austerity.
(As published in the March 2013 edition of Marine News - www.marinelink.com)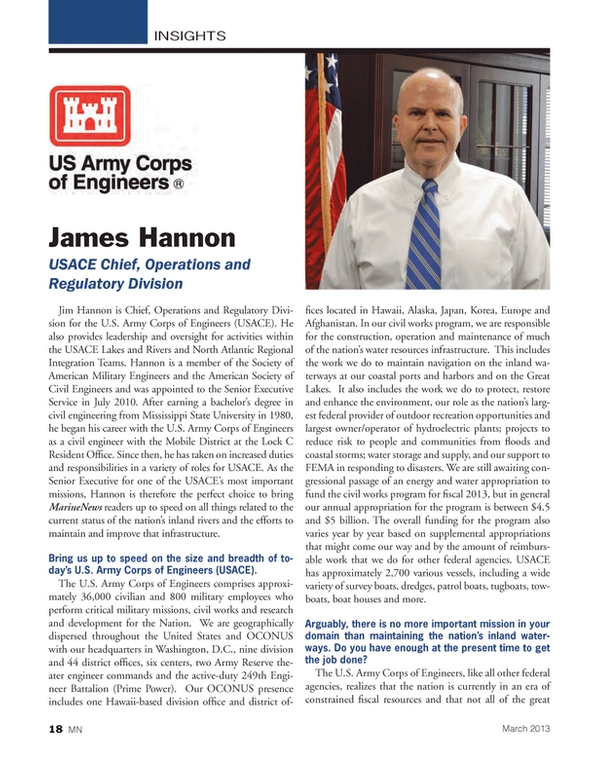 Read Insights: James Hannon USACE Chief, Operations and Regulatory Division in Pdf, Flash or Html5 edition of March 2013 Marine News
Other stories from March 2013 issue
Content