Proceeding Quietly with Vigor
By Joseph Keefe
West Coast Shipyard banks on the old adage, "if we build it, they will come."
In a climate of both seemingly fat backlogs and at the same time uncertainty for domestic shipyards, Vigor Industrial is one company that continues to make news in the shipbuilding and repair merger and acquisition markets. After acquiring Todd Pacific Shipyards in 2011 for $130 million, Vigor also diversified its geographic offerings when it scooped up Alaska Ship and Drydock in Ketchikan after raising $75 million through private equity firm Endeavour Capital. Vigor CEO Frank Foti continues to build scale through acquisitions, while diversifying the company's construction and repair capabilities to include cargo fleets, barges and workboats, ferries, and US Navy and Coast Guard vessels, among others.
Vigor's quiet expansion is built upon four primary pillars: the acquisitions mentioned above, an aggressive capital spending plan that includes a new vessel assembly hall in Alaska and a new drydock that once deployed will be one of the largest on the U.S. West Coast, a Workforce development program intended to beef up and augment Vigor's shipyard staff and last – but certainly not least – a highest profile effort underway to secure the brass ring of the Coast Guard's new Offshore Patrol Cutter replacement program. Any one of those efforts would be fodder for a closer look; together they represent the potential emergence of a new tier I shipyard in a field that has been winnowed in recent years by attrition, consolidation and – no pun intended – vigorous and robust foreign competition.
The New Dry Dock
For anyone doubting Vigor's intent to compete and indeed grow their West Coast business, then their January agreement with Daoda Marine Heavy Industry Company (DDHI) to purchase a new floating drydock for $40 million removed all doubt. At 960 feet long, with an inside width of 186 feet and a lifting capacity of 80,000 long tons, it will be the largest floating drydock in the United States. "We decided now is the time to buy because demand to service large vessels is growing and large drydock capacity in proximity to the US West Coast has diminished," said Vigor Industrial CEO Frank Foti. The new asset, scheduled for delivery in March 2014, will be stationed in Portland, Oregon.
With the new capacity, Vigor can bid to service the incoming generation of the US Navy's Military Sealift Command (MSC) dry cargo/ammunition ships and the drydock will be large enough to service private vessels including post-Panamax cargo ships and cruise ships. The increased capacity will also help Vigor meet growing demand from the Arctic as oil and gas exploration and other ship operators take advantage of longer ice-free summers. Beyond this, Vigor says that demand for such capability is very strong, while capacity around the Pacific has significantly diminished over the past ten years.
Rene Doiron, Vice President of Ship Repair, Vigor Industrial, told MarineNews in January, "Over the past decade, half a dozen medium and large drydocks have gone out of service around the Pacific region. At the same time, demand to service ships in such drydocks has remained very strong. Looking at this situation, and our strong financial position, it absolutely made sense to make this investment at this time. The new drydock will allow Vigor to win business from a range of private and government customers with large vessels."

ASD Assembly Hall
New ship construction in Vigor's Ketchikan location is now supported by a new ship transfer system capable of launching and lifting marine vessels to land level berths. The new enclosed shipbuilding berth known as the Ship Assembly and Production Hall, and a new Module Fabrication ship supporting modular ship construction processes will together be capable of fabricating modules, then assembling and outfitting the modules into ships up to 450 feet in length. In a public private partnership Alaska Ship & Drydock, a Vigor Industrial Company (ASD/Vigor), and the Alaska Industrial Development & Export Authority (AIDEA) opened the assembly hall in the fall of 2012. The project secures Ketchikan as a strategically located marine industrial center capable of building the new ships required to modernize and diversify Alaska's marine vessel fleets. AIDEA is the owner and ASD/Vigor is the private sector operator of the Ketchikan Shipyard.
The new capacity, in combination with the yard's strategically positioned, ice-free location, could allow Vigor to capture new business from a variety of sectors, including: new shipbuilding opportunities in marine transportation, ferries, Arctic OCS shipping and development, Oil and Gas exploration and production, and Bering Sea Fishing vessel replacement and an expanding marine vessel maintenance, repair, and reconfiguration market. Vigor also hopes to expand employment there from 160 to 300 in the next two years.
Congressman Don Young will be in Ketchikan on March 26, 2013 to dedicate the new ship production facilities at the Ketchikan Shipyard. Adam Beck, President, Alaska Ship and Drydock, declared, "ASD is strategically positioned to serve a wide variety of customers … Specifically, our new assembly hall provides an indoor, weather-controlled facility capable of housing over 85%of the vessel types and sizes that operate in our area."

Workforce Development
According to Vigor itself, infrastructure and mere capacity increases will not be enough. To that end, Vigor is engaged in a wide range of workforce development efforts, from traditional on the job training and union apprenticeships, to partnering with local educational institutions to provide industrial workforce education at the K-12 and community college levels. Already, workers are moving up in the ranks from these training efforts, and Vigor is seeing high demand and waitlists for industrial training programs, as well as gains in recruiting a younger, more stable workforce.
Identified as a particularly pressing issue for Vigor – its average age of skilled industrial workers is about 52 (albeit slightly younger than the industry average of 54) – there are not currently enough young people to replace all of the older workers expected to reach retirement age in the near term.
Specific efforts include:
The Pathways to Manufacturing Program: targets students in grades 9-12 about career opportunities in skilled industrial jobs,
A partnership with Portland Community College,
Apprenticeships, and
On the job training.
Sue Haley, Vice President of Human Resources at Vigor explained, "Workforce development is a key part of our business strategy and company philosophy. With many of our highly experienced craftspeople nearing retirement age, maintaining our skilled workforce is a top priority … Workforce development is a bridge that helps Vigor recruit the workers we need, and provides hard-working people with the skills they need to do these family-wage jobs."

The Offshore Patrol Cutter (OPC)
Where other shipyards have kept, until now, relatively low profiles for their considerable efforts to secure the contract to design and produce the highly anticipated U.S. Coast Guard Offshore Patrol Cutter (OPC), Vigor went on the offensive late last year to showcase its decidedly different, but well-proven hull design. Spurred by the need to replace as many as 25 medium endurance cutters, the nation's primary homeland security provider on the water has domestic shipbuilders queuing up to design and build its next generation vessel. At least three shipyards can be considered serious candidates for the first installment.
According to Matt Von Ruden, Vigor Industrial's OPC Program Manager, "Vigor's primary advantage is our thorough understanding of the Coast Guard's requirements. This enabled us to get an early start, mature our design, and assemble an exceptional team.
-The result is an innovative OPC option for the Coast Guard that is uniquely capable and affordable. As a mid-sized shipyard with a strong track record with the government, we are able keep our costs down, while remaining highly responsive to the customer."
U.S. Coast Guard Commandant ADM Bob Papp, in his Situation Report released in late January said, "We have started the most important acquisition program in our service's history – the Offshore Patrol Cutter (OPC). In 2013, we will award three design contracts. We will down-select to a single OPC design that best meets our requirements, including affordability." As the domestic shipbuilding industry waits for the first edict, it is safe to say that OPC is a big part of Vigor's ongoing efforts, but at the same time, just one leg of a sturdy four-legged chair.

Vigorous & Hopeful
If you build it, will they come? Clearly, that's what they are counting on at west coast-based Vigor Industrial. Starting with asset acquisition, infrastructure upgrades, workforce improvements and an aggressive design and build competition, Vigor Industrial has served notice that they will be a force to be reckoned with; now and down the road. Self-described by Vigor's Matt Von Ruden as "a mid-sized shipyard," it is also clear that very soon, Vigor won't be able to fit anymore into that neat little package.
With the cornerstone laid for what CEO Frank Foti hopes will come next, the Vigor Industrial transformation is perhaps just one of any number of good news stories emanating from the domestic, mid-tier shipyard sector. Unlike some, however, Foti's backlog is a healthy mix of both private and government sector work. Without a doubt, a lot of big news has come out of this firm in the past two years. The best may be yet to come.

(As published in the March 2013 edition of Marine News - www.marinelink.com)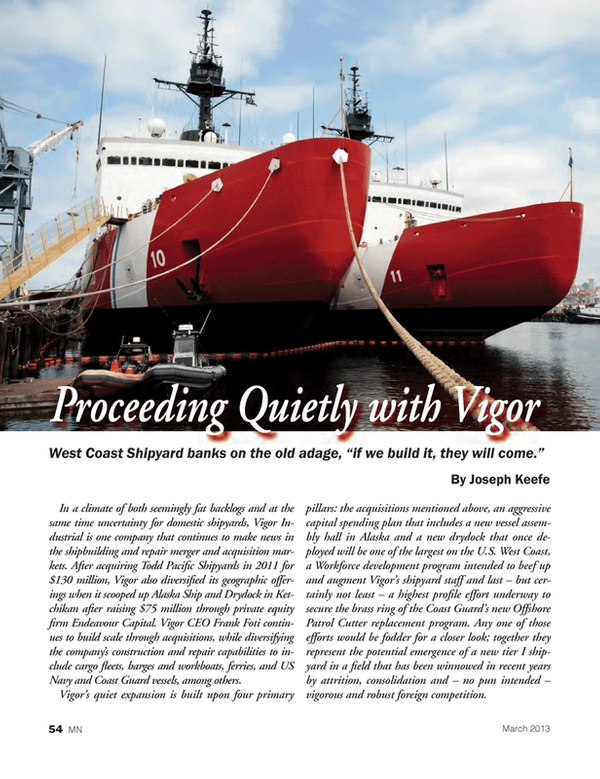 Read Proceeding Quietly with Vigor in Pdf, Flash or Html5 edition of March 2013 Marine News
Other stories from March 2013 issue
Content