The Perfect Anchor for Paint
By Jay Benito
Barge manufacturer doubles production and reduces paint waste with new blast line.
When the 600th barge launch was celebrated at Brownsville Marine Products (BMP) just south of Pittsburgh in November 2012, it marked the company's success at reviving a site with over 75 years of history. At the same time, the team also celebrated a facility ready for 21st Century marine vessel production, thanks to a radically modernized production line. Since taking over the site in 2005, the challenge for BMP was to meet the ambitious goal of producing the highest quality vessels at competitive prices. To meet this goal, the team invested heavily in innovation, training and automated processes, with the expectation of increased productivity, efficiency and quality.
A key piece of this upgrade was the installation of a new state-of-the-art horizontal blast and paint line (or 'preservation line'), designed and installed by Wheelabrator, which allowed the facility to double production and save $400,000 annually on paint, due to improved paint transfer efficiency (TE).

A Perfect Anchor for Paint
The new line is fully automated and can accommodate steel plate as well as structural elements of 12' width, 1" thickness and up to 40' length. The blast process achieves a surface profile before coating between 1.5 and 3 mils. Consistency and accuracy of the surface profile are important to provide a perfect anchor for paint, ensuring maximum coating reliability – a critical factor in preventing corrosion and extending the life of a vessel.
Due to improved paint processes, including tight control of Dry Film Thickness, paint transfer efficiency of more than 75% could be achieved at BMP, resulting in a considerable reduction in paint consumption. Taken together, all this means lower production costs and improved quality, resulting in better value for customers.

Speed, Size and Automation
The equipment installed is large (35' x 218' x 24' high) and has 8 EZEFIT blast wheels (with a tip velocity of 310 ft/sec). The line processes plate at up to 10 ft/min (speed is variable between 4 and 10 ft/min, usually running at 8 ft/min) and uses abrasive steel shot that is added and then recycled automatically. It is this combination of speed, size and automation that allowed BMP to double production with the new equipment. And unlike the previous machine, which had to run three shifts per day to match output targets, the new preservation line usually runs about 10 hours per day to address all of BMP's production requirements, leaving enough time for maintenance as well as headroom for sudden peaks in demand.

Blast Experts on Call
In order to achieve the high level of process control necessary to reach BMP's standards of quality and cost efficiency, the line requires constant monitoring and regular maintenance. However, thanks to the company's training and development culture – BMP operates their own 'Weld School' – this is not a problem, with skilled employees at hand and blast experts from Wheelabrator on call. Maintenance schedules and ready availability of parts mean the machine is always at the top of its game.
Other measures taken to improve processes and reduce costs along the blast and paint line included:
Redesigned airwash separators were added which clean and recycle used abrasive (the quality of which is monitored daily);
An automated abrasive adder was installed that introduces new abrasive to the cycle as needed. This means abrasive never has to be 'changed';
Dust collectors both for the blast system and the paint system ensure clean and safe operations.

Tim Scheib, CEO at Brownsville Marine Products, told MarineNews, "We've been working with Wheelabrator for a couple of years, to look after and gradually improve our existing equipment, until we reached a tipping point with the old line and asked the team from Wheelabrator to help us design and install a state-of-the-art line that meets our ambitious standards – and will do so for decades to come." He paused and added, "We are very pleased with what has been achieved and it's great to see marine vessel production thrive again at this location, thanks to investment in latest technology and good people. We are all proud of the quality of our barges and proud to be continuing a long heritage at this site."
Perhaps most importantly, Wheelabrator's technology in its preservation lines can be utilized across all marine markets. The efficiency savings that can be achieved apply to operations large or small. Whether that's a barge manufacturer like Brownsville Marine Products, where significantly improved performance metrics have been delivered that will make financial savings into the future, or whether it's at some of the busiest shipyards across the globe, the net effect is the same. www.wheelabratorgroup.com


(As published in the July 2014 edition of Marine News - http://magazines.marinelink.com/Magazines/MaritimeNews)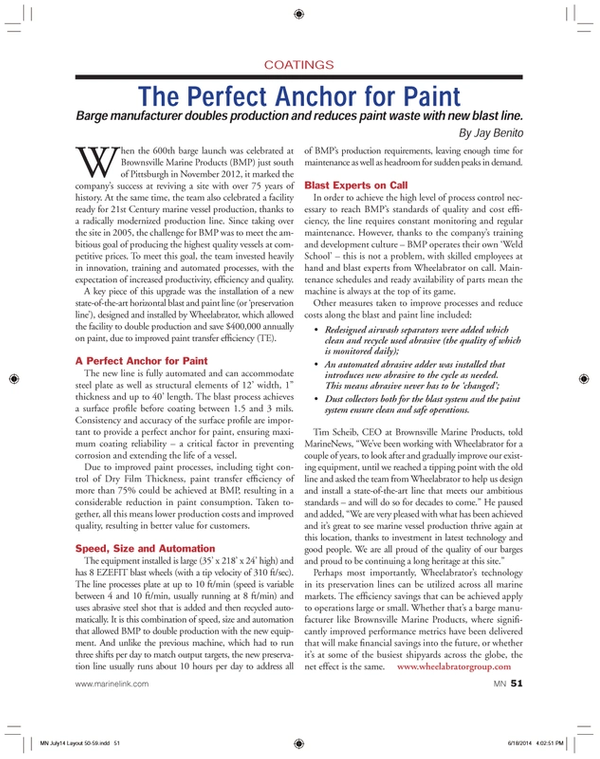 Read The Perfect Anchor for Paint in Pdf, Flash or Html5 edition of July 2014 Marine News
Other stories from July 2014 issue
Content