Safety and the Law Collide on the Water
By Larry DeMarcay
We all can agree that the safety of our employees is critical; if not the most important concern of each of our companies. Our marine-based employees face day-to-day perils that are not encountered by the average American office worker. It is our duty to do everything that we can to ensure that each of our employees returns safely to his or her family once their hitch is over. Our industry has made great strides in improving safety over the years by utilizing improved training programs, safety policies and safety programs. All of these initiatives combine to create a maritime culture that embraces safety, and one that is unquestionably better today than it was just a few decades past.
Many safety programs utilize a safety bonus/incentive system to reward employees who operate in a safe manner. Although each plan is slightly different, virtually all plans provide some sort of bonus to the members of a vessel crew when a certain period of time elapses without a reportable lost time accident. Incentivizing safety is a great idea: it goes a long way towards keeping the crew members focused on safety, moves safety away from being purely an individual concern and passes responsibility to the entire crew. No one can disagree with the aspirations of such a program.

Safety with Caveats
Although safety bonus/incentive programs go a long way to motivate employees to operate in a safe manner, there are several concerns you should consider while designing or modifying such a program. These concerns include the potential for incentivizing the repression of incident reporting, the potential that employees could intimidate an injured employee from reporting an accident, or having the crew misclassify potential accidents in the hope of preserving safety bonuses.
You do not want to discourage employees from reporting an incident or give them any discretion in determining whether or not to report an incident. It is very important that crew members timely report all injuries, illnesses, incidents, and near misses to their supervisors. Not only does this allow management to properly monitor risks for the purposes of making operations safer, it is also important that employees receive proper medical attention quickly, before their injuries become worse due to continuing to work aboard the vessel.
Although it may not make sense, employees may decide not to report their accidents in an effort to preserve the safety bonus record. No one wants to be the employee who took his focus off the job and suffered an injury, much less the employee who costs the entire crew a safety award. Based upon this incentive, employees may not be motivated to timely report injuries.
This is exactly the type of behavior that the safety program does not want to encourage. Thus, any safety bonus/incentive program must take into account incident reporting as a required component and should provide some leeway where a minor reportable incident or illness may not cause the crew to lose a bonus. Thus, encouraging the reporting of incidents, illnesses or near misses for all events can create a culture of reporting that will make incident reporting second nature and not something that can be balanced against the desire to receive a bonus.
Employee intimidation is a potential problem when other employees could persuade an injured crew member from reporting the incident. Unfortunately, it is possible that other crew members will remind the injured crew member that reporting the incident will cost all of them the bonus. Essentially, they could try to shame the injured employee from reporting the incident to management.
This pressure can keep employees from timely reporting incidents and receiving appropriate medical care. Additionally, lack of timely reporting also prevents the company from conducting a proper investigation to determine what occurred. Again, any safety bonus program should attempt to minimize this pressure.
Another area of potential abuse is the improper classification of incidents. It is possible that an employee may suffer an injury while working aboard the vessel and report that he sustained an injury that was not "work related" when in fact the accident certainly was. The employee will allege that this non-work related injury manifested itself while he was in the service of the ship and request maintenance and cure. At the same time, the vessel's safety record remains intact. Although the crew member will usually receive the required medical care under this scenario, the company loses the opportunity to conduct an investigation and determine the cause of the incident, thus, losing the opportunity to make its operation safer. Furthermore, after the bonus is paid and the injured employee retains an attorney, he could change his story, report that the injury is work related and blame the whole lie on the pressure caused by the safety bonus system.
Although it is impossible to prevent all of these problems, tweaking your program may help alleviate some of this pressure. As each company's safety incentive program is different, it is impossible to discuss all potential modifications. However, the following are some ideas that you may be able to use to fine tune your program.

Incentivizing Safety
You may want to consider incentivizing the reporting of incidents, near misses, illnesses and injuries. This creates a culture where all incidents must be reported, regardless of whether they are a serious concern or not. You want your crew to be in the habit of reporting anything from a headache, toothache or hangnail to a serious injury, without worrying about a safety bonus program. You can encourage the culture of reporting by creating a "quota" and reward system mandating that employees submit a certain number of safety suggestions, near miss reports, incident reports, etc.
Although it possibly sounds counterproductive, providing employees with a bonus to report incidents may actually save the company money in the long run. The more incidents that are reported, the sooner the risk department can identify tasks or jobs that are potentially unsafe and adopt policies that minimize the risk. This will provide a long term savings to the company.
In the short term, although you may have additional incidents reported that you may not have heard of otherwise, the immediate notification of an incident allows your risk management team, and your attorneys, to timely conduct an investigation and determine what caused the incident and evaluate any potential liability for this particular claim. Although this type of investigation could be conducted later, it is always more effective to take witness statements and conduct the investigation while employees are still employed by the company and the incident is fresh in their minds. Thus, it may make sense to incentivize both the reporting of incidents as well as time without an accident.
The peer pressure that can be exerted against an injured employee by his co-workers is a bit more difficult to catch. We suggest that an incentive program include penal measures that seriously punish any employees who try to convince or intimidate an employee not to report an incident. Although no one wants to lose a good hand, an employee involved with such an infraction should be immediately terminated. As the potential loss of a job trumps any small incentive bonus, such a penal provision should eliminate such intimidation.
The improper classification of incidents can be resolved through proper training. Employees may attempt to manipulate the employee's medical treatment or misclassify an injury to avoid having it considered as a lost time incident. Often, this behavior is based upon a misunderstanding of the program's rules and is unnecessary. As such, it is very important that all employees are trained and educated on the specifics of the system and the company's requirements for the reporting of all incidents.
All in all, safety incentive/bonus programs are a great tool that you can use to encourage your employees to be safe. If a crew can make it one year, two years, or ten years without a lost time accident, they should be rewarded. However, as you create your program, it is important to look at these efforts from the perspective of the employees and try to avoid incentivizing unwanted behaviors. Spending a little time tweaking your program now may save you significant (legal) trouble down the road.
The Author
Mr. DeMarcay is a partner in the law firm of Fowler Rodriguez Valdes-Fauli. His areas of practice include Commercial Litigation, Admiralty, Personal Injury, Transportation, Real Estate, Construction and Corporate Law. Prior to attending law school, Mr. DeMarcay served on the Washington based legislative staff of Congressman Jimmy Hayes. On the WEB: www.frvf-law.com

(As published in the July 2015 edition of Marine News - http://magazines.marinelink.com/Magazines/MaritimeNews)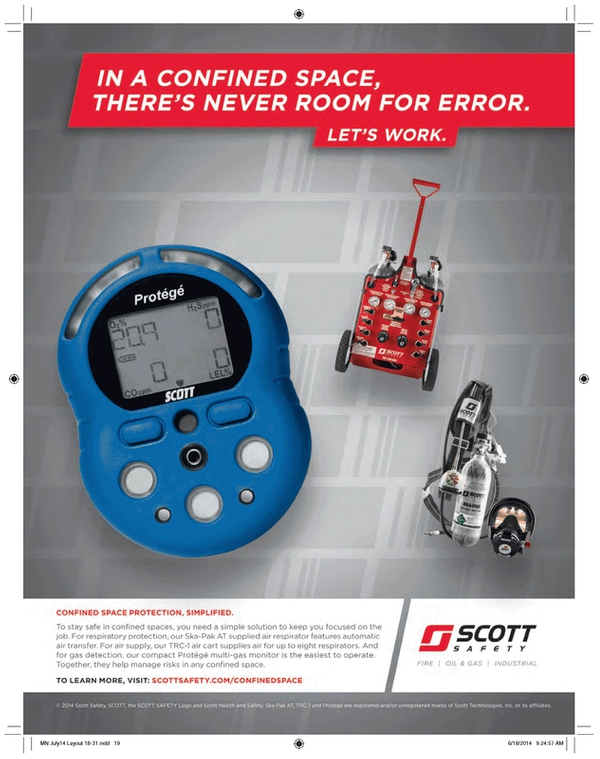 Read Safety and the Law Collide on the Water in Pdf, Flash or Html5 edition of July 2014 Marine News
Other stories from July 2014 issue
Content