Making Money with Marine Monitoring
By Joseph Keefe
The myriad benefits of gplink are well documented. What you do with it is literally 'your business.'
Remote Monitoring and Tracking company gplink bills itself as the most capable remote diagnostic tool available for high horsepower systems. In a nutshell, gplink monitors commercial vessels and equipment, allowing users to detect anomalies before they turn into problems. Remotely monitoring, tracking and troubleshooting expensive and far flung assets is now a mature concept, reaching all marine markets. Without a doubt, gplink is in the thick of it.
Easily configured to monitor the data points that matter most to you, there are literally dozens of applications that can be safely covered. Nevertheless, potential users still hesitate to take the technology plunge, typically because of unanswered questions about price and logistics, or uncertainties about communications and data management. Current users, on the other hand, are effusive in their praise of the device. One such customer is Simon Axcell, Chief Engineer with UK-based Ostensjo Rederi AS/Solent Towage Ltd.

Why gplink?
"Prior to installing the first gplink package, we had never intended on approaching such a company, explains Axcell, adding, "As operators and fleet managers we were aware that such systems existed and had a brief understanding of their benefits but the idea of installing such a package was never considered." That position changed early in 2013 with the delivery of Solent Towage's latest vessel, "Lomax". The Caterpillar 3516C powered 28m Robert Allen designed escort class tug built to ABS rules was deployed to fulfill contractual obligations to an Oil Major as well as for some 'spot-market' towing work. Axcell says, "Almost immediately, we encountered a problem agreeing on a mutually acceptable means to prove fuel consumption during 'off Hire' periods when Lomax was released for outside work. The vessel itself was only fitted with sight glass level gauges and sounding pipes on all bunker tanks meaning a time consuming cargo survey by an independent authority prior to and after every outside job." Obviously, a solution needed to be found.
Following the advice of a local OEM service provider, Solent Towage committed to its first GP Link system in December 2013 and had it up and running on board in January. And, following a two month trial with the gplink running in parallel with cargo surveys, the client – in this case, Exxon – officially adopted it as the agreed means to prove fuel consumption. Since then, Solent has never looked back.
Notably and following the success of the installation aboard Lomax, the client pushed for gplink to be installed on the other three Solent vessels involved in the contract. Axcell adds, "We have been working closely with gplink to develop a system to suit these vessels. We are also currently working with gplink to develop a more in-depth package to accurately monitor vessel movements and work patterns, something we hope to have up and running shortly."

More than Engine Monitoring
Beyond the success enjoyed by customers like Solent Towage, the gplink system boasts multiple applications for marine users. For example, pleasure craft customers use the data as a tool to monitor the health and wellness of their engines. When there is an engine issue, they share the reported codes with their technician which reduces repair costs. Some, like Solent Towage, use the engine logs to keep an eye on fuel consumption and find sweet spots. The use of 'geofences' to identify when and where boats are operating, and the RF monitoring system to alert owners in the event of high water or smoke aboard the vessel, are also popular features.
Commercial customers use the data for everything from making sure their ferry boats leave the docks on time, to offshore delivery vessels who are using touchscreen tracking and downloading of precise fuel consumption which is then used for invoicing. Still others hone in on details to assist with trouble spots. For example, a customer had workboats that were speeding in no wake zones and, as a result, they now receive real time text alerts with the boat name and speed when a vessel exceeds set parameters. Another operator whose ferry captains were pushing docks (instead of shutting engines down) was creating headaches for the front office. In response, gplink created an alert which sends a text message and e-mail to supervisors when a vessel is at a dock with rpm's over 1500 and speeds of less than 1 knot.
Solent Towage, says Axcell, started using gplink for one function, but ended up taking advantage of several others. "Although we monitor basic engine data such as oil pressure, boost pressure and JCW temp, the main interest has always been to trend fuel consumptions. All engine parameters are fully backed-up by a third party monitoring system fitted from build so data collection was an added bonus but not the driving force behind the decision, he said, adding, "We do however use the gplink Geofence facility which has proved quite useful in automatically alerting myself and the general manager of Lomax's departure for outside work."
For inland waterways users, the system can pay for itself quickly. In one case, an inland tug company was paying taxes based on fuel burned inside of certain states. Dan Webb, gplink's Manager, told MarineNews in November, "Their accounting department was inaccurately, manually calculating these fees based on educated guesses. gplink created a downloadable report that began calculating fuel burn when their vessel(s) crossed into the state, and stopped when they exited. The gplink system quickly demonstrated that, not only was the tug company overpaying, they were spending 50 hours a month creating reports that could be made available with three clicks."

Communicating the Good News
gplink uses data services on the AT&T GSM Cellular network and/or its GSM roaming partners as the primary channel and defaults to Iridium if GSM is not available. Through these connections, it is possible to provide near real-time reporting of a vessels GPS position, speed and heading, engine metrics and monitoring, sensor monitoring, and on-board geofencing. The system also employs a least cost routing algorithm to insure that each packet is transmitted over the most cost effective network.
The gplink MTU (Mobile Transmitting Unit – Transceiver) uses the Short Burst Data (SBD) services on the Iridium satellite network as the secondary mode. The Iridium constellation consists of 66 low-earth orbiting (LEO), cross-linked satellites plus 10 in-orbit backup satellites. The constellation operates as a fully meshed network, is the largest commercial satellite constellation in the world and is the only Satellite network providing worldwide coverage.
Data compression and proprietary messaging formats keep data bandwidth requirements/byte counts low and cost effective over Satellite networks. Normally reporting 8 to 10 engine parameters/engine at a user selected time period to the web tier, the system can provide for engine data capture and recording for many more engine functions. This data is captured and stored at no cost but can be supplied when higher resolution data is required. The system can store up to 60,000 position reports and engine data at a polling rate of up to one report per second. This stored data can be requested and reported to the webpage (for any date, time period, or all data).
Over time, the need to send data can evolve, says Axcell, explaining, "For Solent Towage, the decision to install gplink was originally taken in order to provide a solution to a localized problem concerning only one of our vessels. Since then, however, we have grown to appreciate gplink as a useful management tool, used primarily from a remote office location. That said; the Chief Engineers on-board have full password access to the website and also use the system to aid in reducing fuel consumption during specific operating conditions."

OEM Agnostic, Workboat Friendly
The system provides utility over a wide range of engines. gplink's Webb says, "We are moving into more and more engine types, and we can hook up our units on engines where we are able to get a J1939 or J1587 connection. We currently have units installed in Caterpillar, Cummins, MTU, and are planning installs in Wärtsilä, Rolls Royce, and more." Beyond this, gplink is also proving its value as the regulatory noose gets tighter. Webb explains, "We are also able to assist our customers with emerging challenges. For example, our dealer in the United Kingdom came to us last summer and detailed the new requirements for all commercial vessels for SEEMP reporting. This requires year over year fuel and footprint improvements. In the span of 60 days we were able to work with our UK customers to provide the reporting needs. This is just one example of how we are able to morph the system to serve our customer needs."
With a customer base as wide as their OEM penetration, gplink is poised for real growth as the advantages of remote monitoring become more transparent. Webb reports, "Commercial brown water applications can be found on everything from several New York ferry fleets, numerous Push/Tug boats running barges up and down the Mississippi (and other inland waterways), Great Lakes ferries and workboats, and even Amazon River boats operating in the jungles of Peru." Also according to Webb, gplink's current business load is split between pleasure craft/charter vessels (55%), commercial tugs (40%), and the rest primarily being used by land based generator operators.

Looking Ahead
The possibilities presented by remote monitoring are literally endless. For Simon Axcell, the question now is probably not 'what can it do for us,' but instead, 'when can we get it set it up?' "Time and cost saving from tedious cargo surveys was the obvious immediate gain following the installation," he insists, but added, "Since then, however we have used to system to pin-point inefficient operating conditions and have adjusted our procedures to suit. For example, by examining fuel consumption figures during certain operating conditions, we are gaining a better understanding of how the consumption figures change in relation to the nature of the work the vessel is performing. This obviously allows us to better consider proposed charter rates based on a more accurate understanding of predicted fuel consumption."
Axcell declined to go into specifics, but nevertheless touched upon ongoing arrangements with gplink to produce a dedicated module which would deal primarily with Solent's mandatory Ship Energy Efficiency Management Plan (SEEMP) requirements. He added, for emphasis, "Solent Towage, being part of Ostensjo Rederi AS, takes a very proactive view on environmental issues and considers any system which can help reduce emissions, fuel consumption and environmental impact as highly important. In order to better protect the environment we must first better understand the impact we have on it. We hope that by using the gplink system we can better highlight our energy consumption during various operating conditions. Once we have a more accurate picture of how each vessel is performing, we can make procedural and design changes accordingly."
You get the idea that Simon Axcell and Solent towage are not yet finished with their quest to see what else gplink can do. Others, just getting started in the remote monitoring game, are only now realizing the potential power of such a tool. And, for those still on the sidelines, the competition may soon be disappearing over the horizon.

(As published in the December 2014 edition of Marine News - http://magazines.marinelink.com/Magazines/MaritimeNews)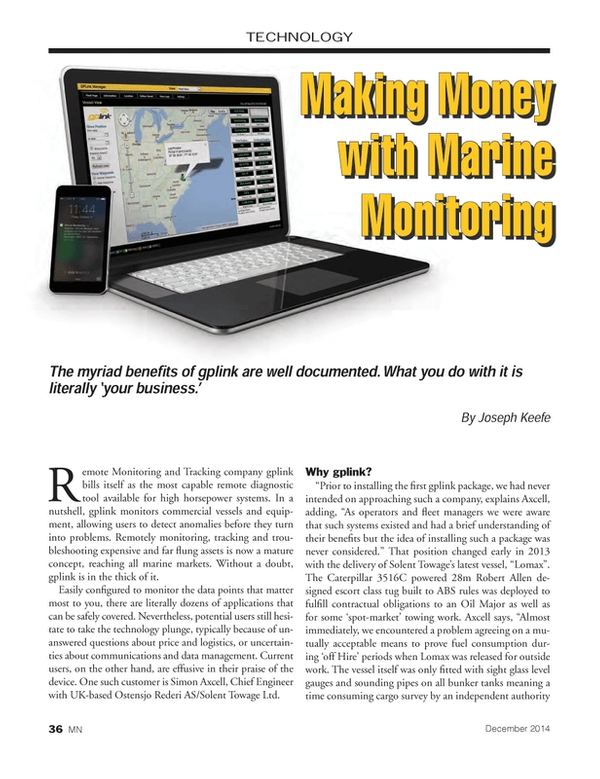 Read Making Money with Marine Monitoring in Pdf, Flash or Html5 edition of December 2014 Marine News
Other stories from December 2014 issue
Content