Insights: Johan Roos, Interferry's Executive Director of EU and IMO Affairs
Posted by Nicole Ventimiglia
Johan Roos is Interferry's executive director of European Union and IMO affairs based in Brussels, Belgium. He took up the newly created regulatory affairs post in September 2011 after previously serving as director of sustainability with Sweden's Stena Rederi AB. He holds a masters degree in environmental sciences from the University of Gothenburg. In 2000, he left classification society DNV to join ferry operator Stena Line to develop internal environmental management systems and for many years, he was in charge of sustainability issues for all of the Stena group's shipping activities. In his current role, he works closely with the International Chamber of Shipping and the European Community Shipowners Association and represents Interferry at the IMO. Interferry is an association representing the global ferry industry, with 230 members representing some 600 individuals from 35 countries. The membership includes operators, shipbuilders, equipment manufacturers, classification societies, shipbrokers, finance and legal professionals, consultants and IT specialists. Over the past decade Interferry has emerged as a major force representing the industry on regulatory issues – notably through its consultative status at the International Maritime Organization and observer status at the European Community Shipowners Association. Listen in this month as John Roos weighs in on all things "Ferry."

The introduction of 0.1% sulphur in ECA's may be a less dramatic short term development than expected due to unexpectedly low oil prices. It still represents a financial burden for ferry operators. What's the long term financial impact?
In North America, there will be virtually no impact on the ferry industry, short or long term, because low sulphur fuel has been the norm for a long time. Elsewhere the current relatively low oil price will lessen the immediate impact of the 1 Jan 2015 transition, but ferry operators are still facing the fact that fuel costs will increase by 50% overnight, which has to be pushed on to clients or taken from low, or even negative, margins. The first round will be rising ferry prices, a fall in traffic and a reduction in capacity as the modal backshift kicks in. But then we might expect some re-adjustment. Additional road congestion may drive some traffic back to ferries or governments may respond with policies such as road pricing to limit road traffic and the resulting congestion.
In Europe there will be a process of adjustments as the market tries to re-establish equilibrium. It's very difficult to know where the balance will be in five or ten years - any predictions will be impacted by outside factors like changing fuel prices or the emergence of new technologies.

Internationally – what's the number one thing on the plates of ferry operators? What are you doing about it?
It's hard to generalize within such a differentiated ferry industry, but the number one thing with regard to international operations is poor profitability. There is little that Interferry can – or even should – do on that issue, besides engaging on transport system developments on a policy level.
Industry-wide, there is clear commonality on concerns over the avalanche of regulations we have seen in the past decade, which does not seem set to subside any time soon. The International Chamber of Shipping has estimated that environmental regulations alone could cost the global maritime industry $500 billion over the coming ten years. Ferries are particularly vulnerable to such dramatic costs due to competition from non-maritime transport alternatives. Interferry recognizes the need to improve shipping's environmental performance, but seeks a more nuanced approach from regulators and governments – such as the stepwise, gradual improvements in the automotive industry over many decades. By comparison, recent maritime regulations have tended to be aspirational and binary - aspirational in the sense that the requirements have not been anchored in what is feasible but in what is theoretically possible with new technology; and binary in the sense that either there is a new rule to reduce something by 99%, or no rule at all is imposed, as with ballast water. Another example is the requirement to reduce NOx emissions from 20% to 80% in one go – a step so dramatic that countries shy away from designating NECA's. As engines today can be designed for something like a 50% NOx reduction, it would make more sense to abolish the NECA concept and, instead, gradually require all new engines to perform better. Interferry believes it would be possible to design phase-in/phase-out schemes for new regulations making allowances for ships near the end of their life cycle.

Just thirteen years after 9/11, the passenger vessel industry has to look inward to ask itself: Are we secure? What more can be done? What has the global community done?
The shipping industry invested a lot of money on security after 9/11. If piracy is excluded – which in any case is criminal activity – there have been no serious terrorist attacks on shipping. We are comfortable with the security provisions put in place by the IMO very shortly after 9/11 and believe those rules have lifted the industry's security awareness to an appropriate level. We also find that cooperation with Flag Administrations on security matters works well in general. However, we look forward to any future revision of the International Ship & Port Facility Security (ISPS) Code, as it was done in quite a hurry. There are certain elements that could be made more effective and adapted to local conditions.

Is ferry transportation growing globally? Is the international version of 'shortsea shipping' more developed than in North America? How do you see its role in the future?
We do not have any reliable figures on domestic transport volumes in non-OECD countries, but for international OECD markets we do not see any significant changes – the tendency in North America and Europe is a slow decline since the turn of the century, exacerbated by the financial crisis.
Short sea shipping is well developed in Europe, particularly in the north, and there is a common political ambition to increase the market share of short sea shipping – although preciously few functional policy instruments ever materialize. Since ferry services exist due to bodies of water separating local markets, the situation in North America is quite different to that in Europe or the Far East. The areas most conducive to short sea shipping in the US and Canada are the Pacific Northwest, the Great Lakes and the Gulf of St Lawrence.

Have North American ferry operators been impacted by the Korean ferry incident? How about international operators? If so, how?
The Korean ferry incident was soon recognized to be the outcome of malpractice rather than any structural flaws in the regulatory frameworks. We have not seen any strong impact for operators outside Korea, where the repercussions are still highly visible and prompting a very bad market downturn. One direct consequence of the tragedy is that it prompted the IMO Secretary General to actively seek ways of improving passenger ship safety on domestic operations, which is beyond the IMO's normal influence. Interferry is closely engaged with the IMO in this initiative, although we recognize that finance to take proper action is limited in some countries and that ultimately each sovereign state has to develop and enforce rules of its own.

Domestic and international ferry safety has been questioned in the wake of the Sewol ferry disaster in South Korea earlier this year. In a nutshell – how is Interferry addressing safety in that context?
There is no basis in the Sewol disaster to criticize international ferry safety. What is most concerning to Interferry is that the accident occurred in an advanced nation like South Korea and has many similarities to ferry accidents in developing countries. Our partner organization the Worldwide Ferry Safety Association has compiled a record of all ferry accidents in the public domain since 2000. During this period, some 15,000 people have lost their lives or are missing due to ferry accidents, with 93% of these casualties occurring on domestic operations. No casualties have been recorded for international services between OECD countries. After the major ferry casualties of the 80's and 90's – Herald of Free Enterprise, Jan Heweliusz, Scandinavian Star, Estonia – very effective measures have been enforced through the IMO Conventions and European legislation. The international industry's track record underlines Interferry's confidence in these regulations.
Have the IMO and U.S. Coast Guard taken into account the cumulative burden of regulatory mandates? What is the regulatory hammer's real impact – operationally and financially?
Regulators don't take the cumulative burden into account. Although many countries have prerequisites to undertake cost benefit analysis for national laws, this mentality does not seem to follow suit when they negotiate at the IMO. It doesn't help that, very often, environment ministry officials represent their country at the IMO on issues that obviously should be dealt with by the transport and trade ministries.

The passenger vessel industry represents half of the U.S. inspected fleet, and a large percentage of the international fleet. How safe is the industry and what is Interferry doing to ensure safety?
Actually, passenger vessels do not represent a large percentage of the world's merchant fleet. The US anomaly results from the market distortions of the Jones Act. Interferry is mainly engaged at international level, helping to develop functional requirements that ensure safe operations without imposing unnecessary costs on operators. Those international rules should then, ideally, form the basis for domestic rules in individual countries, ensuring safe ferry transportation in all markets – but there is no such requirement, which unfortunately is evident in certain parts of the world.

Ten years after the Ballast Water Management Convention was adopted by the IMO, it has still not entered into force. When it does and for ferry operations, it has become increasingly clear that the original intention of the Convention – to prevent spread of invasive species between areas far apart – has not factored in properly the situation for ships continuously operating in the same geographic area. What is Interferry doing to address this?
Interferry was not present at the time, but it seems something was lost during the final deliberations of the Convention back in 2003-2004. Coastal states were given the obvious right to assess whether any measures were needed for domestic operation in their territorial waters – we expect very few, if any, of these states to actually impose such measures. However, the right was not given for neighboring states to agree how to act for ships crossing their common national border, even if the relevant body of water is only 100 meters long. In effect, this would require fitting equipment to the tune of half a million dollars per ship in order to kill organisms in the same water. Supported by Denmark, Croatia and Singapore, Interferry has requested the IMO to modify the legal requirements to allow coastal states to agree as they see fit. We now hope to see a clear indication from the upcoming IMO PPR2 meeting in January that the purpose of the Convention is to prevent the inter-continental spread of organisms, and nothing more.

The IMO Marine Environment Protection Committee (MEPC) could exempt certain ferry operators from fitting equipment required by the impending Ballast Water Management Convention to reduce the spread of invasive species. Would it apply to U.S. markets?
The IMO Marine Environment Protection Committee included provision for exemptions in the 2004 BWMC, but it is up to the Coastal States concerned to exempt certain ferry operators. The challenge, which makes these provisions almost unworkable, is that even in obvious cases the operators must undertake extensive biological risk assessments, sampling for species in their ports of call and putting together a comprehensive scientific file proving that all species concerned are present in all the ports. Apart from the risk that such a biological survey can easily be misguiding if the sampling is not done in all the right places, there is also a high financial cost for the operator. There are no prior guarantees, or even indications, on whether or not the assessment will support a positive decision. Furthermore, an existing exemption could be swiftly revoked if a species not spotted during the survey pops up at a later stage. The commercial uncertainties are just too great. For ferries operating in a limited body of water, crossing a national border thus means that the burden of proof goes from the coastal states – which with their local knowledge would not apply the BWMC on domestic ships – to a 'precautionary principle' nightmare requiring on board treatment even in a low risk scenario.

Interferry represents a global group of ferry stakeholders whereas its North American Counterpart, PVA, has a more domestic audience. Where are the goals of the organizations similar and where do they diverge?
We don't think the goals diverge – it's simply a matter that PVA engages domestically and Interferry internationally. The same set-up is common in many countries, where a national association deals with national situations. PVA is very well positioned to support domestic US operators in ways that Interferry could never do. Likewise, we are well positioned to help develop rules at the IMO, which eventually percolates in parts to domestic US requirements. We consider these two different roles to be highly complementary. Most of our US members are also PVA members.
Interferry welcomed a decision at the IMO Maritime Safety Committee meeting (MSC94) setting out rules for the location of fuel tanks on LNG-powered ships. What has IMO decided actually and why is it important, especially for North American operators considering the LNG option?
LNG has long been promoted as the fuel for the future, not least due to the pending low sulphur requirements. Some Interferry members have successfully built LNG-powered ferries, but many others have waited to see how the cost structures would develop and what the rules would be. The recently agreed IGF Code emerged after discussions at the last few IMO sessions on a proposal on the permissible length and location of onboard LNG fuel tanks. This proposal was so restrictive that the vast majority of ferries already built would not have met the proposed requirements if they had been in place at the time. Interferry obviously advocates high safety for all issues, including LNG tanks, but given the limited experience gained to date in the passenger ship market, we believe that traditional prescriptive rules based on the successful approach for LNG tankers – going back decades – are preferable to the more sophisticated probabilistic requirements, which rely on calculations from questionable statistics. In short, the IGF Code will permit LNG-powered passenger ships to be built to the same high safety standard as other ships carrying LNG on-board. This minimizes the risk of LNG tanks being impacted by collision or grounding, but without imposing size limitations that would require excessively frequent refuelling – which effectively would have ruined an already weak return-on-investment calculation.

(As published in the January 2015 edition of Marine News - http://magazines.marinelink.com/Magazines/MaritimeNews)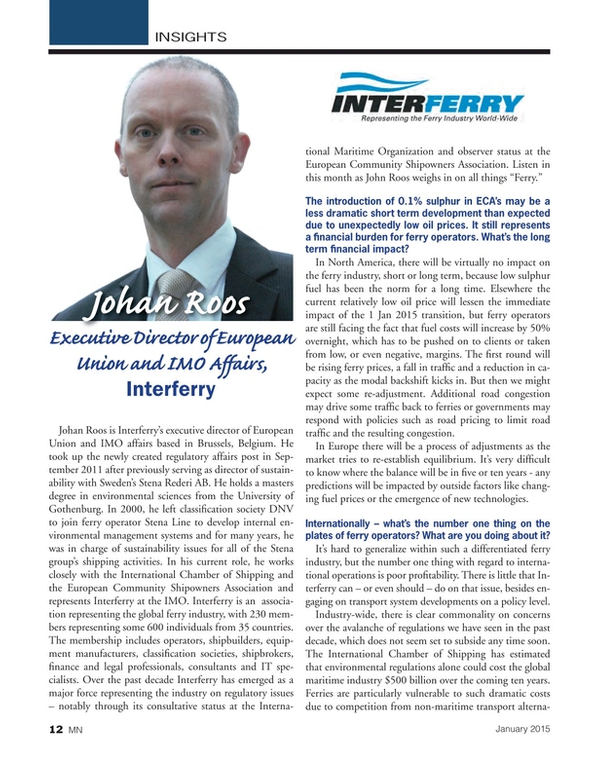 Read Insights: Johan Roos, Interferry's Executive Director of EU and IMO Affairs in Pdf, Flash or Html5 edition of January 2015 Marine News
Other stories from January 2015 issue
Content