OP/ED: Knowing the Rules of the Road
By Michael Borgstrom
Mitigating Risk of Dangerous Interactions with Recreational Rental Vessels
I am increasingly concerned about the interaction between commercial vessels and recreational craft on the Chicago River. Even more frequently my operation is encountering people in short-term rental craft such as stand-up paddleboards, kayaks, canoes and small electric boats who know little or nothing about the USCG Navigation Rules and who are not aware of the risks of operating on a narrow channel close to large commercial vessels.
This year alone my crew has rescued seven persons in distress, and towed or provided assistance to six other recreational vessels that mitigated dangerous encounters that could have resulted in injury or death. As professional mariners, my team is always ready to assist, but these dangerous encounters are becoming more common on the nation's most congested waterways, and I've heard from fellow passenger vessel operators in other areas that this is an issue of concern in just about every port and waterway in the country.
It is a fact that everyone has a right to use the waterways, however with that right there is an enormous responsibility to use it safely. Unfortunately, our licensed professional mariners assume most, if not all, of the burden of responsibility. In fact, the increase in irresponsible recreational use of the waterways, especially by rental operations, has resulted in greater stress and fatigue for our captains and crew of commercial passenger and towing vessels.
I have great concern about the safety standards of the public vessel rental operations. This situation is analogous to renting a car to a person who has never driven before, with little or no training and sending them out onto a crowded interstate. Such rental operations are, to my knowledge not inspected, licensed or regulated to promote responsible navigation practices. All you need is a credit card and you are on your way. I have found that those who rent recreational vessels receive woefully inadequate instruction in safe vessel operation or Navigation Rules.
This results, more often than not, in reckless and dangerous operation on the waterways. In addition, alcohol consumption is not discouraged and, in some cases, BYOB is actually encouraged by some rental operations. I have to question whether these boat rental operations are appropriate for certain commercial waterways. The risk of a marine incident continues to rise with the proliferation of irresponsible recreational use of our waterways.

In Chicago we have been working to find solutions to this problem. I have personally met with several kayak rental operators to increase awareness and educate each other on navigation and training practices. For example, the U.S. Coast Guard sponsored a Port and Waterway Safety Assessment in 2012 identifying high traffic areas on the Chicago River. And, we formed the Chicago Harbor Safety Committee in 2013 bringing together all key stakeholders and with the mission to develop strategies for safe boating education and awareness.
To elevate this issue to the national level I've worked closely with the Passenger Vessel Association (PVA) to provide industry leadership. PVA and I have briefed the National Transportation Safety Board and Coast Guard leadership on the real world challenges of operating in this environment. Beyond this, PVA recently spoke with members of the National Boating Safety Advisory Council voicing concern and commenting on national boating safety awareness projects.
I call upon all stakeholders to become a part of a proactive national dialogue to identify and analyze this growing problem of unsafe and irresponsible recreational and rental users by engaging all stakeholders to develop solutions that facilitate marine transportation and commerce while enhancing and improving marine safety for all users of America's waterways. We must encourage our government leaders and all stakeholders to get involved finding a solution to this growing problem.
Michael Borgstrom is the President of Chicago-based Wendella Sightseeing Boats. He is the third-generation owner of Chicago's oldest tour boat company which has been in operation since 1935. A U.S. Coast Guard licensed mariner holding a 100 ton certificate (since 1981), he has served in the industry for 37 years. Mr. Borgstrom is a Past President of the Passenger Vessel Association (2008) and the current President of the Chicago Harbor Safety Committee.

(As published in the January 2015 edition of Marine News - http://magazines.marinelink.com/Magazines/MaritimeNews)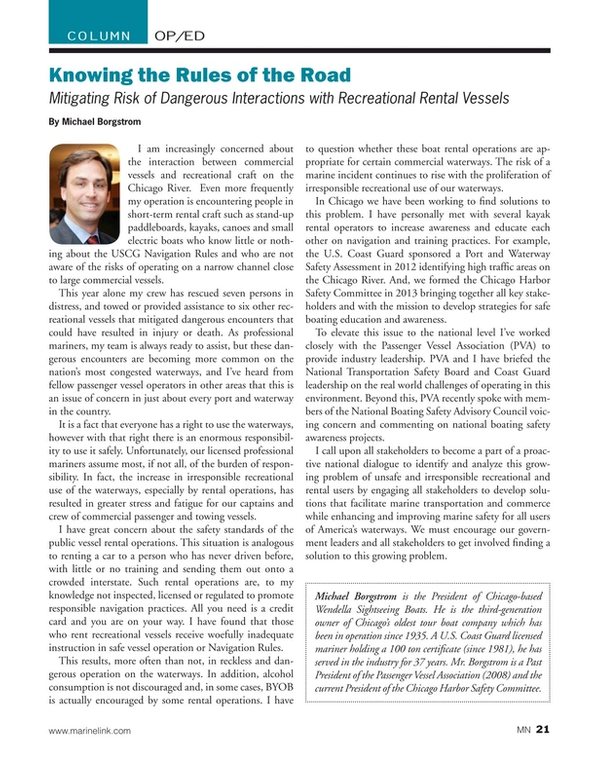 Read OP/ED: Knowing the Rules of the Road in Pdf, Flash or Html5 edition of January 2015 Marine News
Other stories from January 2015 issue
Content