Deck Machinery: Pulling Power
By Marine Technology Reporter
Modern deck machinery is essential to efficient subsea vessel operations.
For those on the water conducting experiments, surveys or military exercise, it is impossible if not foolhardy to point to one system or piece of equipment that is head and shoulders above the rest in importance when it comes to conducting a safe and efficient project. But for those who have been present when a winch has jammed, a line has snapped or rough seas have thwarted deployment and recovery operations, it could be argued that modern, precision controlled deck machinery plays an indispensible role in making or breaking an operations.

The Investigator
Look no further than page 14 and MTR's two page feature on Australia's new, largest Research Vessel, Investigator, for proof. The ultra-modern 93.9m RV is a testament to modern marine and RV technology, complete with a suite of modern deck machinery and systems that dominate its large deck.
The complete suite of fisheries, scientific and ship's deck equipment was supplied by Rapp-Hydema, including an array of coring, trawling, towing, general purpose, CTD deployment, drum, and anchor/capstan electric winches. Triplex AS, a Rapp-Hydema subsidiary, supplied the coring boom, pipe handler, over stern A-frame and CTD Overhead crane. The aft deck is serviced by a Bergen DKF300 Main Crane, with a capacity of 25 metric tons at 12m, or 5 metric tons at 20m. In addition there are also a Bergen DKF40 utility crane and a Bergen DKF70 stores crane fitted.
MacArtney was chosen to supply a major consignment of high performance oceanographic winches to JAMSTEC, the Japanese Agency of Marine-Earth-Science and Technology. The total of eight winch systems and appurtenant equipment were delivered to Mitsubishi Heavy Industries who, in cooperation with MacArtney launch and recovery technicians, installed them onboard the new JAMSTEC research vessel R/V Shinsei Maru. R/V Shinsei Maru was completed and delivered to JAMSTEC in June 2013, the latest addition to the JAMSTEC fleet. To effectively carry out its broad range of oceanographic surveying, R/V Shinsei Maru is equipped with a wide variety of onboard observation systems, portable research equipment and a remote controlled unmanned probe. For launching and recovering this multitude of surveying systems and equipment, it is outfitted with a MacArtney winch solution. Comprising eight winch systems (four stationary and four portable), the MacArtney winch solution includes General Survey Winch, Large Wire Winch; Medium Wire Winch; Small Wire Winch; CTD Winch
Six of the MacArtney winches onboard R/V Shinsei Maru are empowered by Active Heavy Compensation (AHC), which is designed to dramatically reduce unwanted undulation, cable slack, pull and equipment instability by compensating for the motion caused by heavy seas, in effect helping to dramatically decrease weather related downtime.
MacGregors received an order for two MacGregor active heave-compensated (AHC) offshore cranes from a Turkish shipyard for a new subsea inspection, maintenance and repair (IMR) and construction vessel for a Norwegian owner. A 250-ton and a 15-ton MacGregor subsea crane will be installed on the 129m vessel. The 250-ton unit will have its winch installed below the working deck and will also feature wire rope integrity software. The order was booked in the third quarter 2013 order intake.
"The MacGregor equipment shares this focus and will be delivered with the added benefit of wire rope integrity software, which enhances operational safety and allows an operator to monitor a wire's wear status and therefore plan for its replacement and even extend its lifespan," said Frode Grovan, Director, Sales and Marketing for Advanced Load Handling. The cranes will enable subsea operations to depths of between 2,600m and 3,000m and both will be fitted with a MacGregor Arctic package for safe and efficient operations in cold climates. The Skipsteknisk ST-259-design vessel is scheduled for delivery at the end of 2015.

Vestdavit & the Norway Way
New regulations for davits used in the Norwegian offshore industry will not come into force until 2015, but in the meantime, they are already raising the safety bar, and in fact Vestdavit already has a NORSOK-compliant davit. NORSOK standards are developed by the Norwegian petroleum industry to ensure adequate safety, add value and with an eye towards cost effectiveness for petroleum industry developments and operations. Beyond this, NORSOK standards are as far as possible intended to replace oil company specifications and serve as references in the regulatory process.
According to Vestdavit, NORSOK regulations apply to davits and lifting appliances used on offshore installations and specify many new design features and safety systems must be employed. For its part, Vestdavit has invested heavily to ensure that its davits comply with NORSOK standards. Today, it boasts a 6 ton NORSOK-compliant davit and claims that orders from major offshore operators are coming, in response. A Korean shipyard building a unit for the Norwegian sector of the North Sea for a major operator is the latest to contract a 6 ton SWL NORSOK R002 davit from Vestdavit.
The PLR-6000 pivoting A-frame davit includes all mandatory safety features. The HPU, valves, control systems, electronics cabinets and back up accumulators are all mounted on a separate skid. The system will be fully FAT tested with DNV verification prior to delivery. This greatly simplify yard installation, saving time and cost, says Wigand.
Global integrated geoscience company CGG is leading a joint industry project to improve workboat launch and recovery safety. Vestdavit is the key equipment supplier in the project which also involves DNV and Wilhelmsen as vessel manager. CGG operates a large global fleet of seismic vessels, all of which regularly launch and recover workboats. This operation is critical to the performance of the vessels and by the nature of the task will always pose hazards for the personnel involved.
A task force was set up to evaluate and report on safety, technical status of equipment, maintenance status, spare parts status, operational procedures and practice, certification status and operational qualifications of personnel. It recommended setting up a joint industry project to develop rules and regulations that will improve safety during launch and recovery of seismic workboats. The project, says Vestdavit, will deliver a new industry standard/guideline for seismic workboat launch and recovery equipment, maintenance and annual testing and davit operator qualifications.
"We are very happy to bring our experience with high quality workboat davits and training operators of these to the project," said Bjørnar Dahle, key account manager, Vestdavit. "These standards and guidelines can help raise the standard across the industry to the level of best practice which already exists. We supply the best equipment, but it must always be maintained and used correctly. This project will help to ensure operators maintain and use launch and recovery equipment safely, which will reduce risks and downtime." DNV will manage the project, which should complete its work by the end of 2014.


(As published in the January/February 2014 edition of Marine Technology Reporter - www.seadiscovery.com)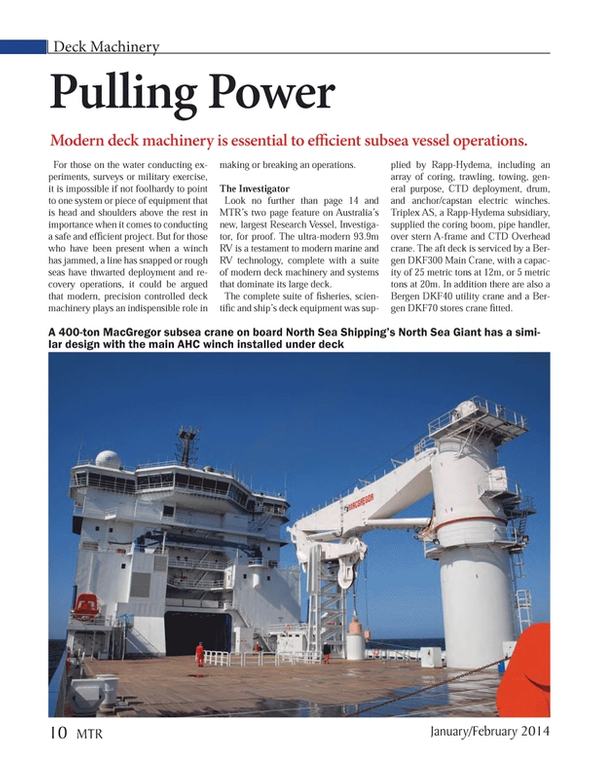 Read Deck Machinery: Pulling Power in Pdf, Flash or Html5 edition of January 2014 Marine Technology
Other stories from January 2014 issue
Content