New Offshore Environmental Lubricant
By Claudio Paschoa, Brazil
During the OTC Brazil 2013 in Rio de Janeiro, MTR's correspondent Claudio Paschoa met with Chris Morrissey, who is Team Leader in Energy Lubricant Development for Castrol in the UK, and Carmen Pino, Regional Sales Director for Castrol Offshore for a chat about the new Environmental Lubricant being developed by Castrol Offshore with the support of OneSubsea. This barrier oil provides extreme thermal stability, good electrical insulation and lubricity, and fully meets the tightest OSPAR environmental legislation
The O&G industry is increasingly targeting deepwater plays, where subsea equipment such as pumps, manifolds and Xmas trees are constantly under high pressure, be it the water pressure at depths that may exceed 2,000m or high pressure from the reservoir itself. There is also the heat coming from the reservoir and the cold from the deep ocean waters which may affect subsea equipment.
Most subsea equipment uses some form of lubricating oil, which is used to lubricate hydrodynamic bearings, mechanical seals and other internal components, but also acts as cooling medium in motor, pump or compressor components. Lubricants additionally keep certain insulation properties in motor and power penetrators, along with transporting wear particles to filters and acting as a barrier between sea/process and internal components. "There were a couple of main drivers in developing the new lubricant. One was the need for environmentally enhanced lubricants, because the traditional kinds lubricants used for subsea applications at the moment do not meet the tighter environmental legislation being introduced, so we wanted to develop a product, which was fully compliant to the stringent environmental legislation in the North Sea. Then, through this development, it became clear that there was a need to extend the performance of the lubricant in order to reach thermal stability requirements. The current conventional lube stars to break down at 100 °C and we managed to extend the thermal stability of the new lube to 220 °C," said Morrissey. The development of a enhanced lubricating oil is a long process, which involves identifying raw materials, formulation screening and the optimization of additives long before any rig or equipment testing is done. "When we started out we didn't really know what we could achieve with the environmental lube, so there was a bit of a challenge there. The typical additives used in standard lube oils don't pass the environmental legislation tests, so we had to search for new chemicals, new additives, new building blocks," said Morrissey.
The major testing in the development stage involves thermal stability testing, TAN variation testing, fluid drying test with coalescing filter and motor insulation compatibility testing, all of which are done at Castrol's Technology Center in Pangbourne, near Reading, west of London. "We have development centers all over the world, but for energy and more specifically for subsea, Pangbourne is where it happens," said Morrissey. "The development work with OneSubsea has been going on for seven years now. We build a collaborative relationship with OneSubsea knowing it would take a bit of time to get through this development, in order to go through all the improvement testing and so on. The key thing in this industry is that everyone wants to know that the product is absolutely going to work and that takes a long time."
Also according to Morrissey, the finished product should be ready to go to the market by mid 2014 and the launching location is still uncertain.
"The way we run our organization, we may choose a specific region to launch it but in general cases, especially with the level of certainty we have in the product, we can globally launch pretty seamlessly throughout the organization," said Pino. Since the lubricant was conceived to pass the North Sea environmental legislation, there is a good possibility that it will be first launched in the North Sea, however Morrissey quickly pointed out that "We have to figure out where the first unit using the lube will be delivered and then support it in that region first, as a priority."
There are certainly important advantages offered by the new product, and with the enormous growth that is occurring in the subsea industry these advantages may become an important deferential for players and equipment manufacturers to embrace Castrol's environmental lubricant.
"We are quite excited about two key areas where we see that the new lube has great advantage. One is the demand for this kind of lube from locations where field conditions are really hot and the other is use of the lube in subsea boosting and compression equipment, where OneSubsea is getting to the end of development testing in the use of the lube in its subsea wet gas compressor. Up to now testing has indicated that this lube is ideal for the requirements of this technology. Subsea boosting and compression technology is increasingly being used in deepwater fields as it offers increased operational flexibility, while at the same time bringing some of the surface production equipment to the seafloor. This technology has proven to bring advantages, such as increased production, recovery and flow assurance. Yet some of the equipment requires a lubricant oil with high thermal rating in order to increase performance and reliability.
Depending on the location where the equipment will be used, there may also be a requirement to comply with specific environmental legislation.
"Thermal stability is really the key aspect of the product, along with the controlled amount of additives used. When we look at the mechanical seals for example, these run at high speeds, creating a pressure differential, which generates a lot of heat. If the lubricant breaks down at high temperatures you get deposits building up on the face of the seals which may cause long term reliability issues. You don't want anything flaking out across those surfaces, you want them to remain absolutely clean and in order to attain that you need a lube with a high thermal stability and a perfectly balanced additive count, because additives can drop out of the fluid and cause lacquering of the seal face", said Morrissey.
Castrol is a global company and as such they have many options on how to market the new product.
"I think there are two elements we need to take into consideration when marketing this product. First there is the equipment and project we know of today, where we will be working collaboratively with the technical departments, receiving direct feedback on the product. There is also a more interesting part, where we try to discover in what other applications the lubricant can be used, for instance, thrusters and well capping may benefit from this kind of lubricant, the potential is huge and that's where our global organization will come into play," said Pino.

Facts about the new Environmental Lubricant
• Performance assurance has been achieved by benchmarking the fluid through testing against existing lubricants of known performance and track record,
• An alternative environmental oil solution, which has little or no additional risk to reliability, and with the benefits of higher performance,
• Further rig testing and real life machine running hours will ensure maximum confidence before launch,
• For wet gas compressor the contra-rotating seal tests and full compressor trial are planned, with TRL4 to be reached by March 2014,
• Next steps for the hot pump development (400F/ 204C) is to qualify the elastomers/polymers over a wide temperature range for extended periods,
• Market demand for larger capacity machines will push performance limits of the barrier oil.


(As published in the January/February 2014 edition of Marine Technology Reporter - www.seadiscovery.com)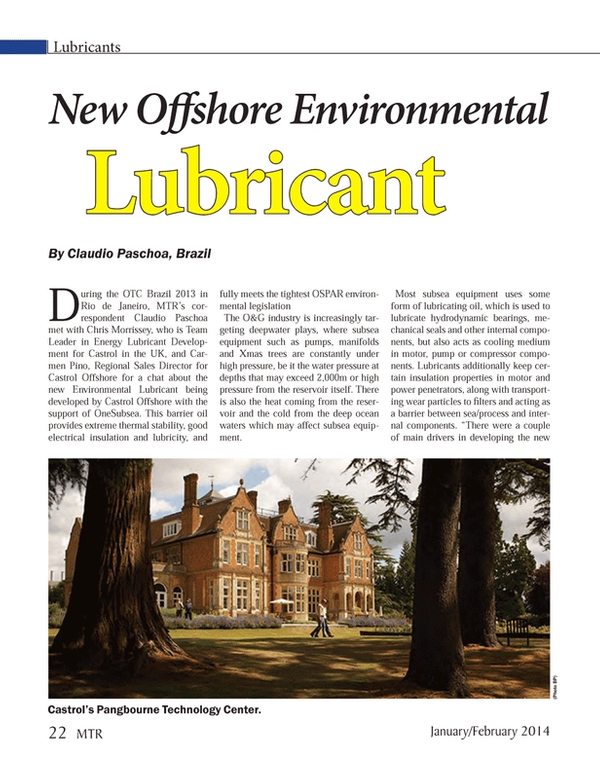 Read New Offshore Environmental Lubricant in Pdf, Flash or Html5 edition of January 2014 Marine Technology
Other stories from January 2014 issue
Content