The Port of Corpus Christi: Energy Port of the Americas
By Greg Trauthwein
The Port of Corpus Christi lives up to its moniker 'Energy Port of the Americas,' as the movement of energy in and out dominates the port's history and future. John P. LaRue, Executive Director, Port Corpus Christi recently visited Maritime Logistics Professional's headquarters in New York City to discuss the nearly $50 billion in investment projects driving the port forward.
"Let's just start with what we are and what we are not," said LaRue. "We are not a container port. Up until a few years ago we were an oil import port (serving) three refineries: Citgo, Valero and Flint Hills Resources. We also have two grain elevators; and the only facility that we operate directly is dry bulk."
Pure and simple, the Port of Corpus Christi is an energy hub, connecting the Gulf of Mexico with the vast U.S. inland waterway system, positioned between the country's two largest shale oil and gas plays, the Permian Basin and Eagle Ford. Port Corpus Christi is the fourth largest port in the United States in total tonnage (about 100 million tons per year), a gateway to international and domestic marine commerce.
While the general assumption may be that anything energy-centric would languish today given the three-plus year global swoon in energy pricing, Port Corpus Christi has held its own. Cheap energy has attracted foreign industrial investment in the port, and the decision by the U.S. government in 2015 to allow the export of oil means that today Port Corpus Christi exports more oil than it imports. (Last year it imported 15.7 million and exported 29.7 million tons of crude. For a look at the Top 10 imports and exports, see Chart 1.)
"We saw a significant downturn in tonnage and revenue (last year), as we were down about 10%, in some categories even more," said LaRue. "This year has started to bounce back in a big way, and we have seen an uptick this year from just about everybody. The ability to export crude has made a big difference."
Illustrating the point using a top Port Corpus Christi customer [Oxy], that firm has made quantum leaps in the export of crude oil, going from zero barrels in 2015 to five million barrels in 2016, with a projection to export 35 million barrels in 2017.
$50 Billion in Investment
"About five years ago with the shale revolution, logistics started to change," said LaRue. "We received a lot of interest from mid-stream oil companies that wanted to move oil to other U.S. ports, which drove a mini-construction boom with new docks."
The mini-construction boom in new docks is one piece in a mega-construction boom in and around the port, with nearly $50 billion in investment over the past four years to today. "That's more than some states," LaRue said.

While cheap energy courtesy of the current global oil and gas price swoon conspired to reduce port revenues last year, there is a silver lining, LaRue said. "We have a lot of new industries coming in and we've been able to attract a lot of foreign direct investment because – not just because of the shale oil – but we have a lot of natural gas, and there are a lot of companies right now that want natural gas to use in their processes."
Austrian steel maker Voestalpine is one, as it is using gas to heat iron ore and make it into an iron briquettes, importing the raw materials and exporting the briquettes to Europe. MG is another, an Italian PET manufacturer, currently building one of the largest PET plants. The list goes on, with OxyChem involved in a JV producing ethylene; Chinese TPCO finishing a plant this year to manufacture oil and gas pipe, and Cheniere, which is building an LNG plant in Port Corpus Christi, a project which in and of itself has 3,500 people working today. "We have a lot of work for a lot of people right now," LaRue said. "Between TPCO, M&G and Cheniere, we probably have 5,500 to 6,000 construction workers active today (in the port) … and this is in a community of 300,000. The drop in oil prices has had its impact as a lot of the people that were working the shale formations have come down and are working construction for us."
While each of these projects is substantial, the showstopper was recently announced; a joint venture between ExxonMobil and SABIC for a new $10 billion, 1,300-acre plastics manufacturing complex on the South Texas Gulf Coast.
The project is under engineering review and design now, and when it comes to fruition it is touted to be the largest ethylene cracker in the country. The numbers surrounding the project are Texas-big, as it is projected to create 6,000 jobs during peak construction, create 600 new permanent jobs at the site with a $90,000 average annual salary plus benefits, not to mention the $22 billion in economic gains for the state during construction and the $50 billion in economic gains for the state during first six years.
Interestingly, LaRue sees even more room for growth, particularly in the cracker market. "I think this is really the start of a wave of larger announcements," he said, adding, "You see continued demand for basic plastics with a growing middle class in India, China and across Asia. Ethylene and Propylene are the building blocks, and there are many investments in cracker-type projects."
Digging Deeper
While LaRue is paid to attract businesses to his port, he is a fairly pragmatic in his assessment. He reiterates its proximity to the two major shale plays as a significant plank in the port's financial success, and also notes the positive business climate in Texas, "which is more conducive to energy operations."
"One of the unique things about Port Corpus Christi is we own our own oil docks," said LaRue, noting that it provides a significant revenue stream for the port. "Now with the shale we are seeing more and more activity."
"Most ports receive little or no revenue from (private dock) facilities 'inside the fence line' of the oil companies," he said. But at Port Corpus Christi, the port gets a percentage of the wharfage for cargo unloaded at private docks, as the port owns the land along the ship channel that ship must cross. "This is a unique revenue stream for the port." For vessel owners, shippers and manufacturers, LaRue is quick to mention these advantages:
Air Attainment: The port is in Air Attainment, meaning the process to build a plant is cheaper and shorter than a port not in attainment.
Free Flowing: Lack of vessel congestion, with normally only 4 to 6 ships waiting to get in. "We don't have fog, we don't have a big tidal fluctuation (normally only 1 to 2 feet)."
Rail Service: There are three rail services serving the port, providing reliability and competitiveness.
Proximity to Mexico: The port is 2.5 hours from the Mexican border. Mexico is a large and growing trade partner with Port Corpus Christi, with $1.7 billion in exports to Mexico in 2016 (vs. $1.4 billion in 2015), and $115 million in imports from Mexico in 2016 (vs. $88 million in 2015).
Stability: The U.S. is a stable environment, and LaRue counts the stability of the U.S. as a factor in attracting foreign manufacturing dollars.
Cheap Energy: Plentiful supplies of natural gas that, unlike other areas of the world, is more stable in price and availability, not beholden to political whim.
But Port Corpus Christi has its challenges too, with the number one being attaining the federal funding to dredge its 36 mile long ship channel from its current depth of 47 feet to the authorized depth of 54 feet. "Infrastructure is always the biggest challenge," said LaRue, and in step with most every commercial port in the world, dredging tops the chart. Port Corpus Christi received the authorization to dredge its ship channel to 54 feet in 2007, but federal funding has not followed. "The project is clean and there are no environmental issues with dredge material. We just we can't get it through the Administration," said LaRue. "Right now if you are not in the President's budget (because there are no earmarks) you can't start the project."
Rather than sit idle and hope, Port Corpus Christi is investing its own $32 million to get phase one of the project started, caring for the stretch from the Gulf of Mexico to inside the bay. "It's called accelerated funding, and there is some risk, because if it is never funded, we have to eat it," said LaRue. "But they will fund it. The total project cost to dredge to 54 feet is $350 million, but if we just sit here and wait for them to do it, it will never get done. We're going to put up $140 million (in total)."
Meanwhile the port will wait on a re-energized discussion on infrastructure funding in Washington. "This is the type of project that should be on someone's list, as the benefits are almost all export driven. If they get serious about infrastructure funding, we can get this project done in three to four years. If they don't it could drag on for seven or eight years."
Port of Corpus Christi: THE Energy Port of the Americas
The Port of Corpus Christi provides access to the U.S. inland waterway system from its location on the western Gulf of Mexico. It handles liquid bulk, RoRo, break-bulk, dry bulk and containerized cargo through multiple terminals. By the numbers, the port looks something like this:
$50 billion: Amount of investment projects, foreign and domestic, in past 4 years or underway.
11,016: Total vessel calls in 2015
$350: Cost in millions to dredge the channel into Port of Corpus Christi from 47' to 52'.
$140: Investment in millions that Port Corpus Christi is spending to start dredging its channel to 52'.
85.7: Total tonnage (domestic and foreign), in millions, in 2015.
80.2: Percentage of total tonnage classified as Petroleum and Petroleum Products.
47: The depth, in feet, of the current channel into Port of Corpus Christi.
52: Authorized channel depth to be achieved when project (approved in 2007 under WRDA) finally makes it into the president's budget.

TOP 10 Trading Partners (by dollar value)
Mexico
Venezuela
China
Italy
Brazil
Saudi Arabia
The Netherlands
Ecuador
United Kingdom
Colombia
(Sources: Port of Corpus Christi Port Performance Freight Statistics Program – Annual Report to Congress 2016, U.S. Department of Transportation, Bureau of Transportation Statistics.)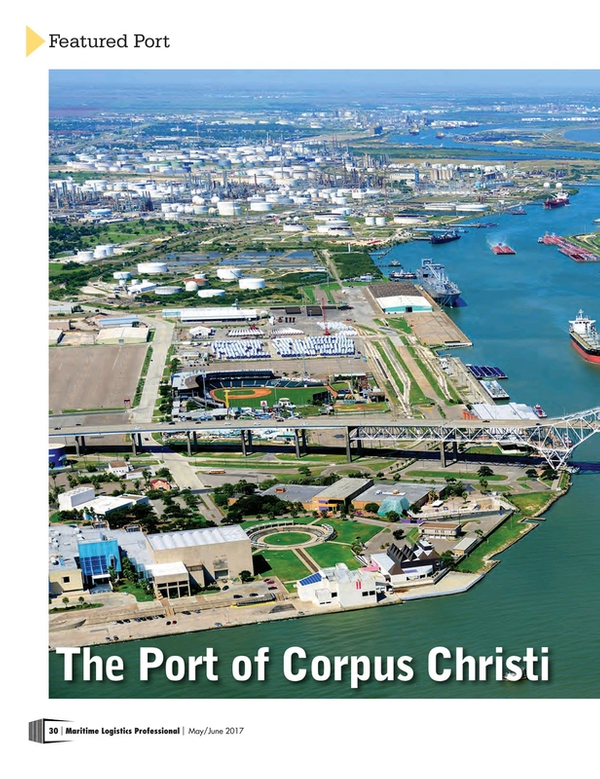 Read The Port of Corpus Christi: Energy Port of the Americas in Pdf, Flash or Html5 edition of May/Jun 2017 Maritime Logistics Professional
Other stories from May/Jun 2017 issue
Content