Turnkey Logistics: The Crowley Way
By Joseph Keefe
60 years of experience in the Puerto Rico trade corridor provides Crowley with the knowhow, means and staying power for the 60 that will surely follow.
In March, the announcement that three new, ship-to-shore container cranes were scheduled for delivery to Crowley Puerto Rico Services' Isla Grande Terminal in San Juan would normally qualify as routine logistics PR. In this case, the electric-powered cranes will be used to load and discharge containerized cargo being carried aboard Crowley's two new liquefied natural gas (LNG)-powered, Commitment Class ConRo ships. The first of those innovative vessels is expected to be in service in the second half of 2017 and the other in the first half of 2018.
When all of that is complete, Crowley's quest to bring quicker, more efficient, and cost-effective freight services to the Island Commonwealth might be viewed as 'complete.' But, that's hardly the case. That's because the 125-year old firm has been catering to this market for more than 60 years, always with an eye towards improvement to service, safety, the environment, and yes – the bottom line, too. As mid-summer approaches, it is clear that they are succeeding and the work continues on all points.
In a prepared statement issued this Spring, John Hourihan Jr., Crowley's senior vice president and general manager, Puerto Rico services, said simply, "Our new terminal infrastructure will help us enhance Puerto Rico as a shipping and logistics hub for the Caribbean Basin and beyond, and open up many new opportunities for our customers." Those remarks underscore what it takes to provide turnkey, door-to-door service, as opposed to just moving freight as a sideline into the U.S. Commonwealth.
Serving the Puerto Rico market from the 85-acre Isla Grande Terminal since 1954, longer than any other Jones Act operator, Crowley has more than 250 Puerto Rico employees. The commitment to the trade goes far beyond just moving cargo. That said, the number one ranked ocean carrier between the island and the U.S. mainland boasts more weekly sailings and more cargo carried annually than any other shipping line. That's about to get even busier; as faster, more efficient ships begin to call at the Caribbean's most modern marine terminal.
A Niche Model that Works
Crowley has always offered its local service in a RO/RO mode where the container and chassis stay together. An extension of the 53-foot mainland trucking model, the end-to-end service has evolved over time into a routine practice. Hourihan explains, "By being RO/RO on barges, we're not limited by the size equipment that we use, either by its length, its height, or its width. So these 53s are larger size not only in their length, but in their width." Hence, it was always Crowley's intention to allow U.S.-based shippers also looking for destinations in Puerto Rico to have the flexibility to duplicate the same shipping patterns prevalent on the U.S. mainland.
"We dubbed it as being a 'bridge' to Puerto Rico," said Hourihan, adding, "The ability to handle '53s, as well as the ability to handle 102"-wide containers, is very limited in terms of the container vessels that can accommodate that. Most container ships are set up to handle the 96-inch wide and the 40-foot length box. When we needed to replace the assets we've had in service for all these years – our triple-deck barges – we actually built these vessels to be able to replicate that in being able to handle 53 and 45 foot, 102-inch wide containers."
The 53-foot model does have its limitations. In many cases, cargo that 'weighs out' in the 53-footer won't also fill the cubic capacity of that same box. But, for Crowley's Puerto Rican freight model, those problems typically don't apply, especially since the practice is more an extension of the U.S. over-the-road freight model. Shippers over time developed their carton sizes, palette sizes, and the number of loads they can get into a domestic container. "Puerto Rico just became another U.S. destination," says Hourihan, adding, "In our trade, it's not a trans-loading concept or view – it's more just those customers that ship domestic product to Akron, and they also ship that same domestic product to San Juan."
Frank Larkin, Crowley's senior vice president and general manager, logistics and commercial services, agrees. "We view the customer supply chain into Puerto Rico as an extension of the U.S. domestic transportation system. So obviously, the 53-foot (van) is a cornerstone of the U.S. land transportation system and so to offer the greatest amount of seamless flexibility in terms of the supply chain and what we have had for the last 60 years, these can 'roll on, roll off' with our barges. That was a natural extension of the 53."
At the same time, there remains a robust 40-foot trade that goes into Puerto Rico. That includes 20-, 45-, 40- and 45-foot reefers, too. Crowley's new ConRos are designed to handle all of them. In March, Crowley Maritime Corp. and VT Halter Marine launched Crowley's new Commitment Class ship El Coquí, one of the world's first combination container/Roll on-Roll off (ConRo) ships powered by liquefied natural gas. The event marked the first in a series of milestones expected to be achieved this year as part of Crowley's $550 million project to expand and modernize the company's shipping and logistics services between Florida and San Juan, Puerto Rico.
El Coquí is expected to begin service in the U.S. Jones Act trades in early December. When that happens, the vessel and its sister ship to follow will be able to transport up to 2,400 twenty-foot-equivalent container units (TEUs) and a mix of nearly 400 cars and larger vehicles in the enclosed, ventilated and weather-tight Ro/Ro decks. A wide range of container sizes and types can be accommodated, ranging from 20-foot standard, to 53-foot by 102-inch-wide, high-capacity units, as well as up to 300 refrigerated containers. Aboard the vessels, new electrical infrastructure, additional reefer plugs, and a real-time monitoring system to support perishables and other sensitive cargoes ensures that the increased capacity also brings with it, increased quality.
Unlike the international 40-foot freight model, the Crowley way is to provide multiple options to satisfy a wide range of freight requirements – and not just the 53-foot model. Hence, the domestic customer looking to trade in Puerto Rico has a lot more choices than the average person shipping a container from L.A. to Shanghai.
Turnkey Service means Dedicated Assets
Crowley's $550 million investment in Puerto Rico includes a new 900-foot-long, 114-foot-wide concrete pier at Isla Grande and associated dredging; expanding terminal capacity for handling refrigerated containers; paving 15 acres to accommodate container stacking; adding containers and associated handling equipment to its fleet; installing a new electrical substation to provide power for the new gantry cranes; constructing a new seven-lane exit gate for increased efficiency; and installing hardware required for a new, state-of-the-art terminal operating software system.
Armed with a 30-year lease at both the San Juan location and a new space in the Port of Jacksonville, Fla., Crowley is raising the bar on the phrase 'turnkey.' Hourihan agrees, saying, "It does have its advantages of being able to control our operations, our gates, to control our vessel operations, and allows us to get what we're looking for – and that is speed."
At a time when container terminal operators and ports elsewhere are in a state of flux, waiting for the myriad mergers and new liner alliances to shake out, Crowley knows exactly what will be calling at its own facilities, when and how they intend to increase efficiencies. The commonality of operating the terminal as well as the vessels that are designed to go into those facilities is all designed to provide speed and economy of scale. "It's self-evident with the systems we're putting in place, our terminal operating system and with our common carrier systems we're looking to being able to have a holistic view of the equipment, coming off the ship, being in the terminal, and then out the gate," adds Hourihan.
At the root of all the new equipment and dedicated terminals is one key underlying effort, says Larkin. "We're trying to always have a deeper understanding of the customer's supply chains, and with that deeper understanding of the totality of their supply chain, to be able to craft solutions specifically for their supply chains," he explained, adding, "But all of the solutions – and all of our discussions with the customers – come down to two key, pivotal points when discussing customer supply chains. What we're trying to provide is a solution that increases the velocity of the customer's supply chain, something that ultimately impacts their total landed cost. We are always trying – whether it be from a U.S. domestic land transportation standpoint, from a cross-docking standpoint at any of our facilities, the additional capabilities that we're going to bring to bear now with these new ships, and the speed associated with them – is to improve velocity and overall total landed cost."
A key part of that equation involves using vessels that boast a collective increase of 40 percent capacity and, of course, the service speed of 21 knots, something that will dramatically increase turnaround times in these trades. Previously, Crowley's barges were on 14-day turn, given the slower transit, whereas the new vessels are on 7-day turns. With that added capacity and increased speed, Crowley nevertheless stayed true to its model that emanated from the barges. Hourihan explains, "Another feature of the vessels [a carryover from the barges] is that these are not container vessels – these are ConRo vessels in that we have garage space to handle about 400 cars."
Asked if some of that increased (40 percent) capacity was represented by the demise of Horizon Lines, Hourihan instead said, "The faster transit allows us to carry more weekly capacity than the barges, which went every other week. The design for these vessels – and our decisions on which way we're going here with our future – was locked and loaded before Horizon left the trade."
The Environment
Fueling the new ConRo ships with LNG will reduce emissions significantly, including a 100-percent reduction in sulphur oxide (SOx) and particulate matter (PM) and a 92-percent reduction in nitrogen oxide (NOx), compared with other fossil fuels. The move to LNG was not inexpensive, but it comes in sharp contrast to other vessels and operators in this trade, who previously operated tonnage that could not comply with the required ECA environmental standards. Hourihan concedes that the Jones Act in part made these investments possible, but it is also true that no other operator – foreign or domestic – has made the same commitment to Puerto Rico and its people.
In Jacksonville, two 260-ton, cryogenic LNG tanks situated at Crowley's leased property at JAXPORT's Talleyrand Marine Terminal sit conveniently adjacent to Crowley's operating terminal and will serve as the fueling station for the LNG-powered ships. Notably – and unlike their local competition in these trades who will load fuel via barge – Crowley's fueling operation is going to be performed landside, from storage tanks and directly onto the vessel. Eliminating the risky marine aspect of that operation brings another layer of safety to the Crowley business model. The storage tanks, the largest located on a marine terminal (supporting vessel operations) anywhere in the world, represent another first for maritime industry.
The increased capacity in the Puerto Rico trades also brings a markedly cleaner footprint. Hourihan couches that achievement as a milestone for industry, saying, "With both Crowley and Tote calling at Jacksonville and trading to and from Puerto Rico, this represents the first scheduled liner trade in the world using LNG-powered vessels." He adds quickly, "It makes sense because you need to know where you're going to get your gas. The Puerto Rico trade was a natural starting point because the trade that we are in, we always know where we're going and we always know where our gas station is."
The decision to go with LNG for the ConRo vessels, for Crowley, was a big one. And, it was expensive. Hourihan declined to put a number on it, saying only, "When the ships were initially contemplated and designed, the LNG was always part of the design. And we never looked at just a conventional ship in this particular design or engine choice. So it would be difficult to give you a number."
Perhaps the most important number of all involves the measurable reduction in emissions. For Crowley, and comparing their (coming) cleaner footprint, the shift to LNG will eventually reduce its carbon footprint by a whopping 35 percent per container.
Service Enhancements
Faster, fit-for-purpose vessels and dedicated terminals only go so far when it comes to improving the supply chain. That's why Crowley settled on a single terminal operating system – in their case, Tideworks – for all of its Puerto Rican trade connections. That's something that integrates across all vessels, loading plans and in the terminals. Standardized around that particular platform, Crowley is rolling Tideworks out in Port Everglades (January 2016), Jacksonville (June 2017) and in San Juan (April 2017). In this case, once the vetting of all of the available options was completed, was an easy one.
"We went the way of using an existing provider just recognizing that they offer and have developed the systems they have, and have had a lot of opportunity to fine-tune it. It was pretty easy for us to decide that we're not going to 'home grow' this," explained Hourihan, adding, "Frankly, we've gained the realization that we're better off dealing with a package off the shelf that's tested and proven, as opposed to try and do it all ourselves."
Already, the new terminal operating system (TOS) in San Juan is allowing cargo to be delivered and dispatched from the terminal 50 percent faster than it had been previously, providing customers with increased supply chain velocity. Trucks move faster because Crowley workers – previously exposed to the elements – now work indoors, in a gate control center, interacting with the truck drivers via kiosks. Safety is improved because gate workers are no longer in the truck lanes. The operation is now paperless. Eventually, the TOS in San Juan will improve efficiencies in the way Crowley stows its vessels, stages cargo, and positions container handling equipment.
As part of its multi-terminal project with Crowley, Tideworks will also be providing Disaster Recovery (DR) capabilities. The DR facility is located in a geologically stable and geographically disparate region, so if a catastrophic event occurs at Tideworks' primary data center, the TOS technology ensures that Crowley's terminals will continue to function.
At the heart of Crowley's philosophy, and one which is rapidly being tightened via use of its new TOS (and other technologies), is the leveraging of considerable in-house resources that ultimately provide value for the customer. Crowley's Larkin insists, "That speaks to kind of the seamless nature of what we want to be able to provide to customers. If time is literally the most important commodity on the planet, if we can save people time through that seamless integration of things, again, we think we are providing value."
Ayesha Diaz, Crowley's General Manager, Warehousing, has her own take on that concept. That involves 24/7 supply chain contract visibility and real time visibility and transparency for the customers. About 18 months ago, and in order provide that transparency, as many as 14 different operating platforms within Crowley Logistics were consolidated onto one platform, aptly named CargoWise. "We have the system to provide visibility to the customers. Everything that we receive, every document that we upload into our system, it's updated and customer will have immediate visibility."
That sort of visibility is already paying dividends for Crowley – and its customers. One island-wide retail chain, for example, was being managed by another logistics provider using different companies to provide different segments of the business that the account required. Crowley proposed a different way forward. Diaz explained, "It's not just about time. It is about providing a full supply chain solution. As an example, they were receiving 'X' number of smaller assorted containers and we offered a full supply chain solution with our customer, utilizing 53-foot containers while at the same time increasing capacity." That move, says Crowley, coupled with the totally in-house solution, saved the retailer about $300,000 in a six month period.
Separately, and in the grocery markets, Crowley has taken shipments from various different food suppliers and worked to top load partially laden containers with lighter cargo. For example, a 53-foot box could be partially stuffed with canned goods that would otherwise bring the container to full weight before its cubic capacity would be reached. A load of considerably lighter potato chips would then "cube out" the container. Maximizing the cubic area of oceangoing material, in this case, ultimately reduces the overall number of shipments that a client might need to make, as opposed to having straight-load shipments of those individual products.
That sort of effort also involves making sure that facilities on each end are capable and ready to perform these services. And, says Larkin, it is about being able to offer more choices than the otherwise very rigid 40-foot model can allow. "We also offer cross-dock services in our operations close to Jacksonville, trying to reduce the cost of the miles on that inland transportation.
"We think in terms of total landed cost. If we have to position an oceangoing container out to Chicago as an empty, that is wasted money in the customer's supply chain. So if we can do domestic vans from Chicago into Jacksonville, and do the cross-dock tier, we're eliminating empty miles of equipment which equates to significant savings that we're able to pass on to customers." In doing so, Crowley eliminates the so-called shoreside 'ballast leg.'
Finally, customers have always been loath to break the integrity of the seal on their shipments in transit. But, when a particular cargo is in the hands of just one service provider from start to finish – in this case Crowley – the mindset can change in that they want to explore ways to become more efficient. The container model was built upon the premise that it eliminated – for lack of a better phrase – theft on the wharf in break bulk cargoes. Crowley's view is that taking the movement totally in-house from Point A to Point B, no matter where it is, all under Crowley's control for the entire intermodal trip, is the better way to go.
"We, of course, focus on the container's ride from the U.S. to Puerto Rico," says Diaz, continuing, "But it's also important to mention that we here in Puerto Rico are also providing the final mile delivery to the customers here at this destination. Yes, we can deliver intact containers from the port to the customer's door. But we are also handling those goods at our facilities. We have the capacity to transfer those goods into our smaller equipment to be able to perform that kind of delivery, as well."
Small Trade Corridor – Big Picture
With well over a billion dollars spent in the Jones Act Puerto Rico trades, it is way past time to doubt the commitment of Crowley, and to be fair, some of its competitors. At a time when Jones Act naysayers would advocate the elimination of the Jones Act between Puerto Rico and the mainland, the evidence is clear that the domestic model holds far more in way of economies for the island and those who would like to do business there than it does for registered tonnage operators who would like to service the island in a tramp mode.
Investment in these trades today involves far more than the bottom line of a couple of Jones Act carriers. Crowley's 60-year history here, its renewed commitment to a more efficient future, and the environmentally correct way that they are bringing that reality to the region, speaks volumes. Here at the beginning, persevering through good times and bad, Crowley will no doubt be calling on San Juan long after I'm gone. That takes turnkey logistics – the Crowley way.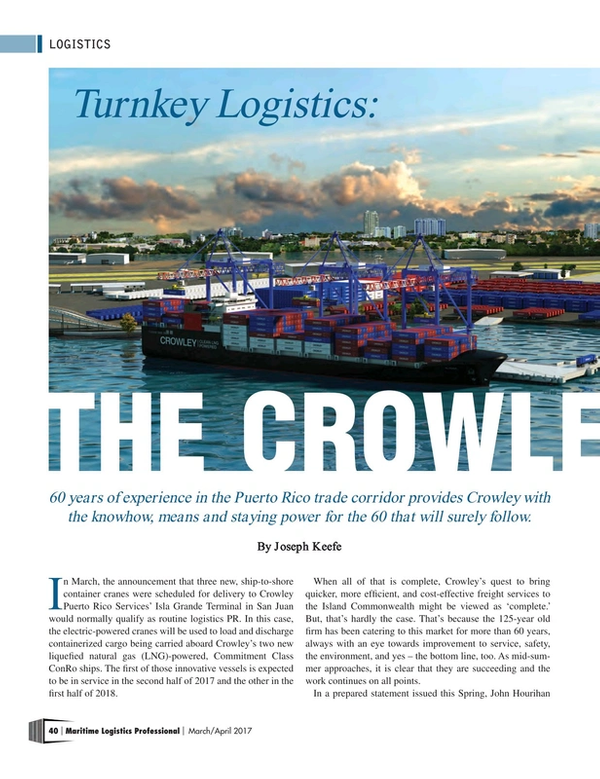 Read Turnkey Logistics: The Crowley Way in Pdf, Flash or Html5 edition of May/Jun 2017 Maritime Logistics Professional
Other stories from May/Jun 2017 issue
Content