Port and Environmental Regulations: Charting the Best Route
By Mike Moore
Trade, federal preemption and states' rights have been the subject of debate, legal cases and jurisdictional battles for more than 200 years. During my time in the Coast Guard and serving as Captain of the Port, Puget Sound, we dealt with a preemption case involving tankers that went to the Supreme Court. Earlier in my career, it was the role of the federal pilotage in a state pilotage system, again decided at the Supreme Court. And, in my current role as Vice President of the Pacific Merchant Shipping Association, jurisdictional questions come up continuously, particularly around the role of the state.
The Reactive Evolution of Rules
International and coastal trade and businesses are best served by strong international and federal regulatory systems augmented only when appropriate by more local standards of care. A patchwork state-by-state system is simply suboptimal, leads to confusion and is more easily hijacked by political and special interests.
Over the decades, the maritime sector has experienced the waxing and waning of new environmental regulations. Significant accidents typically led to new legislation. This reactive approach led to significant improvements in marine safety and environmental protection after accidents. For example, shipboard boiler explosions of the 1800s killed thousands but became a thing of the past due to standards and inspections.
Vessel construction came to include watertight bulkheads and subdivision to prevent progressive flooding (as a result of the Titanic tragedy). Double hulled tankers and protectively located fuel tanks on cargo ships now better protect the environment. Critical system redundancies address loss of steering, navigation and communication capabilities. Vessel traffic management systems provide order and predictability. New technologies like GPS, electronic charts, virtual aids to navigation and Automatic Identification System (AIS) equipment improve navigation safety.
A New, Better Way
In the late 1980s, a more proactive approach emerged. The model of accident, outcry and reactive legislation was replaced by a focus on intervening before an accident. Analysis of leading indicators and incident trends led to pre-accident improvements. And, an emphasis on growing a safety and compliance culture within companies began to emerge.
Safety system audits with checks and balances started to become the norm. In 1994, Port State Control foreign vessel examinations replaced the old "tell the flag state" approach. This change began to quickly weed out the number of substandard vessels. Vessel oil spill volumes nationwide plummeted 93 percent from the 1970's to the turn of century with the vast majority coming from recreational, fishing and derelict vessels, not deep draft vessels.
Continuous improvement included regulatory and non-regulatory approaches. Companies, industry sectors and Harbor Safety Committees implemented standards of care and best practices to further safety and environmental protection.
Unnecessary Balkanization of Rules
And then, in the late 1990s a new dynamic began to develop. States more aggressively asserted jurisdiction into international and federal arenas. Special interests began to attack ports and freight; some with intention to improve operations but others focused on stopping specific commodities or projects.
States, local governments and citizens have every right to push for high levels of safety and environmental protection. And they should. However, doing so constructively requires knowledge about how safety and environmental systems work. Unfortunately, that knowledge is often lacking. Without professional and informed dialogue, battle lines are drawn and politics dominate. Jurisdictional overreach undermines cooperation and creates uncertainties over standards, compliance expectations and costs.
Industry, ports and those that depend on them do not thrive under a cloud of growing uncertainties. Jurisdiction, standards and expectations need to be clarified. Court cases have helped but tensions remain as states, NGOs and some elected officials push irrational policies unsupported by facts. I have seen proposals to prohibit oil transfers at night, to require tugs to escort tugs and to require equipment and capabilities that do not exist in hopes that doing so will lead to new inventions.
On the West Coast, we have clear examples of how problems arise from states overreaching their authority into the federal and international realms. California is a state with a long history of dancing to its own tune. The California Air Resources Board (CARB) took actions recently to direct new rulemaking on "indirect sources" and 100 percent zero-emissions Cargo Handling Equipment and 100 percent At-Berth use of shoreside power for all vessels at ports by 2030.
CARB already regulates equipment used to move cargo on and off ships, trucks and trains. This equipment contributes less than one percent of California's total GHG emissions. CARB's desire to convert this equipment to zero emissions by 2030 would cost up to $36 billion. Some industry leaders called this unilateral action a "declaration of war" on freight.
Port representatives pointed out CARB action was already impacting policy positions and would reduce throughput and market share. Trust was shattered and uncertainty created. Ironically, cargo diversion caused by such a mandate would almost certainly increase the environmental footprint as cargo is rerouted.
Charting a Better Way
Conversely, in Washington State, industry, ports, agencies and NGOs came together to fund three port emissions inventories since 2005 to serve as a baseline. Stakeholders knew federal and international standards for ships were keys to success. Augmenting these standards with voluntary incentive-based programs made the most sense. The good news is that is exactly what happened, which resulted in dramatically lower emissions from vessels.
The international regime happened thanks to a consensus of all stakeholders supporting a treaty to reduce emissions from oceangoing vessels. The international framework approved by U.S. and Canadian governments led to the North American Emissions Control Area. This, in addition to federal requirements and non-regulatory incentive based programs, greatly reduced emissions with some pollutants decreased by over 90 percent. This is a continuing and impressive success story.
Separately, California also chose to develop unattainable and unenforceable ballast water rules. The unachievable standards have been delayed three times now. Meanwhile, the Coast Guard has a robust program including reporting, exchange, treatment – and enforcement on every Port State Control examination. Type approvals for ballast water treatment systems are being issued and equipment is being installed at costs that are projected to reach as much as $4 million per vessel. While not cheap, this is a well thought out, highly-tested approach that avoids the chaos, uncertainty and cost of a state-by-state approach.
In Washington State, there was another push to establish a ballast water ship fee to essentially copy California. The effort was turned back after legislators learned more about the federal program. Ironically, Washington and California have the same level of protection even though one state has a large multi-million dollar ship fee funded staff and one does not.
Oil spill prevention continues to be a lightning rod issue in the PNW. Record keeping since 1972 shows "zero" spills from cargo vessels calling on Puget Sound ports due to a grounding or collision. Continuous improvement is key but states are pressured to push their jurisdiction due to 'sky is falling' mantras coming from special interests wishing to see shipping and projects curtailed. Puget Sound has lost 900 annual cargo vessel calls since 1992, yet special interests like to claim that an explosion of shipping activity is risking our very way of life.
I'd be remiss discussing federal (versus) state jurisdiction without mention of the longest standing regulatory issue – pilotage. We need safe, efficient pilotage at fair and reasonable rates for safety and environmental protection. But when pilotage costs of single port call exceed $40,000 on a large container ship, as it did in Seattle then it is time to review the system. Federal pilotage versus state pilotage may become part of debate once again highlighting the federal/state jurisdiction issue. Will reforms actually result or will pilotage dating back to the Phoenicians continue the status quo?
The last example is the most recent. Environmental permitting for port projects is being hijacked by political and special interests to kill projects. This relatively new strategy seeks to require the inclusion of carbon use from cradle to grave of virtually anything connected with a project. The goal is to deny the project completely or to require onerous permit conditions to mitigate impacts well beyond the operation or control of the terminal.
The obvious conclusion is that a state-by-state patchwork of complicated and often contradictory rules and regulations creates more harm than good. People who make their living in the logistics and maritime trade industries need to have certainty and predictability. Federal and international rules as well as collaboration with stakeholders at the local level have created robust marine safety and environmental protection systems. Our challenge is to continuously improve these systems, not replace them with a confusing patchwork, driven by the political winds of the day rather than operational and technical realities.
Cargo, jobs and economic well-being of ports, regions and our country depend on trade and the efficient movement of goods. Cargo diversion due to ill-advised regulatory overreach, confusion and cost does not do the economy or environment any good.
Experience demonstrates how to chart the best route to effective and efficient environmental stewardship – we should take that route. Otherwise, cargo, jobs and economic well-being of ports, regions and our country will most certainly take another.
The Author
Captain Mike Moore is a Vice President with the Pacific Merchant Shipping Association representing ocean carriers, tug companies, agents and container terminal operators. He is a graduate of the Coast Guard Academy and retired in 2002 as Captain of the Port, Puget Sound. He holds a Master of Marine Affairs degree from the University of Washington and serves in board leadership positions for the Alaska Maritime Prevention & Response Network and an Emergency Response Towing Vessel Compliance Group in Washington State.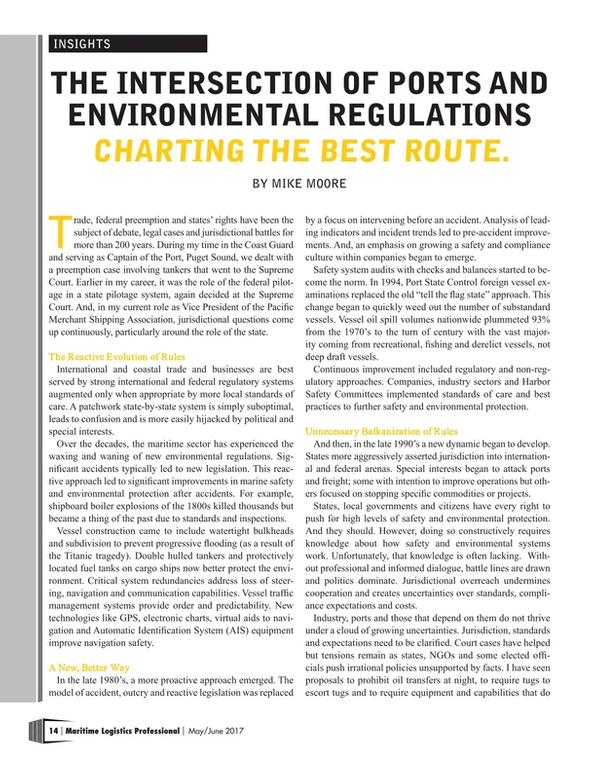 Read Port and Environmental Regulations: Charting the Best Route in Pdf, Flash or Html5 edition of May/Jun 2017 Maritime Logistics Professional
Other stories from May/Jun 2017 issue
Content