Cargo Security Goes High Tech
By Joseph Keefe
Cargo security goes high tech in its quest to account for cargo damage. Two different firms bring the same goals to the supply chain.
The need for vessel and cargo tracking has always been necessary. But, the methods and equipment to accomplish those tasks haven't always been available. Before the mid-1990's, for example, without AIS transmitters, a vessel that missed its 'LayCan' at a particular port by just a few hours could credibly misrepresent its position at sea, absent any corroborating evidence by its prospective charterers. And, there usually wasn't any. Hence, if you didn't know where the ship was, you probably didn't know where your cargo might be, either.
By 2002, AIS had gone global and the rest is, as they say, history. Entire voyage time logs can now be virtually constructed using AIS data, and savvy e-commerce and technology firms will happily (for a fee) provide you with myriad e-platforms to do just that, and more. On the other hand, while you might know where your container or cargo might be at a specific point in time, determining its condition is quite another. So, too, is the uncertain task of finding out what happened to it – and when that damage occurred – long after the fact. That's about to change.
SpotSee, a manufacturer of precision impact indicators and recorders, has developed a comprehensive line of devices that introduce accountability and oversight into the shipping and handling stages of your supply chain. Separately, another firm, PEIR, introduced in September 2017 a verifiable process for recording the condition of equipment at the point of interchange between parties by establishing a photographic record of the event. Where PEIR concentrates on the condition of the container itself at each point in the supply chain, SpotSee equipment meticulously and continuous monitors a particular box for impact damage and anomalies, providing real time, time-stamped documentation to support a possible claim. Each, in its own unique way, brings accountability to the supply chain.
PEIR
An estimated 200 million container movements take place annually. Not all of them get from point A to point B in the same condition that they departed the loading yard. For example, a study of empty containers arriving at a depot in Minneapolis and Chicago showed that approximately 12 percent of the containers arrived with damage that would be not be considered normal wear or tear. As a minimum, that equates to several thousands of dollars when labor, materials and lost revenue of the container while it is out of service for repair are all taken into consideration. And, it usually the last carrier in the supply chain that gets left holding the bag – whether or not they were responsible for the damage. Often, this is the trucking company at the bitter end of the intermodal equation.
Addressing that issue, PEIR records the condition of a shipping container or chassis with photographic evidence at every point of user interchange. Photos don't lie and the old adage that "a picture is truly worth a 1,000 words" applies in this situation. Using this system is quite simple. Drivers and inspectors don't have to be versed in names of all the components of a chassis or container, they simply take a picture which is recorded, protected, and in blockchain technology.
Companies using PEIR will have irrefutable photographic evidence to prove that it was not done under their watch, or it was received in an already damaged condition. The entity that ends up getting 'stuck' with the bill for container damage is the company at the end of the shipment cycle that does not have proof that they did not cause the damage. This is typically after a shipment has made its way through the process and the container has been unloaded and is being returned empty to a container depot to be made ready for the next export shipment. Utilizing PEIR at every interchange point enables the transportation and logistics industries to unequivocally assign damaged shipping container costs to the rightful party based on irrefutable evidence.
How PEIR Works
The service is much like the 'walk around' of a rental car when the user is getting ready to leave the rental lot. The typical walk around review involves a very small picture of the item being reviewed, except that, with PEIR, it isn't necessary to write down the damage because it is now contained in photographic evidence. The PEIR 'app' is a very simple intuitive app to use. Like other apps, PEIR resides on the one's Apple or Android device which has a camera and internet connectivity.
The truck driver, depot employee or terminal employee will take a series of photographs on their Android or Apple device of the shipping container/chassis. Those pictures will be uploaded into PEIR's blockchain infrastructure.
Designed from the ground up to be easily integrated into other cloud based systems through API technology, PEIR security is robust, and its accuracy verifiable. When the user takes the set of photos for a given inspection, a cryptographic hash is computed. This hash is unique and, for all practical purposes, there is a zero chance that the same hash would reoccur on a different set of photos. And, if a dispute arises, PEIR recomputes the hash for a given inspection (set of photos) and compares it against the previously recorded hash for that inspection on the internal ledger (which itself has a publicly verified seal on the blockchain). If the hashes match, then the set of photos is genuine and not doctored.
That series of pictures is authenticated on the blockchain with time, date, and GPS location at an introductory price of just under a dollar per documentation (inspection). Implementing PEIR at every interchange point enables transportation and logistics companies to photographically document the condition of the container at each handoff point. With blockchain, that photograph is time stamped with the container ID, its geographic location (GPS coordinates), stored and made available to all parties as irrefutable evidence.
Looking Back – and now, Ahead, for PEIR
Tom Burke, CEO and Founder of TCompanies Inc., the inventors of PEIR, started out in the trucking business. And it was there that Burke began to look for better ways to protect his company's bottom line. That's because container damage was a significant line item expense for his firm. He explains, "Not only was it a significant line item expense, but it consumed a significant amount of time to research and respond to claims. Most times, we ended up having to pay the invoice because we did not have sufficient evidence to prove that it was not our company that damaged the shipping container or chassis. I would say that, overall, it represented 1 percent of our gross revenue, an amount that could not get lost on our P&L sheet." That's because 1 percent in the trucking business is a big percentage.
Beyond verifying container condition, there are additional benefits associated with the data collected by the PEIR app. For example, the data could be used to update container tracking on a real-time basis that is potentially maintained on the blockchain. This data could be used to update a TMS system or provide arrival notification texts or messages. For container depots, the PEIR interchange could be used to estimate repair costs on a container or chassis.
Pricing is as simple as $1 per box surveyed. That cost is for each point in the supply chain that PEIR is employed. PEIR's target market, according to Burke, is anyone or any entity that is either taking a shipping container into their responsibility and liability or passing that shipping container to another party. The firm is actively sourcing partners to help beta test PEIR through the end 2017, with the official launch planned for early in January.
SpotSee's ShockLog
As a global producer of precision impact indicators and recorders, SpotSee has, over time, developed a line of devices that introduce accountability and oversight into the shipping and handling stages of the supply chain. Like PEIR, SpotSee aims to take the guess work out of what happened to your box or cargo, leveraging technology to do it. Unlike PEIR, SpotSee's ShockLog is with you and your cargo over every mile of the journey. But, that's just the beginning.
The vision for SpotSee began nearly two years ago. Leveraging more than 40 years of experience helping customers monitor global shipments, providing connectivity to cargo to enable real-time response was a logical next step. The realization of this vision was a global IoT and connectivity platform that combines SpotSee offerings like ShockWatch, ShockLog, ShockTrak, WarmMark and OpsWatch to create a tracking network that helps customers spot damage to their assets and see it in real time.
Used in conjunction with companion tools, SpotSee impact indicators and recorders provide a prominent visual deterrent to mishandling. By registering potentially damaging impact events during transit, indicators and recorders allow supply chain managers to identify and respond to potential shipping hazards. And, when the cargo finally arrives at its final destination in less than perfect condition, ShockLog's documentation provides definitive proof of where the damage might've happened.
The advent of the modern shipping container helped to eliminate the vast majority of pilferage and theft on the waterfront. What it did not do was allow easy inspection of that locked box and its contents. All cargo is subject to hidden damage during transport. And, as the saying goes, "Locks only keep honest people out." At the same time, when a shipment is being monitored for mishandling, handlers are more careful.
SpotSee in Action
According to SpotSee, companies have reduced their shipping damage by as much as 70 percent by employing ShockWatch solutions. Doing that takes real-time visualization of impacts, 'Best in Class' Impact Data, longer battery life and flexible settings and download capabilities. For example, and using off-the-shelf lithium batteries, SpotBot delivers more than 100 days of monitoring (set to hourly summary reporting). This represents a battery life that is more than twice (2X) the next best competitor.
The user easily defines impact settings specific to the product being monitored and SpotBot will deliver a location and time stamp of alerts from impacts over the threshold. After the trip, the user can easily download a PDF file with the top ten largest impacts, a CSV file with the top 50 largest impacts, and a slot-time report from the SpotBot.
By using SpotBot to track cargo through the value chain, you can pinpoint issues during transportation so that they can be remedied and avoided in the future. The visibility to impact and temperature data that SpotBot provides can help you realize significant savings of both time and money by ensuring that your product reaches the customer without incident. And, with the capacity to record data for 870 events and 262,000-time slots, the device sends alerts whenever damage may have occurred so that the cargo owner can respond promptly.
Finally, the SpotSee cloud is where trip data is aggregated in real-time. The cloud features visualizations for multiple units. The graphs are easy to read and include data such as specifics of impact with locations, impacts over time, histogram, and temperature.
SpotSee Cloud Features
Access to data from wherever you are with a dedicated web portal;
Real-time reporting and tracking of incidents;
Alarms with location, time, impact g-level, and direction of impact;
Impacts-over-time visualization of each asset;
Histogram the asset's impacts;
Real-time Reporting;
Detailed Impact Alarm Data;
Cloud Solution Software.
Cargo Security Goes High Tech
"Our push to incorporate the IoT was simply the act of aligning our customers' connected expectations with our great measurement and monitoring tools. The transformation helps customers make better decisions with higher probabilities of success through their data and experience over time. At the end of the day, our mission is to give unbiased, virtual eyes to operations, maintenance, quality, logistics and supply chain managers around the globe," said Tony Fonk, CEO, SpotSee.
Tom Burke sees a similar mission, saying, "Ideally, the condition of a piece of equipment should be documented with PEIR at every point of interchange. The cost of just under $1 is an introductory price point. We believe that PEIR will be first utilized at trucking interchange points, but PEIR's value will be quickly realized by other industry participants and adopted."
Looking ahead, any Party to a cargo shipment whose trading partner employs PEIR at any point along the way (and does not protect themselves by doing the same), puts themselves at considerable risk. Similarly, the impact of that dropped box in Singapore can now be heard around the globe in Chicago by its owner, simply by employing the technologies provided by SpotSee. Like the commercial vessel emitting that now ubiquitous AIS signal on a 24/7/365 basis, those responsible for cargo damage now have nowhere to hide. But, only if shippers spend a little money in advance. These 'high-tech' solutions are just that simple.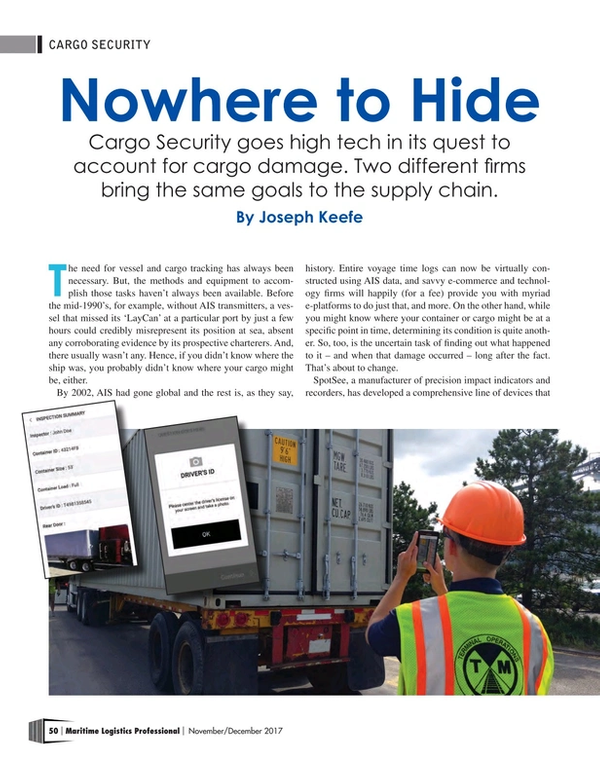 Read Cargo Security Goes High Tech in Pdf, Flash or Html5 edition of Nov/Dec 2017 Maritime Logistics Professional
Other stories from Nov/Dec 2017 issue
Content