A Familiar Name Tackles the Waterfront's Changing Challenges
Edited by Joseph Keefe
Providing vehicles and equipment across the broad global spectrum of consumer automobiles to commercial trucks and on to the waterfront, Toyota has 'been there and done that.'
Growth in the size of containerships is driving investment across the maritime, port infrastructure and supporting industry spectrum. That's because, until 2014, Maersk Line's Triple EEE was the largest containership in the world at 18,340 TEU, only to be surpassed two years later by CSCL Globe (19,100 TEU), with a 21,100 TEU ship coming soon and a 24,000 TEU ship on the drawing board. The logistics chain efficiency of running these mammoth ships is lost without matching port and terminal investment to move goods to and through shore side facilities.
Simultaneously, stricter environmental regulations demand that the machines powering the movement of goods run cleaner and more efficiently. To compete and survive in the era of tighter schedules and margins, better management of an efficient supply chain requires a thorough understanding of the machines that power the process. Material Handling equipment – including container handlers, reach stackers and forklifts – and services offerings, specifically focused on port operations, is just one way to reach the Promised Land. In fact, without a reliable source of modern, clean material handling vehicles, you can't get from here to there.
TMHU: a New Option for Stakeholders
The business of moving heavy cargo remains the domain of heavy duty, high capacity, reliable machinery that brings the physical muscle to the cargo handling and logistics chain, particularly in the demanding port environment. Ports have more than a few options when it comes to this aspect of their business. Toyota Material Handling USA (TMHU) is one such player – albeit a new one – in this space. That said; and when it comes to heavy equipment, engines and vehicles, the name Toyota also carries considerable weight.
According to the Port Performance Freight Statistic Program, an Annual Report to Congress, 2016, maritime ports are a major part of the United States' freight transportation system, collectively handling 75 percent of America's international trade by volume. As U.S.-NAFTA freight continues to grow, up some 6.5 percent this summer and riding a ninth consecutive month in which the year-over-year value in current dollars of U.S.-NAFTA freight increased from the same month of the previous year, even a crowded reachstacker market can use another player.
The snapshot is indicative of a bigger trend. Nationwide, growing containership volumes coupled with a flourishing economy, and further bolstered by the recent successful expansions of both the Suez and Panama Canals, has prompted the deepening of U.S. ports to handle a growing fleet of bigger containerships (20,000 TEU plus).
"Increased port traffic has created more opportunities for TMHU. For example, less than two years ago we didn't have a high capacity line to operate in the port environment," said Bob Lunt, High Capacity Sales Manager, TMHU. "This continued increase and opportunity drove our expansion along with the feedback from our customers that they would prefer to purchase from TMHU. Our volume continues to improve significantly year over year, but we are just getting started."
Why TMHU
Port capacity varies widely, dependent not only to the physical constraints of the port, but a myriad of business and legislative constraints. Increasingly, port and terminal managers look to the fleet of cargo-moving equipment within their own house, as more efficient, cost-effective equipment provides not only a commercial benefit but another means to increase overall cargo handling capacity.
Demands have changed on many levels including an increased awareness of safety, increased traffic and cargo quantities. Overall, ports are better managing and tracking assets and related costs. Costs remain important, of course, a 'changing of the guard' on the waterfront has seen ports and logistics firms looking not only at the retail price, rather a long list of other factors as customers weigh CAPEX versus OPEX.
"Retail price, life cycle costs, versatility and safety all impact operations at the ports, and in most material handling applications," said Lunt. "Retail cost is certainly important when considering equipment procurement, but companies are now understanding that this is just one component of the real cost of ownership." These variables include lifecycle costs, the versatility of a particular piece of equipment, safety, and the newest but increasingly important differentiator – the footprint on the environment.
Still, in today's competitive landscape, most companies value most the idea of a single source provider for all their material handling needs. A company that can provide expertise in all environments from port to end user understands that there is value in partnering with a trusted supplier. And, that's where TMHU comes in. Providing vehicles and equipment across the broad global spectrum of consumer automobiles to commercial trucks and on to the waterfront, Toyota has 'been there and done that.'
The TMHU Product Offering
TMHU has a full line of high capacity products that include Straight Mast Trucks from 22K to 125K, ECH, LCH and reach stackers and RoRo units. The TMHU product line-up is a comprehensive family of products and systems, all designed to keep freight moving, efficiently and safely. Especially in the port truck line-up, this comprehensive understanding of both the supply chain and their own products is a major benefit of choosing Toyota.
The implementation of products that cut fuel costs has also begun to define the port environment, as economic factors influence port managers in their material handling decisions. Lunt adds, "The continued electrification of traditionally internal combustion products during development is also a defining characteristic of the supply chain and of our product line."
The Promise of the Reach Stacker
Reach stackers are starting to gain greater acceptance in the U.S. market, where as in Europe they already dominate container handling. "Due to their flexibility; they are being adapted to a number of non-container handling applications, such as wind energy, steel-both coil and slab and oil and gas," said Lunt.
The Toyota family uses a module design philosophy and is well-suited to adapt to any number of applications. For instance, any standard container spreader can be updated to include an add-on WTP module, trailer handling leg module, or any number of slave attachments including hooks, spreader beams, slab handlers and coil handlers. Another added benefit to the reach stacker, especially in non-traditional roles, is having the ability to rotate the load, resulting in a more efficient use of space, as angled loads greatly reduce necessary aisle space.
"Our reach stacker can stack up to five containers high with a reach depth of three rows which is the industry standard. Whether it is the optical distance sensors or automatic pendulum-floating twistlocks, our reach stacker gives the operator confidence when handling loads," said Bill Byrd, National Manager of Dealer Sales for TMHU.
While the TMHU reach stacker has room to grow in the Americas, Lunt also sees another key trend driving the unit's potential. "We see reach stackers supplanting a lot of the traditional straight-masted trucks in the future. The same modular approach we take with the reach stacker is applicable here, too, however. Straight-masted container handlers currently attain greater stack heights, with Toyota empty handlers going eight high and Toyota loaded handlers going six high."
The Environment & Emission Reduction
Very quickly, the environment has become a key driver to all port operations. For example, the ports of Los Angeles and Long Beach, Calif. now seek to achieve, and where possible, accelerate to 100 percent zero-emissions cargo handling equipment by 2030. That's a lofty and pricey goal, especially when most of the low hanging 'environmental' fruit has already been picked. Separately, a recent industry study commissioned by the Pacific Merchant Shipping Association (PMSA) put the cost of achieving this lofty goal at about $16 billion locally. But what if ports and terminals could achieve some of those goals simply by investing in slightly more expensive container handling equipment? That's where Toyota Material Handling USA comes in. They provide cleaner equipment that's easier to maintain and longer lasting. It also produces a markedly reduced carbon footprint.
In fact 'green initiatives' are at the heart of the Toyota corporate culture, extending to, through and beyond the machines it manufactures. Looking through the lens of TMHU, there are clear initiatives to leverage the corporate philosophy through its product line.
"We use Cummins engines in our product line for many reasons including reliability, superior technology and industry acceptance over decades of service," said Lunt. "Cummins approach for Tier 4 is Diesel Oxidation Catalyst (DOC) and Selective Catalytic Reduction (SCR). There are multiple technology paths for emission reduction but SCR has been more widely accepted than Exhaust Gas Recirculation (EGR), specifically on higher horsepower engines."
While the TMHU line packs a powerful punch with its traditional internal combustion powered units, it also has plans on electrifying a large percentage of it traditional diesel powered THD product. According to Lunt, some of the traditional drawbacks to battery power, namely weight, turns out to be an advantage for this specific line of equipment.
"For larger THDs and port equipment we don't necessarily need a small physical footprint. Unlike the auto industry and their needs for electrification, counterbalanced material handling equipment requires additional weight and batteries that can actually serve to supplant existing counterweight," said Lunt. "In fact, many battery manufactures offering new technologies like the many variations of lithium (which are physically smaller and lighter than traditional lead acid batteries) have found that in order to gain traction in the forklift market that they must go back and weight up their battery boxes to make them more comparable to lead acid. These newer batteries have the advantage of increased run times, making them a viable alternative to IC power in certain applications/duty cycles."
With the advent of opportunity charging and rapid charging systems battery, technology can be a viable alternative to diesel in most applications. "Our intent is to ultimately provide a product platform that is 'power neutral' affording our customers the options of IC, traditional lead acid, lithium as well as fuel cells," Lunt said.
TMHU and the Intermodal Equation
The New Year finds the global waterfront, particularly where it intersects the domain of container shipping, in a rapidly changing environment. As volumes at many North American ports continue to set records, harbor dredging and dock upgrades continue as these gateways compete for the business of ever increasing sizes of boxships. At the same time, environmental and regulatory pressures demand a cleaner environmental signature from ports that handle more and more cargo.
A necessary part of both efforts will include new and improved material handling equipment. At the same time, corralling that last 5 percent of a port's environmental signature can't come at the expense of dwell time, efficiencies and other performance benchmarks. Ports can achieve both goals and the newest stakeholder in that equation – Toyota Material Handling USA (TMHU) – is also one of the most familiar names in business.
Bringing global reach to local markets, TMHU is now producing new and improved, versatile, high capacity and environmentally correct cargo handling equipment on the waterfront. It's about keeping freight moving, efficiently and safely – from the inland hinterlands, on the highways, and now, on the docks.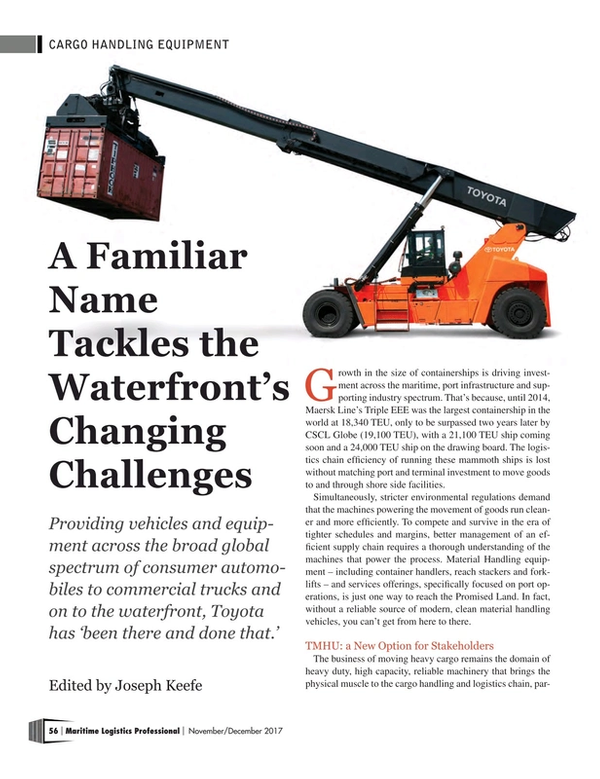 Read A Familiar Name Tackles the Waterfront's Changing Challenges in Pdf, Flash or Html5 edition of Nov/Dec 2017 Maritime Logistics Professional
Other stories from Nov/Dec 2017 issue
Content