Domestic Maritime Policy: It's Not Business as Usual
By Joseph Keefe
An hour with the new U.S. Maritime Administrator, Rear Adm. Mark H. Buzby, USN, Ret., is as informative as it is refreshing. Sworn in on August 8, 2017, Buzby served as president of the National Defense Transportation Association, a position he has held since retiring from the U.S. Navy in 2013 with over 34 years of service. A 1979 graduate of the U.S. Merchant Marine Academy, Buzby earned his Bachelor of Science in Nautical Science and U.S. Coast Guard Third Mate License. He was commissioned in the US Navy in June 1979, is a graduate of the Joint Forces Staff College and holds master's degrees from the U.S. Naval War College and Salve Regina University in Strategic Studies and International Relations respectively.
When it comes to the maritime industry, there isn't too much Buzby hasn't done on the water, ashore and everywhere in between. Arguably, Buzby brings to the Marad c-suite one of the deepest and most relevant experience skill sets of anyone who has filled that role in recent memory. For example, his leadership at National Defense Transportation Association closely parallels his mission focus at Marad, and his Military Sealift Command experience complements his efforts to ensure that the nation maintains a robust sealift capacity – in times of peace and war. Finally, the USMMA graduate has promised to right the ship at his alma mater, while also bringing a keen understanding of both naval and merchant marine operating procedures to an office that must cater to both.
As Buzby settles into his chair at the U.S. Maritime Administration, a raft of issues await his attention. And if one of his predecessors once labeled Marad as "America's Maritime Cheerleaders," Buzby made it immediately clear that it won't be business as usual. He intends to do more than advocate. That won't be easy, especially given the paltry budget he operates with. That said; an hour sitting across the desk from him at DOT headquarters made it clear that if anyone can accomplish something of substance for the collective domestic waterfront, then he, guiding an enthusiastic team, will be the one to do it.
Buzby last month weighed in on a half dozen issues, showing surprising depth in all phases of his missions, just a few short weeks after arriving at Marad. His approach in addressing the most pressing matters of the day is both pragmatic and honest, and you get the feeling he means exactly what he says.
Manning Crisis Looming
Perhaps the most interesting, if not surprising messages coming out of Marad today is the urgent need to solve what Buzby characterizes as the coming manning crisis. With record numbers of unlimited tonnage licenses now in play, it is seemingly easy to dismiss those worries. But, Buzby says that would be a mistake. And, the first place to address those worries are at the six state maritime academies (SMA) and at the U.S. Merchant Marine Academy at Kings Point. The federal and state schools have their own unique issues to deal with; the critical need to replace aging training ships at the SMA's and at Kings Point, needed repairs to a tattered reputation that started with a less than satisfactory accreditation audit.
Buzby, a Kings Point graduate, says that we need all of them to thrive. "We absolutely do. We need them coming out of Kings Point and we need them coming out of the other six schools," he said, adding quickly "This adds a level of concern and crisis to the whole school ship issue, because if we lose the school ship, that's a big chunk of people that I lose. It's all connected. And that's the biggest challenge that I see coming is trying to put light on all of the linkages that exist in this industry."
Buzby points to the sealift mission in support of TransCom as the ultimate mission, which leads us back to the academies and the school ships, who exist in part to ensure that the nation has enough of a pool to call upon them in war time to execute that mission. And, he warns, that tinkering with one part or another of the domestic waterfront, is a mistake. "That linkage, where the Jones Act fits in, and where cargo preference fits in, or the MSP fits in, they are all part of this ecosystem that has to exist. People are very happy just to pluck pieces out, not realizing it's going to collapse the whole thing. It's a very tenuous construction we have right now."
Turning back to the manning crisis, one of Buzby's most pressing issues involves the replacement of the training ships that ultimately produce 75 percent of the nation's deep draft licensed mariners. Because there simply isn't a 'ghost fleet' anymore from which Marad can find replacements, a new way of thinking is in play. Buzby says, "We can't use the model that we've used in the past. We have to approach this in a much different way. Building the purpose-built ship would be the ultimate way to do it if we were really serious. But thus far, we have not done that. So the fall back – if we don't build a purpose-built ship – is to go on the market, and it's going to have to be a foreign-built, existing used ship because, because there aren't any in the US inventory that could fulfill that. Buying a foreign ship and modifying it in a U.S. yard – we're doing that homework now. We have to look at it. We can't depend on a 320 million dollar brand new ship. We just can't depend on that so we have to have a fall back, and it's what we plan to do."
Asked if he thought that the newly designed National Security Maritime Vessel (NSMV) class could get funded and built, he pointed to some creative financing options that might work if traditional funding did not. "I think that there still is a possibility. It may not be through a traditional procurement path. If we're looking to get regular construction money out of the Navy or out of Congress to the tune of 320 million dollars, we may have to get that quite incrementally, or we may not be able to get that at all, in which case we may have to look at maybe a build-lease kind of option. And we've done that before. We built the first afloat pre-positioning ships that way."
Actually, in one of the first definitive statements about the issue to date, Buzby all but promised that he would get the ships. "We're looking at multiple options how to make this work, but the key to it is we know we have to replace school ships. Absolutely, we have to."
At the same time, Buzby conceded that sounding the warning bell about a mariner shortage was a tough sell in a market awash with mariners and too few billets to accommodate them all. He added, "It is quite cyclical. I really don't know where it's going right now. I'm hoping that it will start to cycle back. You know, we're starting to see a little bit of glimmer of hope, especially in the container market. But it may be that in the short term to retain them, they may have to do some other sorts of jobs just to keep their hand in it and keep the pool alive. It's not the best way to do it, but you gotta do what you gotta do."
Kings Point Turns the Corner?
Buzby arrives at Marad as his alma mater is recovering from what could kindly be described as a rough two or three years, punctuated by a sexual harassment scandal and arguably more serious, the very real possibility that the school's accreditation would be lost. Shortly after our discussions in Washington, Buzby announced that the school had achieved full accreditation. It was also clear that restoring the school's reputation and making sure that it was functioning at a high level was one of his most important priorities.
Buzby was reluctant to talk about the pending budget in great detail, but he did indicate that Marad would be asking for more money for Kings Point. "We've got a 70 year old plant up there, most of it constructed in 1943. And we've got 60 million dollars of backlogged maintenance – deferred maintenance – over the years. We've done some capital improvement programs where we just redid all the barracks, the mess hall, and we're just getting ready to go to town on our first academic building – Samuels Hall – which we're going to convert into a kind of a state-of-the-art simulator center."
Buzby adds, "We're working through that, but as I walk around the campus, it's getting a little threadbare in places and we need to infuse some more dollars into it. It's a federal service academy, for God's sake."
In somewhat of a surprise announcement, Buzby also told MLPro, "I'm anxious to get GMATS going again." GMATS was the continuing education Global Maritime and Transportation School that was shut down suddenly by the Department of Transportation in 2012 as of July 2012. Back then, GMATS employed 30 full-time employees, operating as a non-appropriated funded instrumentality (NAFI). Buzby has plans to bring it back, and bring it back big.
"It's [GMATS] an important component to have that continuing education piece as part of what I envision the academy being, soon, someday, as our nation's center of maritime excellence. I think it really needs to be the place – in consonance with the state academies who all would be feeding that center of excellence, each with their own area of excellence focus, because each one of those academies has an area where they really excel in," he insists, adding for emphasis, "I would like to see a system where we all feed into a center of excellence where we do our big thinking about the industry. That's where we talk about our R&D, applying technology to our industry going forward – where we do graduate-level studies for defense-related skills."
He points to the need for commercial ships that are going to be part of any future sealift mission in a contested environment. "How do they know what to do? What are the things that we're going to be asking of them?" asks Buzby, who also says he has no desire or intention of competing with union schools – one of the chief of the chief concerns about GMATS, before it was shuttered. "I'm not looking to compete with them. There are certain things that rightfully need to be taught again, and that's what GMATs or a GMATs-like entity can do. And I really want to push forward with that. I really intend to do that."
Title XI & Shipbuilding, Cargo Preference … and More
According to Buzby, the Title XI Shipbuilding program continues to be an important part of the nation's ability to spur investment in U.S. flag vessels. He points to Title XI grants for Crowley to build their two new LNG-powered ConRos at VT Halter. He defends the program by saying, "It still has an important role to play. It's gotten probably a lot of bad press in years when they've had a few of those failures, but if you look at the raw numbers, it's about an 8 percent failure rate across all of those loan guarantees across the life of the program. That's very, very consistent with bank and major lenders failures."
Answering the program's many critics, he replied, "Yes, there have been some stumbles, but there's been a lot more successes and a lot more ships that are out there right now, sailing today as part of the fleet are Title XI guaranteed right now."
The discussion turned the various proposals on the Hill that would tie LNG exports to U.S. flag tonnage.
Buzby says that it is a great goal to reach for. "So to get a larger fleet that's brought on – again, it's cargo – you make more cargo available, it's another way to do cargo preference. And we're working very hard with the administration right now to see about expanding cargo preference from 50 percent where it is today, to something greater than that, which would equate to more ships, which would equate to more mariners, more mariner jobs," he explained.
Asked if he would settle for a foreign-built LNG vessel as long as it was US-flagged, since exports wouldn't require a Jones Act compliant vessel in the first place, he shook his head 'no.' "That would probably have to be a point of discussion. I obviously would prefer to support the shipbuilding industry, because that's a very important part of this whole metric. We need that capacity and not just repair capacity, but build capacity. Because if we ever were to get into a major dust up whereby we were using our sealift fleet, including the commercial MSP side, it's going to be a contested environment this time, which we have not seen since World War II, which means there are going to be losses, which means we're going to have to replace ships. We don't have that capacity now. And we can't afford to give up any more capacity that we have. I think is an important part of our national security."
The Jones Act
Buzby's approach to defending the Jones Act is simple enough: 'Another challenge is to get people to understand that the Jones Act is not just as a jobs program for one industry. It's an investment in our national security. People only see it for what it is and that's allegedly something that costs more to people, to consumers. And without any appreciation for all of the rest of it, and we've never had much success in telling the rest of that story – how it all connects, We need to figure out a better way to tell that story, to make people understand that it's not just 'special interest funding,' which is what a lot of free trade folks and economists would like to portray it as."
The Jones Act, says Buzby, is a program that ensures security across the shipbuilding sector, across the manning pool sector, and across the availability of ships sector. "It covers three very, very important key areas of our national security. We need it. Absent it, we would have even a more serious problem, manning-wise, and we'd have a bunch of defaults on Title XI loans because just about all those ships are out there, you know, funded by Title XI."
In the end, Buzby also points to the internal security issues that the introduction of thousands of foreign seafarers onto coastal and inland waterways would pose. All of that, he says, comes into play and is failed to be understood by the general public. "Telling that story, or finding a better way to tell that story, I think is our challenge," he adds. And, with as many as four bills floating around on the Hill with various degrees of restriction of the Jones Act, he says that this is no time to get complacent.
Connecting the dots: Inland Infrastructure, Marine Highways & Blue water Ports
Buzby is adamant that the Marad he runs will speak for the entire waterfront, and not just deep draft ports and larger tonnage. "People, when they think of Marad, essentially, think of blue water and think of ocean shipping. And I think it's part of my responsibility, is to continue to put a spotlight and focus on the inland piece and its criticality, as well. So that's been a part of my job of advocating for the industry, advocating for this part of the industry, also."
For example, he says, the lack of understanding of the criticality of the national lock system and the condition of most of that lock system throughout the inland waterways is a big problem. Circling back to his message of connectivity, he explains, "It's awareness that's been lacking thus far in the importance of that part of our shipping system. Blue water is critical, obviously, but the day-to-day inner workings of our maritime highways, with the lock system, is critical to that."
As the Trump Administration makes many promises in terms of infrastructure improvements, Buzby and Marad hope that some of that some of that love comes to the waterfront. That said; he and the team hadn't yet seen any of the detailed plans across any of the modes. To that end, he told MLPro, "We certainly made our case upstairs, and will continue to lobby that that ports, the infrastructure of our ports, the main gateway of our trade in this country is through our gateway ports. It only makes sense that we pay attention to that infrastructure and not just the seaward entry, but the landward departures, and the seaborne departures, so that maritime highways exiting from those gateway ports, and the rail connections, and the highway connections – it all needs to fit together. And we're clearly going to be advocating that that needs to happen. But in terms of specific details – those haven't been developed yet. We're making our voices heard."
Selling the Message: Representing the Entire Waterfront
Buzby likes to say that the U.S. merchant marine flag says, 'In Peace and War.' "It must exist in both – in the peacetime side in order for it to be there in the wartime side. We're not just going to magically flip a switch and have a bunch of ships and mariners show up and start doing this mission. They've got to be there – they've got to be constituted – now," he says emphatically, adding, "We've slipped to such a level that we are truly right on the ragged edge. We, right now, we're saying we're 1,800 mariners short, based on a study, a manning study that Congress directed us to put out. We have enough to man up MSP fleet, the Jones Act fleet and the RRF guys. We have enough to man all those up and get them out the door. But, four months down the road when we start having attrition losses, when we start having to turn people over that are going to come ashore, and then we run into a problem which we think is to the tune of about 1,800 people."
As this edition of MLPro goes to final layout, the news President Trump had signed into law the National Defense Authorization Act for Fiscal Year 2018 (H.R. 2810) brought a little bit of sunshine for Buxby, and Marad. For example, the bill authorizes $50 million in funding to support that all important National Security Multi-Mission Vessel (NSMV) Program; another $33 million for the Title XI loan guarantee program; and $35 million for grants to small shipyards and maritime communities. Beyond this, it includes measures to prevent sexual violence and harassment with regard to midshipmen enrolled at the US Merchant Marine Academy.
Getting stakeholders to listen to his message is the next challenge. "I think the only way that we realistically do that, to have a coherent maritime policy that we can all rally around. And [former Maritime Administrator] Chip Jaenichen did a good job amalgamating that, pulling it together, and as he tried to push it up through the bureaucracy. But, it was kind of toward the end of the administration, and there wasn't a bunch of interest, so I got it back," explained Buzby.
He continued, "We have to have something we can all at least sign up to. We're going to dust that off, make sure that it still makes sense, that it is in line with the current administration's views and outlook, and that the assumptions are correct still, and then start getting people signing on board with it. We have to be able to talk to the same message, sign up for the same thing. So that's coming. That will be coming soon – the early part of '18. That's my goal to try and get that moving." After an hour of listening to him talk, I like his chances.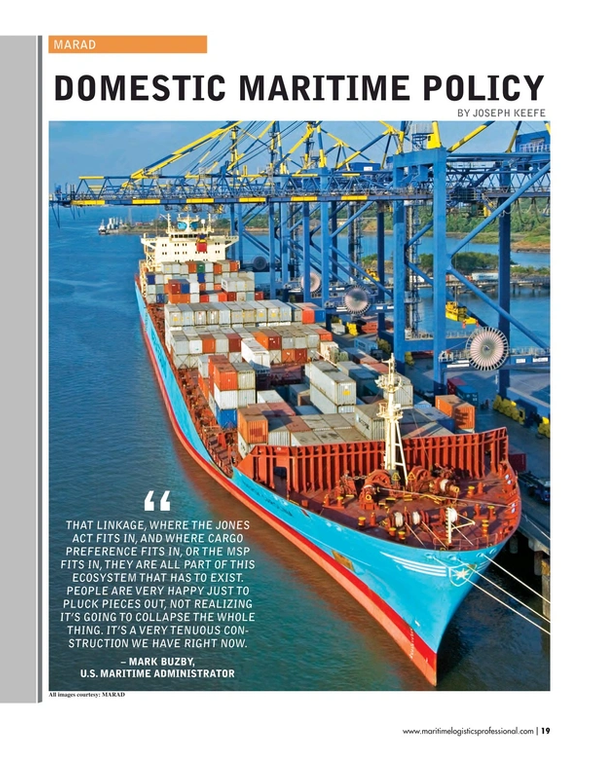 Read Domestic Maritime Policy: It's Not Business as Usual in Pdf, Flash or Html5 edition of Nov/Dec 2017 Maritime Logistics Professional
Other stories from Nov/Dec 2017 issue
Content