Green Shipping: Cargo Carriers Clutch at Compliance
By Barry Parker
LNG looms as the bridge to a 'zero emissions' future for shipping.
The advent of industry wide tightening of allowable sulfur emissions is getting nearer. Suddenly, with the deadline now just one year away, the countdown clock will very soon be ticking much louder. Simply stated, the cap on allowable sulfur content in marine fuels, presently at 3.5 percent in many geographical regions, will be reduced to 0.5 percent in January 2020. The 0.1 percent sulfur cap, already in effect since 2015 in coastal Emissions Control Areas (ECAs) in Europe and North America, will remain.
As carriers struggle with deciding which is the best way forward to compliance, liquid natural gas – or LNG – has emerged as an attractive option, because it is "…virtually sulfur-free…" as oil major Shell explained in their brochure, IMO 2020: What's next?, a document aimed at marine fuel customers.
LNG as the White Knight?
In late 2017, the use of LNG as a fuel has seen a groundswell of support, and gained status as the next wave. The liner giant CMA CGM announced that a series of nine 22,000 TEU newbuilds, set to deliver from two Chinese yards in 2019-2020, will be dual fueled – with a plan of consuming LNG. Closer to home, Harvey Gulf International Marine, already owning six dual fueled vessels (which can burn LNG) along with an LNG bunkering terminal in southern Louisiana, announced a venture, Quality LNG transporters (Q-LNG) which will be building an Articulated Tug Barge (ATB) to transport LNG for charterer Shell Trading, to fueling stations around Florida and the Caribbean.
Separately, Tote Maritime, already an owner of two newly built LNG fueled container vessels, announced that two existing Ro-Ro vessels would also be converted to dual-fuel capabilities. Owners of vessels presently burning the most typical grades of the fuel widely used in slow speed marine diesel engines, Intermediate Fuel Oil (IFO; a blend of higher sulfur "residual" fuel and lighter distillates) are faced with three difficult choices to meet the new rules:
Consume diesel fuel/gasoil with a low sulfur content;
Consume heavy residual fuel, with exhaust gasses cleaned with a scrubber; and/or
Switch to an alternative fuel, such as LNG or, perhaps, methanol.
Location, Logistics … & LNG
One uncertainty surrounding all choices is price inputs to any business case for one choice over another. These are tied closely to questions of fuel availability. When prices of low sulfur fuels reflect scarcity, capital investment in scrubbers or in LNG propulsion (slightly more expensive than conventional diesel engines) look more attractive, with shortened payback times and/or increased incremental savings over time.
The path towards January 2020 presents many other uncertainties, including whether oil suppliers can (a.) make low sulfur fuels available at strategic bunkering locations and more importantly (b.) whether they can produce sufficient quantities of low sulfur distillate fuel in the aggregate. For owners choosing to install scrubbers (after an investment analysis), there are many questions about the slope of the installation learning curve, and the efficacy of adapting a landside technology to the maritime environment. For owners choosing to build LNG fueled vessels, the most immediate question centers around availability of the fuel itself. It is here that the conundrum of 'chicken and egg' suggests that LNG fuel must be available as a pre-condition for LNG propelled vessels to enter a particular trade lane. Or, instead, does the fuel supply respond to LNG capable vessels calling (or hoping to call) at certain ports?
LNG fueling makes sense where trade routes are fixed and known well in advance. Not surprisingly, the first steps have been taken in environmentally hyper-conscious regions. While many ports are studying LNG fueling, its actual availability is limited. The World Ports Climate Initiative of the International Association of Ports and Harbors (IAPH) notes that LNG bunkering facilities are already available, or planned, at ports in Scandinavia and Northern Europe and some Asian ports.
In the United States, Jacksonville, Florida seems to be at the epicenter of the LNG-fueling map, but Harvey Gulf's foray into LNG bunkering happened first in the port of Fourchon, LA. Multiple ports along the U.S. West Coast – where political and regulatory pressure to achieve so-called 'zero emission' operations is tremendous – are said to be looking at ways to provide fuel for LNG consuming vessels.
An inchoate business/logistical model that seems to be emerging is that of a waterside liquefaction operation (where gas is cooled and transformed into LNG), tied to a terminal that handles local landside distribution, on-site marine fueling, and trans-loading into LNG barging across a broader distribution network. Importantly, the barges can also be used for marine bunkering operations. Integral to this new model is a long term supplier of gas.
Existing facilities in the U.S. and Scandinavia typically see LNG delivered by truck to vessels at a fueling dock. A more complete model, the recently completed Tornio Manga LNG Terminal on the Gulf of Bothnia in Finland, will receive gas in small tankers and has plans to provide LNG for vessels in the future. In North America, Harvey Gulf Marine's pioneering LNG fueling installation at Port Fourchon, part of a larger liquefaction and distribution project, will be serving the company's fleet of LNG fueled OSV's (several of which are on charter to Shell) and those of third party customers.
LNG bunkering barges are a movable link in the fuel supply chain, solving the 'chicken and egg' dilemma as they can move to where the ships are. In service now, a handful of these LNG bunker barges replenish their fuel inventory at a liquefaction facility and then move to where the customers are.
Seacor Holdings, for example, has acknowledged that LNG bunkering "…is starting to come into the market…" according to Chief Operating Officer Eric Fabrikant. Fabrikant says that Seacor looks closely at non-commoditized sectors of the market, and described LNG bunker barges as "a nascent space."
Early Adopters: Market Leaders
Among the oil majors, Shell has taken early and big steps in LNG fuel supply. Rotterdam is the base for its 6,500 cbm bunker tanker "Cardissa," which takes on LNG at the Gas Access to Europe (GATE) terminal, which in turn takes delivery of LNG in large quantities from oceangoing tankers that bring gas from the Mideast and Asia and then store it. A second vessel will be working out of Rotterdam, and placed on charter to Shell Western LNG BV. With Wartsila supplied cargo handling systems and tanks, the 3,000 cbm vessel that will be owned through French / Belgian consortium and then chartered by the oil major. Its smaller size will afford the additional flexibility to bunker vessels operating on Europe's inland waterways. The barge is being built in Romania and will be outfitted in the Netherlands.
Elsewhere in Europe, the world's first LNG bunkering vessel, the 5,000 cbm "Engie Zeebruge" went into service in Belgium in early 2017. The vessel (jointly owned by Mitsubishi Corp, NYK and two European gas companies) boasts customers that include United European Carriers, who also operates LNG fueled vessels calling in North Europe. In Scandinavia, the 5,800 cbm "Coralius" was delivered this past summer and will be serving the Skagerrak/Kattegat area and also the Baltic Sea. The vessel is owned by shipowner Anthony Veder and Sirius Shipping, and will be on charter to Skangas, a distributor serving Norway, Sweden and Finland. Skangas Chief Executive Officer Kimmo Rahkamo offered in a prepared statement, "It is a valuable add-on to our existing bunkering methods of trucks and terminals along the coast." Initially, the vessel loaded LNG at the Skangas production facility at Stavanger.
In the U.S. marketplace, the first strides have been taken by TOTE Maritime, which serves Jones Act routes linking the Pacific Northwest with Alaska, and Jacksonville with Puerto Rico. TOTE has deployed two NASSCO-built 3,100 TEU containerships, both with capability to be fueled by LNG, in the Puerto Rico (Jacksonville/San Juan) trades. Its Alaska division has announced plans to retrofit two roll-on roll-off vessels for LNG propulsion at the Seaspan Shipyard in Vancouver, with BC. MAN Diesel & Turbo undertaking the conversion. The retrofit to LNG propulsion, delayed partly due to scheduling changes in the wake of the "El Faro" sinking, will be completed by 2021.
Initially, the vessels are being fueled by LNG produced in a Georgia facility and then trucked to Jacksonville, in specially designed containers, where the carefully choreographed LNG bunkering operations take place under U.S. Coast Guard supervision. In the coming months, fueling will be conducted from a newly constructed 2,200 cbm LNG barge built at Conrad Shipyard. In late summer, TOTE Maritime's fuel provider, JAX LNG, has received a Letter of Acceptance (LOA) from the United States Coast Guard (USCG) for the operation of its waterfront LNG facility (which will include a small liquefaction plant) and the approval to conduct barge-to-ship LNG bunkering operations. According to TOTE, "Barge-to-ship LNG bunkering is scheduled to commence in early 2018."
The Way Forward: Looking Past Existing Markets
When it comes to LNG bunkering, financial complexity matches logistical complexity. JAX LNG is a newly formed company owned by Pivotal LNG (a wholly owned subsidiary of Southern Company Gas), and NorthStar Midstream, LLC (under leadership of Tim Casey from K-Sea Marine and backed by funds that are managed by an infrastructure group within Oaktree, and Clean Marine Energy LLC). The principals of the latter include the van Reesema family, best known for their investment in the Jones Act tanker "American Phoenix."
The barge "Clean Jacksonville," in turn, is owned by Wespac Midstream, part of the Oaktree family, and Clean Marine Energy LLC. Mr. Casey, in a prepared statement, revealed the longer term game-plan for the Jacksonville JAX LNG business, saying, "The facility will include a marine dock to load bunkering barges that will deliver marine LNG up and down the East Coast of the United States."
The Northeast Florida hub of the U.S. to Puerto Rico trades is also emerging as the fulcrum for the LNG bunkering business around the Caribbean. Crowley Maritime, also based in Jacksonville, will soon be placing two LNG powered container/ ro-ro vessels built at VT Halter, into service. These will be served by another liquefaction plant, Eagle LNG (backed by Texas-based Energy & Materials Group and gas supplier Ferus). Gas for this project, which could come on stream in 2019 if all approvals are in order, and for possible future facilities, will come from Exxon. In the interim, when the two vessels begin service in 2018, Crowley will be fueling from two cryogenic tanks, at the Talleyrand Marine Terminal in the port.
The recurring themes of the new business model are clear. A Ferus news item explains, "The produced LNG will be transported to markets in the Caribbean and Latin America for power generation. It will also be delivered to local and regional markets, including marine bunkering and high horsepower applications for domestic consumption." Crowley has already been supplying LNG, in tank containers, to Puerto Rico, through its Carib Energy subsidiary, acquired in 2013. Carib Energy is positioned to take on project management activities throughout the markets served by Crowley. While Crowley has not yet ordered LNG transporting barges, it is important to note that its wholly-owned naval architect, Jensen Marine, has created an ABS approved design for an ATB combo capable of transporting 4,000 cbm of LNG.
In the not too distant future, barges based in Jacksonville may also be supplying LNG to a new generation of cruise vessels that will deliver in coming years and will serve European and Caribbean markets. A deal already announced has fuel for two of Carnival Corporation's new LNG powered cruise ships (set to deliver in 2020-2022) supplied by Shell Trading through the new LNG ATB being built by Q-LNG and the Harvey Gulf connection. Carnival brand AIDA, operating out of northern Europe is already using LNG, supplied by Shell. Once further approvals are in place, barges based in Rotterdam and Zeebruge will form part of the supply line for AIDA, and for Costa Cruises (also a Carnival brand) which also has placed orders for LNG powered vessels.
Once stalled by low energy prices and the utter lack of infrastructure outside of a handful of shorter niche routes, LNG as a fuel is gathering a full head of steam in global markets. Further propelled by the looming 2020 deadlines, that momentum – regardless of what the price of oil settles at – is unlikely to be lost. If LNG isn't the final solution for shipping, certainly it is the vehicle that will take the waterfront ultimately to where they want to go. That ship sailed a long time ago.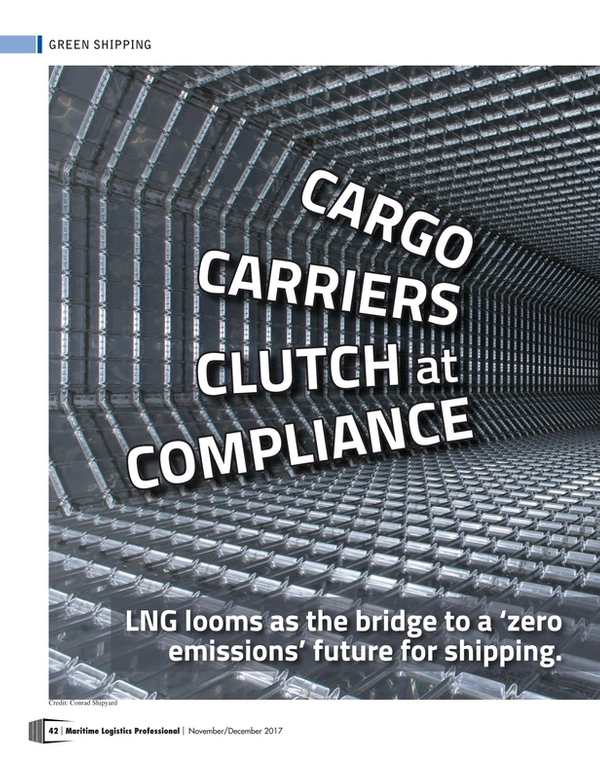 Read Green Shipping: Cargo Carriers Clutch at Compliance in Pdf, Flash or Html5 edition of Nov/Dec 2017 Maritime Logistics Professional
Other stories from Nov/Dec 2017 issue
Content