Data Integration is Powering the Future of Shipping
By Jaakko Elovaara
Seamless real-time flow of 100 percent accurate data provides organizations the ability to analyze and optimize all their supply chain processes.
Data is at the heart of today's business processes and operations. Exploiting the insights derived from the data holds unparalleled opportunities for the global ocean shipping industry to overcome its significant inefficiencies. One firm, Youredi helps industry stakeholders to digitalize and automate processes with modern cloud-based integrations. Investing in digitalization does not only reduce costs and improve operational efficiencies but helps companies to better meet the demanding and growing customer expectations.
Ocean Shipping: Key Pillar of Global Economy
Shipping goods by the sea is far the most popular and cost-effective method of delivering products. Hence, more than 90 percent of all world trade is carried by ship. Consequently, the industry's performance has a straightforward effect on the global economy. However, utilizing legacy technologies – often tailored systems with own proprietary message formats – causes inefficiencies in the processes, making the global maritime shipping industry less competitive and/or efficient. The lack of modern technology is preventing the industry stakeholders from sharing data in real-time across multiple parties and make better sense of the available information. Modernization must happen to improve the competitiveness of the global shipping industry and its impact on the economy.
To this end, Youredi enables quick connections and message translations between supply chain partners and customers. Integrating with communities, carriers, shippers, consignees and the systems that they use, Youredi provides global scale, speed, and agility. This seamless real-time flow of 100 percent accurate data provides organizations the ability to analyze and optimize all their supply chain processes. This range of solutions spans big data, IoT, and analytics.
Overcoming Operational Inefficiencies
The first step to increased efficiencies is for Industry to overcome its heavy reliance on legacy tailored systems, Electronic Data Interchange for Administration, Commerce, and Transport (EDIFACT) messaging format, and other proprietary message formats. Adding a modern integration layer to the current systems will make message sharing regardless the format faster and easier, allowing stakeholders in the industry to share data automatically in real-time both externally and internally.
Many core legacy systems that industry participants are using have been in place for decades. This risk-averse industry needs to tackle the challenges of inefficient systems and messaging formats. Deploying a cloud-based data integration solution removes the risk from the equation: there is no need to own or operate software and hardware to automate real-time data sharing between different applications and systems. All the information exchange happens in the cloud seamlessly while maintaining high security.
Youredi is one such provider of a cloud-based Integration Platform as a Service (iPaaS) solution with a focus on global supply chains and logistics. The company has been helping stakeholders of the global ocean shipping industry to overcome some of their major obstacles related to bookings, schedules, eVGM, and container tracking. Some of the main issues, such as carrier to terminal coordination, difficulties with terminal operations, coordination across carrier alliances, supply chain visibility, information sharing, and predictability could be easily avoided by utilizing a cloud-based integration platform. Industry participants need to prioritize their digitalization, develop a holistic digital transformation strategy, find the right technology provider, and execute it across all segments of the business.
For its part, Youredi helps some of the biggest stakeholders in the industry to become more competitive by supporting their digital transformation with a wide range of vital services. This includes help with data management, transfer, transformation, and translation, as well as orchestrating processes between partners and systems."
Real-Time Data Sharing: Visibility & Predictability
Real-time data sharing is a must for better coordination between different stakeholders. When data is shared in real-time, processes then become seamless and more efficient, adding a layer of visibility and predictability to all the operations. But, the utilization of legacy systems is only one part of the challenge. The bigger issue is the large variety of different data formats used in the industry. Youredi connects systems and applications, utilizing technology that takes care of the translation process during the information transfers. Additionally, it is also possible to validate the data and enrich it according to the rules of the customer.
EDIFACT is the most widely used messaging format in the ocean shipping industry. Dealing with EDI is a burden for the industry, as this format is too restrictive. Data and system integration can free the industry from its heavy reliance on EDI. For example, EDI messages are often full of inadequate or missing data. At many firms, human labor is used to correct the data quality which is slowing down processes.
"Much of the processes are still based on paper and human intervention. This is slowing down the operations and it is extremely expensive. With integrations, systems and applications can be connected rapidly. This helps to automate and digitalize processes, which is speeding up operations. The outcomes are clear: less manual labor means more efficient processes which is saving time and improve margins." says Dean Baxter, SVP, Youredi.
IoT: Internet of Things Will Reshape the Industry
Emerging technologies will have a significant impact on shaping the future of the industry. Cloud services, automation, data and system management are a few that the industry has already started to utilize. That said; these cloud services all need to be implemented across all business processes.
"Our technology will most improve decision-making, increased cost efficiencies and gross margins, greater transparency and visibility into processes and shipments, and faster end-customer delivery," adds Baxter.
Also according to Baxter, the Industrial Internet of Things (IoT) could further improve the visibility and traceability of shipments, allowing companies for better supply chain planning with insights derived from data. Recently, Youredi has been developing a track and trace solution, utilizing Internet of Things (IoT) sensors and devices. These sensors can deliver information of the shipments through a gateway. The information is vital for understanding the status of the goods, which is for example critical in case of perishables, and allows for better planning and optimizing loading and unloading of the vessels.
Dean Baxter explains, "Our IoT Track and Trace solution will help with accurate planning and forecasting and improve decision-making related to supply chain planning. Greater transparency and visibility into processes and shipment will result in fine-tuned processes and faster end-customer delivery."
Technology and digital transformation can help to keep up with the pace of the growing economy and satisfy the needs of partners for better digital services. Despite some emerging trending technology trends, cloud-based data integration is still the simplest way to revolutionize the operations and processes of an aging industry.
Predicting the future is difficult, but we are confident to say that technology will have the power to shape the future of the ocean shipping industry. Those participants of the industry that are navigating their development initiatives right will have a major advantage compared to those that don't start their digitalization journey soon enough" – summarized Jaakko Elovaara. "The global ocean shipping industry is an important part of the emerging world economy, but the infrastructure requires development."
The Author
Jaakko Elovaara is the CEO and co-founder of Youredi and drives the company's strategy and execution. Jaakko has two decades experience in the business software industry in North America, EMEA, and APAC. Prior to Youredi, Jaakko spent time at IBM, Microsoft, Basware, Itella, and Fujitsu.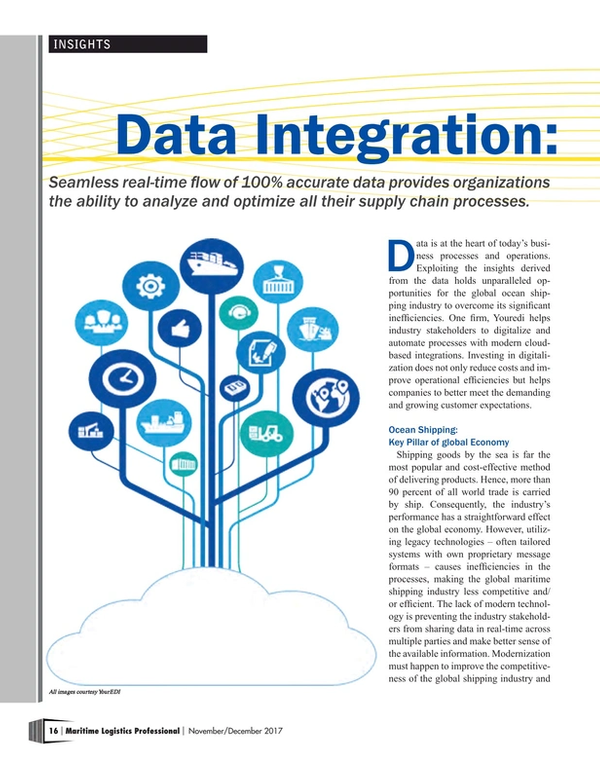 Read Data Integration is Powering the Future of Shipping in Pdf, Flash or Html5 edition of Nov/Dec 2017 Maritime Logistics Professional
Other stories from Nov/Dec 2017 issue
Content