Navy Contracts Totaling $203 Million Awarded To Todd Shipyards- Backlog Is $1.5 Billion
John T. Gilbride, chairman and chief executive officer of Todd Shipyards Corporation, has announced that the company's West Coast s u b s i d i a r y , Todd Pacific Shipyards Corporation, has been awarded additional contracts to build, under the Navy's fiscal 1980 program, two more FFG-7 class guided missile frigates for the U.S. Navy, and one additional FFG-7 class ship for the Royal Australian Navy.
The base price is approximately $203 million, with provision for upward adjustment for labor, material, and overhead escalation in accordance with contract terms.
With 20 ships of the same class s t i l l under construction, as a result of contracts p r e v i o u s l y - awarded to Todd in fiscal years 1975-79, this award gives the company a Naval shipbuilding backlog of $1.5 billion for the 23 ships now under contracts.
The first Todd-built FFG, the USS Wadsworth (FFG-9), constructed at the Los Angeles Division, joined the fleet early in April this year. The second, the Duncan ( F F G - 1 0 ) , having successfully completed a c c e p t a n ce trials, will be delivered by the Seattle Division in May. Of the remaining ships, nine have been launched and 11 are on the building ways or in the construction process. Of the total of 25 ships awarded to Todd thus far, 21 are for the U.S. Navy and four are f o r the Royal Australian Navy.
One of the ships of the current order will be built at the Los Angeles Division and two at the Seattle Division.
Mr. Gilbride stated that, based on current administration planning, at least 15 more of these frigates are proposed for construction.
Todd e x p e c t s to be awarded a fair portion of these during the next four years.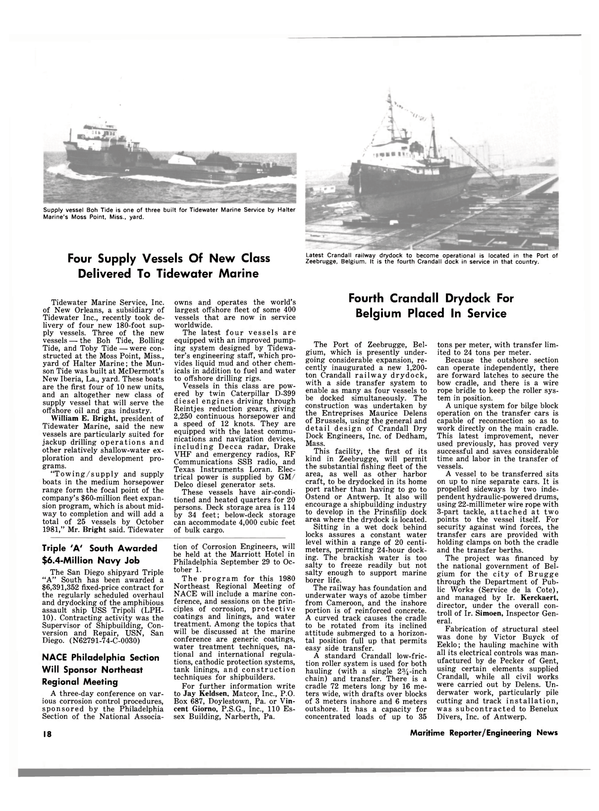 Read Navy Contracts Totaling $203 Million Awarded To Todd Shipyards- Backlog Is $1.5 Billion in Pdf, Flash or Html5 edition of May 15, 1980 Maritime Reporter
Other stories from May 15, 1980 issue
Content