FISH EXPO '84
October 17-20—Boston, Massachusetts Fish Expo '84, projected to have more than 450 companies exhibiting their equipment and products and some 10,000 commerical fishing industry buyers attending, will be held October 17-20 in Boston's Hynes Veterans Auditorium. Now in its 18th year, Fish Expo is the world's largest commercial fishing show in terms of both companies exhibiting and attendance.
The Fish Expo show alternates between Boston and Seattle annual- ly, and has proven itself to be an effective sales tool for fishing industry suppliers. As Lew VanDe- Mark, marketing manager for Seattle-based MARCO explained, product exposure remains a top priority for exhibitors. "Our primary goal is to show our products to customers old and new; sales inevitably result, as the show's atmosphere promotes on-the-spot buying," he said.
Such buying at the last Boston show totaled $26 million that, when added to post-show sales of $166 million from contacts made at the show, boosted total sales resulting from Fish Expo '82 to $192 million.
Boston's Fish Expo attracts exhibitors and attendees nationally, as well as 151 foreign exhibiting companies from 17 countries. Many companies use trade shows as a platform for new product introductions, and Fish Expo '84 is no exception.
More than 50 companies are planning to get the best possible exposure for their new products, and it is estimated that more than 150 will be introduced this year.
With the large number of new product introductions, the show will provide fishermen and processors with the greatest variety of fishing gear and processing equipment available anywhere. This accounts for the Fish Expo '84 theme of "One Stop Shopping." How can busy fishermen stay informed about the trends in their constantly changing industry? This year, Fish Expo will make this task easier with a variety of seminars, films, and exhibitor presentations.
The seminar panels will consist of many of the industry's prominent processors, fishermen, and restaurant owners and operators, as well as government and private agency officials who will contribute valuable information about timely topics in the industry.
The organizers of this year's seminar series want fishermen to walk away with a new awareness of the industry's current problems and the necessary education and information to help solve them. Attendees will learn about new fishing tech- niques being developed as well as the political action required to move the industry ahead.
The seminars are free of charge to all Fish Expo attendees. Admission to the show is free to all who preregister; registration will be $5 at the door.
SEMINAR PROGRAM Wednesday, October 17 9:00-10:30 am—"Getting the Most from Your Color Sounder." A simulator and large screen will be used to provide instruction in the fine points of using color sounders.
Speakers: Duncan Amos, Marine Advisory Service, University of Rhode Island; and Nathan Roundy, president, American Pioneer, Inc.
10:45-12:15—"How To Lobby Effectively." Representatives from political organizations, government, and industry will explain how individual fishermen and their associations can affect fisheries legislation.
Speakers: William Gordon, assistant administrator, National Marine Fisheries Service; Zeke Grader, executive director, Pacific Coast Federation of Fishermen's Associations; William Palombo, Atlantic Offshore Fishermen's Association; Jeffrey Pike, U.S. Representative Gerry E. Studd's (D-Mass.) office, fisherman; Larry Simns, president, Maryland Waterman's Association; and Roy Tate, executive director, Massachusetts Lobstermen's Association.
1:00-2:30 pm—"What's Ahead for Lobster Stocks?" Biologists and fishermen will present their points of view on the condition of inshore and offshore lobster stocks and the implications.
2:45-4:15 pm—"Are Joint Ventures Good for You?" Panel members will discuss the positive and negative impacts that joint ventures have on fishermen, processors, and the resource.
Panelists: Jerry Abrams, Fresh Water Fish Corporation; Alan Guimond, Stonington Seafood Products; Richard Gutting, vice president- government relations, National Fisheries Institute; Philip McSweeney, Eastern Long Island Trawlers; and Richard Schaefer, acting regional director, National Marine Fisheries Service.
Thursday, October 18 9:00-10:30 am—"Coping with Canadian Imports." The International Trade Commission has been studying the ability of New England fishermen to compete with their Canadian counterparts. Regardless of the study's findings, the problem won't go away. The panel will discuss constructive alternatives for dealing with the competition.
Moderator: James Wilson, Department of Economics, University of Maine.
Panelists: Stephen Crutchfield, Department of Resource Economics, University of Rhode Island; Ian Hamilton, Bay State Lobster Company; and James Salisbury, Maine Fishermen's Cooperative Association.
10:45-12:15—"Making Sense of Weather Charts." A short course in reading facsimile weather and oceanographic charts will provide an understanding of how this information can help to fish more effectively and safely.
Speakers: Gef Flimlin, New Jersey Sea Grant Extension; Duncan Amos, Division of Marine Resources, University of Rhode Island; and Jean Auciello, National Weather Service.
1:00-2:30 pm—"Washington, D.C.
Update," a wide-ranging discussion on national issues of importance to fishermen. Lucy Sloan, National Federation of Fishermen, will coordinate the discussion among a variety of invited audience members.
2:45-4:15 pm—"Quality Fish Does Pay: Case Studies." Fishermen who are providing high-quality fish and buyers who are paying a premium for them will discuss their experiences and how they can be duplicated.
Moderator: John Sackton, program coordinator, New England Fisheries Development Foundation.
Panelists: George Berkowitz, Legal Seafoods; Michael Foley, M.F. Foley, Inc.; Cameron McLellan, fisherman; Frank Mirarchi, fisherman; John Norton, Cozy Harbor Seafoods; James Ostergard, fisherman; and James Salisbury, Maine Fishermen's Cooperative Association.
Friday, October 19 9:00-10:30 am—"Is the Inshore Fisherman an Endangered Species?" Panel members will look at the problems facing the inshore fisherman and discuss possible solutions.
Panelists: Daniel Arnold, executive director, Massachusetts Inshore Draggermen's Association; David Horan, admiralty lawyer; Robert Jones, executive director, Southeastern Fisheries Association; and Larry Simns, president, Maryland Waterman's Association.
10:45-12:15—"Dealing with Anglers in the Inshore Fisheries." Industry members will relate their successes and failures in coping with the competition from recreational fishermen.
Speakers: Zeke Grader, executive director, Pacific Coast Federation of Fishermen's Associations; Arnold Leo, East Hampton Town Baymen's Association; Pat Pace, Pace Fish Company; and a representative from the Organized Fishermen of Florida.
1:00-2:30 pm—"Women in the Fisheries." Women have a diverse and growing role in the fishing industry.
Their work, why they chose it, and how they are achieving their goals will be discussed.
2:45-4:15—"Tuning Up Your Trawl Gear." Scale models and visual aids will illustrate modifications and adjustments that can maximize the efficiency of trawl gear.
Speakers: Duncan Amos, Marine Advisory Service, University of Rhode Island; and Cliff Goudey, fisheries engineer, Sea Grant Program, Massachusetts Institute of Technology.
For further information and registration details on Fish Expo '84, contact Jonathan Stamell, general manager, National Fisherman Expositions, 5 Milk Street, Portland, Maine 04112; telephone (207) 772-3005.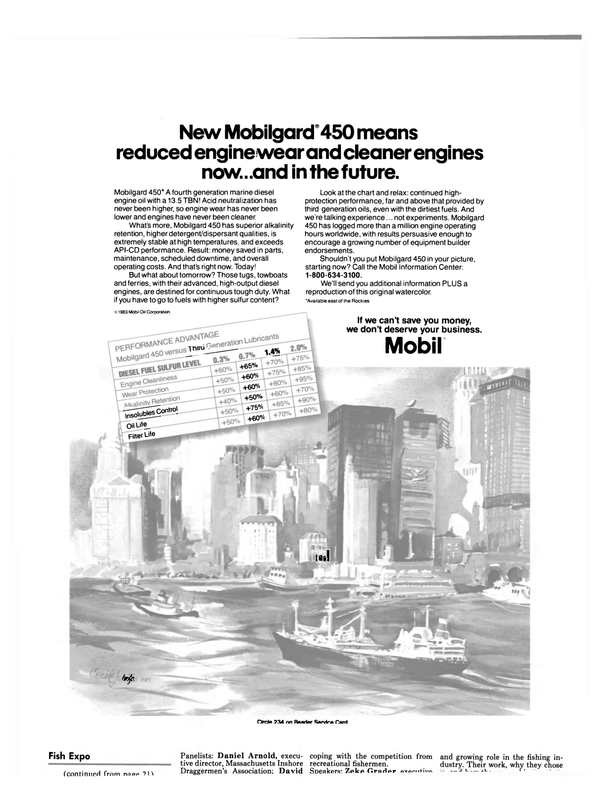 Read FISH EXPO '84 in Pdf, Flash or Html5 edition of October 1984 Maritime Reporter
Other stories from October 1984 issue
Content