Armco's Baltimore Precision Forging Complex Now In Full Operation
The precision rotary forging complex of Armco's Stainless Steel Division is part of a $30-million program to add new forging and casting capabilities at its Baltimore Works. Steel billets, bar, and other forged shapes produced by the new equipment are used in the marine and energy markets as boat shafts, engine and generator shafts and couplings, drill collars, gears, and numerous other products, including forging stock for open and closed die forgings.
"The finished products have significantly improved mechanical properties and surface quality, among other things," said T. W.
Harris, works manager. "Productivity and flexibility is far greater than possible with most conventional forging processes." He said the precision rotary forging machine is the latest generation 40 of forging equipment and, in addition to improving quality, produces far straighter products of up to 38 feet in length, and allows tighter dimensional tolerances.
Sophisticated computers make this equipment remarkably precise in an industry that hasn't had the luxury of precision," Mr. Harris added. "We are able to produce wrought products with hot-worked tolerances much closer than those specified by the American Iron & Steel Institute." The precision rotary forging machine, model SX-55, was manufactured by Gesellschaft fur Fertingungstechnik und Maschinenbau AG of Steyr, Austria. It is capable of hot-working 300 and 400 series stainless steel, precipitationhardening alloys, and Armco's proprietary Nitronic grades.
The highly automated forging process has several stages. First, large manipulators or "chuckheads" grab hot ingots or billets delivered by conveyor from a new rotary hearth furnace, place them into the forging machine, and rotate and position the workpiece during the forging process.
Forging is done with four highpowered hammers striking the workpiece at the rate of 200 strokes per minute. Each stroke reduces the diameter of the ingot and increases the length until the billet bar or the desired shape is completed. The hammers, working simultaneously to exert equal pressure on all sides of the piece, refine cast grain structure and can contribute enough energy to give isothermal reduction— an advantage for stainless grades with narrow hot-working ranges.
The manipulators feed and rotate the piece so that it will not be moving at the instant the hammers strike. This eliminates the problem of twist and stretch that can mar the quality of the forged piece.
The finished workpiece is removed from the machine by a transfer mechanism with supports to preserve straightness. It is placed on a conveyor and taken to a hot abrasive saw for cropping and cutting into lengths needed for the final products. Finally, the piece is taken to a cooling bed or a water quench tank, depending upon the grade.
The finished product has excellent surface quality, improved mechanical properties, and better straightness than forging produced by conventional methods, said Dennis Jensen, general foreman of precision rotary forging.
Round forged shapes can be produced as small as 3% inches in diameter, and flat forged shapes can be produced with cross sections ranging from 2Vi by 4 inches to 12 by 14 inches. All configurations can be made up to 38 feet long with a maximum piece weight of 6 tons.
A new 60-foot diameter rotary hearth furnace has been installed adjacent to the forging machine.
This furnace receives ingots from a walking-beam conveyor and heats the ingots to the proper forging temperature.
An automatic discharge machine then pulls the ingot out of the furnace and places it on the forging line within a minute.
Operators can use computers to direct and monitor the complete forging operation or, if desired, can operate the machine manually or semi-automatically. Forging times can be reduced from up to six hours to as little as 6 minutes, depending on the alloy, conditioning requirements, and finished product.
The machine is capable of forging several shapes on a single bar, giving the mill flexibility in handling smaller orders or orders for unusual shapes and sizes beyond the typical rounds, squares, and flats produced in the normal forging process.
The rotary hearth, handling equipment, forging machine, abrasive saw, and quench tanks are all installed in a 35,000-square-foot addition to the existing bar mill complex.
The addition was designed, engineered, and constructed by other Armco business units, including Armco Building Systems of Sharonville, Ohio; Bovay Engineers of Houston; Burns & McDonnell of Kansas City, Mo.; Encorp of Blue Ash, Ohio; and the Armco Construction Products Division of Middletown, Ohio.
Also on stream is a new state-ofthe- art horizontal continuous caster, a first in the U.S. specialty steel industry. Both the forging machine and caster are part of the second phase of a three-phase program to modernize Armco's Baltimore Works, according to works manager Thomas Harris. The first phase included installation of a top-charge electric furnace, a rotary hearth rod and wire annealing furnace, and a rough bar turner. Phase three will involve rolling facilities, Mr. Harris said.
The Baltimore-based Stainless Steel Division produces ingots, billets, bar, rod, and wire products; it also produces stainless flat-rolled products at the Butler Works in Butler, Pa., and stainless pipe and tube products in Wildwood, Fla.
Armco Inc., the parent company, is based in Middletown, Ohio.
Armco is offering a new color brochure describing the capabilities and products of the precision rotary forge; for a free copy, Circle 35 on Reader Service Card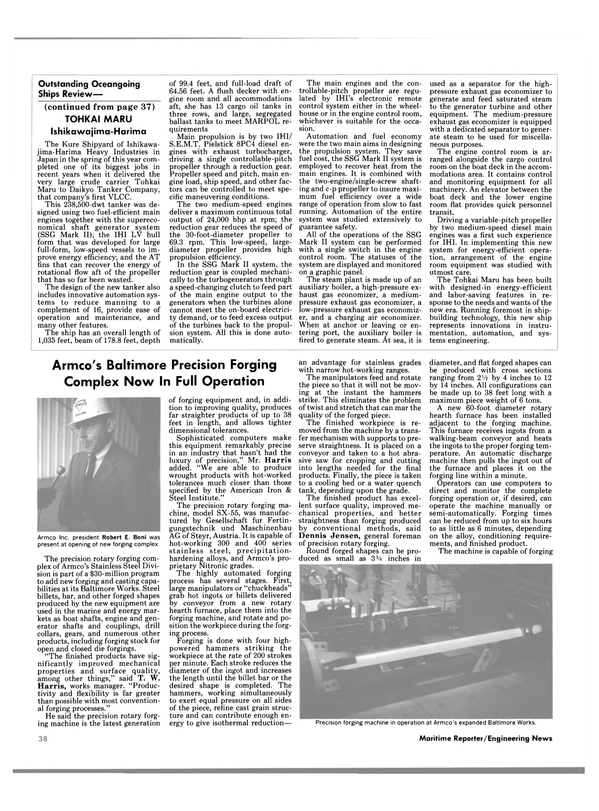 Read Armco's Baltimore Precision Forging Complex Now In Full Operation in Pdf, Flash or Html5 edition of December 1984 Maritime Reporter
Other stories from December 1984 issue
Content