OUTSTANDING OCEANGOING SHIPS OF 1984
A roundup of some of the most notable vessels delivered by shipyards throughout the world during 1984—selected for their outstanding design features, fuel efficiency, performance, and service characteristics.
AMERICAN NEW YORK Daewoo Shipbuilding The first four of 12 jumbo containerships being constructed for United States Lines, Inc., by Daewoo Shipbuilding and Heavy Machinery Ltd. were christened recently at the builder's Okpo Shipyard in South Korea. The first two of the ships were delivered to the owner in June, two months ahead of contract delivery date.
Designed by the New York naval architecture firm C.R. Cushing & Company, Inc., these vessels are by far the largest containerships ever built, with a capacity for 2,129 40- foot cargo containers (2,129 FEU/ 4,258 TEU)—1,232 FEU in the holds and 897 FEU on deck. Electric outlets are provided for 146 FEU of the deck cargo to be refrigerated containers. Several of the cargo holds are arranged for carriage of either 20-foot or 40-foot boxes Named American New York, American New Jersey, American Maine, and American Alabama, they are single-screw, diesel-powered vessels with forecastle deck, bulbous blow, and engine room and accommodations located aft. Deadweight at scantling draft (38.2 feet) is 57,800 metric tons.
The first Panamax containerships (the largest ships that can transit the Panama Canal), the vessels have an overall length of about 950 feet, beam of 105.7 feet, and design draft of 35 feet. Roughly half again the size of the world's current largest containerships that require crews of 30 or more, the new USL vessels will operate with a crew of only 21, all berthed in single cabins.
Propulsion is provided by a single s l o w - s p e e d , Hyundai/Sulzer 7RLB90 diesel engine with a maximum continuous rating of 28,000 bhp at 102 rpm, which gave the first ship a trial speed of more than 20 knots. Normal service speed will be 18 knots, provided by operating the engine at 85 percent of mcr (25,200 bhp at 98 rpm). Fuel oil consumption at this condition is estimated at 73.7 tons per day.
Electrical power is supplied by three sets of diesel generators, each of 1,000-kw output, and one 300-kw emergency diesel generator.
The design of the engine plant complies with the criteria for unattended machinery space—ACCU Notation of the American Bureau of Shipping classification. All necessary remote control, automation, and monitoring/alarm equipment is installed so that unattended ma- chinery space operation can be maintained under normal seagoing conditions.
The fundamental design philosophy for the American New York Class ships was to obtain optimum fuel oil savings, easy maintenance, and high reliability. Some of the items considered necessary to achieve this philosophy were: adoption of the low-speed main diesel engine, installation of an economizer, adoption of gasketless type hatch covers, use of provisions containers in place of reefer rooms, and provision of a data logging system.
The $570-million, 12-ship order is said to be the largest commercial shipbuilding contract ever awarded, and represents the biggest single peacetime expansion for an American- flag shipping company.
Daewoo Shipbuilding is a member of the Daewoo Group, founded in 1967 and today one of Korea's largest business combines.
AMARAGY Companhia Comercio The first of a new flexible design of container RO/RO-LO/LO vessel, the 3,500-dwt Amaragy, has been delivered to her owners by Companhia Comercio e Navegacao (CCN), the leading Brazilian shipbuilder.
The new vessel, the first RO/ROLO/ LO ship built in Brazil will be operated by Navemodal, which is owned jointly by the Brazillian shipping company Emprese de Navegacao Mercantil S.A., and Laurents Lachmann S.A., a leading Brazilian shipping agent.
The ship, first of four that CCN has on order, will trade along the Brazilian Coast between Rio de Janeiro and El Salvador. The Amaragy can carry containers, containers on trailers, cellulose pulp in bags, and palletized cargo.
The Amaragy has an overall length of 308.53 feet, molded beam of 59.05 feet, depth to main deck of 16.07 feet, and summer draft of 14.93 feet.
The TEU capacity of the ship, above and below decks, is 260, and she can carry 53 trailers, 20.5 feet long and 9.5 feet wide in four lanes on the main deck. Total length of the lanes available is 1.128.6 feet.
The ship is equipped with a ramp at the stern and has two fixed cranes of 25 tons capacity and 6.89-foot outreach, both installed on the port side. She is fitted with a bow thruster controlled from the bridge that has a thrust of 3.5 tons.
Main propulsion engines are two 6-cylinder diesels coupled to two line shafts and two propellers through reverse/reduction gearing.
The engines are MEP/M.A.N. model 6 ASL-25/30, each with maximum continuous rating of 1,800 bhp at 1,000 rpm. They are designed to burn medium fuel oil with a viscosi- ty of 1,500 seconds Redwood 1 at 100 F. Three auxiliary diesel generators each produce 250 kva.
The speed of the vessel is approximately 12.4 knots. Fully air-conditioned accommodations for a crew of 22 are provided. Strengthened for carriage of heavy cargoes, the ship is classed by Lloyd's Register of Shipping + 100 Al.
APOLLO ONE Tacoma Boatbuilding The Apollo One, first oceangoing hazardous waste incinerator ship designed and built in the U.S., was launched at the Tacoma Boatbuilding Company's Yard No. 3 in Tacoma, Wash., recently. The $37-million vessel and sister ship, the Apollo Two, are being constructed for At-Sea Incineration, Inc. (ASI) of Port Newark, N.J., a wholly owned subsidiary of Tacoma Boat.
Built with the aid of Federal Title XI loan guarantees, these ships have been designed to meet all existing environmental and safety standards of the U.S. Coast Guard, the Environmental Protection Agency, the Maritime Administration, and the National Bureau of Standards, among others, and are the first of their kind to meet the criteria of the American Bureau of Shipping.
The Apollo One can safely destroy up to 30 million gallons of hazardous waste each year. She is the first in a fleet of ships that ASI will operate at federally approved ocean burn sites. The currently approved site is in the Gulf of Mexico near Cameron, La.; the other, whose approval is expected shortly, is in the Atlantic Ocean. Both are 150-200 miles out at sea.
To support the burning of hazardous waste materials at sea, ASI will operate a multimillion-dollar marine transfer terminal near each of the burn sites. These commercial terminals will collect, test, blend, and temporarily store a variety of hazardous waste materials prior to transferring them to the incineration ships for disposal.
The launch of Apollo One culminates years of cooperative effort among international regulatory agencies, the Federal Government, and private industry to develop an environmentally acceptable alternative to the inadequate and often dangerous hazardous waste disposal methods of the past.
Classed by the American Bureau of Shipping as + Al E Chemical Carrier, + AMS, +ACCU, +IS, the Apollo One is designed with accommodations forward, chemical waste cargo tanks amidships, and propul- sion and incineration machinery aft.
A forcastle deck is provided forward and a poop deck aft.
Twelve integral cargo tanks are located to comply with requirements for a Type II cargo containment system. A pipe trunk is provided on center line throughout the length of the cargo space and from the inner bottom to the main deck.
Transverse cofferdams are installed between cargo tanks. Ballast tanks are located outboard of the cargo tanks, in the double bottom space, and deep tanks forward and aft.
Fuel oil tanks are provided aft and fresh water tanks forward.
The vessel has an overall length of 396 feet, molded beam of 60 feet, molded depth of 31 feet, and design full-load draft of 23 feet 6 inches.
Deadweight at full-load draft is 7,317 tons. Liquid cargo capacity (100 percent full) is 197,730 cubic feet. Accommodations, berthing, messing, and lounges are provided forward for a total complement of 25 persons. The wheelhouse and radio rooms are also forward. A cargo pump room is located aft of the cargo space, with access to the main deck. Two Flume stabilization tanks are fitted above the cargo pump room.
Two liquid waste incinerators are installed on the poop deck aft of and above the propulsion and auxiliary machinery space. An incinerator forced-draft fan room is provided immediately below the incinerators.
A central control room is located forward of the incinerator room for monitoring and controlling all cargo handling and waste incineration processes as well as centralized control of propulsion and auxiliary machinery.
Main propulsion is provided by twin Caterpillar D399T, 16-cylinder, 4-stroke diesel engines, each rated 1,125 bhp at 1,225 rpm. The engines drive Columbian Bronze fixed-pitched propellers through Caterpillar reverse/reduction gears.
Engine controls (ACCU) were supplied by General Electric. A Bird- Johnson bow thruster is provided, powered by a GE 400-hp motor.
Two auxiliary generators are also driven by Caterpillar D399T diesels.
AQUA CITY Nippon Kokan Nippon Kokan K.K. (NKK) in Japan this year delivered the world's first oceangoing, sail-assisted motor vessel, the 30,900-dwt bulk carrier Aqua City, to her owner, Aqua City Maritime Inc. of Liberia, for charter to Showa Line Ltd.
NKK has pioneered since 1978 in the design of sail-assisted ships in conjunction with the Japan Maritime Machinery Development Association.
The shipyard built the first such vessel, Shin Aitoku Maru, in 1980; since that time, five smaller coastal and short-range vessels have been built and put into service in Japan.
The first sail-assisted vessel to fly a non-Japanese flag, the Bahamianregistered Aqua City is now operating in the Japan-Canada-U.S. West Coast trade. On her maiden voyage from Yokohama to Vancouver, B.C., she averaged 15.28 knots in sailassisted operation and 14.86 knots using the engine alone at an output of 5,830 bhp.
The vessel has an overall length of 590.2 feet, beam of 83.3 feet, depth of 47.6 feet, and draft of 34 feet. Her Sumitomo/Sulzer 6RTA58 main diesel engine has an output of 8,300 bhp at 99 rpm. Design service speed is 14 knots. Total area of the two sails mounted atop her forecastle is 352 square meters.
The, two sets of parabolic-shaped, rectangular sails on steel frames are 16 meters high and 11 meters wide.
Computer-controlled, they respond automatically to shifts in wind direction and speed, and are said to provide up to a 30-percent fuel saving under the best wind conditions.
arrived in New York on her maiden voyage recently, ushering in what ACL calls "a new era in North Atlantic shipping." The 820-foot-long, 37,000-dwt Companion is the largest and most technologically advanced cargo ship ever built for the North Atlantic service, and like her sister ships to follow, was constructed to ACL design specifications. Designated as "G3s" by the company, they are the first new vessels built for ACL in 14 years, and will replace the fleet of five Second Generation steam-turbine- powered ships now in operation.
Designed by TransConsultants AB of Gotaverken and built in the Malmo, Sweden, shipyard of Kockums, the Atlantic Companion has a capacity for 2,130 TEUs as well as space for 600 automobiles in the stern superstructure. Among the major features of the vessels are a large, multi-lane quarter stern ramp; permanent cell guides on the weather deck so that up to 1,410 TEU of containers can be stacked easily and safety, four per tier; and three decks for normal, heavy RO/ RO cargo or for the block stowage of containers. The cell guide structure, stern ramp, and other RO/RO equipment were supplied by Mac- Gregor-Navire.
The consortium's vessels fly the British flag (Cunard), Swedish flag (Swedish American Line, Transat- lantic Steamship, and Wallenius Line), Dutch flag (Intercontinental Transport), and French flag (Compagnie Generale Maritime). Of the four sister ships that will be delivered this year, Kockums is building an additional two, one is being constructed at Swan Hunter Shipbuilders at Wallsend, U.K., and Chantiers du Nord et de la Mediterranee at Dunkerque, France, is building one.
Main propulsion machinery in the Atlantic Companion consists of a six-cylinder, slow-speed Gotaverken/ B&W 6L90GBE diesel engine developing a maximum continuous rating of 23,800 bhp at 97 rpm, direct-connected to a Stone Manganese Marine propeller. Electrical power is provided by four Wartsila/ Vasa diesel engines, two 8R32 and two 6R32, directly connected to Norsk Elektrisk/Brown Boveri alternators of 2,310 kw and 1,722 kw, respectively.
Main and auxiliary engines are all capable of burning heavy fuel oil, providing a "single-fuel" installation.
The ship is fitted with two KaMeWa thrusters, one forward and one aft.
Considerable effort was expended in achieving a functional and economic bridge layout. The totally enclosed wheelhouse is arranged with control desks forward but having a walkway directly behind the windows.
The bridge wing consoles are equipped for complete control of the main engine, bow and stern thrust- ers, and rudder, and have data readouts on all maneuvering functions.
For maximum safety, sophisticated equipment installed includes an intergrated Sperry radar system with ARPA functions and position information connected on-line to the adaptive automatic pilot, and a satellite communications system making possible fast communications via telephone and telex and incorporating a high-speed data link for loading information.
Cargo control instrumentation, featuring a Kockumation Loadmaster computer, as well as the ship's safety instrumentation, is located in a separate control room on the starboard side of the superstructure, close to the lifeboats. The location of this control room gives easy access from cargo compartments and the accommodations area, as well as convenient escape routes in case of an emergency.
Without detracting from the importance of the other items of cargo access equipment installed in the G3s, there is no doubt that MacGregor- Navire's weather deck cellguide system, named StackCell™, is the most important advance made in container stowage since the cellular concept was first introduced in the mid-50s. Until now, the biggest drawbacks with fixed weather deck cell guides have been the high weight and the impossibility of utilizing them in conjunction with hatch covers. Therefore, all weather deck cell guide systems have until now been mounted marginally above RO/RO spaces and odd deck areas without access to underdeck holds.
Utilizing the MacGregor-Navire side-rolling, piggy-back hatch cover, made possible by incorporating a movable section of the cell guide in the area of the covers, cellular holds Nos. 1-5 can be loaded and discharged through the cell guides on the weather deck.
The twin hatches are fitted with two panels each, and open outboard.
After the inner panel is raised hydraulically and the outer panel rolled beneath it, both are moved outboard in one unit to expose the holds and the cells below.
Another important feature of the StackCell system on the G3s is the versatility of being able to accommodate either 20-foot or 40-foot boxes simply by utilizing a movable insert frame that divides a bay into two 20-foot cells, or is positioned at one end of the bay, where its inner face becomes the end of a 40-foot cell. Flexibility is further improved by the frames being only three cells wide, giving four different 20/40- foot ratios each 12-row bay.
ATLANTIC UNIVERSAL Mitsubishi The Nagasaki yard of Mitsubishi Heavy Industries, Ltd., early this year delivered the 570,000-cubicfoot refrigerated cargo ship Atlantic Universal to Altantic Reefers Limited of Bermuda. Classed by the American Bureau of Shipping, the new vessel has an overall length of 492 feet, beam of 79.4 feet, depth to upper deck of 49.5 feet, and deadweight of 12,468 metric tons at a summer draft of about 32.2 feet.
In addition to the most up-todate energy-conservation equipment, the vessel is provided with an effective refrigeration system for transporting a wide variety of frozen cargoes, along with facilities for quick and efficient cargo handling.
She is capable of carrying reefer cargo such as fruit, meat, dairy products, and concentrated juice, as well as containers. Her cargo holds are designed to permit temperature control within a range of +12.5 to - 3 0 C.
The cargo space is partitioned into eight temperature-controlled groups, and further partitioned by 'tween decks into 17 ventilated compartments, each with a cooler room to provide even distribution of cold air.
The weather deck and 'tween decks in the refrigerated cargo holds are provided with MacGregor folding type steel hatch covers. Those on the weather deck are opened and closed by hydraulic cylinders, while those for the cargo holds are by means of wires manipulated by the ship's deck cranes.
The reefer plant has three Stalbuilt screw compressors (with economizers) using R-22 as primary coolant and brine as secondary coolant.
It therefore has freon-brine heat exchangers (evaporators) integrated with condensers. These, with the compressors, are located on the tank top of the engine room. It is also provided with a brine pump room and brine headers.
An air cooler equipped with a fan for air circulation is fitted on each side of the cargo hold. The ventilation frequency of the hold can be selected from 90, 60, or 40 times per hour according to the kind of cargo being carried.
The main propulsion engine of the Atlantic Universal is the newly developed, fuel-conserving Mitsubishi/ Sulzer 7RTA58 diesel having a maximum continuous rating of 13,440 bhp at 123 rpm. Normal rating is 12,100 bhp at 119 rpm, providing a full-load service speed of 20.1 knots.
The electric power plant is driven by four Daihatsu fuel-efficient diesels capable of running on fuel of up to 1,500 sec Redwood No. 1 at 38 C.
The ACCU notation of the American Bureau of Shipping is applied to the engine room. Not only can necessary control and monitoring be achieved from the engine control room, but unmanned operation is also possible through automatic operation and control of principal machinery and equipment in the engine room.
Other features include: fuel oil purifiers can be operated either in parallel or in series and can also be used as clarifiers; an oil bath type fresh water cooling system is used for the intermediate bearing; jackets and pistons are provided with plate type fresh water coolers; and the cooling sea water piping is made entirely of aluminum brass.
BARBER TAMPA Hyundai Heavy Industries Built at the huge Ulsan shipyard of Hyundai Heavy Industries Company, Ltd., in South Korea, the three largest RO/RO-containerships in the world entered the international service of Barber Blue Sea this year. Dubbed SuperCarriers II by their owner, the Barber Tampa, Barber Texas, and Barber Hector are 860 feet long and each has a cargo capacity of 2,464 TEUs of containers and 630 American-sized cars. The three ships represent an investment of some $200 million.
In order to produce an optimum hull form for the Barber Texas and her two sister ships, a series of model tank tests were conducted at various research centers. Towing and cavitation tests were repeated as many as nine times at the Norwegian Hydrodynamic Laboratory. In addition, Hyundai etc. retained the Swedish Maritime Research Center to conduct sea-keeping and maneuvering tests.
Considerable emphasis has been placed on the ship's safe operation.
To improve damage stability, two watertight transverse bulkheads are partly fitted in the cargo space.
Equal emphasis was put on maximum cargo loading capacity. Three fixed decks and two hoistable car decks are installed and the engine room's size is minimized, providing some 295,470 square feet of cargo deck area. Fixed ramps are fitted between decks.
For fast and easy cargo handling, and angled stern ramp 148 feet long with a minimum clear width of 41 feet is installed. Entrance height at the stern door is 50 feet. A side door with portable car ramp is also provided.
At the forward end of the ship, a 40-ton electro-hydraulic cargo crane insures self-sustaining loading and unloading in that area.
Main propulsion is by a Hyundai/ B&W 8L90GB diesel engine with maximum continuous rating of 36,600 bhp at 97 rpm, directly connected to a Kobe Steel propeller.
Service speed of 19.5 knots at design draft of 32 feet is achieved at 85 percent of mcr (32,940 bhp at 94 rpm).
KaMeWa 2,300-hp thrusters are fitted forward and aft to improve the vessel's maneuvering performance.
Electric power is provided by three diesel generators of 1,900 kw each, two diesel generators of 900 kw each, and a single turbogenerator of 1,000 kw. The unmanned machinery space can be controlled remotely by Terasaki equipment.
Built to Lloyd's Register of Shipping classification +100 Al, RO/RO Containership, +LMC, UMS, the Barber Tampa has a molded beam of 105.84 feet, molded depth of 68.90 feet, and scantling draft of 38.38 feet. At that draft the ship has a deadweight of approximately 44,000 metric tons.
CENTURY HOPE Mitsui The 68,082-dwt bulk carrier Centruy Hope was delivered this year at the Tamano Works of Mitsui Engineering & Shipbuilding Company, Ltd., to the Kowin Shipping Company of Hong Kong.
The bulker has an overall length of 730.68 feet, molded beam of 105.64 feet, depth of 60 feet, and full-load draft of 43.5 feet. Main propulsion is by a Mitsui/B&W 6L67GBE slow-speed diesel engine with a maximum continuous rating of 13,000 bhp at 123 rpm. On sea trials the ship achieved a maximum speed of 16.32 knots.
Cargo space is divided into seven holds with a total capacity (grain) of 80,120 cubic meters. No. 4 hold can also be used as a ballast tank to secure sufficient draft in stormy conditions. Holds Nos. 2 and 6 can also be used as ballast tanks in port for draft adjustments Hull weight reduction has been achieved with 32-kilogram (70.5- pound), high-tensile steel for the decks, bottom shell plating, double bottom, and upper and lower hopper sections, with the exception of some areas of the side shell plating.
The bottom and waterline area of the hull are coated with self-polishing, long-life antifouling paint to reduce the frictional resistance and thereby conserve fuel.
The propulsion plant features, besides the fuel-efficient Mitsui/ B & W main engine, a Mitsui Integrated Duct Propeller. Remote maneuvering, control and monitoring systems qualify for the UMS (unmanned engine room) notation of Lloyd's Register of Shipping.
Navigation equipment includes a Loran C receiver and Decca Navigator.
EVER GATHER China Shipbuilding The containership Ever Gather, delivered to Evergreen Line this year by China Shipbuilding Corporation, is the first of six delivered during 1984 by the Taiwan shipyard that are part of an eventual fleet of 24 sister ships of 2,728 TEU each that will provide a weekly aroundthe- world service in both directions starting in mid-1986. Known as the G-type full containerships, six have been delivered by Ishikawajima- Harima, and Onomichi Dockyard in Japan has delivered four. CSBC will deliver four more in 1985 and Onomichi will deliver an additional four in 1985-86, at which time the 24-ship G-Class fleet will be complete.
Evergreen has designed these high-efficiency G-type vessels with many innovative features. When fully utilizing cargo holds and deck space, with containers four tiers high on deck, each ship is capable of carrying 2,728 TEUs. At the same time, minimized wind resistance, and propulsion power from a 24,000-bhp Sulzer 6RBL90 main engine, allows them to maintain a service speed, with the engine operated at 21,600 bhp and 98 rpm, of 20.5 knots with a consumption of 68 tons a day for maximum fuel economy.
Every care was taken to provide the new ships with the most advanced and reliable navigation equipment, including satellite navigation, Decca receivers, Loran C, Doppler sonar and logger, and Japan Radio Company radars with automatic plotting aids (ARPA). In each system, microcomputers calculate the optimum sailing route and give continual video display of updated route information. Marine satellites continuously monitor sea and weather conditions, and guide the ship's autopilot.
The G-type vessels are also equipped with a JRC INMARSAT, an allweather, high-technology global satellite communications system. Direct communications between ships and offices are available via telephone, telex, and telfax, allowing instantaneous transmission of messages, visual displays, and drawings.
To guarantee accurate and trouble- free sailing, the Sulzer diesel engine, which for the first six CSBCbuilt ships were manufactured by TMMC-IHI, is complemented with a variety of other advanced machinery.
A fully automated engine room control system allows speed and direction to be controlled from the bridge, with unmanned operation of the engine room. Crews are thus reduced in size to 17 members, who are freed to undertake continual maintenance work, keeping the ship in ideal condition and running at optimum efficiency.
An anti-heeling system is installed to prevent listing while con- tainers are being loaded and unloaded.
Automatic constant-tension winches adjust moorings, and an automatic remote-controlled bunkering system allows thousands of tons of fuel oil to be taken on in a short time under the supervision of single crewman in the control room. This not only saves manpower, but also prevents potential pollution through leakage and spillage. This system was developed by Evergreen in collaboration with the Nakakita Manufacturing Company of Japan, and is in increasing demand by other shipowners under the brand name of Ever Kita.
All crewmen, from the captain to the messboy, are housed in private first-class accommodations with private bathrooms, all decorated in classical motifs. Leisure facilities include a library, gymnasium, and lounge with stereo system for the enjoyment of crew members not on duty. These amenities help to maximize crew efficiency.
EXXON BAYTOWN Avondale Shipyards The 57,000-dwt tanker Exxon Baytown was delivered this year by Avondale Shipyards, Inc. The crude oil carrier was built for Exxon Shipping Company of Houston, and will transport cargoes between U.S.
West Coast and East Coast ports, and will also trade in the Caribbean area.
( Two similarly designed but smaller 42,000-dwt, multi-product petroleum and chemical carriers, the Exxon Charleston and Exxon Wilmington, were delivered to Exxon Shipping by Avondale. Each of these three ships represents an investment of $100 million.
The Exxon Baytown has an overall length of 779 feet 6 inches, beam of 105 feet 10 inches, and draft of 38 feet 5 inches. Main propulsion is provided by a 17,000-bhp Mitsubishi/ Sulzer RL90 slow-speed diesel engine. The vessel is capable of carrying up to 459,312 barrels of crude oil in her 14 tanks, which are served by four main cargo pumps.
Cargo piping is arranged to permit the carriage of two grades of crude oil simultaneously.
Avondale built the tanker utilizing state-of-the-art techniques for zone outfitting. Large structural modules were extensively outfitted with piping, ductwork, electrical wireways, and equipment prior to being erected at the building site. In addition, many machinery package units and pipe package units were assembled ashore and then lifted aboard.
The Exxon Baytown incorporates the latest safety and environmental protection standards, is heavily au automated, has a bow thruster for docking control, and has the most modern satellite navigation and communications equipment available.
Slow-speed diesel propulsion and a special hull coating to minimize water resistance are two of the energy-conserving features of the vessel's design.
Avondale Shipyards, located on the Mississippi a short distance upriver from New Orleans, is a wholly owned subsidiary of Ogden Corporation of New York.
HAPPY BUCCANEER Hitachi Zosen The 13,740-dwt Happy Buccaneer, said to be the most powerful heavy lift cargo carrier in the world, was delivered recently by the Hiroshima yard of Hitachi Zosen Corporation in Japan to Amstel Tanker Management B.V. (Mammoet Transport) of the Netherlands.
The vessel is fitted with two heavy lift mastcranes (HLM), a new development of Blohm + Voss of Hamburg, West Germany. Each crane has a lifting capacity of 550 tons, and operated in tandem they can lift loads of up to 1,100 tons at an outreach of 35 meters (about 115 feet). Unlike conventional cranes, the derrick of the HLM slews around a fixed mast. Because of this design, the mast diameter as well as the diameter of the slewing bearing can be relatively small, thereby reducing deck space required.
The HLMs' design and their arrangement at the starboard side of the ship make it possible to provide a continuous and very wide hatch opening for bulky heavy lifts. At sea the derricks will be lashed in a nearly vertical position, permitting the carriage of bulky deck cargoes.
Open hull construction has been adopted for this ship, and no longitudinal bulkheads are present in the cargo hold, thus allowing large-size cargoes of various shapes. The cargo hold is divided into two compartments, upper and lower, by pontoon type hatch covers. The hold is designed so that the vessel can sail while her upper-deck hatch covers are removed. In addition, heavyweight cargoes can be rolled on and off via the ship's stern ramp. As an alternate cargo, the vessel has a carrying capacity of up to 1,058 twentyfoot containers.
Main propulsion is provided by two Hitachi/Sulzer 6ZAL40 diesels, each with maximum continuous rating of 5,220 bhp at 580 rpm. Twin controllable-pitch propellers are driven through reduction gearing; a bow thruster is also installed. Together they provide the ship with efficient propulsion and enhanced maneuverability.
The Happy Buccaneer has an overall length of 439.6 feet, beam of 92.85 feet, depth of 48.56 feet, and full-load draft of 27 feet. She is built to Lloyd's Register of Shipping classification.
HUMBOLDT EXPRESS Samsung Shipbuilding The Koje Shipyard of Samsung Shipbuilding & Heavy Industries Company, Ltd. in Korea recently delivered two multi-purpose containerships to Hapag-Lloyd A.G. of Hamburg, the West German shipping company that operates worldwide services. Christened Humboldt Express and Cordillera Express, they each have a capacity of 1,938 TEUs in six cellular cargo holds and on deck. These sophisticated vessels were designed and built under the rules of Germanischer Lloyd and are classed + 100A4, E, MC, AUT, Multi-purpose Container Vessel.
These ships are diesel-propelled, single-screw cellular containerships of 34,000 dwt. A traveling gantry crane is installed on the main deck for self-loading/unloading of boxes and breakbulk cargoes, making them independent of shoreside cranes. With a con-airducting system installed, they can carry up to 262 TEUs of reefer containers in the hold, and up to 100 TEUs of integral reefer boxes as deck cargo.
The ship has an overall length of 675.14 feet, beam of 105.64 feet, depth to main deck of 61.68 feet, and design draft of 30 feet. Accom- modations are provided for a crew of 33, all in private cabins that were installed as prefabricated units.
Humboldt Express is propelled by a low-speed Hyundai/B&W 5L90GBE diesel engine with a maximum continuous rating of 19,800 bhp at 97 rpm, direct-connected to a five-bladed, highly skewed Ostermann propeller via Kobe Steel shafting. Operating at 85 percent of mcr, service speed on a draft of about 30 feet is 18.4 knots. Cruising range at the service speed is 20,000 nautical miles. The main propulsion engine is designed to burn heavy fuel oil at a rate of 46.5 metric tons per day.
The most unique feature of these new Hapag-Lloyd ships is the asymmetric afterbody hull form, newly developed by Ernst A. Nonnecke of Hamburg in cooperation with the Hamburg Ship Model Basin.
Though it looks unconventional below the waterline, the new stern has already proven its advantage in cutting fuel costs by up to 10 percent.
The ships now being built with the asymmetric stern are all destined for German owners. In addition to the Hapag-Lloyd ships, nine vessels are being built in Brazil for three different German owners, all with a capacity of 700 TEU. The first vessel built with this unique afterbody was a 502-TEU containership constructed at the Heinrich Brand Shipyard in Oldenburg, West Germany. An ice class cargoliner is being built at the same shipyard, and several other vessels that will have the asymmetric stern are now being constructed or programmed for German owners.
Though the asymmetric stern is slightly more complex and therefore a little more expensive to construct, the extra cost of the ship is recovered rapidly in fuel savings. As international shipowners become increasingly aware of the German development, the asymmetric stern may well become as common as the bulbous bow is today. Development work on the new stern design has taken place at the Hamburg model basin over the past 10 years, but it is only the recent steep rise in fuel costs that has brought its advantages home to German shipowners.
Electric power for the Hapag- Lloyd ships is provided by Fuji equipment—two 1,500-kw diesel generators, one 2,200-kw generator, and one 115-kw emergency generator.
Steam generation is by an Aalborg oil-fired boiler and an exhaust gas boiler. Two ballast pumps each have a capacity of 600 cubic meters per hour.
Navigation equipment includes two radars, a satellite navigation system, two gyrocompass/autopilots, a magnetic compass, and a weather facsimile unit. The main radio is a 1.5-kw SSB; a VHF radiotelephone is also provided.
KIHU Wartsila-Turku The Turku Shipyards of Oy Wartsila ab in Finland recently delivered the 19,999-dwt products tanker Kihu to Neste Oy, the national oil company of Finland. Less than a year elapsed between her keel laying and delivery. The ship is classed by Lloyd's Register of Ship ping + 100 Al, Chemical Tanker, + LMC, IGS, Ice Class 1A. She is an IMO type II/III chemical tanker for worldwide trading of crude oil, refined petroleum products, and type II/III chemicals including benzene, styrene monomer, caustic soda, molasses, urea, solvents, and alcobols.
The vessel has an overall length of about 528 feet, molded beam of 75.8 feet, molded depth to upper deck of 46.6 feet, and draft of 33.2 feet.
Total cargo tank capacity (100% full) is 26,644 cubic meters.
Main engines, auxiliary engines, boilers, and inert gas generator are all designed to run from start to stop on one grade of fuel oil—3,500 seconds Redwood at 100 F.
The Wartsila/Pielstick 6PC4.21- 570 main engine is coupled through a reduction gear to a KaMeWa controllable- pitch propeller. The engine has a maximum continuous rating of 9,776 bhp at 400 rpm; service speed operating at 82 percent of mcr is 15.5 knots. The ship is fitted with a controllable-pitch bow thruster powered by a 1,340-hp electric motor.
Three Wartsila-Vasa 6R22HF auxiliary diesels are direct-coupled to Stromberg alternators of 935 kva, 450 volts, 60 Hz each. Two oil-fired steam boilers and one exhaust gas steam boiler are installed for ship's service, which include heating of cargo and ballast tanks and cargo tank washing water.
The hull is divided, by two longitudinal and 11 transverse bulkheads, into 10 center tanks and eight wing tanks for cargo, six wing tanks for water ballast, and two slops tanks. Transverse bulkheads are stiffened by corrugations; longitudinal bulkheads in the center cargo tanks are smooth, with stiffeners in the wing tanks. The center tanks are coated with pure epoxy; cargo side tanks are coated with zinc silicate.
Despite being a ship of less than 150 meters BP (492 feet) and less than 20,000 dwt; the Kihu incorporates some of the more stringent requirements applicable to larger vessels. Her damage stability meets most requirements valid for ships above 150 meters; she is fitted with crude oil washing and inert gas systems; and she has segregated ballast water tanks with capacity sufficient for the ship to operate in heavy ice conditions. Hull and propulsion machinery are designed for these conditions, above the requirements of Lloyd's Register Ice Class notation.
The four segregated cargo systems are designed for efficient operation; discharging time is about 12 hours, and loading and deballasting time is above five hours. A cargo computer is connected on-line with level transmitters of cargo, ballast, and bunker tanks, cargo tank temperature system, draft sensors fore Each cargo tank is equipped with one vertical, centrifugal, hydraulically driven pump of Thune Eureka manufacture. For cargo heating, 18 Sunrod heaters are installed on the main deck. One Maritime Protection inert gas generator is installed in a deckhouse aft. Its capacity is 3,300 cubic meters per hour with a maximum pressure of 0.2 bar.
LEDAGAS Paul Lindenau The Paul Lindenau shipyard in Kiel, West Germany, recently delivered the liquefied petroleum gas/ ammonia carrier Ledagas to Reederei Hartmann LPG Schiffahrts KG of Leer. This 5,250 cubic meter, third generation gas tanker is of a new design that was worked out in close cooperation with the owner and Liquid Gas International Ingenieurgesellschaft mbH of Bonn. The design is based on Lindenau's many years of experience in realizing economic concepts. Due to the optimal lines of the ship and the use of heat from exhaust gas and cooling water, considerable energy savings were attained.
The Ledagas is 376.6 feet long overall, with a beam of 56.4 feet and draft when carrying LPG of 17.7 feet. The main propulsion engine is a medium-speed MaK 6M551AK with an output of 3,500 bhp at 375 rpm, capable of burning fuel oil of 3,500 sec. Redwood at 100 F; service speed is 14 knots. The ship is built to Germanischer Lloyd classification + 100 A4 El Type 2PG "Liquid Gas Tanker" +MC El AUT.
Other shipboard equipment includes a Siemens 820-kva shaftdriven generator, Schaffran controllable- pitch propeller, Jastram 220-kw bow thruster, GeKa exhaust gas boiler, Novenco air conditioning, and Debeg satellite communications system.
The four cargo tanks each have a capacity of 1,312.5 cubic meters.
The gas plant is designed in such a way that two cooled shipments can be transported at the same time. In order to attain the greatest possible flexibility of operation, the cargo tanks are designed to hold an overpressure of 11 bar, so that high loading and unloading performance are possible. An inert gas plant is provided to allow fast change of cargoes.
This plant is said to be one of the first inert gas plants on a gas tanker that is able to produce nitrogen— a concept of the future.
These two Hartmann LPG tankers meet the highest national and international safety requirements.
They will be deployed throughout the world under long-term charter contracts.
PAVEL ANTOKOLSKIY Valmet Valmet's Helsinki Shipyard in Finland recently delivered the second of a pair of 8,638-dwt multipurpose, dock type barge feeder vessels built for the Soviet Union's Danube Shipping Company. The sponsor of the ship, named the Pavel Antokolskiy, was Mrs. Irene Kankaanpaa, wife of Valmet Corporation president Matti Kankaanpaa.
The new vessel, like her sister ship Boris Polevoy that was delivered earlier this year, will be operated by the Interlighter Shipping Company, which has been maintaining a very successful liner service carrying the 1,000-ton Danube seabarges from the Black Sea down to India, the Bay of Bengal, Burma, Singapore, and Vietnam.
The two new feeder ships will maintain liner service on the Black Sea, Mediterranean, and Red Sea collecting and distributing barges coming down the rivers. These vessels are each able to carry six Danube barges or 12 LASH barges in their wide cargo holds with a deck area of about 3,000 square meters.
The watertight stern door also serves as a ramp for RO/RO. When carrying containers stacked in three layers instead of barges, the capacity is 513 TEUs.
The dock type vessels can load directly from the pier or at sea.
Barges are floated in or out of the cargo hold by ballasting the vessel using two big pumps, each with a capacity of 1,500 cubic meters per hour. This pumping capacity allows the ships to be ballasted and deballasted in only 12 hours.
Main propulsion is provided by two Wartsila-Vasa 9R32 mediumspeed diesel engines with a total output of 7,560 bhp at 750 rpm.
Each engine is connected via a flexible coupling and single-stage reduction gear to a controllable-pitch propeller.
A bow thruster is also installed.
Trial speed was 13.9 knots.
The Pavel Antokolskiy has an overall length of about 521 feet, molded beam of 101.7 feet, maximum operating draft of 14.4 feet, and submerged draft of 30.5 feet.
Volume of the cargo hold is about 31,000 cubic meters. She will operate with a crew of 32 persons, ROYAL PRINCESS Wartsila-Helsinki The 45,000-gt cruise liner Royal Princess was delivered to her owner, The Peninsular and Orient Steam Navigation Company, on October 30 this year. The luxury vessel represents a completely new passenger liner concept, all outside cabin, introduced by Wartsila and developed jointly with the P&O technical staff.
She is the 35th passenger vessel and the 15th cruise ship deliverd by the Helsinki Shipyard.
Through this concept, all of the ship's 600 passenger cabins have natural light from large picture windows. In addition, 152 deluxe staterooms and suites have private balconies. All cabins have bathrooms with showers, color television sets connected to the ship's central information system, and twin beds that are convertible into doubles.
The air-conditioning system will be a high-economy, rotary heat exchanger design, with individual cabin control and no recirculation.
The 1,200-passenger Royal Princess has an overall length of 757.85 feet, molded beam of 95.80 feet, and design draft of 25.59 feet. The eight- deck ship will be classed by Lloyd's Register of Shipping and will fly the British flag. Service speed will be 22 knots.
Main propulsion will be bv four Wartsila/Pielstick 6PC4-2L diesel engines, each developing 9,900 bhp and designed to burn 600 CST fuel oil. The engines will be arranged in pairs, each pair driving a KaMeWa heavily skewed, controllable pitch propeller through reduction gearing.
Each main engine will also drive an alternator through the same gearing.
All four engines will be fitted with economizers, thus all normal energy demands will be fulfilled with the use of heavy fuel. Two 750- kw KaMeWa bow thrusters are installed in the hull, as is a pair of Sperry Marine fin stabilizers.
Two standby alternators, each developing 950 kw at 1,200 rpm, will be driven by Wartsila-Vasa 6R22 diesel engines. Two evaporators using waste heat from the main engine cooling water or steam from the two boilers will each have a capacity of 30 tons per day.
A biological sewage treatment plant is to be fitted, and a comprehensive system for garbage treatment, including two Hamworthy incinerators, will be installed. Stores will be loaded through two large, two-deck-high doors on each side of the ship. Special pallet loaders will be fitted at each door, and conveyors will be used where pallets are not available. The underwater hull will be coated with self-polishing paint.
As safety measures, accommodations areas will be protected by sprinklers, and the machinery spaces will be fitted with a Halon fire extinguishing system. Lifesaving equipment is being designed to comply with the latest Intergovernmental Maritime Organization requirements.
Public rooms will include a central foyer/reception area, restaurant, show lounge, nightclub, central lounge, disco/observation lounge, casino, library, cinema with full conference facilities, and a health center with sauna and gymnasium.
Two pools and two whirlpool baths will be installed on the open decks.
Passenger accommodations, some senior officers' cabins, and certain public rooms and bars, as well as the crew's mess and recreation rooms, will be served by a closed-circuit TV system that will provide four off-air channels, two video channels, one live on-board channel and an information system.
SULTAN MAHMUD BADARUDDIN II Meyer Werft The liquefied gas carrier Sultan Mahmud Badaruddin II was delivered recently by Jos. L. Meyer GmbH & Company in Papenburg, West Germany, to P.T. Pupuk Sriwidjaja (Pusri) of Indonesia. Pusri is a state-owned fertilizer manufacturer and distributor, with responsibility for distributrion of all fertilizer The ship will be fitted with a wide range of modern navigation and communications equipment, including a radio station, radars, radio direction finder, depth sounders, satellite communications gear, and a Magnavox satellite navigation system.
A computer will be installed to handle all accounts, passenger and crew data, and ship management functions.
The crew of approximately 500 will be berthed in single and double cabins, all with private facilities.
Each cabin will have a TV and radio aerial outlet. In addition to restaurants, crew amenities will include a swimming pool, quiet room, gymnasium, and recreation rooms.
and fertilizer-related products in Indonesia.
The vessel is the first semi-refrigerated liquefied gas carrier in Indonesia and in Pusri's fleet of modern self-unloading urea carriers. It is designed to transport ammonia from a new ammonia/urea production facility in Kalimantan on the island of Borneo to domestic and foreign ports in Southeast Asia.
The gas carrier is 372 feet long overall, with a beam of 53.5 feet and depth of 35.75 feet; cargo tank capacity is 5,683 cubic meters. Cargo is carried in three independent bilobe tanks at a temperature of —48 C and pressure up to 4.5 bar. It is capable of transporting ammonia, propane, butane, butadiene, propylene, and vinyl chloride monomer.
Cargo is cooled by a reliquefaction plant that includes two Sulzer compressors.
Six deepwell pumps discharge cargo at a combined rate of 540 cubic meters per hour.
Propulsion power is provided by a MaK 8M 552 diesel engine that produces 6,200 bhp at 500 rpm, and a speed of about 15.7 knots. Power is transmitted through a Lohmann + Stolterfoht to give the Ostermann propeller a speed of 156.6 rpm.
Electrical power is supplied by three Taijo generators driven by Daihatsu diesels each with an output of 550 kw. The main engine and the generator diesel are capable of burning heavy fuel oil of 107.5 sec Redwood I.
The vessel has a dual classification, with Lloyd's Register of Shipping and Biro Klasifikasi Indonesia as a Type IIC Liquefied Gas Carrier, and is provided with an IMO certificate according to the Gas Code, Resolution A328(IX). The carrier also complies with U.S. Coast Guard regulations for ships under foreign flag.
Accommodations are provided for a crew of 34 in 16 single and nine double cabins. Navigation equipment includes two radars, gyrocompass with autopilot, echo sounder, speed log, and satellite navigation system. The ship is equipped with a radiotelephone system and two separate VHF radio units.
Marine Consultants & Designers, Inc. of Cleveland, designers of Pusri's self-unloading urea carriers, provided a transportation study to define the ammonia carrier's requirements and speed, prepared the design and specifications for tendering and contract documents, and represented Pusri during tendering, contract negotiations, and construction, providing both plan review and construction supervision. Marine Consultants & Designers was assisted in these tasks by Intership Services, Inc. of Waltham, Mass., who provided design and consultation for the liquefied gas aspects of the project.
THOROUGHBRED TOPPER Bay Shipbuilding Bay Shipbuilding Corporation of Sturgeon Bay, Wise., a subsidiary of The Manitowoc Company, recently delivered the oceangoing coal topoff barge Thoroughbred Topper to Lamberts Point Barge Company, a subsidiary of the Norfolk Southern Corporation of Norfolk, Va. The big 33,000-dwt vessel will be operated by Coastal Barge Corporation, a subsidiary of the Dowd Group of New York.
The Topper will be used primarily for topping off partially loaded, oceangoing bulk coal carriers of such size that they have too deep a draft to be completly loaded at U.S.
coal-loading terminals. This procedure will allow vessels that receive a partial load of cargo at the coal docks to proceed to deeper water, where they will be topped off to full cargo capacity.
The barge has an overall length of 550 feet, beam of 78 feet, and draft of 34 feet; capacity is in excess of 36,000 short tons of coal. She is fitted with a deep stern notch to accommodate a 7,200-bhp tug. The barge is equipped with hydraulically controlled skegs to maintain directional stability while under tow. A 1,000-hp, fixed-pitch bow thruster provides additional maneuverability.
Bay Ship's parent, The Mainitowoc Company, provided two 4600 Series-3 clamshell cranes that provide the barge with self-loading, unloading, and transfer capabilities in excess of 1,500 tons per hour. The two 4600s rotate on special 16-foot roller paths mounted atop self-propelled gantries that travel on rails along the length of the four cargo holds. The gantries, manufactured by Bay, also serve as hatch cover cranes. Each crane is equipped with a 120-foot boom and provides 50,000-pound clamshell capacity. In addition, each is equipped with an operator's module to provide optimum visibility for loading.
The Thoroughbred Topper complies with all regulations of the U.S.
Coast Guard, and is classed by the American Bureau of Shipping +A1 Barge, Unrestricted Ocean Service, TOHKAI MARU Ishikawajima-Harima The Kure Shipyard of Ishikawajima- Harima Heavy Industries in Japan in the spring of this year completed one of its biggest jobs in recent years when it delivered the very large crude carrier Tohkai Maru to Daikyo Tanker Company, that company's first VLCC.
This 238,500-dwt tanker was designed using two fuel-efficient main engines together with the supereconomical shaft generator system (SSG Mark II); the IHI LV hull form that was developed for large full-form, low-speed vessels to improve energy efficiency; and the AT fins that can recover the energy of rotational flow aft of the propeller that has so far been wasted.
The design of the new tanker also includes innovative automation systems to reduce manning to a complement of 16, provide ease of operation and maintenance, and many other features.
The ship has an overall length of 1,035 feet, beam of 178.8 feet, depth of 99.4 feet, and full-load draft of 64.56 feet. A flush decker with engine room and all accommodations aft, she has 13 cargo oil tanks in three rows, and large, segregated ballast tanks to meet MARPOL requirements Main propulsion is by two IHI/ S.E.M.T. Pielstick 8PC4 diesel engines with exhaust turbocharger, driving a single controllable-pitch propeller through a reduction gear.
Propeller speed and pitch, main engine load, ship speed, and other factors can be controlled to meet specific maneuvering conditions.
The two medium-speed engines deliver a maximum continuous total output of 24,000 bhp at rpm; the reduction gear reduces the speed of the 30-foot-diameter propeller to 69.3 rpm. This low-speed, largediameter propeller provides high propulsion efficiency.
In the SSG Mark II system, the reduction gear is coupled mechanically to the turbogenerators through a speed-changing clutch to feed part of the main engine output to the generators when the turbines alone cannot meet the on-board electricity demand, or to feed excess output of the turbines back to the propulsion system. All this is done automatically.
The main engines and the controllable- pitch propeller are regulated by IHI's electronic remote control system either in the wheelhouse or in the engine control room, whichever is suitable for the occasion.
Automation and fuel economy were the two main aims in designing the propulsion system. They save fuel cost, the SSG Mark II system is employed to recover heat from the main engines. It is combined with the two-engine/single-screw shafting and c-p propeller to insure maximum fuel efficiency over a wide range of operation from slow to fast running. Automation of the entire system was studied extensively to guarantee safety.
All of the operations of the SSG Mark II system can be performed with a single switch in the engine control room. The statuses of the system are displayed and monitored on a graphic panel.
The steam plant is made up of an auxiliary boiler, a high-pressure exhaust gas economizer, a mediumpressure exhaust gas economizer, a low-pressure exhaust gas economizer, and a charging air economizer.
When at anchor or leaving or entering port, the auxiliary boiler is fired to generate steam. At sea, it is used as a separator for the highpressure exhaust gas economizer to generate and feed saturated steam to the generator turbine and other equipment. The medium-pressure exhaust gas economizer is equipped with a dedicated separator to generate steam to be used for miscellaneous purposes.
The engine control room is arranged alongside the cargo control room on the boat deck in the accommodations area. It contains control and monitoring equipment for all machinery. An elevator between the boat deck and the lower engine room flat provides quick personnel transit.
Driving a variable-pitch propeller by two medium-speed diesel main engines was a first such experience for IHI. In implementing this new system for energy-efficient operation, arrangement of the engine room equipment was studied with utmost care.
The Tohkai Maru has been built with designed-in energy-efficient and labor-saving features in response to the needs and wants of the new era. Running foremost in shipbuilding technology, this new ship represents innovations in instrumentation, automation, and systems engineering.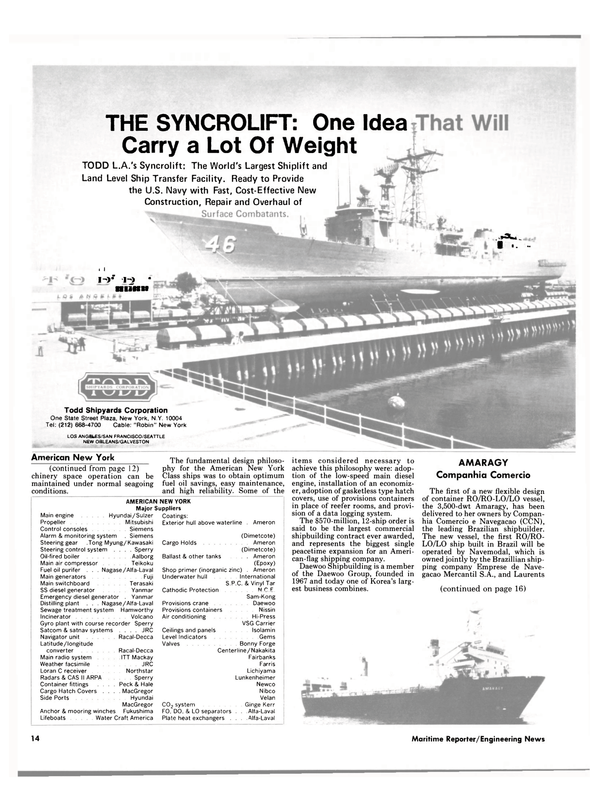 Read OUTSTANDING OCEANGOING SHIPS OF 1984 in Pdf, Flash or Html5 edition of December 1984 Maritime Reporter
Other stories from December 1984 issue
Content