Elliott White Gill Thrusters Offer Unique Advantages
A main key to maneuverability in new ships is the special thrusters that enable her to keep on precise course or station and to "creep" at very low speeds, and demand for one such system, the Elliott White Gill™ thrust and propulsion unit, is said to be increasing because of its simplicity, versatility and ease of installation.
The Elliott White Gill thrust and propulsion unit is a low head, high volume axial pump capable of delivering thrusts of up to 38,000 pounds (17,000 kg) in every direction—forward, reverse, broadside, and an> direction in between. It mounts flush with the hull, below the vessel's draft line, open to the water at both suction and discharge ports.
Units are fitted in bow section, and/ or stern, depending on application.
Thrust is produced by drawing water through the intake, and discharging it on an almost horizontal plane through a deflector that rotates a full 360 degrees. No part of the system ever protrudes below the vessel's keel line and as a result it is extremely safe to use, for the thruster itself cannot be damaged by, or cause injury or damage to, lines, external structures, or personnel. It stays free of underwater hazards and cannot foul lines, cables or other submerged objects.
The inlet section of each White Gill unit is fitted with a sturdy metal grating to prevent large debris from being sucked into the pump and possibly damaging rotor or discharge deflector. Smaller debris can pass through this "sieve" without harming the system.
The White Gill thruster can be powered direct or through gearing by any engine, or by any electric, diesel or hydraulic motor capable of meeting design requirements. The unique design does not require clutching mechanisms or reversing gears. Controls that are available vary from a simple joystick (lever switch) for control of thrust direction, with an option to control driver speed (magnitude of thrust) on the same joystick, up through complete dynamic positioning.
A wide variety of designs and models is available to meet the specific requirements of every type vessel from tankers to tugs, service to salvage ships, barges, ferries, cable ships, research, survey and other craft plying offshore or inland waterways.
Among notable installations, the new Royal Research Ship Charles Darwin, constructed at Appledore Shipbuilders for the National Environmental Research Council, is equipped with a White Gill bow thruster than can provide thrust in any direction and is capable of holding the ship in position up to Beaufort 6 wind force. Its 5.6 tons of static thrust can get the ship home in event of main propulsion troubles.
For further literature containing full information on Elliott White Gill thrust and propulsion units, Circle 245 on Reader Service Card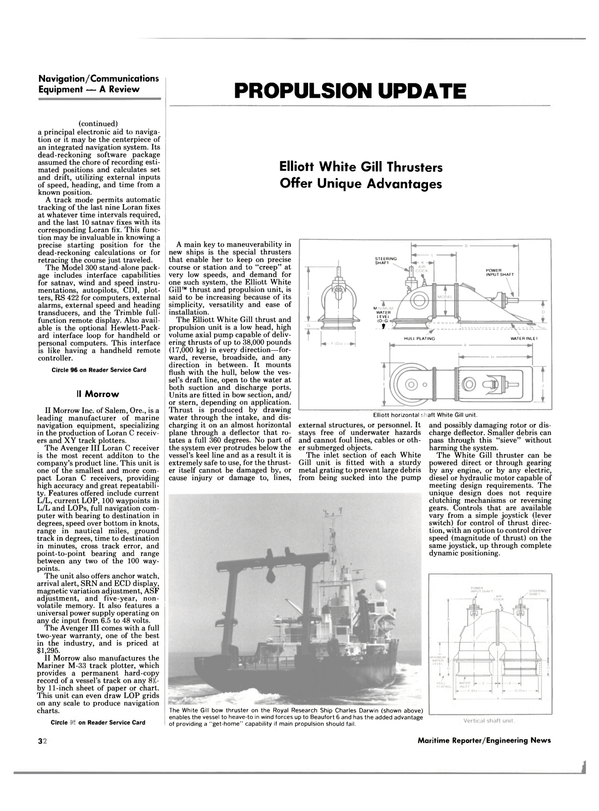 Read Elliott White Gill Thrusters Offer Unique Advantages in Pdf, Flash or Html5 edition of May 15, 1985 Maritime Reporter
Other stories from May 15, 1985 issue
Content