ASNE/NAVY SYMPOSIUM AND EXHIBITION 1986
Destroyer, Frigate and Cruiser Technology Biloxi, Miss., October 2-4 A symposium and exhibition jointly sponsored by the Pascagoula Section of the American Society of Naval Engineers and the Navy Supervisor of Shipbuilding, Conversion and Repair-Pascagoula will be held October 2-4 this year in Biloxi, Miss. This is the second such meeting (the first was held in Biloxi in 1982) planned to bring together Navy and industry leaders for an interchange of technical ideas for future ship designs.
This year the exhibitor list has grown to some 60 companies that will display their products and services in the Gulf Coast Coliseum.
Papers to be presented at the four symposium sessions will survey the technical developments available for the design of the next class of combatant ships.
The October 2 morning session, to be held at nearby Keesler Air Force Base, will be classified (U.S. Confidential).
The other three sessions are unclassified and will be held at the Gulf Coast Coliseum. There will be luncheons on both Thursday and Friday and a banquet on Thursday evening, all with guest speakers.
Luncheons will be held at the Coliseum and the banquet at the Biloxi Hilton. A wine and cheese party will follow the business session on Thursday afternoon. On Saturday, October 4, a tour of Ingalls Shipbuilding in Pascagoula will be conducted for those interested, with bus transportation provided.
Symposium Agenda Thursday, October 2 Moderator: Dr. Reuven Leopold 8:30 am—"Structural Survivability of Surface Ships," by Alexander Malakhoff, Stephen G. Arnston, and Robert Sielski 9:15 am—"Developments in Ship Survivability Analysis," by Dean Rains and John Johnson 10:00 am—"Combat Systems for the Nineties," by Richard Logan 10:45 am—"A Modular Aviation Facility for a Variable Payload Destroyer," by Joseph Rippman Noon—Luncheon Speaker: Rear Adm. John F.
Shaw, USN, Aegis Shipbuilding Project Manager, NAVSEA Afternoon Session Moderator: Ronald D'Arcy 2:00 pm—"The Methodology for Implementing Innovative Technology in DDG-51," by Cdr. James E.
Baskerville, USN, and Cdr. William R. Schmidt, USN 2:45 pm—"The Impact of a Deep Vee Hull Form on the Design and Performance of Frigates," by Erbil H. Serter, Capt. J.W. Kehoe, USN (Ret.), and Kenneth S.
Brower 3:30 pm—"TOTS (Take Off Tons Sensibly) Experience on the CG-47 Class Ships," by Martin Fitzgerald and Arun Mehta 4:15 pm—"The Canadian Patrol Frigate: Today's Technology," by Capt. R.A. Sutherland, CF(N), Cdr. L.P. Dumbrille, CF(N), and Cdr. M.A. Stenson, CF(N) 5:00 pm—Wine and Cheese Party 8:00 pm—Banquet at Biloxi Hilton Hotel Keynote Address: Hon. Everett Pyatt, Assistant Secretary of the Navy (Shipbuilding and Logistics) Friday, October 3 Moderator: Capt. Clark Graham, USN 8:30 am—"Machinery for Future Surface Combatants," by Timothy J. Doyle, Raymond W. Kornbau and Arthur L. Smookler 9:15 am—"The Type 23 Frigate: the 'Duke' Class," by Cdr. Richard Meryon, RN, and Cdr. D. Pattison, RN 10:00 am—"Simplification of Gas Turbine Intake Anti-Ice Systems," by Arthur G. Killinger 10:45 am—"Analysis of 400 Hz Shipboard Electrical Power Systems and Impact of Current Limiting Devices," by G. Babcock, T.K.
Huber and L.F. Rogers Noon—luncheon Speaker: Gerard C. Hoffman, U.S. Navy specification control advocate Afternoon Session Moderator: Peter Gale 2:00 pm—"Hull Form Development and Hydrodynamic Performance Analysis of Surface Combatants," by Jeffrey Hough and William Sandberg 2:45 pm—"Effects of Low Frequency Motion on Human Performance at Sea," by Jay G. Pollack, Kim Wilson and Marie Wallick 3:30 pm—"NFR-90: International Industrial Aspects," by Robert S.
Johnson 4:15 pm—"Ship Arrangements Configuration Management," by H.E.
(Rick) Wolff Jr.
5:00 pm—Adjournment of Symposium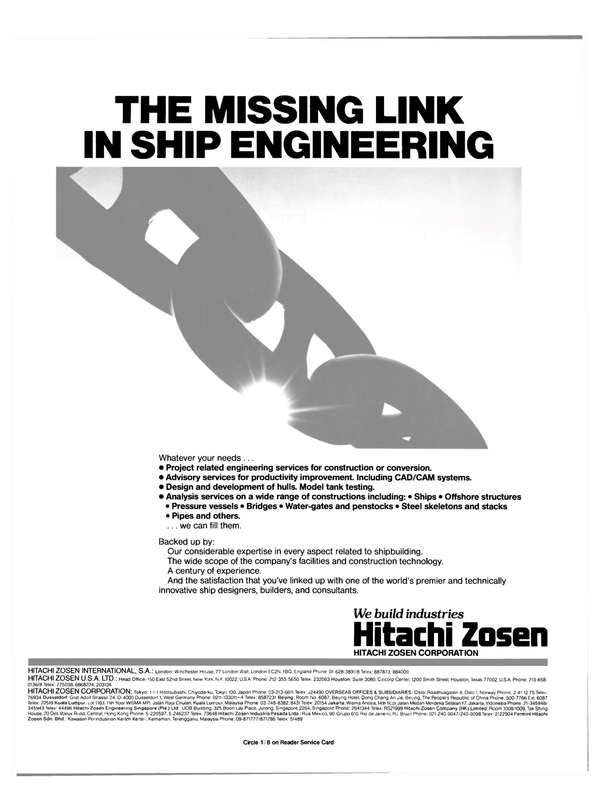 Read ASNE/NAVY SYMPOSIUM AND EXHIBITION 1986 in Pdf, Flash or Html5 edition of September 1986 Maritime Reporter
Other stories from September 1986 issue
Content