SMM '86 Ship, Machinery and Marine Technology International Trade Fair
Hamburg, West Germany September 23-27 Despite the current business climate prevalent in the shipping, shipbuilding and offshore sectors, the Ship, Machinery & Marine Technology International Trade Fair (SMM) has strengthened its leading position again this year. To take place in Hamburg, West Germany, September 23-27, its success is the result of intensive sales campaigns and effective presentations by the Hamburg Fair organization in the U.S. and in countries of Northern and Southern Europe.
In contrast to some events in other countries, SMM'86 can point to a genuine increase in the number of exhibitors. This year more than 500 direct exhibitors from 25 countries are expected. First-timers among the joint venture exhibits are Norway and Bulgaria. There will also be 12 other national cooperative stands.
Exhibitors view the success of SMM as a direct consequence of the highly qualified and international makeup of the trade fair visitors.
More than 30,000 are expected to come to this year's SMM in Hamburg from all over the world. For the first time, a country—the People's Republic of China—has been chosen as "host nation" for the trade fair. China has indicated that a high-ranking official from its shipbuilding sector will speak at the SMM'86 Opening Ceremony.
Among the regular exhibitors at this biennial event are virtually all of Europe's leading shipbuilding nations, plus a great many important groups from overseas, including the shipbuilding industries from the U.S., and marine equipment leaders from Japan and Korea.
This important maritime trade fair, being presented for the 12th time, is organized by Hamburg Messe and Congress GmbH, the fair authorities, in cooperation with the Association of German Marine Engineers and the German Shipbuilding Industry Association. It is sponsored by Germanic Lloyd, the Marine Engineering Society, the Shipyard and Offshore Specialists' Section of the German Machinery and Plant Manufacturers' Association, and the Association of Industrial Marine Technology.
In conjunction with SMM'86, an International Congress on Ship Technology will take place on Wednesday, September 24.
At the last SMM exhibition held in 1984, 31,114 visitors from 44 countries (including Argentina, Australia, Brazil, China, Korea, Singapore, the U.S., and the USSR) came to Hamburg—impressive evidence of the significance of this trade fair for the international shipbuilding industry. Some 58 percent of these visitors were either senior or middle management, and 83 percent said that SMM was of great importance as a market for information and placing orders.
Specialist Equipment Shipyards and suppliers from the world's traditional shipbuilding countries are increasingly discovering gaps in the market for specialist vessels. This will be clearly shown by much of the equipment on dis- play in the SMM'86 range of exhibits.
Ship's cranes are getting slimmer, more mobile, and faster. The Nenzing- based Liebherr-Werk has set new standards in high-technology and safe, economical onboard crane operations with its new crane systems for combined river and seagoing vessels. This new generation of slimline cranes with a capacity of up to 80 tons will be on view. The slim design of these new models, the B/SM and the BW/SM, not only prevent any unnecessary loss of container storage space but also means that even containers placed right next to the cranes can be handled easily.
Special-purpose cranes for Rhine and seagoing ships will be on view at the Hatlapa stand. These extremely low-profile cranes are especially designed to enable seagoing containerships to pass under the bridges of the Lower Rhine. This well-known German manufacturer of deck equipment for seagoing ships will also exhibit an extensive range of warping capstans, warping winches, and deck machinery with high- and low-pressure operation.
The "Profi" pneumatic hoists manufactured by J.D. Neuhaus are distinguished by their light weight and impressive lifting capacity.
Whether designed to lift 100 kilograms or 100 tons, these pneumatic hoists are said to be ideally suited for use in shipyards or on board ships because of their sensitive controls and damp-resistant qualities.
Deck equipment will also be on view at Kvaerner Brug's stand. This subsidiary of the Norwegian Kvaerner Group was founded in Bremen at the end of 1985. It supplies hatch covers of all shapes and sizes for oceangoing ships, including self-actuated covers, and specialist systems for RO/RO ships and bulk carriers.
SMM has always included a wide range of exhibits covering the field of navigation. Honeywell ELAC Nautik GmbH will unveil its brand new LAZ 2310 color echo sounder, a compact but extremely powerful instrument for the fishing industry.
The company's new long-range FS 3700 CS color sonar with an allround display on a 14-inch screen will also be on display.
The Hamburg firm of C. Plath will present a complete line of navigation equipment. With its Satellite Adaptive Fuel Economizing System, Plath has integrated some standard navigation equipment to form a moderately priced system that not only increases safety on board ships at sea but also reduces fuel consumption.
Exhibitor H.E. Eissing will present a distribution network for the navigation equipment manufactured by Plath and other companies, as well as an installation and maintenance service.
A powerful 400-watt lamp for shipping will be on view at the stand of WISKA Hoppmann & Mulsow.
This panel lamp made of seawaterresistant aluminum insures optimum distribution of light through a reflector made of pure aluminum.
Another exhibitor, Zollner, will display its acoustic signaling equip- ment.
Shipboard Safety Safety technology in shipbuilding and ship operations is another aspect that will be shown in many displays at SMM'86. Whereas controllable- pitch and lateral-thrust propellers, fully automatic onboard operating systems, satellite communications, and computers have become an integral part of ocean shipping during the past two decades, SMM'86 will show that the latest developments are also concentrating on safety aspects and environmental protection.
The new IMO safety regulations have not only been embodied in newly passed national regulations and statutory provisions, but have also been increasingly taken into account in newly developed safety equipment for shipboard use. The same is true of the numerous innovations in the field of on-board waste disposal that will be on view at SMM'86.
A simple fire-bulkheading system, "Pyro-Safe," will be shown by SVT-Brandschutz & Service. It fits into any available opening and the bulkhead element is made up of special mineral-fiber plates plus an intumescent fire-protection coating.
The latter is characterized by a high degree of elasticity and the fact that it is non-hygroscopic. This bulkhead element can even be retrofitted at a later stage. Pyro-Safe can also be used to protect cables and pipes against the effects of fire, water, and gas.
All-round fire protection for onboard ship operations, fireboats, or for cargo-handling and storage facilities for dangerous goods in ports is offered by Albach, whose Alco Monitors are said to meet all the requirements of modern high-performance firefighting in the maritime field.
Another exhibitor, Minimax, offers a variety of firefighting methods— water, foam, and halogenated hydrocarbons. For maritime use, low-expansion foam firefighting equipment has proved extremely effective in dealing with burning oil at tank terminals in port, with combined foam/water monitors proving effective in fighting fires aboard ships. Minimax also offers sprinkler equipment. This firm designs and installs customized firefighting systems that meet all applicable regulations and international safety provisions.
High-pressure cleaning, even in the most inaccessible places, is guar- anteed by the "Waschboy" highpressure cleaners manufactured by WAP-Maschinen Guido Oberdorfer.
The cleaning fluid is forced out at a pressure of 70 bar.
Another exhibitor, Hydrobar, will also present high-pressure cleaning technology. The company estimates the world market for this type of equipment at about DM300 million (about $140 million), and claims to have a sizeable market share. The firm has designed equipment for use in refineries and oil-handling facilities in which the high-pressure technique, previously used only with cold water and without any chemicals, has been combined with heat exchangers to make use of hot water.
Onboard safety is certainly very much a case of good orientation of the crew in case of power failure or fire. Permalight GmbH will exhibit a product for such emergencies. Irrespective of whether there is any daylight or artificial light present, the company's phosphorescent safety/ emergency markings—supplied as stickers, signposts, sheets, emergency exit plans, etc.—point the way to firefighting equipment, lifeboats, and the like.
Conference Program Wednesday, September 24 9:30 am—Opening of the Conference by Ernst A. Harm, chairman of the Hamburg Branch of the Association of German Marine Engineers.
Introductory paper by Prof.
K. lilies, Schiffbautechnische-Gesellschaft.
Moderator: W. Schottelndrever, Association of German Shipowners 10:00 am—"Measures To Improve the Reliability of Propulsion Units with Medium-Speed four-stroke Diesel Engines," by Wolfram Lochbichler, MAN B&W Diesel GmbH, Augsburg 10:30 am—"Improved Reliability of Medium-Speed Propulsion Units," by L. Neut, Stork-Werkspoor, Amsterdam 11:00 am—Discussion Moderator: Kurt Dohmel, Deutsche Shell Tanker GmbH 11:30 am—"Engineroom Fittings for the Ships of the Future," by K.-H. Paetow, Howaldtswerke- Deutsche Werft AG, Kiel 12 Noon—Testing Ship's Main Engines with Brake Wheels," by A.
Nolte, Bremer-Vulkan A.G., Bremen 12:20 pm—Discussion 12:45 pm—Lunch Moderator: Prof. G. Peters, Fachhochschule Hamburg 2:00 pm—"Integrated Command and Monitoring Systems for One- Man Watch and Running Operations from the Ship's Command Station," by P. Grafoner, AEG Shipbuilding Division 2:30 pm—"Practice-Oriented Automation for Ships with a Future," by H. Schreiber, Siemens AG, Erlangen 3:00 pm—Discussion 3:30 pm—Adjournment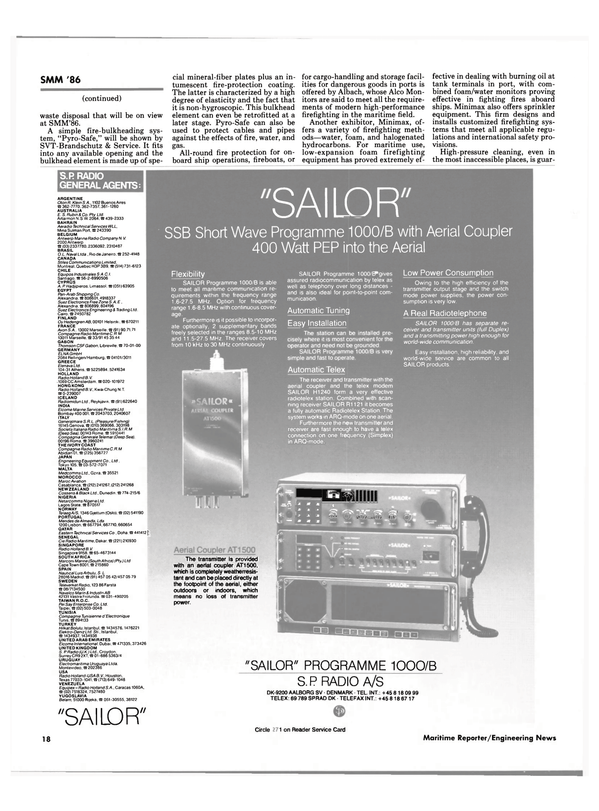 Read SMM '86 Ship, Machinery and Marine Technology International Trade Fair in Pdf, Flash or Html5 edition of September 1986 Maritime Reporter
Other stories from September 1986 issue
Content