Research Ship For NATO Launched At Muggiano Yard of Fincantieri-CNI
An oceanography and hydrographic research vessel with exceptional features and designed to meet stringent requirements, particularly for silent and vibrationless running for underwater acoustic and other research work, was recently christened Alliance by Lady Carrington, wife of the Secretary General of the North Atlantic Treaty Organization.
This ship bears the distinction of being NATO's first wholly owned vessel. When delivered next year from the Muggiano shipyard of Fincantieri- Cantieri Navali Italiani in La Spezia, she will operate under the West German commercial flag conducting research on behalf of NATO, commanded by a German captain, manned by British officers and Italian crew, and managed by Glasgow-based Denholm Ship Management.
With such a combination, the Alliance is well named. This 3,200-gt ship has been built and engined in Italy by Fincantieri; the generators, propulsion motors, extensive automation, and control systems were designed and engineered by AEG in West Germany; the dynamic positioning system via satellite, and special vibration-absorbing insulation were provided by U.S. companies; the two rotary vane steering gears are from Norway; the lifeboats and davits are from the U.K.; the propellers were cast in the Netherlands; and a gas turbine for auxiliary propulsion power was supplied from Norway. Even Switzerland has contributed special potable water treatment, making this a truly multinational ship.
The Alliance will enter service next year with the SACLANT Research Center in La Spezia, NATO's principal facility for underwater research.
She will be equipped to operate in any part of the world, and is strengthened for operations in ice.
With most ships designed and built for oceanographic research, the ability to move or drift in near absolute silence and minimum sea disturbance are most important. From the early design stage, the standards set for this vessel were exceptional.
The main and auxiliary diesel engines, the generators, propulsion motors, and other machinery are all mounted on special resilient footings, and in some cases with double such seatings. All moving machinery is housed in acoustically insulated compartments, as are the steering gears and other items of machinery.
In fact, subcontractors were selected largely on the ability of their equipment to meet the low noise and vibration standards specified. Airborne noise was also a major consideration.
The extent to which measures were applied against shipboard vibration is indicated by the special anti-vibration insulation system used in the double-bottom tanks below or adjacent to vibrating machinery machinery, especially on the shell plating.
Special thermal/acoustic tiles supplied by Lord Kinomatics of Erie, Pa., are attached to the steel plating by special adhesives.
The diesel-electric plant for main propulsion consists of two Fincantieri- GMT B230 12-cylinder, medium- speed, 4-stroke 2,535-bhp engines, each driving an AEG 660-volt, 60-cycle AC generator running at 1,500 rpm and specially constructed to meet specific requirements for minimum noise and vibration. Each alternator is self-ventilated and enclosed in an acoustic container with an integral fire-extinguishing system, as well as a 220-volt space heater.
The power generated is then fed through AC/DC rectifiers to each of the two AEG 1,470-kw propulsion motors, each driving at about 130 rpm a shaft and Lips adjustablepitch propeller. Like the alterna- tors, the propulsion motors are arranged for thyristor control, and have special magnetic circuits and special ball bearings to meet acoustic control requirements.
In essence, each main engine drives an AC generator, which supplies via thyristor converters the DC propulsion motors, each with a maximum continuous rating of 1,890 kw at 1,200 rpm. Couplings between the stern tube shafts and the thrust shafts are of the SKF flange type, but the couplings between the main propulsion motors and thrust shafts are flexible.
Three diesel-driven 450-kw generator sets are installed on resilient mountings for the ship's electrical services. Each has an Isotta Fraschini 10 36SS 12-cylinder, V-type engine of 450 kw output, coupled on a common bedplate to an AEG 450- volt, 60-Hz generator.
Classed by the American Bureau of Shipping, the Alliance has an overall length of about 305 feet, beam of 50 feet, depth to weather deck of 28.5 feet, and scantling draft of 16.7 feet. The ship is designed for a maximum continuous speed of 17 knots, a free-running service speed of 16.3 knots, or a speed of 12 knots with a 20-ton tow.
Accommodations will be provided for a total of 50 persons, including scientists, officers, and crew, all in air conditioned cabins, mainly single- berth with private bathrooms.
This ship is fitted with bilge keels to insure stable working conditions as well as a passive (Flume type) stabilizing system.
For further information on the services and facilities available from Fincantieri-Cantieri Navali, including free color literature, Circle 3 4 on Reader Service Card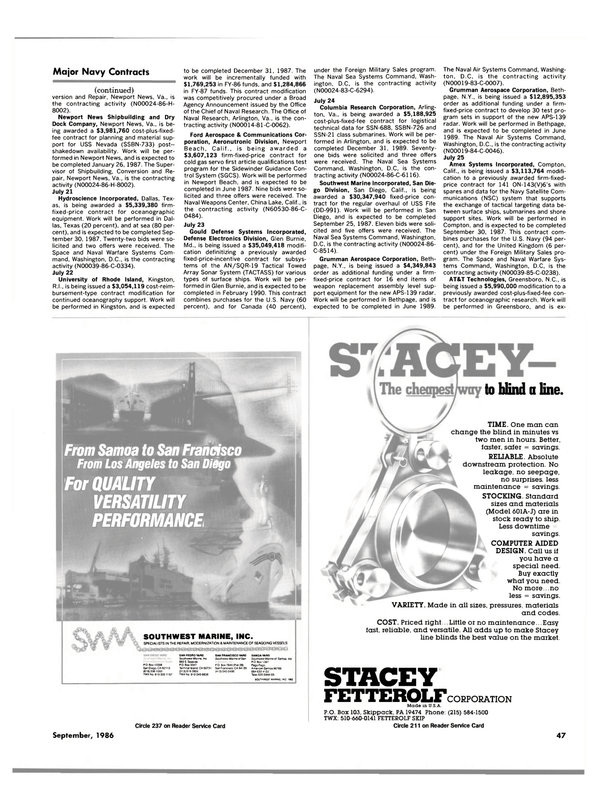 Read Research Ship For NATO Launched At Muggiano Yard of Fincantieri-CNI in Pdf, Flash or Html5 edition of September 1986 Maritime Reporter
Other stories from September 1986 issue
Content