A SHIPBUILDER'S PERSPECTIVE
By T.R. Hensley, President Service Marine Industries, Inc.
"Is the small passenger vessel industry still a growth market?" This is an interesting question and it could be posed by prospective boat owners and their lenders, commercial developers, municipalities, tour and charter brokers, and certainly, by shipbuilders. As one of the leading builders of these types of vessels in the U.S., we continually survey these markets, question our customers, and analyze the results of our advertising. Our conclusion at this time is a qualified "yes." The most exciting thing that happens to a shipbuilder is receiving that telephone call which says "okay, we've got a deal." We've been very fortunate in receiving quite a few of these phone calls, with two boats delivered this year, one under construction, and one in engineering.
Our construction book is solid and our inquiry load remains very high.
There is no doubt that the public's love affair with boats has led to a phenomenal growth in the industry.
The National Association of Passenger Vessel Owners (NAPVO) now has 333 members who have some 1,000 boats in operation.
There are many other boat operators outside this organization who have one or more boats catering to excursion or ferry clients. It's difficult to find a seacoast town, large river town, or even landlocked lakes such as Lake Tahoe, or Lake Mead, that don't have at least one excursion boat or ferryboat.
The spectacular growth of the industry and broad coverage of the navigable water in the U.S. by small passenger boats unfortunately lead to a significant problem for operators wanting to increase their fleet, or entrepreneurs considering entering the market. Our discussions with potential customers point out the high cost of dock space or even the lack of dock space in cities that would otherwise support a boat operation.
Other problems such as economical, available parking, power, water and trash and sewage disposal facilities also arise. The customer base may be in place, but facilities cannot be found for the operation.
Current economic news may be reason for a slowdown. This past year hasn't been one of the best for many operators. People seem to be expecting a slowdown in our economy, and are paring down their vacation plans. Whether this a short term phenomenon, no one seems to know for sure.
The cost of construction of small passenger vessels has risen over the past two years. The prices of materials and equipment have risen on an average of six percent per year, the cost of labor slightly more. However, the good news is that the price of steel has recently turned down to mid-1988 levels. Ticket and charter prices, on the other hand, have not been able to keep pace with new construction costs. This puts more pressure on the growth plans of the industry.
As most shipbuilders do, we continually try to find ways to lower the labor content of our boats, so that our prices rise at a rate lower than the rate of increase in material, equipment, and labor costs. We also try to give our customer added value in quality of workmanship and equipment installed in the boat.
This added value tends to lower the operation cost of the boat through lower maintenance cost.
We also spend a lot of time in the design appeal of the boat through styling and decoration. Our intent here is to make the boat more attractive so that the operator can increase his occupancy and perhaps even charge a premium for his boat.
Another contributor to what may be a slowdown in new construction of excursion boats is the lack of adequate sources of financing. It is the exceptional startup that has the know-how to start a limited partnership.
Many times the startup operator is not able to prepare a business plan that satisfies the requirements of the lending institution.
We give clients assistance in developing the plan if they ask for our help. Very few startups have the capital base required by most lending institutions, particularly banks.
We have found it necessary to locate sources of finance and to introduce our customers to those sources. Naturally, the project has to be feasible, but at least, the operator will be talking to someone who understands his business.
The four factors influencing future growth of the industry—lack of location, economic slowdown, higher construction costs, and inadequate financing—are being evaluated by the established operator, as well as startup companies, with many taking a cautious approach.
However, there are significant bright spots in the small passenger boat market. At present, the main growth areas are ferryboats and upscale, very posh megayachts for corporate charters or large private parties.
Yacht Vacations, a magazine devoted to vacations on the water, recently reported on the lure of water and boats for corporate incentives and business functions. They report that the reasons corporations are organizing events on luxury yachts range from the ability to offer complete privacy from the hectic pace of the office, to the advantage of offering custom-designed charters tailored to a promotion or event.
Marie Convoy, who coordinates the charters for Mariner III and the President, offers the New York Harbor because, "new waterfront developments and the spectacular skyline have contributed to the surge in social functions aboard yachts, both corporate and private. There is no more private place to gather. The atmosphere is relaxed, and conducive to socializing and networking.
The hustle and bustle of Wall Street seems so far away." Among the shipbuilders to take advantage of this trend is the Trinity Marine Group, Trinity Industries.
The company has delivered one 142-foot yacht to Kathleen and Fred Windridge, who are in the Florida charter yacht business.
Soon to be delivered is the Lady Windridge, a 170-foot megayacht.
All of the Windridge boats cater to the corporate and caviar crowd. The Lady Windridge will glide along the night lights of Florida's famous Gold Coast on the Intracoastal Waterway.
Trinity is also building a 97-foot yacht and will soon start a 135-foot yacht to be located in Boston. John Dane I I I , president of Trinity Marine Group, stated, "The yacht business is doing very well across the country, interestingly in the very small and very large sizes." Service Marine Industries, Inc.
has designed, and construction will soon start on, a radically new 170- foot megayacht to fit into this market. This boat will have a very plush interior and an exterior profile which will be very appealing to corporate customers. The boat will have a full menu galley, a very exclusive restaurant on the first deck, and a lounge and disco on the second deck. East Coast Investors, Ltd., will operate the American Eagle out of their new marine on Jamaica Bay, with trips to lower Manhattan.
The recent San Francisco earthquake brought home in a very graphic way the ability of ferryboats to complete highway links, even in high density traffic. Ferries from Washington and Los Angeles, and old ferryboats from San Francisco were pressed into service after the failure of the Oakland Bay Bridge.
But in other areas of the country, ferry traffic is an ordinary way of travel.
Commuters regularly travel the waters of New York and Boston Harbors, all along the East Coast mainland to offshore islands, St.
Thomas, U.S. Virgin Islands, to other Virgin Islands and Puerto Rico.
Other major systems include the Washington State Ferry System, which in 1988 carried 19.3-million passengers and 8.3-million vehicles, San Francisco Bay Commuter Service, and the ferry system between San Pedro and Catalina Island.
The big players in this business have been Trinity Industries, building two 112-foot high-speed passenger ferries for the Washington State Ferry System; Avondale Industries, building new luxury surface effect boats for Metro Marine Express; and Gladding-Hearn and Nichols Bros., both building high-speed wave-piercing catamarans based on an Australian design.
Washington State Ferry System, Massachusetts Bay Transportation Authority, and Metro Marine Express, all have plans for expanding to new locations requiring new boats. Several private operators are reported to be eying some high density traffic areas on the East Coast that would respond to ferry operations.
While conventional dinner boat operators may be thinking about taking a breather, the operators of posh, exclusive megayachts are expanding in several major East Coast cities, and commuters are flocking to high-speed ferries in ever-increasing numbers. There is definitely still vitality in the small passenger vessel industry.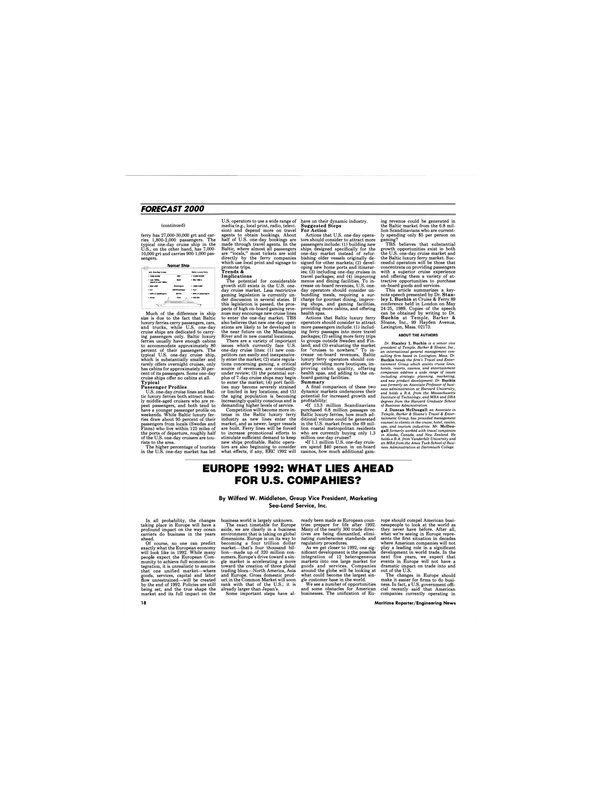 Read A SHIPBUILDER'S PERSPECTIVE in Pdf, Flash or Html5 edition of December 1989 Maritime Reporter
Other stories from December 1989 issue
Content