A 360 O
The evolution of podded propulsion systems has gained steam in recent years, as a number of notable new systems have entered the market with new options. The era of podded propulsion is here and now, and despite some technical glitches with the systems - notably faster than anticipated bearing wear - it is safe to assume that the system's popularity will only grow with experience.
Pods, obviously, are not the single solution for every marine application.
As with any other technology, limitations exist. However, podded propulsion solutions have opened more marine technological avenues than they have closed as Harri Kulovaara, senior vice president of fleet operations and newbuilding, Royal Caribbean, explained upon the introduction of Navigator of the Seas, the cruise line's fourth ship in the mammoth 138,000-ton Voyager class. "We could not operate a ship this large using only two propellers," said Kulovaara. "The pods are essential ...
without them, the maneuverability would not be there." Navigator features three azimuthing electric 14 MW Azipod units, two that are fully azimuthing with one fixed centerline unit.
Pushing and Pulling The advent of podded propulsions for shipboard applications started with Kvaerner Masa-Yards, the Finnish Maritime Administration and ABB Industry of Finland, which developed a new electrical propulsion system for icebreakers, the trade name of which is Azipod. The first vessels equipped with the new system, the 16,000 dwt tankers M/T Uikku and M/T Lunni owned by Fortum operated Nemarc Shipping, have now, combined, nearly 100,000 hours of operation experience, and the vessels have, for example, several times successfully navigated through the North- East Passage in extremely harsh conditions.
Since then, the Azipod propulsion system has been installed on the Finnish icebreaker Botnica, the icebreaker Svalbard, which was recently built for the Norwegian Spitzbergen, two icebreakers icebreakers built by Masa-Yards for the Caspian Sea as well as the icebreaker Mackinaw, which is under construction for the Great Lakes of the United States.
The podded solution aboard the icebreaker niche is particularly notable, as it allows the vessel to efficiently perform other duties in the off-season, versus traditional vessels that might simply sit idle. In the case of the Finnish icebreakers, their "off-season" is hardly that, for when the ice finally melts, they are re-positioned for rigorous duty as offshore support vessels in the North Sea.
SSPA Sweden was contracted to carry out comparative maneuvering simulations for alternative hull shapes for the new Great Lakes Ice Breaker (GLIB) Makinaw, two which were tested in Masa-Yards Arctic Research Center (MARC) and two in SSPA's open water laboratories. Exhaustive testing confirmed the excellent maneuvering characteristics expected with the Azipod system, but moreover, as SSPA's Hans Liljenberg wrote, the GLIB's course keeping - which SSPA has sometime found to be a problem with thruster and pod propulsion - was performed well in this case. In addition to its ice breaking duties, Mackinaw, from Spring to Autumn, will be responsible for open water duties such as buoy tending, oil spill management, and search and rescue.
Through real world experience and continuous R&D, the shipyard has shown that vessels with a podded drive are capable of breaking ice with a considerably higher efficiency than before, when moving backwards with the propeller first. Based on this observation, a new type of a combination was developed in which the vessel travels back to front in the most difficult ice conditions; at the same time, the design of the bow can be optimized for navigation in open water. This concept - DAT - was developed by Kvaerner Masa-Yards, and now its first reference is in service.
The culmination: the 105,000 dwt M/T Tempera - one of Maritime Reporter's "Great Ships of 2002" - built in Japan for Fortum Shipping. In open water, the vessels can reach a speed of 17 knots, and thanks to their efficient icebreaking capacity that can be achieved while running with stern first, they are entitled to the highest IA Super Ice Class with their engine power of 16 MW, while even 25 MW would be required for this, using conventional technology.
As fundamental as the question of incorporating an podded propulsion solution is, so too now is the manner in which it is asked to act, namely will it push or pull. The Ulstein Aquamaster pulling azimuth thruster from Rolls- Royce is said too, in the case of an innovative product tanker design, provide similar costs to conventional solutions, but with more flexibility and safety benefits.
Rolls-Royce's new NVC-Design concept is an up-to-date product tanker design in the 3,000 to 15,000 dwt range, powered by a pair of medium speed engines directly coupled to two Ulstein Aquamaster pulling azimuth thrusters, known as Azipulls. The unit's first work in service will be aboard two new Fjellstrand FerryCat design ferries, which have been ordered by the Istanbul Seabus Company in Turkey and are scheduled for delivery in early 2004.
Each ferry will feature four 1,500 kW Azipulls, one on each corner of the vessel.
Azipull thrusters use proven gear transmission technology and a pulling controllable pitch propeller. The leg and lower gear housing are of a streamlined section and incorporate a fin, providing some rudder effect and raising efficiency by recovering much of the swirl energy in the propeller slipstream which is otherwise lost. Azipull thrusters have also been ordered as main propulsion units in an offshore service vessel.
Together Siemens Marine Solutions and Schottel developed and provide the Siemens-Schottel Propulsor system (SSP). The two companies re-affirmed their partnership just last summer, and announced that they will be adding systems with outputs of less than five MW to their present range, making the SSP available for smaller vessels and for the platforms and supply vessels of the offshore industry.
Dubbed Schottel Electric Propulsor (SEP), the system is already marketed by Schottel and will be equipped with Siemens permanent-magnet motors.
These smaller pod propulsion systems are especially suitable for vessels that do not need high power ratings and for the platforms and supply vessels of the offshore industry where good maneuverability is crucial.
SSP pod propulsion systems references include the chemical products tanker Prospero operated by Swedish owners AB Donsotank, since October 2000, and the ferry Nils Holgersson.
To develop a new marine propulsion system based on the pod concept, Alstom joined with Rolls-Royce — a world leader in marine propulsion.
The joint developmental effort combined Rolls-Royce hydrodynamic knowhow with Alstom's expertise in marine engineering, electrical propulsion, propulsion motors and generators, and led to the introduction of Mermaid, a unique design which uses a minimum of mechanical parts to optimize available vessel space, ensure greater reliability, and reduce mounting time.
The manufacturer says that optimization of the shape, positioning, and angle of Mermaid in relation to the ship-allows an increase in efficiency of up to 15 percent versus conventional propulsion solutions.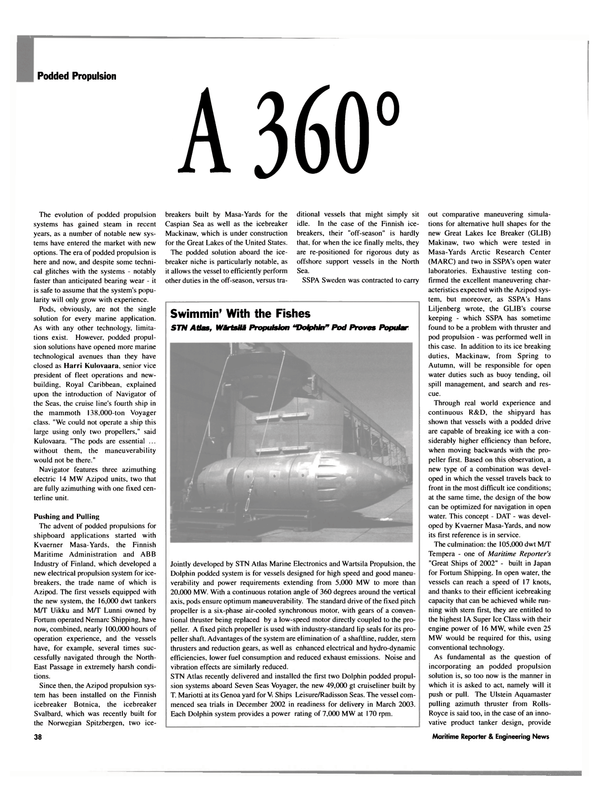 Read A 360 O in Pdf, Flash or Html5 edition of February 2003 Maritime Reporter
Other stories from February 2003 issue
Content