The Rising Value of Propulsion Business
by David Tinsley, technical editor
Despite a fall in the overall number of vessels forecast to be delivered Irom shipyards until 2007. the value of the propulsion systems installed in newbuilds is expected to show a rise from 2004, reaching nearly $5-billion by 2007 on the strength of increasing power requirements.
A new business study entitled The World Marine Propulsion Report 2003-2007* predicts that newbuild deliveries measured by tonnage will grow by four-percent over the five years, against a fall in vessel numbers of 10-percent.
However, the propulsive power embodied in the newbuild influx should increase by eight-percent compared with the 1997-2002 period.
The market for main engines, typically accounting for around 60-percent of overall propulsion system values, is likely to be worth around $2.7-2.8 billion annually throughout the period from 2003 to 2007.
After falling back from an estimated 2002 peak of 15,100-MW to 14,479-MW in 2004, it is anticipated that new main engine installations will increase in aggregate power over the next few years, attaining more than 15,500-MW in 2007. The rise in unit power needs will be greatest for containerships and passenger and cruise vessels, in keeping with growth in ship size and no lessening in speed criteria.
The study is the work of business analysts Douglas- Westwood and marine industry data providers. Using information from the databases of worldwide vessels of 100-gt and above, The World Marine Propulsion Report gives a detailed analysis of the sector and shows the trends impacting on engine deliveries over the past five years as well as projections for the period to 2007.
A specially developed model has been used to forecast the market during the next five years. This takes into account major influencing factors such as oil prices, increasing vessels sizes and power needs, and changes and developments in global trade patterns.
The results are output as a series of tables and charts forecasting sales from 2003 to 2007 by differing types of propulsion systems, both in units and U.S. dollar values, segmented by region and vessel category.
For the five-year forecast period from 2003 to 2007, it is anticipated that global shipbuilding activity will be driven by growth in seaborne trade in the order of two to three-percent per annum.
However, as average ship size increases, the number of newbuild deliveries will be fewer, and the report's compilers expect numbers to reach a low point in 2004.
Civil marine gross tonnage production, though, is forecast to rise by four-percent, with a minimum completion level of 30-million gt in any year.
The annual output value of ships delivered is expected to vary between $36-billion and $38-billion. The value of the propulsion systems is calculated at between $4.8-$5 billion per annum throughout the period, with the main engine or prime mover element reaching $2.9-billion by 2007.
The report anticipates that the two leading main engine designers, MAN B&W and Wartsila, will maintain their share of the market over the five-year period, accounting for around 75-percent of the total propulsive power requirement of all newbuilds, and about 70- percent of the value. In terms of the number of main engines, the three market leaders, namely MAN B&W, Wartsila and Caterpillar, are expected to account for 55-percent of the annual influx.
Japanese producers and licensees are expected to deliver the greatest value of main engines, although South Korea and China should show the highest rate of growth. Attributed values of overall propulsion system installations in newbuilds for 2003 - 2007 are in the order of $1.21-1.25 billion for bulk carriers and cargo vessels, $1.17-1.29 billion for tankers, and $1.05-1.20 billion for containerships.
Italian Versatility A judicious policy of business expansion based on a broader product range has been taken an important stage further by Italian shipbuilder Rodriquez Cantieri Navali, through the acquisition of Intermarine, a specialist in craft constructed from composite materials.
With Intermarine now part of the growing Rodriquez network, earlier strengthened by the takeover of yacht builder Conam, the Italian group has given new expression to its intent in widening its scope in higher valueadded sectors of the market.
Hydrofoils, fast monohull ferries, catamarans and patrol boats remain central to the group's business endeavors, and other building blocks in the current development program have increased its capabilities in the ferry market.
However, the acquisition of Intermarine denotes a further commitment to product diversification, not least to the comparatively recent drive into the large yacht construction sector.
Intermarine's standing in the naval and agency vessel category, reinforced by a current newbuild series of customs patrol boats for Italy's Guardia di Finanza, also complements the Rodriquez portfolio.
December's domestic contract for a 40-knot monohull ferry of 164 ft. (50 m), following announcements during the year of two projects involving newbuilds of 275.5 ft. (84 m), has ensured continuity of production of fast monohull ferries embodying homegrown Aquastrada technology. A major order from Brazil for commuter ferries, involving a new Brazilian shipbuilding affiliate of Rodriquez, has also boosted the group's stake in the ferry market, while a 28-unit series of patrol boats has also enabled the group to play to its strengths.
However, the companion move into the luxury yacht business has been such that the Rodriquez workload now includes craft of 118 ft. (36 m), 125 ft.
(38 m) and 239 ft. (73-m), the latter ranking as the largest yacht to be built in Italy for 20 years. The Rodriquez Yachts division, based at the group's shipyard in Pietra Ligure, in northeastern Italy, can handle craft in aluminum or steel up to 492 ft. (150 m) in length. With Intermarine's Sarzana facility near La Spezia, now part of the organization, the offering has been embellished with yachts up to 148 ft. (45 m) of composite construction.
At a time when outsourcing is the order of the day, Rodriquez holds faith by the principle of self-sufficiency in key areas, demonstrated by in-house affiliates Rodriquez Marine Systems, versed in a range of shipboard technical disciplines and equipment, and Rodriquez Engineering, the Genoabased design, and research and development undertaking.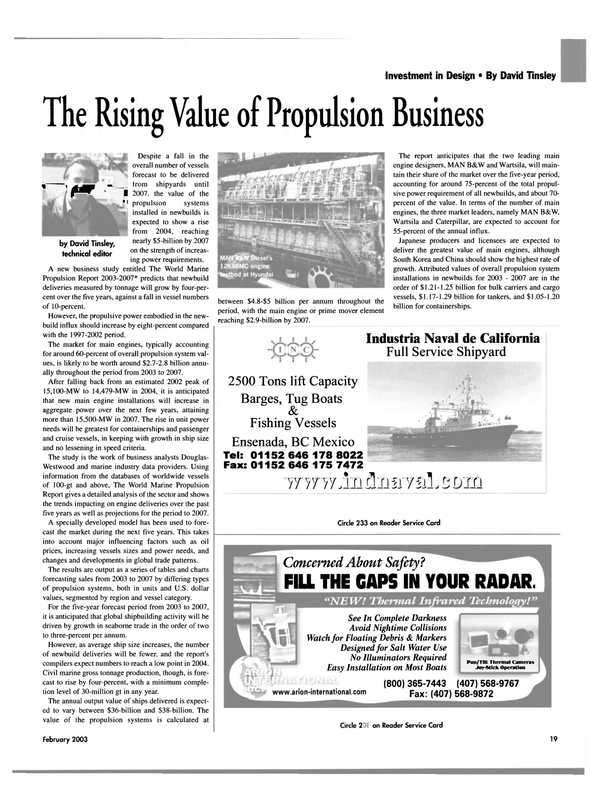 Read The Rising Value of Propulsion Business in Pdf, Flash or Html5 edition of February 2003 Maritime Reporter
Other stories from February 2003 issue
Content