INCAT — A Delicate Balance for the Future
Regina P. Ciardiello
Rising out of the ashes of receivership, Hobart, Australia-based INCAT is back with a vengeance. After a setback this 46 past year, the company, according to CEO Robert Clifford, is "well structured for the future." And the company is on its way to a speedy recovery with 2003 as it has just received two orders for the U.S. military and at press time, announced plans to have its debts repaid to the bank by the end of January 2003.
The U.S. Army Tank-Automotive (TACOM) leased its premiere Theater Support vessel for the Army from Bollinger/INCAT USA, the Australian shipbuilder's joint aluminum shipbuilding venture in Louisiana.
MR/EN: It's no secret that INCAT was in receivership last year — but is now emerging out of financial difficulty.
What is the current status of the company and if you can please explain why hard times occurred last year?
Robert Clifford: INCAT had two customers lined up to take production ships in 1999, both customers elected instead to take near sisterships, offered by a financier.
INCAT did not react soon enough to reduce production and this coupled with the banks lack of confidence in the market, led to the bank wishing to withdraw our finance facility.
I point out here that Incat never exceeded the bank's facility.
By the end of Jan 2003 we expect to have the bank repaid, and orders in place.
MR/EN: What are the current activities (both corporate and manufacturing) that were undertaken by the organization to strengthen/restructure the company?
Clifford: With orders in place, no bank debt, and substantial unencumbered assets, INCAT will be well structured for the future.
MR/EN: Why will the "new" INCAT survive, when the old went into financial disclosure?
Clifford: There is no "new" INCAT, there never has been a question of INCAT's survival, it has only ever been a question of realizing some of its sub- Maritime Reporter & Engineering News stantial asset base, in order to repay the bank.
MR/EN: What sets you apart from your competitors?
Clifford: INCAT tries very hard to be very good at what we do best. We are experts at building high-speed catamarans, and have put 30 years of solid effort into all the design and manufacturing issues involved. We are not expert at Motor yacht Construction, nor do we pretend that we can build expertly anything that floats. Being specialist catamaran designers and builders we sell by proving our products in the field. We are the only builders in the world to have sold large fast catamarans for the use of military personnel. We have sold four.
MR/EN: Regarding the current fast craft market, what holds future promise — regionally speaking?
Clifford: The military market is exciting, but so too is the commercial market.
We have 22 fast catamarans of earlier generations in European service, and many of the owners of those craft are ready to move up to higher capacity craft.
MR/EN: The push for more speed has always been the mainstay of the fast cats. Do you feel this is something that is played out and now the focus is on better performance, such as fuel efficiency, facility in the 40-knot range?
Clifford: The 40-knot range is probably enough for the commercial market, where the emphasis is definitely on economy.
MR/EN: Please (briefly) recap some of the company's most recent events (i.e.: new deliveries, contracts with the U.S.
military, etc.) Clifford: Incat K3 has been sold to Guadeloupe, Hull 59 sold to Canada, Hull no. 60 sold to the USA for army use, and Hull no. 61 contracted for U.S.
navy. Not bad for a company written off by many.
MR/EN: In your opinion, describe the allure of the "fast cats." Are they here to stay? Why or why not?
Clifford: There is no doubt about this, we have seen off the monohull challenge and trimarans etc. have even less to offer.
MR/EN: In terms of Bollinger/INCAT USA, what does the future hold for this venture?
Clifford: We will have to wait and see, but there is no doubt that it will be necessary to build the majority of U.S. military vessels in the U.S.
MR/EN: In your opinion, compare the need for fast ferries in the U.S. as opposed to Australia?
Clifford: There is little call for large fast ferries in Australia, and the Jones act means that vessels that trade within the U.S. must be built in the U.S. This restriction does not apply to ships that trade foreign to countries outside the U.S.
- Regina P. Ciardiello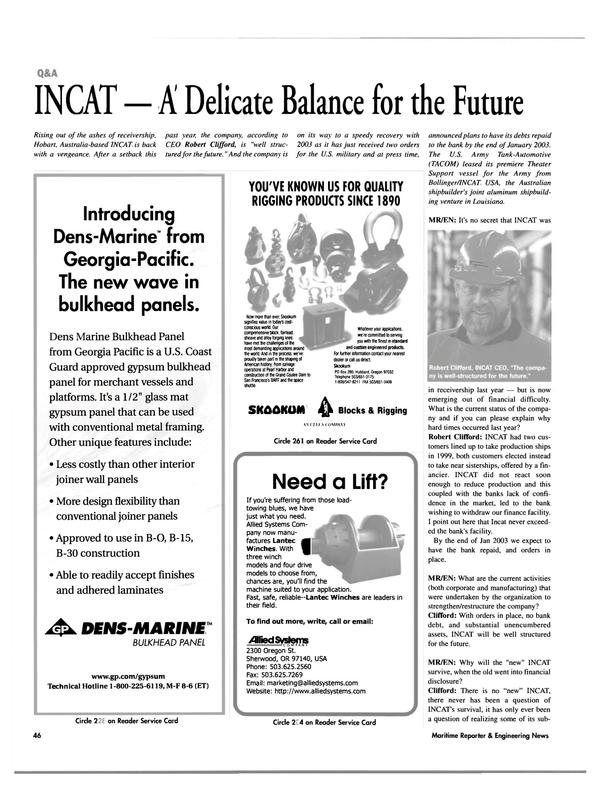 Read INCAT — A Delicate Balance for the Future in Pdf, Flash or Html5 edition of February 2003 Maritime Reporter
Other stories from February 2003 issue
Content