HM Bark Endeavor: Cook's "Vessel" Brought Into 21st Century
In 1768 British-born explorer Lt.
James Cook and his crew set sail on the HM Bark Endeavour on one of the most significant maritime voyages ever. After observing the transit of Venus across the sun in the Pacific, they headed southwest to New Zealand, traveling up the east coast of Australia, then on to the Dutch East Indies (Jakarta and Indonesia). Contrary to popular belief, Cook didn't discover Australia — he wasn't even the first European to arrive there. What's most remarkable about his journey was his use of cutting-edge 18th century scientific techniques to chart a substantial part of the coastline and fix the continent. On this voyage Cook became the first to calculate his longitudinal position with accuracy, using a complex mathematical formula that was only developed in the 1760s. Given his love of science, the 18th century explorer would certainly have chosen the best satellite communications if he had been making the journey today. Which perhaps explains why, when a replica of the famous HM Bark Endeavour was being constructed for a BBC TV series The Ship a few years ago, it was fitted with the latest Inmarsat-based equipment.
Now EMS Satcom has updated HM Bark Endeavour once more, choosing the vessel for beta trials of it latest Fleet F55 terminal because of the extremes it operates in. Replacing a mini-M that was already onboard, the Fleet F55 has enabled a wireless LAN (Local Area Network) to be set up on board the ves- sel. This means that a variety of laptops and VoIP (voice over internet protocol) phones can be connected wirelessly to the ship's two servers via a Cisco router and VPN (virtual private network). Using this technology, The Endeavour updates regularly its own website (www.barkendeavour.
com.au) from onboard, providing schedule information and images from recent passages. The satellite link is used to ensure the Endeavour's shore-based office in Whitby, U.K., has the same information as the vessel itself, while NetMeeting software enables video conferences with head office or for shorebased media events. With all this technology on board, you might think that it would spoil the overall look of the classic vessel. But there are no worries on this score either. All of the equipment, including HF and VHF radio, EMS Satcom F- 55 terminal, weather fax, collision radar and GPS are housed in a small room, no larger than 1.6 x 1.3 m.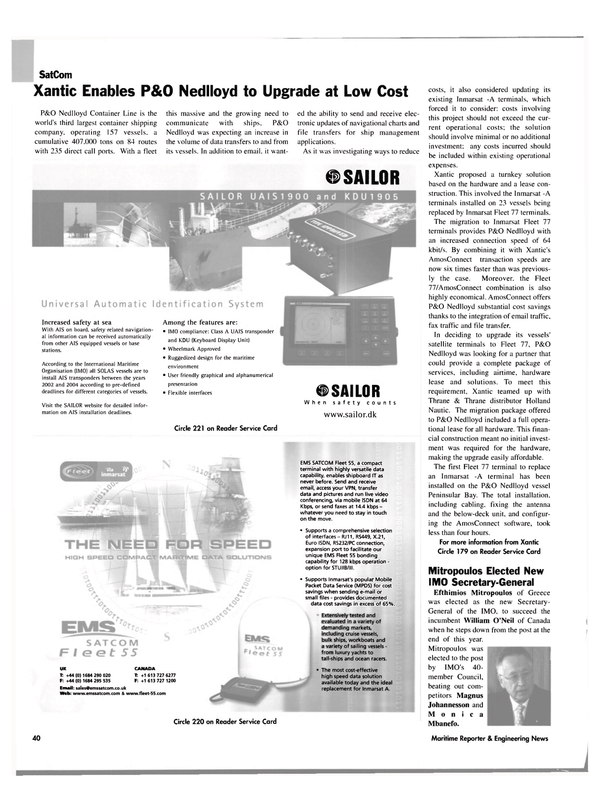 Read HM Bark Endeavor: Cook's "Vessel" Brought Into 21st Century in Pdf, Flash or Html5 edition of July 2003 Maritime Reporter
Other stories from July 2003 issue
Content