The German Shipbuilding Rebound
By Peter Pospiech
German shipbuilding has made a significant turnaround. The country's shipbuilding industry has seen increases in the number of employees, orders and deliveries compared to 2013, according to the German Shipbuilding and Ocean Industries Association (VSM).


The special shipbuilding sector drove this growth, as 20 of the 34 delivered new builds could be classified as high-quality special vessels or naval units.
Although VSM announces its annual balance officially in May of each year, MR was able to obtain some early insights into the results. "The order incomes in 2014 have been remarkably better than in 2013 – in regard to value as well as tonnage. There are clear indications of an upward trend," said Dr. Reinhard Lüken, CEO of the German Shipbuilding and Ocean Industries Association (VSM). This is good news for an industry that saw deliveries drop to $2.7 billion in 2013. 2014 order volume rose to almost $10.8 billion from $9.9 billion in 2013.
"The situation at many yards is much better than in previous years," said Lüken. By November 2014 shipyards had achieved the full turnover of 2013. In that year, shipyards Sietas and Peenewerft were hit by insolvency. In 2014 this picture has been improved. Peenewerft is, as part of the Lürssen-Group, back in the market.
This shipbuilding rebound predictably produced a rise in employment in 2014, as German shipyards employed 17,854 workers, according to the statements from the union IG Metall. This is a six percent rise compared to 2013. The big shipyards are recruiting personnel for 2015 as order volume remains stable. Thirteen vessels of more than 700,000 gt were ordered during the first three quarters of 2014 at German shipyards. Of these orders, almost 90% of the value is in the cruise vessel and luxury yacht segments. But some special vessels for the offshore segment are in the order books as well, as shipyard Abeking & Rasmussen is now producing its successful SWATH-Design in series.
The cruise sector is a pillar of the country's shipyard capacity.
Last year, Neptun Werft delivered 11 river-cruise vessels, and an additional 11 new ships are scheduled for delivery in 2015. The yard in Warnemünde is scheduled to deliver sections and complete engine compartment modules for Papenburg, a backlog that will keep the yard busy until 2016. Business at Meyer Werft is currently booming, and to date it is scheduled to deliver eight ships through 2019. Last year the shipyard delivered "Quantum of the Seas" for Royal Caribbean International, a mammoth of a ship that is 348 m long and weighs in at 168,888 GT. The smallest sea-going vessels were delivered by the Fassmer Shipyard in Berne to the Waterway Police in Schleswig-Holstein.
Classical freight and container vessels have only been built in Flensburg and Leer in 2014. The FSG yard delivered the heavy-lift freighter "Rolldock Storm," and "Ferus Smit," and Leer completed six heavy-lift vessels late last year. The first of these vessels, the "Nordana Sky," was launched in February 2015.

Offshore
Nordic Yards and Flensburger Schiffbau-Gesellschaft (FSG) each boast innovative new offshore sector building projects. The shipyard in Mecklenburg-Vorpommern has recently delivered the offshore service vessel "Wind Server," while the FSG yard is building two well-intervention vessels with a 2016 scheduled delivery. Overall though, there has been a slight decrease for new orders in the offshore segment.
"Here, one can feel [...] the oil price, and many projects are affected," said Gerhard Carlsson, VSM marketing. Offshore projects are under construction currently in Kiel, Wismar, Warnemünde and Bremerhaven. Nordic Yards in Wismar is building two rescue and special ships for the Russian offshore business. FSG (Flensburger Schiffbau-Gesellschaft), is currently the second shipyard at the Baltic Sea, which manufactures special vessels for oil and gas extraction. Their order intake level is good for up to 2016.

Ship Repair & Conversion
The repair sector is a growing part of Germany's shipyards, a fact that was exemplified last year when Hamburg based shipyard Blohm + Voss announced a master agreement with global cruise leader Carnival. Blohm + Voss is, with this agreement, the only northern European shipyard contracted to Carnival Group for repair services. Besides docking in Hamburg, the contract includes voyage and port repairs which will be conducted by Blohm + Voss's "Flying Squad."
Overall, ship repair is a billion euro business for German shipyards, and the main focus for ship repair in 2015 lies quite clearly at the North-Sea ports. Hamburg, Bremerhaven and Emden have the capacity for maintenance repair and conversions.
It is a totally different picture on the Baltic Sea coast, where the sector has decreased continuously since 1995. Today there are significant capacities for the repair of large vessels available only in Kiel and Wolgast. At the beginning of the 1990s, German sites between Flensburg and Stralsund featured almost a dozen floating docks.
Today there exists only one dock for ship repairs, belonging to the Kiel Lindenau-Werft. The second large floating dock at the German Baltic Sea coast is located at the Neptun-Werft in Rostock, but this is mainly used for equipping new builds.

The Naval Sector
While the home market, the German Navy, has been a traditional strong suit for German shipbuilders, recent reductions in the German Naval fleet has increased the importance of the export market.
By volume, navy business accounted for approximately 25% of shipyard turnover in 2014. The volume was well over $2 billion. Nobiskrug-Werft returned to naval projects in 2014 after more than 40 years, as the Rendsburg-based company delivered two multipurpose vessels for the United Arab Emirates. Peenewerft in Wolgast has entered the serial production of high-speed patrol boats for Saudi Arabia. The most important pillar of the naval export load are submarines produced in Kiel by ThyssenKrupp Marine System (TKMS). The order volume of the shipyard is secured beyond 2020, and currently four boats for Egypt, two for Israel and two for Singapore are being built. The conversion of two submarines for Colombia, as well as the delivery of material packages for Turkey and Italy, round out the capacity.
TKMS could also score a success in North Africa. Together with Abu Dhabi MAR Kiel (ADMK), TKMS built two Frigates for Algeria. The first Frigate was undocked in December 2014, and meanwhile four corvettes for Israel have been authorized by the German Federal Security Council.
"We stay behind the orders. The naval shipbuilding relates almost to a quarter of the total order volume for German shipyards," says Peter Seeger, representative of the labor union IG Metall in Kiel. "Our members would like to produce civil products much more. But as long as there are no other perspectives on the world market we stay also behind the export of weapons," said Seeger. The Kiel based shipyard HDW of the TKMS group has grown because of the submarine orders. In 2010 the number of employees was 2,200, whereas today it has increased 15% to 2,500. For 2015, it is planning to add more personnel for the construction of submarines.
(As published in the April 2015 edition of Maritime Reporter & Engineering News - http://magazines.marinelink.com/Magazines/MaritimeReporter)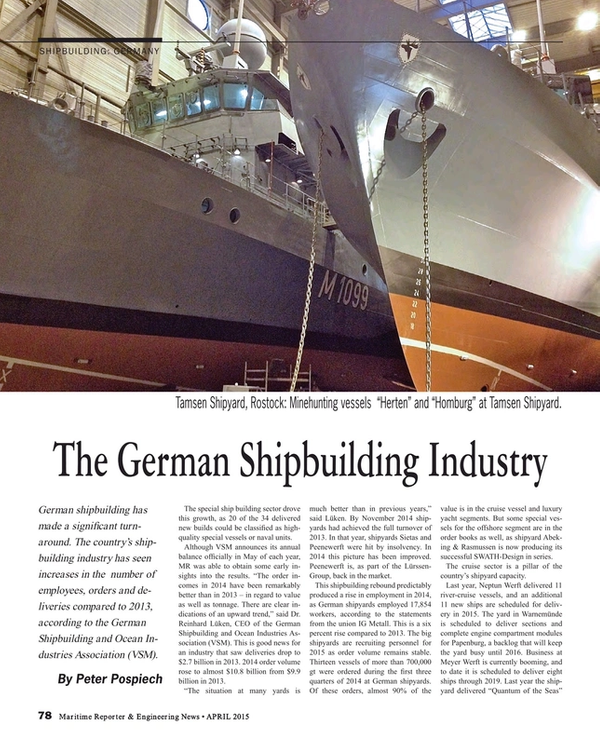 Read The German Shipbuilding Rebound in Pdf, Flash or Html5 edition of April 2015 Maritime Reporter
Other stories from April 2015 issue
Content