VT Halter Powers Ahead
By Greg Trauthwein, Editor
If you drive just south of I-10 in Pascagoula, Miss., within 10 minutes you find yourself on the doorstep of VT Halter Marine, arguably one of the more diverse and active shipyards in the U.S. The company, which is a subsidiary of Vision Technologies Systems, Inc. (VTS), operates three facilities in Jackson County, Miss., and today supports about 1,600 full time employees as well as about 1,600 vendors and subcontractors. Its recent and current order book is fat and diverse, and includes:

• Two LNG-fuelled ConRo carriers for Crowley Maritime, the first of their kind in the world
• A pair of 250,000 barrel ATBs and a pair of 6,000 hp ATB tugs for Bouchard Transportation, a long-tenured and important client for VT Halter.
• A Fast Missile Craft (FMC) for the U.S. Navy, undergoing sea trials
• An Oceanographic vessel, TAG66
• A car carrier for Pasha
• The last two in a series of 10 SuperMax 320-ft. PSVs for Hornbeck

In addition, VT Halter's repair facility (pictured above), which opened in 2014 and includes a 13,000 ton drydock, has been full with a diversity of work from NOAA to offshore to bulk carriers since it opened last year.
"The secret of VTHM's success is our ability to harness existing commercial and defense-related project 'know-how' and integrate it with emerging technologies," said Bill Skinner, CEO. "Our ability to do government and commercial work in one facility is one of the things that makes VT Halter a little different."
Anyone in the shipbuilding business knows how difficult of a task it is to build commercial and navy contracts under the same roof. While both are ships, the procurement, oversight and requirements for navy ships are a different magnitude of order, making the process to design, build and outfit a completely different ballgame. Skinner said the secret to success is really no secret at all. "We have a program management group that has been trained and the experience of working our navy programs, and they know the difference of requirements as opposed to our commercial customers. It's just a matter of properly structuring management to deal with the two separate entities."

A Lifetime in Shipbuilding
Bill Skinner is a walking encyclopedia of shipbuilding knowledge, having started his ship construction career at Alabama Drydock in 1969. While he will soon have 46 years experience under his belt, he remains humbled and committed to a management philosophy rooted in finding the right people and letting them do their jobs. "Our greatest asset is our people, and my style is to stay close to our personnel, listening to the thoughts of our long-tenured employees. I believe in surrounding yourself with good people and letting them do their jobs."
While he has worked under a number of corporate entities as shipyards have changed ownership hands, Skinner essentially has worked for two companies in his career, and in that time he has his fair share of challenges to building, running and maintaining an efficient and profitable shipbuilding business. He considers his primary challenge, though, as maintaining an adequate backlog to keep the yard and its workers gainfully employed.
"In our business, particularly on new construction, we need about five years of backlog, and building backlog is always a challenge," said Skinner. "You've seen recently the oil prices plummeting, and we've seen a lot of the owners now pulling back on capital expenditures."
To date, VT Halter has not received any cancellations because of the fast-falling oil prices, but Skinner said there has been a noticeable downturn in inquiries. And while a downturn in activity is never welcome news in a manufacturing entity, Skinner relies on VT Halter's solid reputation for garnering repeat business, such as Bouchard and Crowley, which have had near continuous newbuild programs with the yard for nearly 15 years each.
But Skinner has seen enough market fluctuations in his 46 years experience to know that when one door closes, another one opens.
"We stay close to our customers and listen to what they're saying, which gives us an indication of what will be coming down the pike," said Skinner. "Some of the customers in the oil field service industry are pulling back, but we think it will be short lived. At the same time we see there will be opportunities with the transportation of crude oil. Also, the bunkering and fueling of LNG ships will provide opportunities as well, and we're now positioning ourselves to support that market. There are a lack of (LNG) 'service stations,' and I think that's an area where you are going to see more activity."
With this historically strong backlog, VT Halter has been able to attract and maintain a fairly solid and steady work base, and in fact one of the bright spots in the oil market downturn has been a loosening of the labor market, in that the company is more easily able to spot and target high-value talent to add to its team.

Long-term Investments
While Skinner readily admits that it is his people which form the cornerstone of VT Halter's success, he knows too that modern equipment and facilities are equally important investments in the game to succeed in shipbuilding and repair. To that end, the company has invested more than $120 million over the last five years – including direct company investment and grants – that have helped to build the new repair yard and to outfit all facilities with more efficient tools, including:
• Development of the ship repair facility itself, including the new 13,000 ton floating drydock;
• Additional cranes, up to 500 tons;
• Transporters capable of moving large modules up to 450 tons; and
• A larger launch way, able to launch vessels up to 750 ft. long with a Panamax beam.
Courtesy of its VT Systems ownership, VT Halter has a sister company, ST Marine in Singapore, from which it can share technologies and technique. "There is a lot of synergies between VT Halter and ST Marine as it relates to ship repair and construction," said Skinner.

The Crowley LNG ConRo Ships
Recently, the keel for the first of two liquefied natural gas (LNG)-powered, combination container – Roll-On/Roll-Off (ConRo) ships for Crowley Maritime Corp.'s liner services group was laid at VT Halter Marine.
"From our point of view we are fortunate that Crowley gave us the opportunity to be one of the forerunners in LNG, which clearly will be a propulsion system of the future," said Skinner in neatly summarizing the importance of this historic, high-profile contract to his company and the industry. "It will provide a great knowledge base as well as employment for the local economy."
The Commitment Class ships will exclusively serve the U.S.-Puerto Rico trade lane, replacing the company's towed triple-deck barge fleet in the South Atlantic trade which served the trade since the early 1970s.
The new Jones Act ships will be named El Coquí (ko-kee) and Taíno (tahy-noh), and will be built at VT Halter's Pascagoula facility, with deliveries scheduled for mid and late 2017, respectively. The ship design is provided by Wärtsilä Ship Design in conjunction with Crowley subsidiary Jensen Maritime.
"One of the things that's taken a lot of challenges out of the project has been the teamwork with Wärtsilä Ship Design, with Crowley's Jensen Group, as well as our own engineering management," said Skinner. "We have also worked very close with MAN which will provide the complete propulsion package."
The new Commitment-Class ship has been designed to maximize the carriage of 53-ft., 102-in. wide containers. They will measure 219.5 x 32.3m with a deep draft of 10m, and an approximate deadweight capacity of 26,500 metric tons. Cargo capacity will be approximately 2,400 TEUs (20-foot equivalent-units), with additional space for nearly 400 vehicles in an enclosed Roll-on/Roll-off garage.
The main propulsion and auxiliary engines will be fueled with LNG from MAN, and the vessels will be classed by DNV-GL.

Recent Activity
VT Halter Marine recently launched ATB tug Kim M. Bouchard for Bouchard Transportation from its Moss Point Marine facility. Measuring 150 ft. long, the 10,000 hp twin screw ATB tug is classed by ABS as A1 Towing Vessel, Dual Mode ATB, USCG Subchapter M, is equipped with Intercon Coupler Systems, and will pair up with Barge B. No. 270. The barge measures 625 x 91 x 47 ft. and has a 250,000-barrel capacity. Used to transport liquid petroleum, the barge is ABS and USCG certified for Jones Act service. VT Halter began construction on this unit in January 2014 and plans delivery for June 2015, when the unit will enter into Bouchard's fleet service in New York. A sister unit to the pair, M/V Donna J. Bouchard and B. No. 272, is also under construction at VT Halter's Pascagoula facility.
For Pasha Hawaii, ConRo vessel M/V Marjorie attained main engine light off while under final construction in Pascagoula, an event which signals that the ship's network of systems is complete and functional prior to delivery.
The addition of the Marjorie C to Pasha's Mainland/Hawaii trade lane represents a long-term investment of more than $200m to the future of serving Hawaii, the company noted. Pasha added that the company will soon offer weekly service with Marjorie C, sailing opposite the Jean Anne, to provide new capabilities for containers and a variety of fully covered RoRo cargo.

VT Halter Marine's Mississippi Facilities

• Pascagoula Operations
The Pascagoula Operations facility is located on Bayou Casotte near the Port of Pascagoula. It has available water depths of up to 42 ft. at pier side adjoining the main navigational water channel leading directly to the Gulf of Mexico. Average tides for the area are two ft. A protected slipway 800 x 200 ft. is available and water depth is maintained at a minimum depth of 16 ft. The main fabrication and assembly building has 200,000 sq. ft. under roof. The NC steel cutting line capacity is 27,000 tons/year and the panel line throughput is 18,772 tons per year. The facility includes a full range of outfitting services and two warehouses. A tiltbeam launchway is available for launching vessels up to 750 ft. in length. An additional 2,500 ft. of steel/concrete bulkhead space is also available for pierside service.

• Moss Point Marine (MPM) Operations
The MPM Operations facility is in a protected location along the east bank of the Pascagoula River just north of Interstate 10. Convenient water, highway and air transportation access is provided. The facility has three launch ways and the maximum vessel length that can be built under cover is 91 m. The facility has steel and aluminum fabrication shops, a carpenter shop, woodworking, electrical, electronics, pipe shop, mold loft and ample warehouse storage space available. The MPM Operations facility offers 1,150 linear feet of steel sheet pile bulkhead waterfront. Depth along the launch ways is over 25 ft. The entire waterfront is served by three crawler cranes of between 100 and 225 ton capacity, two 18-ton mobile utility cranes, and complete underground services.

• Halter Moss Point (HMP) Operations
Halter Moss Point Operations is in a protected location, with deep water access to the Gulf, containing large module fabrication and assembly platens, and two launch ways for up to 3,000 long tons vessel launches. The facility includes a full range of outfitting services, and two warehouses. The facility maintains a combined crane lift capacity of up to 300 tons. The cranes can be moved to support construction activities on the building ways or throughout the yard. Yard services, including fire protection, welding, electrical, and material handling, are provided adjacent to the building ways.
(As published in the April 2015 edition of Maritime Reporter & Engineering News - http://magazines.marinelink.com/Magazines/MaritimeReporter)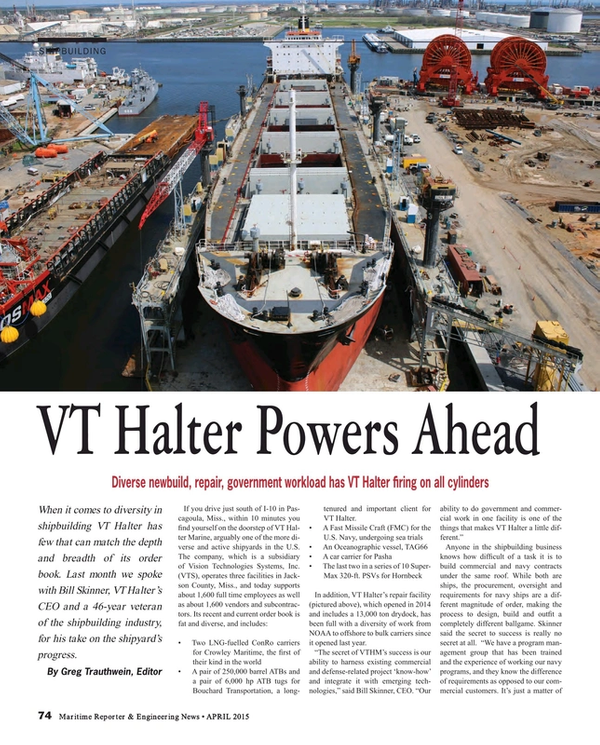 Read VT Halter Powers Ahead in Pdf, Flash or Html5 edition of April 2015 Maritime Reporter
Other stories from April 2015 issue
Content