Harkand Haldane DP3 Dive Support Vessel: A New Wave of DSV
By David Kerr, MD, Harkand
The Harkand Haldane is a DP3 dive support vessel currently being designed and built in Europe to reduce downtime in the North Sea's winter marginal weather months. Along with its well-equipped and logically planned layout, Harkand's clients looking for increased efficiency to maximize production during these challenging times may well have struck gold.
There is no doubt this is a demanding time for the oil and gas industry. With the slump in the oil price operating companies in the North Sea have two major considerations: to challenge the status quo across their aging subsea assets in order to maximize production; or to look towards investing in new developments in other regions.
Rejuvenating older fields through life extension can only be delivered through a robust subsea integrity management system. Managing expenditure on aging assets and subsea infrastructure also represents a key challenge to all industry players to ensure the life of North Sea oil and gas production is extended safely and economically.
Much of the global subsea fleet and resources are now dedicated to large scale, new development work on a worldwide basis. But there is a niche market in terms of inspecting, repairing and maintaining (IRM) older infrastructure and more recent subsea systems.
Harkand has a proven track record in IRM, with the staff, equipment and HSEQ accreditations giving it the resources and know-how to meet these challenges.
The company is expanding its DSV fleet in the North Sea to extend its range of subsea solutions which include high-quality vessels, survey, diving, ROV services along with inspection, project management and engineering.
Work is under way on the marine firm's new DP3 diving support vessel (DSV) Harkand Haldane. When it is delivered to the North Sea at the end of April 2016, it will become one of the most well-equipped inspection, repair, maintenance and light construction vessels available on the market.
Harkand Haldane will add a third DSV capability to the company's North Sea fleet; the business has a further seven vessels including dive support and multi-purpose vessels in its global tonnage which are currently deployed throughout the Gulf of Mexico, West Africa and Europe. Sister ships the Harkand DaVinci and Harkand Atlantis have been servicing the North Sea region, delivering IRM campaigns and light construction projects for clients such as Apache North Sea and TAQA Bratani. Harkand has recently further added to their DSV customer base with an award from Maersk Oil North Sea.
The capability of the new build will see the DSV able to operate at the high-end of the IRM and light construction sector with the ability to handle the sea state environment in the North Sea during the challenging winter months, therefore incurring less downtime.
Ultimately, the Harkand Haldane will represent a modern front-end DSV with many years of practical experience built into it.

A Vessel with Staying Power
Where to build the new DSV was a major consideration for the Harkand management team and board of directors. The decision to work with VARD in Norway came down to its reputation for ensuring the highest quality work and ability to achieve delivery date deadlines. Harkand acknowledged the benefits of having a vessel that was built to a high standard and on time and was ready to go straight into operation as a reliable asset.
The North Sea is known for having some of the harshest weather and sea state conditions in the world. As such, the Harkand Haldane has been designed to a high specification to maintain operational performance in marginal weather conditions.
The hull is being built in VARD's facility in Tulcea, Romania, and will be towed to Norway for outfitting.
Fuel consumption will also be lower as a result of the bow design which produces less hydrodynamic drag and will see the Harkand Haldane experience a more comfortable transit. Operational diving parameters are typically 5.5m significant wave height, ie approximately 7m max with a suitably considered freeboard of 3.5m to maintain a dry deck which is obviously a safety benefit.
During the typical North Sea winter months, this will be a major factor in reducing downtime from the expected norm of older vessels, ensuring jobs are completed in a more cost effective way.
The main vessel specifications comprise of the main crane manufactured by NOV, a Rolls Royce propulsion system, Kongsberg DP system, main engines manufactured by Wärtsilä and the diving system on board manufactured and installed by Drass.
Cost effective IRM and light construction relies on having the best tools for the job. Harkand has a clear vision of how best to equip the vessel from their many years of experience.
The crane on the Harkand Haldane is a 250t NOV Hydralift, capable of operating in 3,000m water depth. This makes for a multi-purpose vessel with both diving and deep water ROV capabilities.

Keeping the Divers Safe
The specifications ensure that the integration of systems on board the Harkand Haldane will not only deliver what clients require but also provide a safe working environment for the 120 personnel on board and, most importantly, the divers in the water.
The IRM market in the region calls for the majority of dive campaigns to be carried out by saturation divers.
The specification on this vessel will include IMCA compliant 18-man twin bell system rated at 300 msw including two three-man 6.5 cu. m. bells with bell handling able to launch in up to 5.5m Hs sea states.
In addition, it will feature two six-man DDC (D/L) and two three-man DDC (D/L) (2,300 mm dia) with separated entry locks c/w toilet and showers, two 18-man capacity self-propelling hyperbaric lifeboats (as standardized across all Harkand's fleet) and two TUP chambers (2,300 mm dia.) for dive bell mating.
The class built air diving system has one DDC (D/L) and two two-man LARS on starboard side, with the possibility to install two two-man additional LARS. The nitrox configured dive system allows for extended dive times as required.
The two luffing A-frame mechanisms are built to optimize divers' safe excursions accounting for thruster proximity and diver's umbilical lengths (IMCA D010 standards), giving the DSV the capacity to deploy dive baskets up to 7.3m from the ship's side.
The bell LARS and winch safe working load were also a top priority for the Harkand design team as were the winch fleet angle ensuring they meet class rules. Good communication on board is paramount for ensuring a safe and productive offshore crew to successfully complete any project. Harkand has been very conscious of this in the planning of the office space and proximity and interface of the various departments, dive control, project engineering, inspection, survey etc. This process has been implemented previously across all Harkand's North Sea DSVs and the positive feedback from captains and crews agree that an ergonomically designed office space makes for a more efficient and safe environment on board as a result.

Crewing Up, Ready for Action
When the Harkand Haldane is in the latter stages of build, the company will integrate its key people on board including its most experienced captains, offshore managers, mariners and chief engineers to ensure the DSV is prepared and ready to deliver on its maiden scope of work and beyond.
The pool of diving, ROV, survey and project personnel will also be selected to ensure upper quartile performance is achieved.
The focus has always been on meeting the needs of customers within the region. With one of the most well designed DSVs in the IRM and light construction market outfitted with the most appropriate equipment to meet the demands the North Sea, the Harkand Haldane is certainly set to make waves.

The Author
David Kerr is the managing director for Harkand in Europe. He has held several senior operational and commercial positions during his 35 years in the oil and gas industry.

(As published in the April 2015 edition of Maritime Reporter & Engineering News - http://magazines.marinelink.com/Magazines/MaritimeReporter)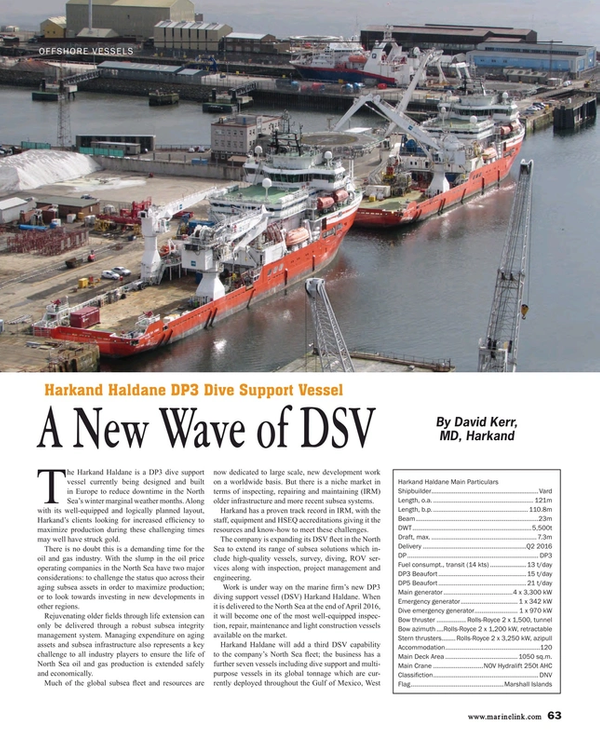 Read Harkand Haldane DP3 Dive Support Vessel: A New Wave of DSV in Pdf, Flash or Html5 edition of April 2015 Maritime Reporter
Other stories from April 2015 issue
Content