OSV Technology: Notable Designs & Deliveries
Posted by Irina Tabakina
Though the market for Offshore Support Vessels (OSVs) is soft, advances in technology, fit and finish in the sector is unrivaled in any other maritime niche over the past five years. Here's a look at some of the more notable designs and deliveries.
Few vessels have inspired as much attention or coverage as the Harvey Energy, the first OSV of its kind in North America, able to run on both Liquefied Natural Gas (LNG) and diesel. Harvey Energy, chartered to Shell for its deepwater operations in the Gulf of Mexico and owned by Harvey Gulf International marine, was built by the Gulf Coast Shipyard in Mississippi to meet requirements of the ABS "ENVIRO+, Green Passport" notation. Harvey Energy is a 310 x 64 x 24.5-ft. platform supply vessel powered by three Wärtsilä 6L34DF dual fuel gensets, providing 7.5 MW of power and fueled by Wärtsilä's LNGPac system. The 5,150 dwt vessel is capable of carrying 253,000 USG of fuel oil, 18,000 bbls of liquid mud, 1,600 bbls of methanol, 10,250 cu. ft. of dry cement and 78,000 USG of LNG fuel. The vessel is able to operate on LNG for seven days before refueling. To increase efficiency, Harvey Energy uses Shell's Gadinia 40 engine oil. It will run on 99% LNG fuel and will be able to operate for around seven days before refueling, loading fuel from Harvey Gulf's new LNG bunkering facility at its terminal at Port Fourchon, La.
From Port Fourchon, Harvey Energy will transit to Shell's platforms, such as the new Olympus production platform, delivering equipment and drilling fluids. Two additional LNG-fuelled vessels are expected to follow.
Harvey Gulf is the first of six LNG OSVs being built for Harvey Gulf. When operating on only LNG, this vessel meets the new Tier IV sulfur and nitrogen oxide emissions regulations—part of the North American Emission Control Area (ECA).
While the Harvey Gulf is widely lauded for its advanced propulsion technologies, not to be overlooked is the interior fit and finish on the boats, designed to help attract and retain the best crews possible in what can be a competitive environment with high turnover. While the owner and vessel are not beholden to the new MLC2006 regulations which govern amenities and living conditions for crew, Harvey Gulf went the extra mile to ensure the comfort and safety of its crews, but also to ensure that the vessel is in compliance in any world region. "MLC2006 is relevant for vessels designed in accordance with IMO requirements. Harvey Gulf has always considered the welfare of its crews, regardless of the regulations," said Mike Carroll, Harvey Gulf's Senior VP of New Construction and Chief Naval Architect, in a recent interview with MR sister-publication MarineNews. "The regulations are always a minimum standard to be met; however we have always strived to exceed the minimum standards for vessel design. In our new build construction vessel program, these vessels are designed in accordance with IMO requirements including the Special Purpose Ships (SPS) Code and MLC2006. The design intent for these vessels is to be capable of servicing the offshore industry worldwide without limitation. For this reason, meeting and exceeding the latest regulations regarding Seafarer welfare was important not only as a function of potentially operating in countries which have adopted MLC2006 but also in response to Charterer's request for vessels meeting the latest IMO requirements."
The vessel is equipped with multiple conference rooms, cinema, offices, gymnasiums, lounges. Many of the crew cabins have their own day rooms. Working and hotel areas of the vessel are segregated from the crew and passenger quarters. Lighting throughout the vessel is LED which is less harsh on the eyes. The bridge has been arranged to be extremely ergonomic with unobstructed lines of sight.

Triangle: A New Name in OSV Building
While the current oil bust has curtailed some development, the recently ended long-term run up to $115 per barrel brought many new faces to the marketplace, including UAE-based shipbuilder Triangle Marine Services, which has recently laid the keels of two new 45-m Aluminum Fast Offshore Support Vessels which were ordered in November 2014 by UAE-based client Marine Core & Charter LLC. The new builds mark the company's first shipbuilding project and its entry into the offshore market. The 45-m Aluminum Fast Offshore Support Vessels by U.K. designers Camarc feature a hull designed to optimize the power required to reach speeds of up to 30 knots, combined with excellent sea keeping and a wide operational envelope. The design features a deck area of 140 sq. m. and fuel cargo capacity of 100 metric tons. A luxury area for 12 VIP guests is incorporated along with a seating capacity for 100. Only time will tell if Triangle's approach to the market will bear fruit.

MV Shelia Bordelon
While much attention has been heaped on the Harvey Gulf LNG initiative, there are a stable of advanced vessels coming to the market such as Bordelon Marine's MV Shelia Bordelon, which was christened at Bordelon Marine Shipbuilders in Houma, La., in late March. The Shelia Bordelon is significant for a number of reasons, in part due to its partnership with Susan G. Komen where Bordelon Marine will donate a portion of the profits from its ship to the New Orleans affiliate of Susan G. Komen for the Cure. A pink stripe will be featured on the vessel along with the Susan G. Komen New Orleans logo. MV Shelia Bordelon is the second vessel from the new Stingray series 260' Class DP2, designed and built at Bordelon Marine's brand new purpose built facility in Houma.
MV Shelia Bordelon is a Stingray series 260 Class Ultra-Light Intervention vessel, with an emphasis on the "Ultra-Light" and the economic benefit that can deliver at a time when oil prices are depressed and offshore operators are tightly monitoring every penny. MV Shelia Bordelon is DP-2 and measures 257 x 52x 18-ft., outfitted with a mezzanine deck capable of housing two work class ROV's with a clear deck of 143 x 44 ft. (6,280 sq. ft.) and a top speed of 14 knots. The Stingrays feature Cummins QSK 60-M Tier3 main propulsion engines along with Schottel 1215, 220 hp per Z-Drives and Schottel STT2, 1020 hp per bow thrusters. All systems are fully automated and controlled from the bridge. The Stingray series are SOLAS classed, FIFI 1 ACCU, EEP 175, and Tier3, and MV Shelia Bordelon also features a 50-ton NOV active heave-compensating crane with 3,000m of wire. The vessel can accommodate up to 60 persons and features an internal ROV office and control room.

(As published in the April 2015 edition of Maritime Reporter & Engineering News - http://magazines.marinelink.com/Magazines/MaritimeReporter)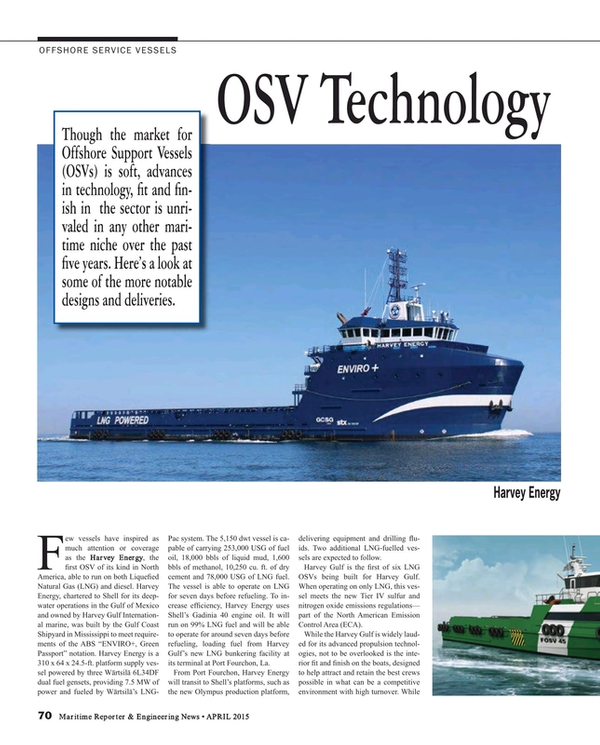 Read OSV Technology: Notable Designs & Deliveries in Pdf, Flash or Html5 edition of April 2015 Maritime Reporter
Other stories from April 2015 issue
Content