Big Data: Big Value or Big Risk?
By Jim Rhodes & Frank Soccoli
We wish we had a dollar for every time we heard or read the words Big Data at the Nor-Shipping exhibition last month. We might even have collected enough cash to buy a round of expensive Norwegian beers for the gang at the Fridtjof bar.
Seriously, Big Data is one of the most talked-about subjects at maritime industry gatherings. At Nor-Shipping there were no fewer than half a dozen panels and conference sessions focusing on the role of Big Data and analytics in commercial shipping.
Consider, for example, this statement by the CEO of KVH Industries, at the Nor-Shipping Maritime CIO Forum: "Probably the most important thing for maritime managers to do is make big data a priority. It's important to adopt a big data mindset, even if you don't think of yourself as a data company. Data is becoming a resource in its own right and offers incredible possibilities for understanding every aspect of your business better." Or this comment from Roger Adamson of FutureNautics at the Nor-Shipping Big Data Ocean Industry Podium: "In digital operations data is the new currency. As evidence-based decision making replaces gut-feel and technology deployment drives competitive advantage, how ready is shipping to capitalize on this new paradigm?"

Transformative Technology
The transportation industry – and indeed virtually every other business sector worldwide -- is being transformed dramatically by what is often referred to as the Internet of Things (IoT) in which IP connections are used to transmit datasets directly between devices without human intervention. This revolution has primarily been driven by the convergence of two factors. One of them is the ubiquity of GPS locating technology. The second is the proliferation of high-speed wireless Internet connectivity.
How big is this revolution? Connected wireless smart devices are already everywhere – home appliances, utilities, automated public transport, remote health monitoring, digital signage, connected vehicles, intelligent highways and wearable technology, to name a few. Gartner estimates the number of connected devices will reach 25 billion by 2020. TechNavio projects the IoT marketplace will grow at a CAGR of 31.72 percent through 2019. Last year, CISCO predicted the IoT will be a $14.4 trillion industry in ten years. (Yes, that's trillion with a "t".) Matt Webb, CEO of BERG Cloud, claims, "Connecting products to the web will be the 21st century electrification."

Connectivity
Until now, the maritime industry has not kept pace with the growth of IoT in other transportation sectors. That's largely because of the difficulty and expense of collecting, extracting and transmitting data from ships. Satellite bandwidth has been very limited – when compared to the 4G terrestrial wireless networks – and airtime expensive.
Happily, we're about to see an explosion in satellite bandwidth, with Inmarsat's Ka-band GlobalXpress, Iridium NEXT and Intelsat EpicNG poised to come into service over the next three years. There are other interesting options on the horizon. Last month, for instance, OneWeb contracted with Airbus Defense and Space to build 900 microsatellites to deliver global broadband service. If the Law of Supply and Demand still operates in the New Economy, competition will drive down airtime prices.
Interestingly, all that additional bandwidth may be overkill. Danelec Marine claims in a White Paper that ship managers could extract sufficient useful data from ship sensors and systems using the VDR as a collection hub – at preprogrammed ten-minute intervals - for as little as one US dollar per day.

Analytics
All this data is great, but how do you convert information into intelligence? That's the real question. Companies who do that successfully gain an important competitive advantage. Bain & Company surveyed executives at more than 400 companies around the world, most of them with annual revenues over $1 billion. They found that while nearly half the companies are collecting, storing and accessing good data, only about four percent of them are really good at analytics. But these companies are twice as likely to be in the top quartile of financial performance within their industries and five times more likely to make decisions faster. "Leading companies embed analytics into their organizations by resolving to be data driven and defining what they hope to accomplish through their use of Big Data," said the report's writers.

Danger Ahead
Of course, Big Data may bring Big Risk in its wake. Marine IT and telecommunication infrastructures are at high risk of penetration from cyber criminals, terrorists or other malevolent interests. The threat is bigger than you may think. The Danish cyber security firm CyberKeel reports that more than 90 percent of the largest container lines are extremely vulnerable to hackers, and documents an appalling number of real-world vulnerabilities in a recent White Paper, including a test that revealed how easy it would be to take over a ship's ECDIS and autopilot.
www.shippinginsight.com

ShippingInsight '15
Fleet Optimization Conf. & Exhibition
October 13-14, 2015
Stamford Marriott Hotel
Entering its fourth year, SHIPPINGInsight has become established as a premier maritime technology forum in North America. Held in Stamford, Conn., SHIPPINGInsight brings together ship managers and technology suppliers to address solutions to the challenges of ship efficiency and fleet optimization. The 2015 agenda includes three themed sessions – Fuel & Propulsion, Efficient Ships and ShipTelematics – each with a mix of panels and roundtables. There will also be ample networking opportunities for face-to-face informal discussions.
Complete details at
www.shippinginsight.com


The Authors
Jim Rhodes is president of Rhodes Communications, a PR and marketing company specializing in the maritime industry. Frank Soccoli is president of Soccoli Associates LLC, a maritime industry consultancy. The two companies are joint owners and producers of the SHIPPINGInsight conference series.


(As published in the July 2015 edition of Maritime Reporter & Engineering News - http://www.marinetechnologynews.com/Magazine)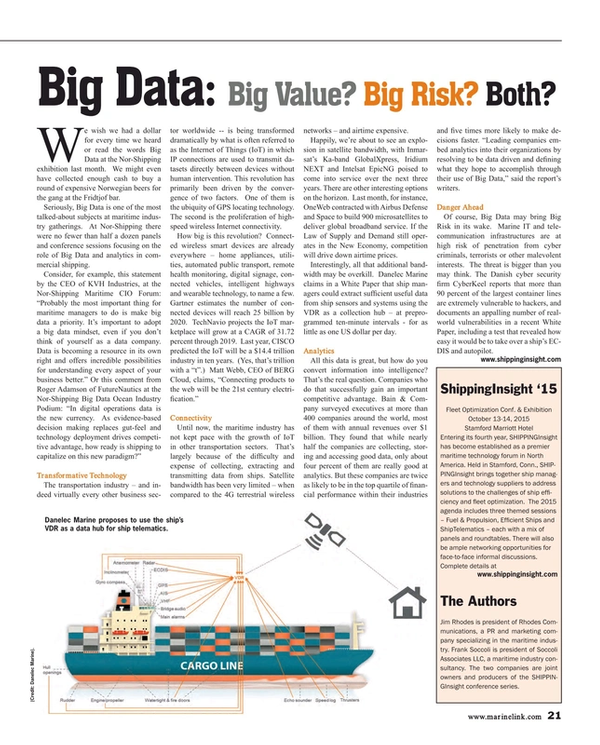 Read Big Data: Big Value or Big Risk? in Pdf, Flash or Html5 edition of July 2015 Maritime Reporter
Other stories from July 2015 issue
Content