Kongsberg: Blazing a Digital Trail
By Greg Trauthwein
Earlier this year Kongsberg launched Kongsberg Digital, a new subsidiary to expand its industrial software offering, a "start-up" with about 500 employees. Hege Skryseth, President of Kongsberg Digital and also the Chief Digital Officer of Kongsberg shares with MR her insights on the size, shape and direction of the new entity.
"You see some opportunities here," is how Hege Skryseth summarizes the potential for the digital revolution to make maritime and offshore operations more efficient. Skryseth, who previously ran Microsoft's business in Norway, is a software industry veteran, with Kongsberg for about 2.5 years now. She is determined to help lead the tide of change in this pair of conservative industries, working non-stop to outfit new ships and rigs with the latest software solutions to assist in ensuring cost efficient and safe operations.
While ambitious to get the new company up and running, Skryseth is a realist regarding current market conditions pervasive in many maritime and offshore oil and gas sectors. Not deterred, long-term (and in fact, short term) she believes companies – with the new generation of internet natives joining the workforce and the real need to cut costs now – are becoming more amenable to leveraging the data at hand.
"We currently see the market conditions impacting the oil and gas and maritime markets, and with that we see a willingness to change, and an openness to new systems," said Skryseth. "But most companies are just at the beginning of realizing exactly what digitalization can really do for their operations. So many of the discussions center on 'how can we join forces to see what can be done' … and I think that is a good place to start."
Kongsberg Digital
Kongsberg Digital was established as a subsidiary of Kongsberg, a new company formed to assess and capture the world of opportunities that are upon the maritime and offshore industries as the digitalization of industrial processes starts in earnest. In announcing the new company, Walter Qvam, CEO of Kongsberg said: "Technologies such as Internet of Things, Big Data, automation and robotics will lead to significant changes for the industry as well as for the public sector. Kongsberg is already a digital group with world-leading products within sensor technology, electronics, software development and big data processing. Through the launch of Kongsberg Digital we take an important step in the group's strategy for developing the next generation of digitalized products and services."
With its breadth of product, service and geographic distribution, Kongsberg is many things to many people. But at its heart is software. "Kongsberg is recognized as a high tech company, and it is a significant software company," said Skryseth. "About 70 percent of what we do is software" across multiple markets, including maritime, oil and gas, energy, renewable energy, defense and space.
Kongsberg Digital will consist of about 500 employees from existing software and simulation environments within Kongsberg Oil & Gas Technologies and Kongsberg Maritime, and from the start it will have a significant portfolio and revenues from advanced data, software and simulation products. In addition Kongsberg Digital will have a group responsibility for developing new digital solutions and related technology alliances. Skryseth said digitalization is one of the key focus areas in industry today, and it is changing the way we work in explaining the rationale to create the separate company: it's tearing down walls, changing business models … and it's happening rapidly.
The World: Digital & Connected
"Within four years there are going to be 200 billion devices connected to the internet, and the ability to get them to talk to each other, to create value, and to create machine-to-machine communication is going to be one of our focus areas," said Skryseth. The data revolution has evoked a number of catchy names, from "Big Data" to "The Internet of Things." But Skryseth and Olivier Cadet, Vice President – Information Management System, Kongsberg Maritime, contend that the key issue is less about the amount of data, and more about the proliferation of "Smart" data, meaning the ability to take vast quantities of information and put it to good use in your daily business operation.
Make no mistake, Kongsberg has its collective fingers on the pulse of vast quantities of data in this market, with more than 17,000 vessels and 10,000 oil wells today outfitted with Kongsberg equipment and software solutions onboard.
"We collect a lot of data, and it is our job to ensure that we are building the right services and applications to leverage this data," said Cadet, "bringing digitalization to the maritime and the O&G industries."
But in a way, the evolution of Kongsberg Digital transcends data, and truly is in step with the industry's move toward looking at vessels and rigs at sea more holistically, in the view of its role in the transport and energy production chain.
"The boundaries of the industry are drastically changing," said Cadet. He said that a company such as Kongsberg used to be a provider of a single product delivered to fulfill one function. But that is changing rapidly. "That product is now becoming 'smart' with layers of functionality." For example, if you have a pipe laying vessel with a Kongberg DP system, you can have a pipe laying function; you can have a smart and connected next-gen DP system with the ability to remote in from shore. The next step really is the move toward real integrated operations, where the DP system is not simply helping its vessel keep position, but is interacting with the OSV next to it, with the ROV in the water, with the weather impacting your vessel … and the list goes on.
A Fast Start
The creation of Kongsberg Digital, which officially will 'go live' in July 2016, comes in tandem with an overhaul of the corporate parent, no small feat. "We are working on the digital strategy for all of Kongsberg, while simultaneously setting up the new Kongsberg Digital," said Skryseth. As might be expected from a global electronics and software power like Kongsberg, the goals are not modest.
"First and most important is to be the performance and efficiency partner for our customers," said Skryseth. Work ongoing is focused on bringing together the collective competencies of the vast Kongsberg reach, with one eye on the present, the other scanning for future trends and competencies.
"We're all about turning data into tangible, valuable actionable information that our customers can use," said Cadet. To start the Kongsberg Digital team sees three major areas of concern, or as they term them 'Value Creation Levers,' including condition based maintenance, performance management (ie. fuel efficiency), and decision support"
"I think there is currently a good combination between technology push and market pull," said Cadet. "The tech is at a stage where it is ready in terms of communication, data storage and data handling and analytic technique … that is the technology push. The market pull is the ever evolving needs of our customers to improve their operations. While the maritime industry is traditional, don't underestimate the younger generation entering the workforce have grown with these technologies."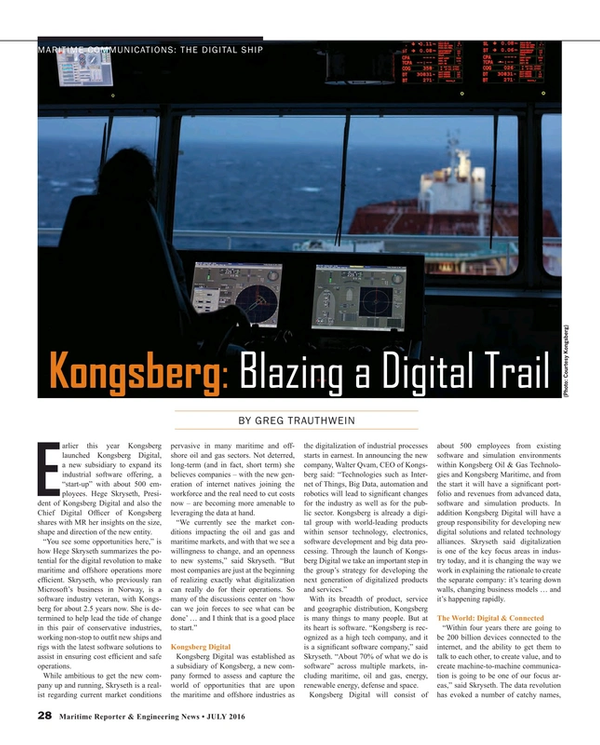 Read Kongsberg: Blazing a Digital Trail in Pdf, Flash or Html5 edition of July 2016 Maritime Reporter
Other stories from July 2016 issue
Content