The 'Paperless' Ship
By William Stoichevski
The cloud is for "device-agnostic young slashers," said Trond Bjorseth, marketing manager, of Oslo-based cloud consultancy, Tieto. His company offers an information management tool for subsea projects and "repositories" for the shipping sector's operations. With Tieto you can get "one big happy project room," although he admits at least three suppliers offer something similar.
For its own future "slashers," Glasgow-based ship manager Norbulk Shipping opted instead for Google Cloud Technology Solutions, the "repositories" or cloud rooms of which are saving mariners the burden of ordering, doing and handling paperwork and saving their home offices the burden of getting the paperwork to them by courier, helicopter or harbor pilot. With 80 LPG carriers, VLCCs, product and chemical tankers, bulk carriers, refrigerated cargo container vessels and RoRo's, Norbulk opted for a cloud solution more for operations than project management, as would be the case offshore.
As with Google's cloud solution for Norbulk, Tieto's cloud for offshore projects puts documents in the hands of those who need them, like suppliers bidding via a cloud room (successor to the internet hotel). For Norbulk, the cloud is purely a management tool and the company points to trade association InterManager's recognition of this type of digitization. This proponent of in-house and third-party ship managers believes "the burden of administrative tasks falling on seafarers in today's shipping industry is significant."
As if the Cloud wasn't enough, InterManager is drawing up a set of guidelines aimed at reducing the amount of paperwork officers and their crew have to undertake while at sea.
Yet, Norbulk offers a taste of what cloud-adoption will look like for other shipping outfits: a pilot scheme was run out of its Glasgow office in much the same way a modern guided-missile destroyer might simulate the destruction of a target (OK, not quite). After running the pilot through parts of the company for two months, the feedback was strong, the company says, and Norbulk's Riga, Saint John, Manilla and St. Petersburg offices ascended to Google's cloud.
"Cloud-based technology has assisted our goal of adopting paperless systems," says Norbulk director Peter Karlsen, who adds that the better coms and transparency coming out of the cloud made it possible to "access and interpret greater amounts of information".
"The benefits to the company through this change in information flow are very real. Systems do run much more efficiently as a result. Standards have been set so high now and there is a greater emphasis on quality management systems, the environment and competent crew," says Karlsen, apparently in reference to the reams of training data simulators produce when helping crews accrue competence.
Better Comms
The majority of Norbulk-managed ships run electronically and use the cloud-based technology for daily communication. "It's the communications issue that takes time," says Bjorseth and, indeed, Google's cloud migrator moved Norbulk's email, calendars, contact and appointments from its old mail server to the new cloud-based system. The complexity might be different than, say, cooperating on a new-build vessel in Poland and Norway or a helideck in China, but it's clear cloud solutions generate no modest amount of efficiency
"(Offshore project) Gudrun is already ahead of schedule and on-budget. Other projects in those yards, the same," says Bjorseth. "(Cloud solutions) cut email and improve change management." Tieto's cloud solutions have been adopted by BW Offshore for its FPSO operations and FSO vessel maintenance.
Kongsberg's Data Onion
"I'm always impressed when people come to the office and we are able to show them on a big screen submissions from ships and all the documentation is there in an integrated management system," said Mr. Karlsen, adding, "We have even moved over to paperless purchasing. You won't stay competitive unless you look ahead at advancements and digitisation and how that's going to improve your businesses going forward."
When it comes to connecting offshore service vessels, Kongsberg Maritime's cloud-based big data Information Management System, or K-IMS, also offers data-processing results said to yield safety, operational, cost and life-of-asset dividends. A remote-services CISCO router connects the K-IMS and K-IMS apps to onshore hosting services that are multi-layered for virus and hack protection. "It's (layers are) like an onion. Anything else would not be accepted by the market," said Kongsberg Maritime's vice president of information management systems, Olivier Cadet, a French expat. He said performance management, energy management, fuel optimization and fuel benchmarking offer "tremendous opportunity" for savings. Safety is found in tracking onshore the tension exerted on an anchor handler offshore.
Yet, even for Kongsberg, it seems, adoption of the cloud for big data gathering and processing has been spotty. While smart data processing between onboard performance-related aps and onshore centers is well-documented, Cadet admits a simple app that helps a ship communicate with port is not available. "We have projects in that field," he says, "But we don't have that at the moment." One outfit that does have a cloud solution to ensure a seafarer' documents can be electronically produced at port is travel management company ATP Instone.
Truly Paperless
Before the truly paperless ship is achieved, it seems other industries will have to make stronger inroads into shipping. In the cloud, Google and Tieto appear to have oceangoing operations, construction and maintenance covered. Kongsberg has performance-related big, smart data processing. Some of the big cruise liners train staffs paperlessly.
"There are still a lot of handwritten forms that need to be filled in, but everything is logged into the system electronically now," says Karlsen of Norbulk.
It seems the only truly paperless ship might be the people-less ship. The U.S. military's sub-hunting autonomous ship Sea Hunter is a now officially a major Chinese and Russian headache. The navy already confirms the Sea Hunter operates "at a fraction of the cost".
Near press time, Rolls-Royce unveiled its "vision of remote and autonomous shipping", it's president, Mikael Makinen, declaring:
"The smart ship will revolutionize the landscape of ship design and operations."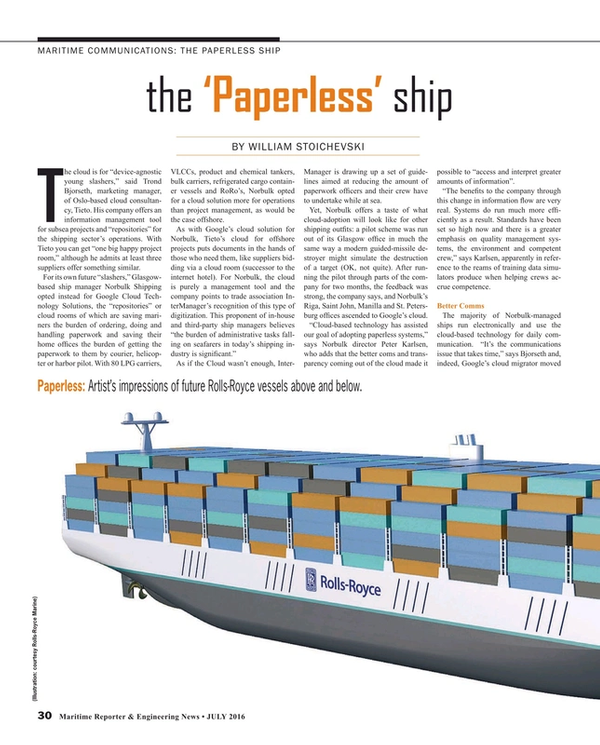 Read The 'Paperless' Ship in Pdf, Flash or Html5 edition of July 2016 Maritime Reporter
Other stories from July 2016 issue
Content