Rolls-Royce & the Future Tech 'Reality'
By Tom Mulligan
Rolls-Royce. The words have been used by many to signify excellence – though not with the company's permission, of course. Rolls-Royce Marine is taking a leading position in developing and introducing the systems and technologies needed for the running of a successful business in the maritime industry of the 21st century. At a company presentation held in London earlier this year, Mikael Mäkinen, President of Rolls-Royce Marine, outlined the company's vision for the future and its strategies to put these new systems based on new technologies into place.
Growth Drivers
Rolls-Royce Marine has 4,000 customers worldwide and equipment installed on 25,000 vessels, its main strengths being in the naval, merchant and offshore markets. Rolls-Royce says the main driver for growth is the need for cleaner power technologies to satisfy new environmental legislation and the company now has the world's largest portfolio of power, propulsion, complex positioning systems and deck equipment operating to the new standards. These systems are based upon products that provide competitive vessel systems integration capability in multiple layers across ship design and operation and ship intelligence, and include electrical, automation and control (EA&C) systems.
The driver for technology development at Rolls-Royce is the need for the shipping industry to comply with increasing environmental legislation and system efficiency requirements. According to Mäkinen, such technology development is based on the company's rich heritage and its many technological achievements: the roots of the Rolls-Royce Marine business are in the naval and offshore sectors and the company has a broad portfolio of products, mainly with an offshore focus, and a world-leading position in offshore vessel design. It developed the first marine gas turbine 60 years ago and its MT30 turbine is the most powerful in global marine service. The company is also the world 'number one' in underwater mountable thrusters. It has 100,000 pieces of equipment at sea, with equipment in place on one in every four vessels currently in operation.
Increasing regional trade and transportation of goods is creating demand for more shortsea shipping while population growth is leading to an increasing energy and resources demand for cargo and passenger transportation in the longer term. In addition, the maritime sector is seeing a strong shift from traditional markets towards Asia, both in shipbuilding and operation. Other factors affecting the global industry include the geopolitical situation: an increasingly multipolar world has resulted in more uncertainty in defense expenditures, while low oil prices and weak investment signals are creating significant challenges in offshore markets; and there is a need for new technologies to enable ships to perform in harsher environments such as the polar oceans.
Structural Issues
Such challenges were easily manageable in the better economic conditions of the past, but the previous market-driven growth experienced by the industry concealed a number of underlying structural issues, most notably a high cost base that lacked flexibility. Rolls-Royce is also now experiencing considerable competition targeting its strengths in offshore and complex systems and the offshore cyclical downturn in 2015 combined with the drop in oil price quickly became a weakness for the company: its revenues halved and it experienced what Mäkinen terms "the toughest conditions for a generation" with vessel lay-ups and order cancellations. The serious impact on the offshore sector continues today: the company's customers in traditional markets are suffering from the adverse economic conditions and operators are less inclined to contract newbuild projects to European shipyards. The company needed to change direction quickly; its marine business was unsustainable and it needed to tackle immediate challenges and prepare for future opportunities – hence its Marine 4.0 strategy.
Differentiation
Rolls-Royce's Marine 4.0 strategy is designed to protect the company's unique offering by differentiating it through innovative mission-critical products, deep systems integration and the best possible aftermarket support. Thus the company is following a course of developing innovative solutions by strengthening its core offerings and concentrating only on solutions aligned with its Marine 4.0 vision, enabling it to become 'shipshape' and transform itself in order to survive the downturn and 'grow into' the new technologies. It plans to win customer engagement by improving responsiveness, reducing disruption and utilizing data to help optimize the value of the customer's asset.
The company says Marine 4.0 will enable it to respond to market challenges while continuing to lower its fixed-cost base and focus on new investments: about $385 million has been earmarked to cover R&D expenditure, while a 25 percent reduction in the workforce (implemented in 2012) and innovation growth require changes in engineering capability, and therefore the need to redefine the company's culture.
Manufacturing Footprint
Since 2012, Rolls-Royce has reduced its manufacturing footprint by 40 percent; manufacturing has been consolidated onto fewer sites; and several non-core product lines and businesses have been divested, including hydrodynamic bearings (Michell Bearings), shiplift systems (Syncrolift) and tank stabilization equipment (Intering).
However, it isn't all cutbacks: the company is investing in the future of one of its most important products by implementing its expansion plans for its azimuth thruster facility in Rauma, Finland in a $56.5 million project scheduled for completion in 2020. This includes a major rebuild of the existing facilities and the consolidation of thruster assembly and testing onto one site from the existing two locations; plus there will be significant investment in new equipment for the production of the current product range and the development of new and larger mechanical thrusters.
The aim of Rolls-Royce is that by 2025 features such as high-efficiency energy storage, PM propulsion and new electrical systems will be standard; ships will be configured on standard modules; situational awareness technology will be commonplace, as will remote control of vessels with Rolls-Royce as a prime contractor; the next generation of the current propeller range will have been introduced; and multi-purpose deck machinery solutions and automated handling systems will enable more efficient and safer cargo handling.
Technologies Create Opportunities
According to Mäkinen, Marine 4.0 will create opportunities in global trade, freight rates and trade patterns, while lower oil prices will lead to fuel diversity and environmental regulations will drive technology trends. Entrepreneurs view 'uncertainty' as opportunity and Rolls-Royce is no exception: Marine 4.0 is designed to enable the company to design more vessel types, with more product focus and greater systems and product integration and to open up 'Ocean Space' opportunities in the oil & gas, offshore wind, fish farming, fishing, biomarine and ocean mining industries.
Partnerships
Rolls-Royce has set out its $250 million R&D 'medium-term' roadmap but says it cannot achieve its goal on its own. The company needs to collaborate with its customers in technology trials and to increasingly engage with academia to advance its engineering technology. With its significant investments in R&D and its new partnerships, the company is set to realize this bold new vision. As Sir Henry Royce stated: "Take the best that exists and make it better...if it doesn't exist, create it."
Collaborative R&D: Partnerships Cross the World
Rolls-Royce signed a memorandum of understanding (MOU) with global Cargotec business MacGregor to collaborate on research and development to explore the impact of developments in autonomy for cargo ship navigation and cargo handling systems on board container ships. The company believes that a remote-controlled ship will be in commercial use by the end of the decade and a common sight on the high seas by 2030, and stated that this new R&D agreement will help it explore how the many activities that are currently done manually can be changed over to autonomous operation.
The company has also signed a MoU with the Technology Centre for Offshore and Marine, Singapore (TCOMS), a joint venture between Singapore's Agency for Science, Technology and Research and the National University of Singapore, to form a strategic partnership to develop fundamental smart ship technologies including smart sensing, digital twinning and integrated modeling, all of which are essential to the development of future marine data-based solutions. These developments will be applied to technology demonstrators to show how they can be used by specific ship types.
In addition, Rolls-Royce and Tampere University of Technology have established a strategic partnership to develop and test technology to support the systems necessary for autonomous navigation, thereby enabling the construction of the first generation of autonomous ships by developing and validating technologies using the University's purpose-built autonomous ship simulator.
Hybrid-power ferries with automated crossing systems
Rolls-Royce agreed to supply its automatic crossing system for two new double-ended plug-in battery hybrid ferries being built by Norway's Kleven for FosenNamsos Sjø. The system will control the ferries as they cross the fjord between Flakk and Rørvik connecting the peninsula of Fosen with Trondheim. Automatic systems ensure consistent behavior during the journey, and hence predictable energy consumption. The captain will supervise the automatic system and intervene using traditional maneuvering systems if needed. In the first deliveries, the captain will maneuver the ferry manually over the last few meters to the dock. If the captain is not able to take manual control for some reason, the system stops the vessel at a safe distance from the quayside and keeps it safely positioned automatically. Rolls-Royce expects shortly to be able to integrate the system into a variant of its Unified Bridge. The company is also looking to test an extension of the product that will allow automatic berthing in the near future. Construction of the vessels, designed by Multi Maritime, is taking place at the Kleven-owned Myklebust Verft Shipyard in Norway with a delivery date in late 2018 and operation commencing at the beginning of 2019.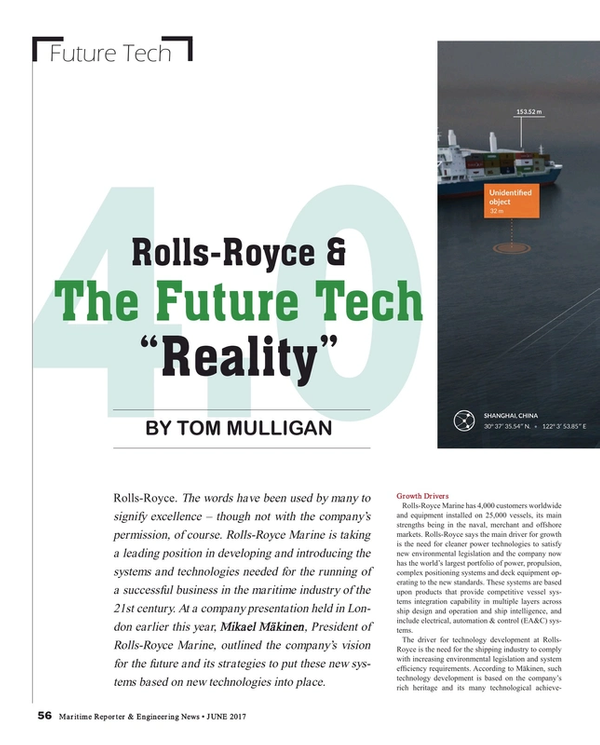 Read Rolls-Royce & the Future Tech 'Reality' in Pdf, Flash or Html5 edition of June 2017 Maritime Reporter
Other stories from June 2017 issue
Content