Viega: Maintaining the Flow
Maritime Reporter & Engineering News
Viega Group has a history spanning more than 115 years and today is more than 4,000 employees worldwide, a leading manufacturers of pipe installation technology for shipbuilding, industrial, commercial and residential projects. In the U.S., Viega LLC employs nearly 500 people and offers more than 3,000 products, including Viega ProPress for copper and stainless, Viega MegaPress for black iron pipe and Viega PEX Press systems in Zero Lead bronze and high-performance polymer.
While the company serves many markets, it has been particularly active on the cruise ship front, primarily providing products and systems for repair and refit out of its U.S. office. "The cruise sector is huge, a key segment and a growing industry," said Yasmin Fortuny, Technical Manager, Shipbuilding & Cruise, Viega, on the sidelines at the Cruise Shipping exhibition in Fort Lauderdale earlier this year. She explains that cruise is wholly unique from other commercial maritime sectors. "It's a very high maintenance and time sensitive segment, as these ships are in port for only a few hours," so it is essential that they have the right parts when they need them.
"With cruise ships it more about how fast can you get it onboard," as it is essential to keep those ships running, at full service, without delay.
In particular, Fotuny points out a number of key areas of efficiency that have fostered Viega's growth in the sector, including:
Ease of installation, to help multi-tasking technical crew;
Five systems are able to be manipulated with one tool, helping cruise customers and installers to minimize the footprint of tooling onboard the ship;
Viega's press ring allows an installer to efficiently make a pipe fix with minimal disruption to surrounding walls, ceilings and structures.
We go on ship checks and work with the chief engineer and the plumber, to see how they are currently using Viega, Fortuny said, and to see if there isn't a way that they can use our systems to their benefit, noting that her team has many "tips and tricks" that can show installers how to use the system more efficiently. In fact, out of all the maritime markets served by Viega, including military, navy, cruise, oil and gas, megayacht,and commercial, the cruise industry is the most "press friendly" today, because they build with press technology, they are familiar with the press technology, Fortuny said.
In a few months Viega's MegaPress will be made available for stainless pipe.
The MegaPress solution is of particular interest to the cruise sector, as it is a new fitting that presses onto a metric or standard pipe. "We take the logistic worry out of the process, alleviating concern about which type of pipe is available in a given port at a given time."
Leading the Fight for Water Quality
Legionella is a waterborn pathogen that can cause Legionnaires disease, a severe respiratory infection. The cruise ship industry is particularly keen to meet and thwart outbreaks of disease such as Legionnaires on cruise ships, first and foremost for the health and welfare of their paying customers, but also for the public relations fallout. Accoriding to the U.S. Centers for Disease Control & Prevention most (69 percent–88 percent) passenger dispensary visits are due to medical conditions, of which respiratory (19 percent–29 percent) and gastrointestinal (GI) (9 percent–10 percent) illnesses are the most frequently reported diagnoses. The most frequently documented cruise ship outbreaks involve respiratory infections (influenza and Legionnaires' disease), GI infections (norovirus), and vaccine-preventable diseases other than influenza, such as rubella and varicella (chickenpox).
Legionella organisms are not transmitted from person to person, rather contaminated ships' whirlpool spas and potable water supply systems are the most commonly implicated sources of shipboard Legionella outbreaks. Improvements in ship design and standardization of water disinfection have reduced the risk of Legionella growth and colonization, and companies such as Viega can play a central role in delivering the products to keep cruise ships and passengers safe.
"Keeping the water moving is critical to prevent Legionella from growing," said Renn Burling, Technical Manager, Viega, but it is not the only factor, as water flow, temperature and chemical treatment are all key.
In fact, Burling explains, Viega offers three products to help do the job:
Viego ProPress Double Drop Elbows: A unique fitting keeps fresh water close to each fixture, improving water quality by reducing stagnation.
Viega ProPress Venturi Press Insert: The fitting induces flow in remote, seldom-used fixtures using the same principle used to balance single loop radiant systems.
Viego SmartLoop System: A proprietary internal recirculation system keeping water hotter longer, reducing water waste and maintaining temperature.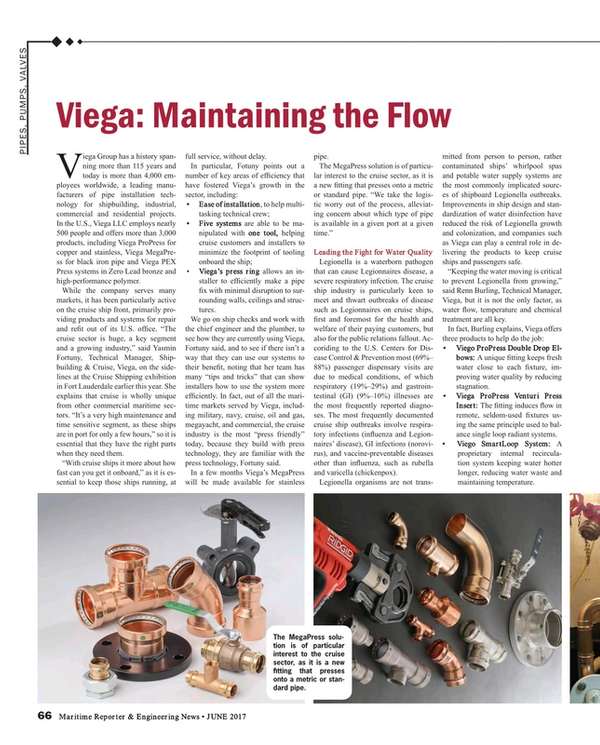 Read Viega: Maintaining the Flow in Pdf, Flash or Html5 edition of June 2017 Maritime Reporter
Other stories from June 2017 issue
Content