Playing Catch: Northern Europe Fisheries Fleet Review
By William Stoichevski
Maritime Reporter & Engineering News' Fisheries Fleets Review: Part 3 - Northern Europe
Record hauls of wild fish, an unprecedented return on farmed salmon, finance and subsidy garner new orders, new designs and emboldened suppliers. In Scandinavia, particularly Norway, rich, carefully managed fisheries raise just one question for the commercially minded — which wave of business to ride. A growing number of large and small players are in on the action, as historic profits are heralded up and down the supply chain.
For the hardened makers of gear that know tougher times, this is the golden age. "We've sold record numbers of net haulers to boats up to 50 foot," says Hydema Syd stalwart Solbjoerg Solgaard. Sales to the U.S. are soaring, she says, and Canada has picked up, especially for automatic hauling equipment.
People want quality, she adds. "The year's fish'n has been good. Prices for cod are good. The personal finances of coastal fishermen has improved and many want to invest in good equipment."
Proof is to be found at Kleven Shipyard, where seven fisheries vessels — four trawlers, a seiner, two factory vessels and a live fish carrier — are on order. The charterers are German-Faroese DFFU; French Saint Malo; Spanish Pesquera Ancora and DESS Aquaculture Shipping, a Norwegian joint venture of aquaculture giant Marine Harvest and offshore energy's Deep Sea Supply. In shipbuilding, the distinction between fishing boat and fish farming boat is moot. All want in on all sides of the booming fishery. Good prices for wild and farmed fish are being heralded from Greenland to the Baltic Sea and up to the Barents Sea.
The DESS Aqua fish harvesting (or factory vessel) SALT 425 FHV-design due to sail in 2018 is part of a trend toward large vessels (59 m and up) for the booming worldwide aquaculture industry. DESS Aqua has just declared an option to buy another wellboat for delivery in 2Q 2018.
In Norway alone, seafood worth 19 billion kroner was sold in 2016, and the lion's share of those exports are farmed salmon. The big shipbuilders — their roots in the fishery — are supremely well-informed (if understated) of this: "There's a lot of exciting development work happening in the aquaculture industry, and this is a market we wish to be in," says Kleven Shipyard managing director, Ståle Rasmussen, in a note to stakeholders.
New-build Trove
In league with large feed and factory boats are the new 80-plus-meter well boats. Designer More Maritime of Aalesund, Norway, has had two built: their hulls fabricated in Turkey and then kitted out at in Norway at Fiskerstrand Verft for owner Froy Rederi. The Gasoe Jarl and Gasoe Viking are 84 meters long with holds of 3,200 cubic meters for salmon, fresh water, seawater and circulated salmon-lice-eating wrasse fish.
One well boat owner, NTS, has made been so successful, they've moved to own fish farms themselves in a palpable drive seen elsewhere in fisheries circles to own as much of the value chain as possible. The trend is driving orders of all types, and umbrella group Seafood Norway says the aquaculture supply chain now adds annual value worth $2.7 billion.
Niche Boats
As the industry grows, room opens up for niche players like Harald Bigset, managing director of Point Offshore from Ulsteinvik. He's happy to visit Turkey, where he's talking to builders about "extreme wide-beam" Xtreme Work Boats. The trademark Point Aqua 15-10 XWB design is designed to manhandle giant fish-farm nets and launch ROVs and divers for pen inspections.
XWBs have the pull to move entire farming operations behind shelter if seas get rough — or to take on other fisheries roles. Shorter than 15 meters, the Point Aquas don't need a captain trained in DP, although they're envisioned using fixed, bow and stern thrusters and 1,000 HP. Rig-like and getting bigger, fish farms need anchors, and the XWBs act as anchor-handlers with cranes and a stern winch.
"They can carry huge loads on deck and five or 6 persons onboard," Bigset says, adding that his aluminum hull design is stronger and safer in rough seas than a catamaran. "There are a number of tank configurations and one variant is intended for sea weed trawling (a major focus of Norway's new Ocean Space Centre and the targeted researchers at Sintef Ocean)." He even has a variant that moves wrasse.
Small Trawl
Sunny, southern Norway — once a base to commercial whale-oil expeditions — is home to a boatyard that packs enormous value onto a hull shorter than 15 m. Skogsoy Baat has produced over 95 boats, but vessels like the Nina Mari pack 600 horsepower, two 32 kilowatt Perkins generators and a Volvo Penta D13 engine. hese "little" Skogsoy boats sleep six in three cabins and provide luxury seating and amenities that say "modern fishing". There's also 70 cu. m of hold for fish caught in a variety of ways, including gillnet and longline. "We have been building fishing vessels of many sizes and shapes since 1984," says Skogsoy manager, Andre Rustad. "Nina Mari is the first of three vessels (of her type) now being built." In all, Mr. Rustad has 150 million kroner in builds on order until the spring of 2019.
"The feedback has been good. The hull has good stability and she handles good," Andre tells us. With so much below the waterline, it's seems a steady seahorse.
Trawler Turnover
Replacing a 1980s cod catcher was on the mind of France Pelagique, when they went to Havyard of Fosnavaag, Norway, and Dutch designer ASD to build an 80 m trawler for December 2018. The French and Dutch designed the vessel together, although a blurry illustration suggests a Havyard 535 is being customized, and the Norwegians are on call for more engineering and design help.
Fishing boats orders are supplementing orders from offshore energy Westcon Yards, where a 75 m, Rolls-Royce NVC 331 pelagic trawler for Scottish company Klondyke Fishing Co. is being built. It's due to start work in 2019 with power from a Rolls-Royce Bergen B33:40 engine, a Promas propulsion and hydraulic winch systems. Another Rolls-Royce design, an NVC 306 longliner/gillnetter for Norwegian owners Veidar, is nearer completion at SIMEK shipyard, where Sealord Group's Skipsteknisk ST-118 stern freezer trawler is being pieced together for work-start in 2018.
Polar Trawlers
To tap northern waters for whitefish, Denmark-based Royal Greenland has ordered two 82 m Skipsteknisk designs from Spanish yard Astilleros de Murueta in Bilbao.
One will shrimp, and the other will trawl for ground fish. The ST-118 factory fillet trawler and ST 119 shrimp trawler were still being tailor-engineered for the Arctic as we wrote. They'll have 6,000 kW and 7,200 kW propulsion packages installed. Crews of 30 or 40 will be accommodated and holds that freeze 90 t of produce a day have been ordered. Permanent magnet winches will be onboard when they're delivered between December 2018 and May 2019. Royal Greenland is also launching a new pelagic company and could well order more vessels after posting record turnover of about $50 million.
Making a Krilling
Among the new vessel types gaining traction in the remote southern seas are specially netted krill trawlers. Norwegian krill fisher, Rimfrost, said in April 2017 it was planning a new vessel. In May, Vard Shipyard confirmed it would build its priciest fishing boat ever — a 130-metre-long, $118 million Antarctic krill trawler for Aker BioMarine.
Danish Revival
While Norway might be awash in orders, more business is due Danish builders soon, as Copenhagen recently decided to fund the fishery's modernization. A billion Danish kroner is available over two years for newbuilds, retrofits and aquaculture vessels. Across the Skaggerak in Norway, subsidies aimed at adopting locally available innovation, including energy storage and propulsion systems, are helping some decide to spend. Fortunately for the Danes, big and small Norwegian owners still prefer Danish shipyards for the full gamut of services. An example is the building at Karstensen Skibsvǣrft of Strand Havfiske's Wärtsilä-powered, 75 m combination trawler and purse-seiner.
This his mini-survey of ours counted no fewer than a half-dozen fish delivery vessels, or well boats, either newly commissioned or just built. Wellboat technology — sorting, sterilizing, cooling and de-licing — is increasingly found aboard fishing boats, including aboard a Danish vessel we couldn't confirm. Fish slaughter equipment has made its way onto aquaculture vessels.
The Norwegian supply chain, according to a researcher at Sintef, has doubled in size in just 10 years. Recently, salmon farming has outpaced the wild catch.
"One's status as a fisherman (or gear maker) is higher now than earlier due to the opportunity to earn good money," says Mrs. Solgaard. "Youth now search out the profession with little or no recruitment."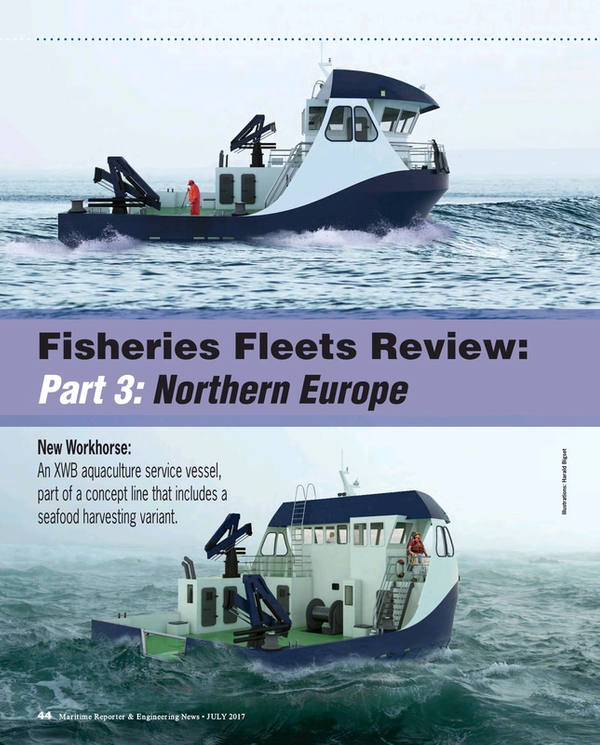 Read Playing Catch: Northern Europe Fisheries Fleet Review in Pdf, Flash or Html5 edition of July 2017 Maritime Reporter
Other stories from July 2017 issue
Content